Cameras
Zink Develops Inkless Pocket Printer
Zink will launch a mobile printer for camera phones and a camera with built-in printer.
February 13, 2007 – Users will soon be able to print photos on-the-go, with either Bluetooth enabled cell phones or an upcoming camera that has a built-in printer, Zink Imaging announced at the DEMO Conference two weeks ago. With partnerships in progress, Zink has developed specialized paper for inkless portable printing. Consumers can expect to see the technology on the market by the year's end, said Zink chief marketing officer Scott Wicker in an interview with DigitalCameraInfo.com.
Zink, which stands for "zero ink," has developed printing technology that doesn't require cartridges or ribbons. This 100-patent-protected technology involves special thermal paper. At first glance, the Zink paper looks like any other white printer paper but embedded in the Zink composite material are dye crystals that colorize when activated by heat. The Zink printer moves the paper through a single pass motion that changes the colorless paper into a  2x3 color print in about 30 seconds.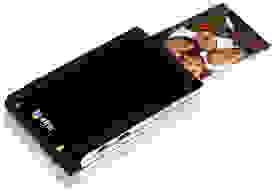 Zink plans to launch a portable printer, as a companion to camera phones, that can print photos transmitted from any Bluetooth enabled camera phone, according to Wicker. The mobile printer is estimated to retail for $99.
Zink also plans to launch a stand-alone camera with a built-in printer, that is estimated to retail at $199. Although Zink has not disclosed which manufacturers the company has partnered with, these new products will also include manufacturers' brand names, according to Wicker. Zink will make more announcements regarding this in the next quarter.
"This will enable printing where it's never been possible," said Wicker. "The magic about this is in-the-moment printing," he said.
While some reports compare the new Zink printing to Polaroid, the instant film manufacturer that Zink is a spin-off from, Wicker notes that there are differences between the two manufacturers. Zink paper is neither light sensitive nor silver-based. Zink also uses an open model for partnering manufacturers so that Zink printers can be compatible with other brands.
When asked how Zink compares to other printing options, Wicker stated that Zink is not a replacement for at-home or retail printing but a brand new kind of application for small format instant printing.
"It redefines printing and the printing experience," said Wicker.
Interested readers can find a promotional Zink video at http://www.zink.com/assets/lifestyle/ and details of the DEMO demonstration at

http://www.demo.com/demonstrators/demo2007/91378.php.