*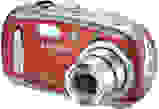 March 22, 2005 *— Zoran Corporation announced today that their Coach 7 digital imaging processor is stashed inside the new Samsung V700 and U-CA 5, among other models. The Zoran processor is an acronym for Camera On A Chip. The version used in the Samsung V700 has 7.1 megapixels; in the U-CA 5, it has 5 megapixels. According to the web site, the processor can handle up to 16 megapixels.
Zoran has produced imaging processors for five generations of Samsung digital cameras now. The Coach 7 was chosen for the V700 and U-CA 5 because of its outstanding ability to handle movie clips. The Samsung V700 includes a 3x optical Schneider zoom lens and a 2-inch LCD screen. Even more lucrative is the camera's image stabilization system that works in conjunction with the Zoran Coach 7 processor. In addition to its 5-megapixel processor, the Samsung U-CA 5 offers 3x optical zoom, a movie mode that shoots 30 frames per second, and Safety Flash technology. The U-CA 5 is the first camera to include the technology, which activates when photographers don't want to use the flash in difficult lighting. Colors are enhanced by the processor to create more natural-looking final images. Zoran's processor seems to be included on other Samsung digital cameras also.
"In addition to the Digimax V700 and U-CA 5 models, Samsung is shipping multiple other new digital camera models based on Zoran's Coach processor," the Zoran press release stated.