Cameras
Zoran Processor Supports DivX Video in Digital Cameras
Zoran Processor Supports DivX Video in Digital Cameras
Las Vegas, Nevada, January 9, 2007 – DivX, Inc. and camera processor manufacturer Zoran announced yesterday that the Zoran Coach 9 digital camera processor received DivX video format certification, making DivX file type available on cameras with Coach 9 processors, including the Pentax Optio A20 and future cameras to come. Consumers are seeking a new generation of digital cameras that emphasizes video and DivX format, according to a DivX press release.
Consumers may be familiar with other versions of Zoran Coach processors installed in the Samsung NV3 and the Nikon Coolpix S9. Despite being a year-old, the Zoran Coach 9 processor is known for its unique digital video motion stabilization technology, said Zoran senior director of Digital Camera Product Line Mobile Division Ohad Meitav in an interview with DigitalCameraInfo.com at CES. The Coach 9 processor, coupled with the recent DivX certification, can support DivX, among other file types such as ASF, AVI, and MOV in point-and-shoots.

As an alternative to other video formats found in digital cameras, DivX can record video at a fourth of the file size of its competitors, according to company product marketing manager David Tseng. DivX, a popular format in Europe, is increasing its presence in the U.S. market, according to DivX media relations manager Jennifer Culter. Currently available on the Pentax A10, A20, S6, S7, the Casio EX-S600, and the EX-770, DivX promises to produce high image quality but as a smaller, compressed file. This saves the user memory space and post-editing time. "The image format is compressed, but the quality is still there," said Culter.
With growing numbers of consumers using their point-and-shoots for video capture, the digital camera movie mode is no longer just an afterthought for manufacturers. Digital still camera users can make combined photo and video DVDs or post to online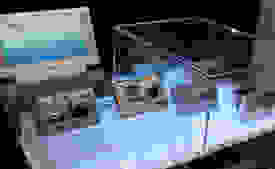 sharing sites. This makes the need for easier still and video integration greater than ever before.
The DivX format is already available on 50 million devices worldwide, including DVD players, media players, and televisions. With the goal of creating a "common media language" across multiple devices, according to Culter, DivX has a whole "ecosystem" of DivX Certified media devices.
Users can also post to a DivX-specific site, Stage6.com, with video-sharing content akin to YouTube, according to Cutler. Video bloggers or anyone who wants to share video online can simply upload movies via a USB connection with no additional post-processing software needed.
Users can view online DivX videos at www.stage6.com. Zoran representatives say they plan to release Coach 10 digital camera processor in the coming months.