Cameras
Canon 7D Review
The Canon EOS 7D is well built and designed for serious users without the desire or budget for a full-frame model.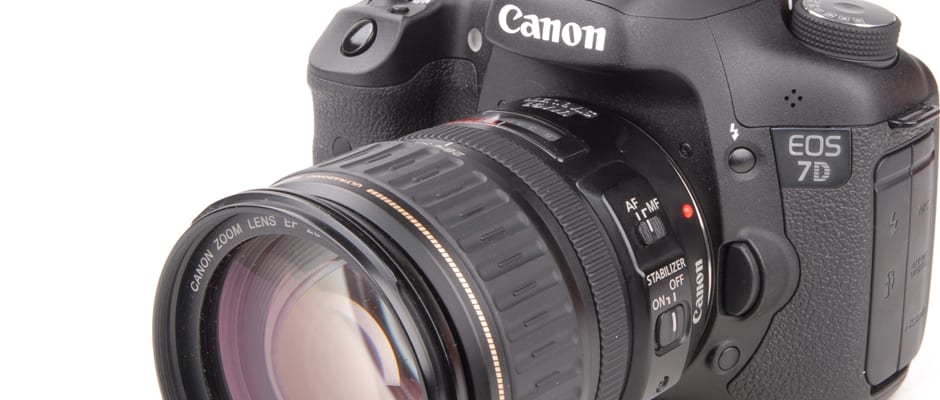 Credit:
Introduction
The 18-megapixel Canon 7D delivers high-resolution stills and full HD video in a well-built camera, designed for serious photographers without the desire (or the budget) for a full-frame model. It sits atop the mountainous market of APS-C cameras, offering a big grip, a bright viewfinder, and a larger sensor than any point-and-shoot on the market.
The 7D provides a sophisticated prosumer shooting experience at a reasonable price of $1,699.99. Standout features include a speedy burst rate that approaches 8 shots per second, a speedy new autofocus system, and a handsome 100%-coverage viewfinder. The only thing the spec sheet can't tell us is what sort of image quality to expect, but luckily, our lab will do as much.
Design & Usability
A great deal of thought clearly went into designing the EOS 7D.
The Canon 7D is a bit of a handful, but a beautifully crafted one. The right hand grip feels just about perfect, with a textured, rubberized surface, a wide, deep shape, and a front indentation for your middle finger to balance the weight of the camera securely. The entire back strip on the right side has the same rubberized surface, providing an effective thumb rest. There's virtually no chance you'll accidentally press a button, since they're well positioned and nicely resistant.
The two-dial system makes setting manual exposure simple, and while we're still not thrilled with the small, somewhat finicky joystick, at least you don't need to use it as a push-button anymore, a clumsy procedure used on the 5D Mark II to bring up the quick menu (which now has its own dedicated button).
As always, we're big fans of Canon's in-camera menu system too.
Experienced Canon shooters will be right at home with the familiar Picture Styles system, which provides three customizable slots for personalized settings. As always, we're big fans of Canon's in-camera menu system too. On the 7D, this includes a wide range of settings and customization options, but it keeps them nicely organized and it's easy to control.
Features
The comes stocked with a range of well-tuned features.
The 7D packs a lot of megapixels into its APS-C format sensor (19.0 gross, 18.0 effective). Despite the high pixel density, our lab testing gave the camera high marks. Even image noise, the usual downfall of a camera that tries to achieve high resolutions with a small form factor, was acceptable—even under low light.
We should mention that, by default, the 7D triggers its vibrating dust removal operation automatically when the camera turns on or off. However, this can be disabled (we can't imagine why you'd want to), and you can clean the sensor when you choose via the menu system as well.
The 7D is powered by an included, rechargeable LP-E6 battery pack, which is generally good for around 1,000 shots...
This Canon's EF mount is compatible with a tremendous range of first- and third-party lenses. The 35mm-equivalent multiplication factor is approximately 1.6x, so the 28-135mm lens that is frequently bundled with the camera (which we used in our test shooting) is a bit of an odd choice—it shoots like a 45-216mm would on a 35mm camera.
The 7D is powered by an included, rechargeable LP-E6 battery pack, which is generally good for around 1,000 shots by CIPA standards. If you primarily shoot without the built-in flash, your mileage will be extended somewhat. The camera will record all of those shots to a Compact Flash card, which is slightly faster than most SD cards, but less durable.
Performance
The 7D's strengths mostly outweigh its faults.
Overall image quality is satisfying, for the most part. Color accuracy wasn't as admirable as we've seen on some Canon models, but it will take a critical eye to spot the flaws, and long exposure performance in both color accuracy and image noise were impressive. In bright light, image noise was well contained through ISO 800, but fared worse than competitive models at higher settings.
You can fire off more than 100 large JPEGs in a row with a fast CF card.
Images looked sharp as long as the lens wasn't stopped down too far, and dynamic range was excellent, making this a fine camera for high-contrast shooting situations. The lens-based image stabilization system was quite effective, particularly in combating vertical camera movement, and the promised 8 shot per second burst rate clocked in at a speedy 7.5 in our lab testing, made all the more enticing by the fact that you can fire off more than 100 large JPEGs in a row with a fast CF card.
The Canon 7D doesn't really bring anything new to the video-DSLR field, but its performance is nearly as good as the Canon 5D Mark II, and it comes with a much smaller price tag. The 7D is still saddled with a number of the problems that have plagued video-DSLRs since the beginning—rolling shutter, overheating issues, and lack of continuous autofocus—but it does strike a nice balance by offering a fair amount of manual controls, 24p and 30p frame rates, and high-quality, 1080p video performance. Even with its setbacks, the Canon 7D represents an excellent value for a video-capable DSLR, although there are more affordable options if you consider Micro Four Thirds.
Conclusion
The 7D is not the best of its kind, but its price tag makes it one of the better deals, anyway.
The Canon EOS 7D is an enticing prospect for those who want high-quality images out of a camera that doesn't come with the high price tag of a full-frame DSLR. The combination of a large, comfortable grip, a large battery, and heaps of control complement the image quality well, resulting in a DSLR that's hard to find fault with.
The 7D also manages to fire off shots at a respectable 7.5 frames per second. This Canon is equally adept at portraiture and action shooting, though there are better purpose-built DSLRs available if you're only interested in one or the other.
Our complaints with the Canon 7D are few, but they're crucial in a rapidly advancing world of DSLRs. The video mode is nice, but the lack of control and continuous autofocus, as well as the overheating issues, keep it from competing with the Canon 5D Mark II in any serious way. We've also already seen better performance in low light from competing cameras, an area in which the 7D is only going to continue to lag behind in.
All told, the 7D is a fine value for those looking for a camera with respectable speed, great bright light image quality, and a durable body. If video is a serious draw, you may want to look elsewhere, but all other prospective buyers should be satisfied with the 7D's combination of price, control, and quality.
Science Introduction
The Canon EOS 7D puts its APS-C sensor to work, returning shots with acceptable color accuracy and decent high-ISO performance. It even manages to keep pace with the Canon 5D Mark II in this regard, which has a larger full-frame sensor. If you're stuck choosing between the 7D and a larger camera with a full frame sensor, the most compelling argument for picking with the 7D would be its speed: 7.5 fps in our test is more than enough to satisfy most shooters and far ahead of the full-frame competition as of this writing.
Color Accuracy
Fine, but not Canon's finest
The Canon 7D reproduced colors well, though not as accurately as its brand mate Canon 5D Mark II. We measure color accuracy by shooting the standard X-Rite ColorChecker chart under bright 3000 lux studio illumination, in each available color mode, and then we run the test shots through Imatest software to determine the deviation between the captured values and the known chart values.
There is an oddity in the way that the 7D handled color across the five available color modes (called Picture Styles in Canonland). We found the most accurate color reproduction shooting in Faithful mode, with spot-on flesh tones and only yellow shades off by much. Neutral is just a hair's breadth less accurate. However, both of these modes are intentionally, significantly undersaturated (88.5% for Faithful, 90% for Neutral), on the assumption that the shooter will tweak the results in Photoshop or another image editing program. Similarly, both modes have sharpness lowered substantially, with future image editing in mind. These values can be adjusted, but we expect most users who don't want to hand jigger each shot they take will use Standard mode most often, which delivers highly accurate image saturation and a reasonable amount of sharpening. Faithful mode delivers more accurate skin tone color values, shades of blue and red, but photos taken in Standard mode still look great right out of the camera.
Noise Reduction & Detail Loss
Solid performance in most conditions, but nothing that stands out amidst the competition
By default, the 7D is set for the Standard High ISO noise reduction setting, which falls between Low and Strong. As shown in the chart below, the system makes a major difference in noise performance at ISO 1600 and beyond. Of course, the stronger the noise reduction, the more detail is lost in your final images, though even the more aggressive setting doesn't obliterate fine lines too badly here, luckily.
When shooting in bright light, the 7D consistently produced slightly noisier images than the full-frame Sony A900, the Canon 5D Mark II, and the APS-C Nikon D5000, though the differences are slim through ISO 800. To assess image noise performance, we shoot our ColorChecker chart with bright 3000 lux illumination at all standard ISO settings (i.e., leaving out extended settings), using each available high ISO noise reduction setting.
Dynamic Range
Again, we've seen better
The Canon 7D shines when it comes to maintaining detail in both bright and dark areas of a high-contrast scene, an ability measured as dynamic range. To measure dynamic range, we shoot a 20-part Kodak stepchart, with gradated patches from solid white to solid black, across the range of standard ISO settings. These individual shots are analyzed using Imatest, and then the results are compiled to produce an overall performance profile.
The 7D starts at a generous eight-stop dynamic range and falls off slowly as ISO levels rise. The range is nearly 6 stops even at ISO 1600; by comparison, the Nikon D5000 is down to 4.67 by that point.
Other Tests
Up next