Cameras
Canon PowerShot 530 HS Review
The Canon Powershot ELPH 530 HS is a decent performer, but you can find better cameras for the same price.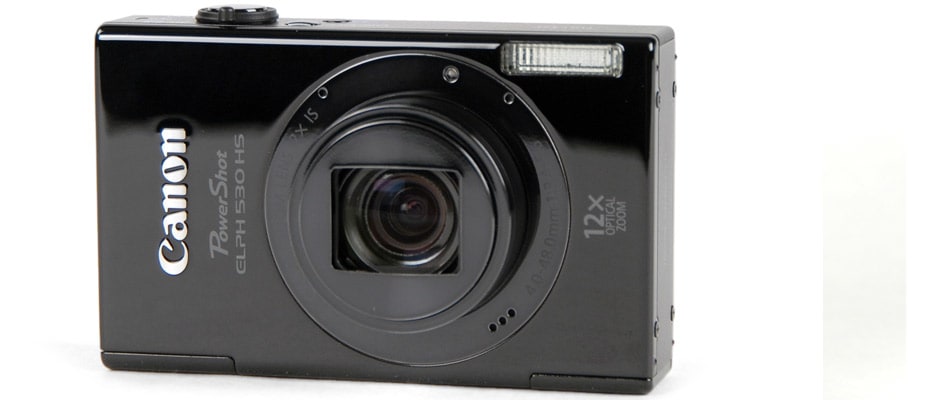 Credit:
Introduction
The Canon Powershot ELPH 530 HS (also known as the IXUS 510 HS, outside of North America) is a brick-shaped, WiFi-enabled, touchscreen-equipped travel zoom. It retails for a smooth $349 and currently it's king of the ELPH mountain.
Like the ELPH 510 HS and the ELPH 500 HS before it, the ELPH 530 HS is an underwhelming, overpriced example of fashion over function. It does have a handful of redeeming qualities, but you should look elsewhere for a truly great travel zoom. Read on for the dirty details if you're so inclined.
The Canon PowerShot ELPH 530 HS is available now in glossy black and matte white for $349. The non-WiFi ELPH 520 HS is also available, but for just $279, in black, blue, red, and silver.
Design & Usability
The 12x lens is great and the glossy, rectangular design is vaguely cool, but the touchscreen is a full-on deal-breaker.
Modern design usually means soft, gentle lines and rounded corners, but the ELPH 530 HS must be post-modern or something—a nearly featureless rectangle. The glossy design might look cool (debatable), but the handling ain't pretty. It's small, light, and pocketable, but there's no grip or texture at all, just a slippery, glossy, fingerprint-collecting rectangle.
The ELPH 530 HS is the worst example of touch-control that we've seen—it makes using the 530 HS feel like a chore.
The rear, touchscreen panel is a 3.2-inch, 461k-pixel LCD, and there are just three physical buttons on the entire body: a power button, a playback mode toggle, and a shutter release/zoom tilter combo. As friendly and approachable as that sounds, we wish there were more tactile controls, because the touchscreen is atrocious. Interactive displays are great for beginners, but only when they work correctly. This laggy, unresponsive, inaccurate touchscreen is the Achilles' heel that ruins the entire user experience. This is a shame too, because that lag even ruins Canon's classic, user-friendly menu interface. The ELPH 530 HS is the worst example of touch-control that we've seen—it makes using the 530 HS feel like a chore.
To elaborate, the 530 HS needs a fair amount of pressure to activate a touch control, and even then, it's hit-or-miss. Changing settings or shooting modes on the fly is difficult, especially because the icons are near the edges of the screen, which appears to be even less sensitive than at the center. The most frustrating part is typing WiFi passwords on the virtual keyboard; we weren't always sure if we had typed the correct letter, because a) the input zones are inaccurate and b) every entry appears as an asterisk, even the last letter typed. Basically, the touchscreen ruins what could be an otherwise decent camera.
Features
WiFi is one the ELPH 530 HS's main selling points, but it's an unworkable mess.
We'll start with what works well. For basic use, a total of 23 shooting modes are available, including Auto mode, program auto-exposure mode, a slew of effects (Miniature Effect, Toy Camera Effect, etc.), some scene presets (Portrait, Smooth Skin, Long Shutter, etc.), and some odds and ends like Movie Digest, Smart Shutter, iFrame Movie, and Super Slow Motion Movie. Color modes are plentiful too.
Now, on to the WiFi fiascoes... The WiFi photo transfer feature is completely unintuitive, and maddeningly frustrating on the whole. Everything from entering WPA passwords to searching for accessible devices is a total hassle. Thank your lucky stars that this thing still has a regular USB port. There's no general menu for WiFi options—it's accessed through playback mode, and there's no way to store preferred networks and passwords, so every time you want to access a network, you'll have to repeat the same aggravating process of entering your password on the awful touchscreen's virtual keyboard.
Let's be crystal clear—the 530 HS's WiFi is a failure. The only thing it adds is about $70 to the price tag.
Next, though the ELPH 530 HS can connect to social sharing sites, it's far, far from simple. There's a convoluted process involving a Canon.com account, a laborious registration, and a physical connection from camera to computer. We continually ran into dead ends—information wasn't where it was supposed to be on Canon's website, or the instructions weren't clear, or random disconnections occured—so we eventually gave up (we're on deadline here). Let's be crystal clear—the 530 HS's WiFi is a failure. The only thing it adds is about $70 to the price tag over the otherwise identical ELPH 520 HS. Oh, and the battery is terrible—monkeying around with the exasperating WiFi settings basically drained it in three hours.
To end on a high note, like most CMOS-based cameras, the ELPH 530 HS is a speedy shooter. Focus and shot-to-shot times are snappy, and continuous drive mode is a workhorse. Two full-res burst modes are on hand too: one with autofocus, and one without. Capacity is only limited by the size of your memory card, so they're both true continuous drive modes.
Performance
Image quality is as strong as we've come to expect from Canon compacts with CMOS sensors.
To start, the 530 HS's colors are lively but accurate. Viewed up close, shots have a smooth texture, but it translates well to regular viewing sizes—mostly clean and consistent, even in dim lighting, though very dark settings are iffy, as with most point-and-shoots.
Whatever algorithm this ELPH uses, it produces generally nice looking shots throughout the range, but it's best to avoid very dark scenarios.
Some moderate pixel sharpening is evident along high-contrast borders, but that's always the case with compact cameras. The lens is inherently sharp, at least by the standards of the travel-zoom class. Otherwise, we measured strong but not standout noise performance. Low ISOs are generally reliable, with heavier noise reduction appears to kick in around ISO 800. In fact, there's a soft texture to the shots throughout the ISO range, suggesting that noise reduction is constantly at work, but whatever algorithm this ELPH uses, it produces generally nice looking shots throughout the range, but it's best to avoid very dark scenarios.
Conclusion
The Canon ELPH series is usually a safe bet for a cool, quality camera at a decent price, but the top end of the lineup has been pretty wonky over the past few years.
The 530 HS's image quality is generally strong, and its lens is bright and impressively far-reaching, but Canon has ruined this camera with a crummy touchscreen. With such a lousy shooting experience, no one will care that the 530 HS takes nice-looking photos in pretty much any situation (at least by compact-camera standards), or that it's packed full of fun filters and effects, because the laggy touchscreen casts a damper over everything. Everything from switching modes to cycling through photos in playback is more difficult than it needs to be.
After hours of tinkering, with the user manual by our side, we could only get one WiFi-related feature to work.
Then there's the built-in WiFi. Users can wirelessly upload their photos to their computers, iPhones, or directly to social media services—at least that's how it's supposed to work. After hours of tinkering, with the user manual by our side, we could only get one WiFi-related feature to work. It isn't worth the hassle. Unless these features become as seamless as what you'd find on a smartphone, they aren't advancing anything.
The ELPH 530 HS earns a decent overall score on the merits of its image quality, but we do not recommend it. There are plenty of cameras for the same money with longer zooms, better image quality, and smarter interfaces. If you're sold on this camera for some reason, save $70 and buy the WiFi-free ELPH 520 HS instead. Better yet, buy a completely different camera.
Science Introduction
The Canon PowerShot ELPH 530 HS (MSRP $349) has some major drawbacks. For example, its claim of built-in WiFi leaves a lot to be desired. On the picture quality side of things, however, it stacks up competitively with similarly priced compacts, struggling notably during low-light settings. While there are no huge flaws here, the ELPH 530 HS's performance isn't such that it can justify its price tag, especially since its features are so lackluster.
Sharpness
Sharpness is pretty strong, especially for such a long-zoom in a small body.
We measured an overall average of about 1490 MTF50s (measurements of sharpness), which is a good result for a point-and-shoot. Predictably, results were strongest at the wide-angle setting in the center of the frame, where we measured as many as 2356 MTF50s. Performance remained strong in the middle of the focal range, but unsurprisingly dropped off at the telephoto setting.
Low Light
Low-light performance is generally fine with the ELPH 530 HS, though we wouldn't recommend it as one of our top low-light compact shooters.
Noise isn't a big problem, thanks to smart noise reduction and a backside-illuminated CMOS sensor, though details are smudged and lighting often has an odd tint. Since the maximum aperture is a mediocre f/3.4, blurriness can be a problem because the shutter has to stay open longer than it should to gather the necessary amount of light. Focus is reasonably fast as well. The flash is weak, but it can light up a small room to get a party portrait.
The ELPH 530 HS's native ISO range stretches from 100 to 3200, selectable in full stops. The Low Light scene mode can extend the range up to ISO 6400, but at just 2.5 megapixels.
Color
Colors are accurate, if not a bit punchy.
The ELPH 530 HS produces accurate yet punchy colors. The default (Off) color mode proved to be the most true-to-life, with near-perfect saturation and a color error of 2.92 (anything under 3.0 is excellent). Blues and reds are a bit exaggerated, greens are darker than ideal levels, and yellow has a bit of a green tint.
Video
The ELPH 530 HS showed some noticeable flaws in our video motion test, but nothing out of the ordinary for a compact camera.
We found noticeable trailing, significant color bleed, a bit of stuttering, and almost static-like artifacting in the background during video capture. We noted 325 horizontal and 350 vertical lw/ph in bright lighting while the camera was in motion—slightly below average for compact cameras, but fine.
As expected, sharpness dropped off significantly in low light, down to 100 horizontal and 150 vertical lw/ph—still better than what standard-def cameras from a few years ago could pull off. Lastly, low-light sensitivity was better than we expected, dropping below our acceptable threshold at a respectable 21 lux.
Other Tests