Cameras
Canon PowerShot ELPH 510 HS Digital Camera Review
Canon's latest 12x travel zoom, the 510 HS, certainly has style, but performance is another question.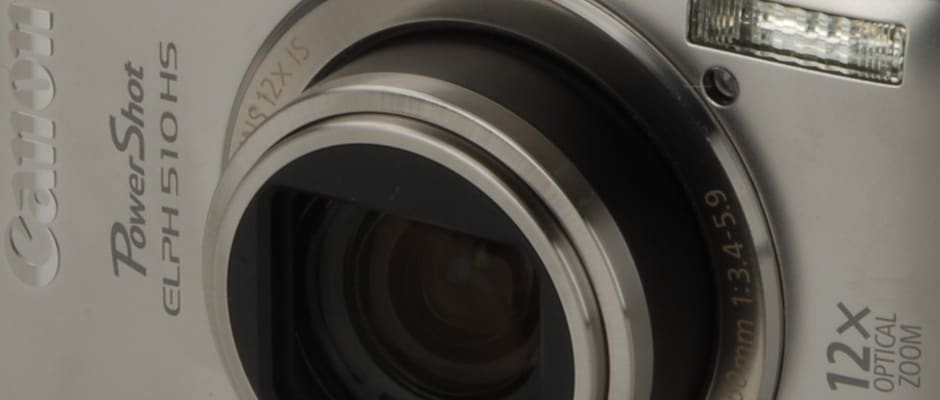 Credit:
Introduction
Canon's PowerShot 510 HS is one of the company's newest travel zoom cameras and the most expensive ELPH-class model in their current lineup. The 510 HS improves on, and is most closely related to the PowerShot SD4500 IS, a fairly lousy camera in our opinion. Upgrades include an ample 3.2-inch touchscreen, 12.1 megapixel CMOS sensor, and a long 12x lens.
Zoom doesn't automatically equal image quality though, and–compared to its predecessor–this model will need to make quite an improvement to justify the price tag.
Front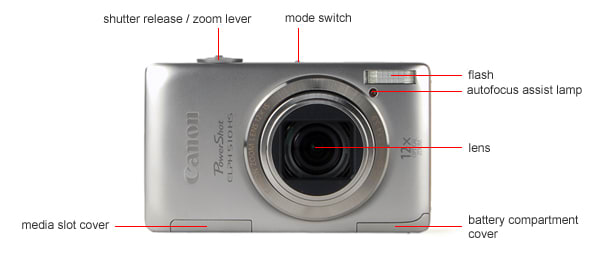 Back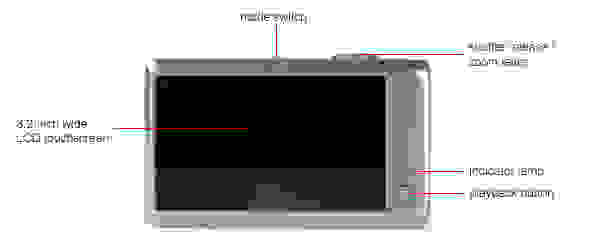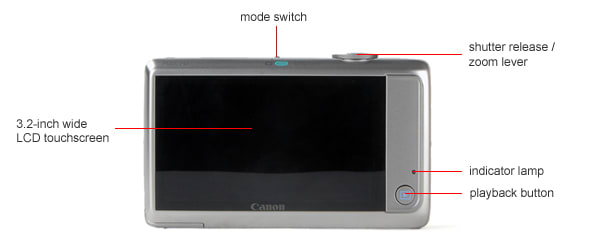 Sides

Top


Bottom


In the Box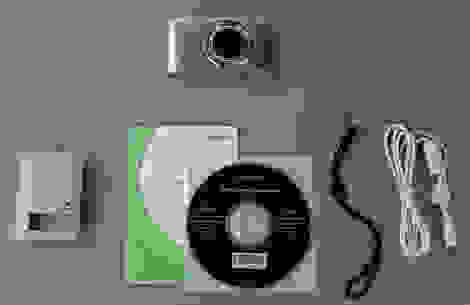 In the box:

• Canon PowerShot ELPH 510 HS

• battery pack NB-9L (not pictured)

• battery charger CB-2LB

• "Getting Started" manual

• Digital Camera Solution Disk CD-ROM

• neck strap

• USB cable
Color
The 510 HS' color accuracy is below average, returning an error value of 3.4 in our test where lower scores are better. Light blues are the least lifelike shades, but the camera also has some problems with light yellows, light greens, and moderate reds. Captured images will be less convincing and lifelike as a result, especially photos with human subjects. More on how we test color.
None of the cameras in our comparison group are particularly accurate, including two travel zoom models: the Casio EX-ZR100 and the Fujifilm F600EXR, as well as Canon's best ultracompact, the PowerShot S100 (though this is a 5x optical zoom model). Of that group, the F600EXR is the top performer, with a color error rating of only 2.85.
Color Modes
The performance of Canon's color modes are highly inconsistent. This time around, the most accurate color mode is–strangely–"Darker Skin Tone." However, in other models we've seen this distinction go to modes like Neutral, Positive Film, Lighter Skin Tone, My Colors Off, and even Vivid Red. Our policy is to test in the most accurate mode so, absurdly, all of the following tests were performed in Darker Skin Tone.
Noise
The way the 510 HS renders unwanted image noise is very even keel across the ISO spectrum, and this is desirable since many small cameras are prone to drastic and intrusive noise reduction software. Sadly, even though noise behaves properly, overall artifact levels are too high. Only ISO 100 comes away with less than 1.00% noise in normal light, with rates as high as 1.91% at the ISO 3200 maximum. More on how we test noise.
On average, noise rates are a little over 12% worse when subjected to our 60 lux low light test, a fairly wide gap that we don't always see. In fact, many cameras actually offer superior noise performance in these conditions. The behavior of noise reduction is the same however, progressing slowly and linearly from ISO 100 up to 3200.
The Canon S100, an excellent alternative to the 510 HS (without the 12x lens), is the statistical winner here, trailed closely by the Casio EX-ZR100. Casio's fast-shooting travel zoom actually takes the most attractive shots at lower ISO's, while the S100 is victim to ugly haloing and edge enhancement at default settings. On the other hand, the S100 is able to retain clean geometry all the way up to ISO 3200, so there's a tradeoff here. Our PowerShot 510 HS performs almost as well as the S100 at low ISOs, but begins to introduce distracting noise by ISO 800.
ISO
ISO settings of the 510 HS extend from 100 to 3200, pretty average for a modern camera in this price range. All Program mode levels are full resolution. Using the Low Light scene mode, ISO values of up to 6400 are possible, however this limits resolution to three megapixels.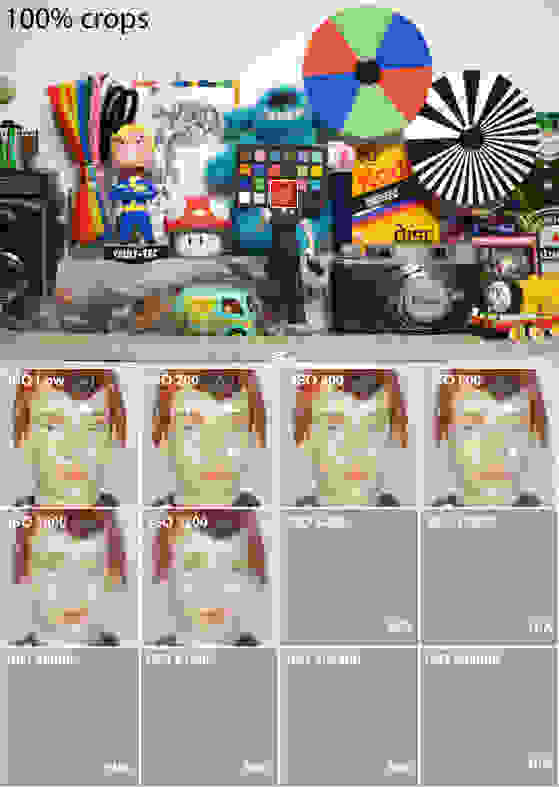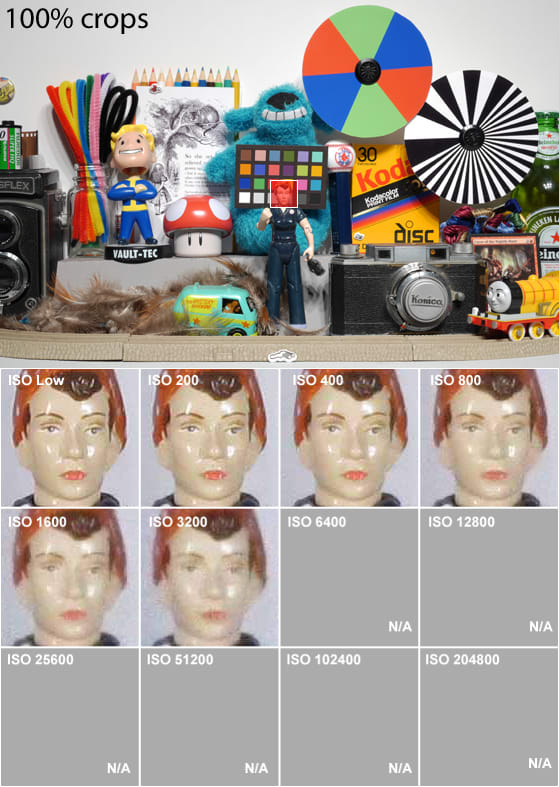 NOTE: The images above are not used in our testing or scoring, but are included here to show real-world examples of the differences between cameras at the various ISO settings.
Resolution
The 510 HS' 12x lens is a mixed bag performance-wise. Canon has a long history of sharp, well machined lenses. And while this camera's optics produce sharp lines, chromatic aberration detracts severely from image quality. More on how we test resolution.
Distortion ()
Distortion is very minimal thanks to some onboard processing. Like a few other cameras, the 510 HS receives the maximum score for this test. When warping does occur, it's worst at the widest and mid-range focal lengths, producing as much as 0.65% barrel distortion.
Sharpness ()
In this comparison group, only the S100, another Canon model, produces sharper images. Some of this can be attributed to artificial sharpness enhancement, but it's a necessary evil that all four of these cameras get away with. Still, the Canons run away with this test. The 510 HS registered a median average of 2109 MTF50's of detail at the widest focal length, 2003 at the middle of the zoom range, and we noticed only a moderate falloff to 1680 at the farthest focal length.
Chromatic Aberration ()
Consistency is usually a good thing, but not when it comes to chromatic aberration. Fringing manifests constantly and predictably with focal length. At the widest setting, green fringing pollutes all edges of the frame in areas of high contrast. At medium focal lengths, blue fringing takes over, for a less pronounced but still noticeable effect. Finally, at 60mm, purple fringing disrupts lines and adds a layer of artificiality to the edges of our shots.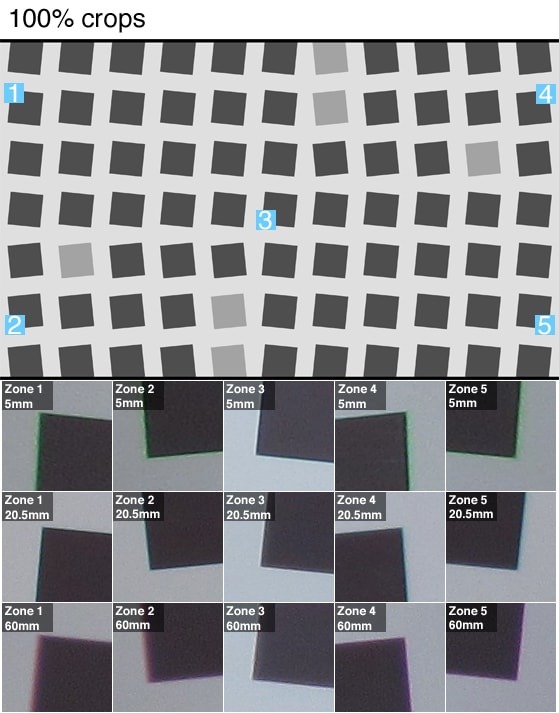 Quality & Size Options
Four aspect ratios are available, 4:3, 3:2, 16:9, and 1:1; and four shooting resolutions are available for each of them. Photos may be compressed and stored at either Normal or Fine JPEG quality levels, though no RAW encoding is possible with the 510 HS.
Image Stabilization
The 510 HS is equipped with an optical image stabilizer, and this application is moderately effective in practice. In our shaker test, the camera was able to resolve 68 MTF50's of detail without stabilization, and 79 with the feature activated, an increase of 13%. More on how we test image stabilization.
By far the most effective image stabilizer in this comparison group belongs to the Fujifilm F600EXR, which managed less detail than the 510 without shake reduction, but resolved much more with an active stabilizer. Other than that, the 510 HS does lead the pack, but remains only narrowly ahead of the Canon S100.
Video Mode
The 510 HS is capable of Full HD 1080p video capture, though only at 24 frames per second. 720p and 480p videos are shot in 30 frames per second however. Optical zoom is unlocked while recording video, however the mechanism is slowed way down to reduce audible noise. Autofocus is also enabled while recording, and it too is relatively slow, but accurate...eventually.
The 510 HS also supports ultra fast high speed capture at up to 240 frames per second, though this severely limits resolution.
Video Color
Shockingly, color accuracy is actually much better while shooting video than stills. The color error value came down to 2.76 and saturation was almost perfect, off by only 0.2%. If we didn't run this test ourselves, we may not have believed the result. More on how we test video color.
Video Sharpness
Sharpness is poor for this class while shooting video, and lags behind all the other cameras of this comparison group. The 510 HS is only able to resolve 550 lw/ph vertically and 350 horizontally during Full HD capture. More on how we test video sharpness.
Playback Mode
The only physical button on the rear of the 510 HS is used exclusively to jump in and out of image review mode. Once inside, the interface is entirely touch-based. This will be fine for many people, but those who're as critical as us will notice that the touch controls, like most touchscreen interfaces, are actually much slower to operate than a traditional button configuration.
Other than that, playback mode features are pretty typical. There's fullscreen display with magnification, a detailed information display, and grid view modes of four different sizes. Calendar view is absent, unfortunately.
The 510 HS also either uses a built-in gyroscope or is able to gather physical orientation data from the image stabilizer, because simply tapping the left or right side of the body will scroll through reviewed images in sequence. It's a pretty cool feature, though one that would've been more at home on an underwater camera for easy operation. The feature also has a tendency to fire at inappropriate times, especially when placing the camera down on a table, and this can confuse and annoy.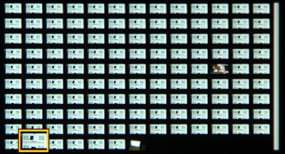 In-Camera Editing
In-camera editing options aren't very extensive. My Colors settings may be applied in playback mode, as well as contrast and red-eye correction. Other than that, editing options are restricted to basics like rotate, crop, and resize.
Direct Print Options
DPOF is apparently a priority for the 510 HS because related settings get their own tab in the main playback menu. Images may be tagged individually or all at once, with multiple prints of up to 99 copies each. The 510 HS is compatible with the PictBridge standard for home printing.
Display
An extra large 3.2-inch touchscreen LCD dominates the rear panel, and in the absence of a viewfinder it's the only tool for framing shots. This is a 461,000-dot monitor, and it displays images and video very accurately. Viewing angle is also strong, the screen only loses color when viewing from below at a steep angle.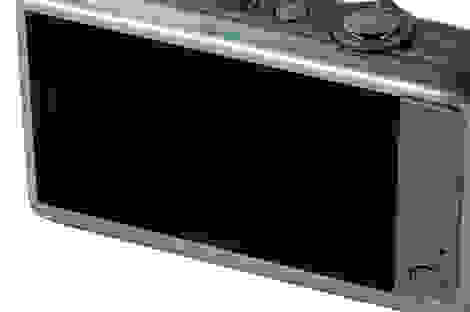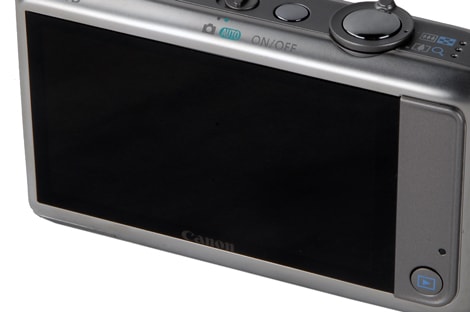 Flash
The camera's moderately bright flash emitter is placed ideally for one-handed shooting...and abysmally for two-handed shooting. Shoved way off to the left side of the front panel, the bulb is far out of the way of the right hand, but directly in the path of the left. When shooting two-handed, be sure flip up those extra fingers to prevent uneven lighting. Flash options are readily available from a hotspot on the touchscreen menu, and do include a Slow Synchro setting to capture more of the subject's surroundings.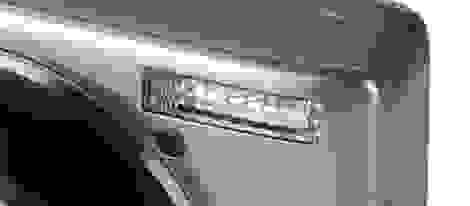 Lens
The lens' barrel and automatic cap are black with chrome bezels, offsetting the totally chrome body of our test model. The barrel is extremely sturdy, and doesn't rock or twist in the hand; in general this is a sign of quality. For a 12x lens, the barrel also doesn't extend from the body very far, maybe an inch or two.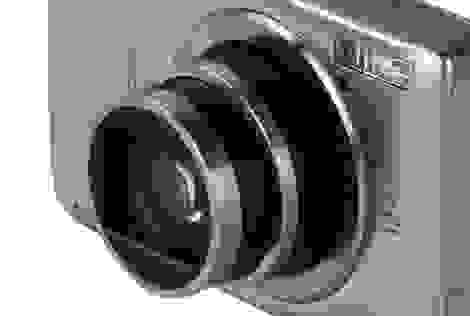 While not the most extreme zoom ratio we've seen from a "travel zoom" -class camera, 12x is enough to reach halfway across a football field. In the examples below, we were able to achieve an extra fifty yards or so of extra detail.
Battery
The included NB-9L battery pack is shaped differently than most others. It's skinny, almost like a AA. In the 510 HS, this battery is CIPA rated to 170 shots. That's lower than what we're used to, but in practice the battery seemed to perform better than this, surviving our entire suite of tests on one charge. Recharging is accomplished exclusively by an included wall socket adapter, charging via USB does not seem possible.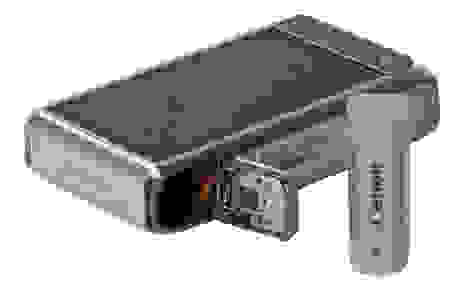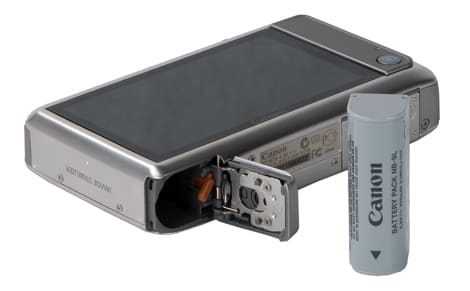 Memory
The 510 HS is compatible with SD, SDHC, and faster SDXC memory cards, though all tests were performed with an SDHC. Eye-Fi cards are also supported, allowing wireless data transfer to a nearby computer. The media card slot is protected by a robust slot cover which, like the battery slot cover, actually wraps around to the front panel and gives the face design some character.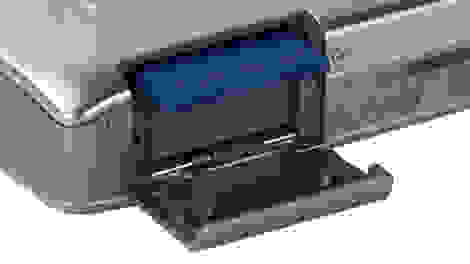 Jacks, Ports & Plugs
Less robust is the chintzy connectivity ports cover, which is pried off by a fingernail and hangs by two strands of rubber. Underneath is a standard mini-USB port for PC input/output, as well as a mini-HDMI port for streaming pictures and video to an HDTV.
Shooting Modes
Actual proper shooting modes, in the true sense, are in fact limited to only two options: fully automatic and normal. They're toggled by a physical switch on top of the body. Normal mode is where you'll spend most of your time, as it unlocks Program, all the scene modes, and basically every feature this camera has to offer.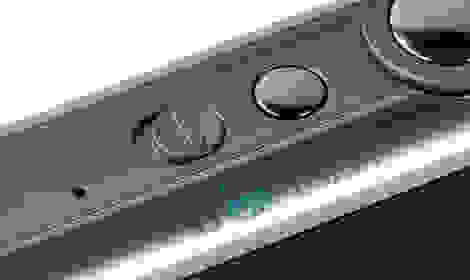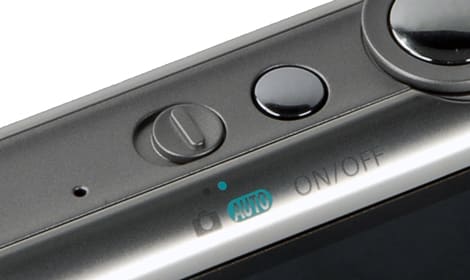 Scene Modes
The top left hotspot on the touchscreen is reserved for accessing various shooting options and features. Scene modes like Portrait, Low Light, and Beach are listed here, as well as other techniques like Best Image Selection, Long Shutter, iFrame Movie, and Super Slow Motion Movie.
Picture Effects
Effects are also included in the same catch-all menu as scene modes. Options aren't numerous, but do include a few favorites like Fish-eye, Miniature Effect, Toy Camera, and Color Swap. Some effects aren't as impressive as others. Poster Effect, for example, produces a pretty weak, unconvincing result.
Drive/Burst Mode
Full resolution continuous shooting options are accessed from the quick Function menu, as are self-timer options which, thankfully, do include customizable countdowns. There's also a faster high speed burst mode found, again, in that catch-all menu in the top left corner, but this mode limits resolution to 3 megapixels.
Shot to Shot ()
At full resolution, the 510 HS can record at a maximum speed of just under 2.5 frames per second. We found ISO 400 to be the ideal level, since this requires high shutter speeds but doesn't introduce lag from noise reduction post processing. Canon claims the 510 HS is capable of 3.3 frames per second at full resolution, but we could find no way to achieve speeds that high.
Handling
Physical handling of the PowerShot 510 HS is far from ideal. First, there are the problems we've mentioned already. If you prefer shooting with two hands, the flash bulb is totally in the way. Also, in playback mode, the camera's gyroscope feature has a tendency to advance through images unexpectedly.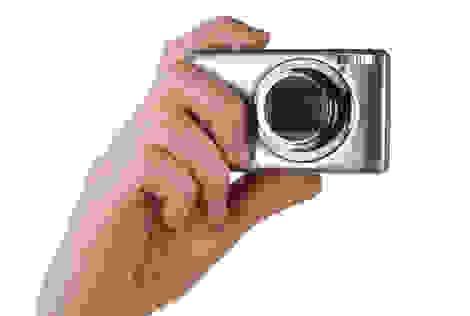 Unfortunately, the issues don't stop there. The rear panel's thumb rest, while a nice idea, isn't wide enough, and leaves the thumb nowhere to land except on top of the LCD. This will mean plenty of accidental presses to the right bank of setting shortcuts. Also, features to improve grip are essentially missing. The thumb rest strip appears to be made of a very slightly rubberized material, however it's too smooth to make any difference. Other than that, no ergonomic features exist.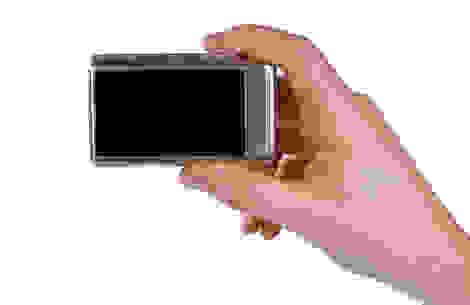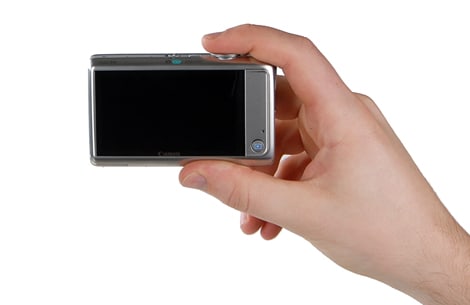 Handling wouldn't be such an issue if the camera itself wasn't so heavy. But the sturdy lens barrel weighs down the left side of the body, for a heft we weren't expecting.
Buttons & Dials
Thankfully, the camera's shutter release is pretty good. So assuming you avoid all the problems and mistakes creating by various handling issues, actually snapping a stable shot should be easy. In fact, all of the physical buttons, where they exist, are robust. The hardware mode switch is sturdy, the on / off switch has a tendency to get pressed by accident, but it too has a decent feel and tactile response, and the playback button behaves the same way.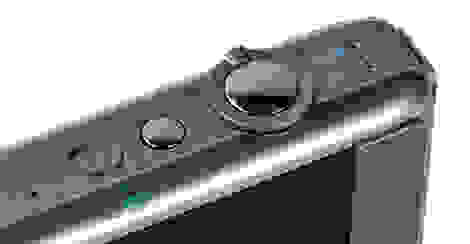 We only wish there were more of these buttons. Instead, we're left with a predominantly touchscreen control set. The screen's sensitivity is inconsistent, especially near the edges where all of the allegedly-convenient shortcut hotspots are.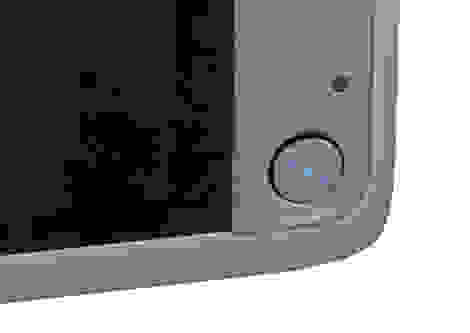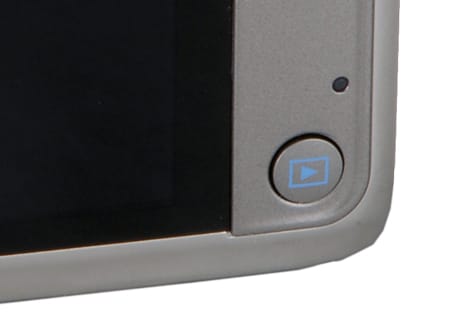 Menus
Problems with the LCD hardware exacerbated our frustration with the just-okay menu interface. Settings have been split into the quick Function menu, and a more detailed main menu. Problem is, the main menu is contained within the Function menu, there's no way to access it directly, necessitating an extra step.
The Function menu itself is quirky and takes some getting used to. Settings are grouped like columns on a slot machine. Swiping up or down navigates through a set of options, while touching an icon chooses that value. But the LCD is either not precise enough to react properly to your swiping, or so sensitive that you'll start changing every setting except the one you meant to. We sometimes found ourselves shooting with one or two features active that we didn't remember enabling.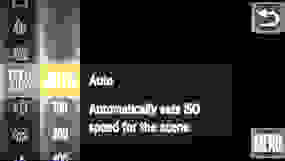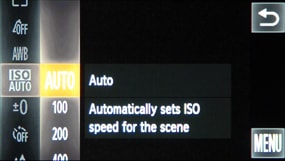 Manual & Learning
The 510 HS ships with a useless 30-page "Getting Started" guide, and most users will want to copy the full manual from the included Digital Camera Solution Disk, or download it from Canon's website. The manual is detailed, but sometimes the layout left us scratching our heads. Components guide on page 42? Shouldn't that be like... page 2?
In-camera help is limited to some select tooltip popups that occur when navigating across popular variables. There's not much to it, but this is a pretty simple camera after all.
Fujifilm FinePix F600EXR Comparison
Casio's Exilim EX-ZR100 is currently our best performing travel zoom camera, and the ELPH 510 HS does not challenge it for the crown. The ZR100 offers impressive high speed shooting features, very attractive shots at the lower half of the ISO range, and a pocketable but solid design. The ZR100 even debuted for $50 less than the 510 HS, leaving us no reason to recommend the Canon over the Casio.
Canon PowerShot S100 Comparison
The Fujifilm FinePix F600EXR took up second place behind the ZR100, as far as travel zoom cameras go, but again the 510 HS lags behind. Fujifilm's 15x model offers the best color accuracy of our comparison group, and that is what accounts for the severity of the score gap. The 510 HS, on the other hand, is sharper according to our lab tests. But according to our eyes, the difference seems minimal at worst. The F600EXR also offers more manual control, more ISO levels, and comes in at a cheaper price point. Again leaving us with little reason to recommend the 510 HS.
Canon PowerShot S100 Comparison
Canon's own PowerShot S100 is not a travel zoom camera, it maxes out a 5x, but a comparison here illuminates just how much can be achieved in a small body when zoom isn't an issue. The S100 is by far the best camera of this comparison group, and offers sharp images that are free of noise, and a detailed control suite that provides tons of flexibility.
The extra performance comes with an even bigger price tag, but still the chief difference here is zoom ratio. We've included this comparison in the hopes of causing prospective buyers to question whether or not a travel zoom is really necessary for them. For an extra 25 yards' worth of magnification, give or take, you may be sacrificing more than you think.
Conclusion
What a disappointment. Here we've got a corner of the market that isn't yet crowded to capacity, an area currently led by Casio which–and no offense to Casio here–is no Canon, and the arrival of a brand new, expensive contender with an exciting spec sheet and a history of competence in the product line.
Then we get it in our hands and...touchscreen. Okay, bad sign.
Clumsy interface. Uh-oh.
Noise at ISO 100. Game over.
While not a terribly bad camera, the PowerShot ELPH 510 HS offers nothing that can't be found elsewhere for less money. And specifically, yes we're talking about the Casio ZR100. Canon's model lags behind in the handling of noise, cleanliness of lines and geometry, physical handling, video mode capabilities, and of course high speed shooting–Casio's specialty.
While we cannot recommend a purchase, the 510 HS has a few qualities we'd love to see in a future, better model. For some reason the behavior of shutter release buttons varies wildly from camera to camera, even within the same company or the same series. The 510 HS has a good one, not too stiff, good tactile feedback, easy to shoot with. In fact, construction of the 510 HS is quite solid overall, particularly the sturdy lens barrel. We definitely think the glass inside needs to be adjusted to reduce chromatic aberration, but the barrel itself is a quality piece of hardware. Finally the color accuracy, not for still shooting but while recording video, is amazing. We're not sure how Canon accomplished this rare feat, but if it was anything other than an accident, we'd love to see it in another model.
The PowerShot ELPH 510 HS would be a phenomenal $200 camera, but as a $350 "Performance and Style" model, we think this one is destined for obscurity. While some of its features left us wondering what to expect from the ELPH lineup next, this particular iteration is a miss.
Photo Gallery
Up next