Cameras
Canon PowerShot ELPH 510 HS Review
The Canon PowerShot ELPH 510 HS offers nothing that can't be found elsewhere for less.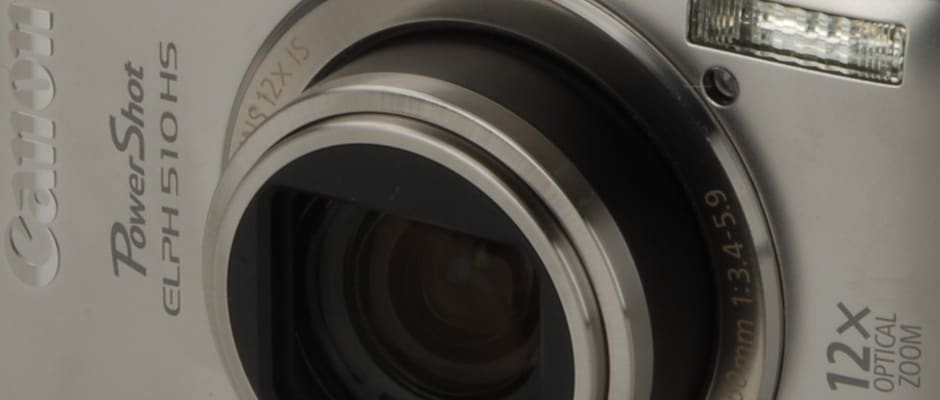 Credit:
Introduction
Canon's PowerShot 510 HS is one of the company's newest travel-zoom cameras, and the most expensive ELPH-class model in their current lineup. The 510 HS improves on the PowerShot SD4500 IS, a fairly lousy camera in our opinion. Upgrades include an ample 3.2-inch touchscreen, a 12.1 megapixel CMOS sensor, and a long 12x lens.
Zoom doesn't automatically equal image quality though, and–compared to its predecessor–this model will need to make quite an improvement to justify the new price tag.
Design & Usability
We're always wary of touchscreen features, and this is why.
The 510 HS's construction is sturdy, especially the rock-solid lens barrel, but physical handling is far from ideal. First, if you prefer shooting with two hands, the flash bulb is always in the way. Also, in playback mode, the camera's gyroscope feature has a tendency to advance through images unexpectedly. The issues keep coming. Features to improve grip are essentially nonexistent. The rear panel's slippery thumb rest isn't wide enough, which results in an errant thumb that inevitably comes to rest on the rear LCD, causing accidental presses to various touchscreen settings. Other than that, no ergonomic features exist and the camera is actually rather heavy too.
This touchscreen is a pest, the kind you want to batter with a shoe.
Thankfully, the camera's shutter release is reliable, so assuming you avoid all the handling problems, snapping a stable shot should be easy. In fact, the physical buttons are all robust—we just wish there were more of them. Instead, we're left with a predominantly touchscreen control set, which we hate. Settings are grouped into columns, rather like a slot machine. Swiping up or down navigates through a set, and touching an icon chooses that value, but the LCD is either too insensitive to react properly to a swipe, or else it is so sensitive that you accidentally change every setting except the one you meant to. We sometimes found ourselves shooting with one or two features active that we never meant to enable. Sure, the LCD is 3.2 inches, and it's accurate, and the viewing angle is strong, and it has 461k dots. Blah, blah, blah—this touchscreen is a pest, the kind you want to batter with a shoe. Worse, this obnoxious LCD is combined with an uninspiring menu interface. The organization is confusing and contrary to industry norms, and settings are split awkwardly between a quick Function menu and a more detailed main menu.
Features
The ELPH 510 HS offers the usual dose of creative control, but without manual authority.
Proper shooting modes, in the true sense, are in fact limited to just two options: Fully Automatic and Normal. They're toggled by a physical switch on top of the body. Normal mode is where you'll spend most of your time, as it unlocks Program, all the scene modes, and basically every feature this camera has to offer.
The 12x lens is enough to reach halfway across a football field.
A hotspot on the top, left side of the touchscreen is reserved for various shooting options and features. Scene modes like Portrait, Low Light, and Beach are listed here, as well as other techniques like Best Image Selection, Long Shutter, iFrame Movie, and Super Slow Motion Movie. Effects are also included here, and amongst them are the usual favorites, like Fish-eye, Miniature Effect, Toy Camera, and Color Swap. A few color modes are on hand too, to further creative control, though, as we will disclose momentarily, some of these behave rather oddly. Full resolution continuous shooting options are accessed from the quick Function menu, as are self-timer options which, thankfully, include customizable countdowns. There's also a faster high speed burst mode, but it limits resolution to 3 megapixels. Lastly, video capability is remarkably extensive and, while not the most extreme zoom ratio we've seen from a travel-zoom class camera, the 12x lens is enough to reach halfway across a football field.
Performance
The 510 HS's strengths in image quality testing were regularly overshadowed by weaknesses.
The 510 HS cannot boast much in the way of image quality. Color accuracy is slightly below average, and Canon's color modes are very inconsistent. Upon testing this camera, we found that the most accurate, true-to-life color mode is "Darker Skin Tone," of all things. We were pleased to see that noise reduction software is not aggressive, so photos were not stripped of fine detail, but sadly, that point is overshadowed, because distracting noise pollutes pretty much the entire ISO spectrum—even ISO 100. Sharpness at least is excellent, but distracting fringes of colorful light (chromatic aberration) along high contrast borders are a constant problem. We had high hopes for the HD video, because it lends a great measure of control and it renders colors beautifully and realistically, but it missed the mark on sharpness, in the end. All things considered, the 510 HS is just an average performer at best.
Conclusion
And now, we will make our final remarks on the rather unremarkable ELPH 510 HS.
What a disappointment. Here we've got a corner of the market that isn't yet crowded to capacity, an area currently led by Casio (no offense, but Casio isn't exactly the main pillar of the camera world). Along comes Canon, signalling the arrival of a brand new, expensive contender with an exciting spec sheet and a history of competence in the product line. Yes—exciting!
Then, it arrives and... it has a touchscreen. Okay, bad sign.
Clumsy interface. Uh-oh.
Noise at ISO 100. Start planning the funeral.
The PowerShot ELPH 510 HS offers nothing that can't be found elsewhere for less.
It's not the worst camera in the world, true, but the PowerShot ELPH 510 HS offers nothing that can't be found elsewhere for less. Specifically, yes, we're referring to the Casio ZR100. Canon's model lags behind in noise handling, cleanliness of lines and geometry, physical design, video mode capability, and high speed shooting—Casio's specialty. We do not recommend purchasing it, but the 510 HS has a few qualities we'd love to see in a future, better model. It has an excellent shutter release and its overall construction is quite solid, particularly the sturdy lens barrel. The lens glass needs adjustment, to reduce chromatic aberration, but the barrel itself is a quality piece of hardware. Also, the color accuracy for video (not still) is amazing. We're not sure how Canon accomplished this rare feat, maybe it was an accident, but we'd love to see it in another model.
The PowerShot ELPH 510 HS would be a phenomenal $200 camera, but as a $350 "Performance and Style" model, we think this one is destined for obscurity. While some of its features left us wondering what to expect from the ELPH lineup next, this particular iteration is a miss.
Science Introduction
The 510 HS's had only a couple of strengths, namely its color accuracy in video mode and its sharpness scores. These proclivities were dragged down though, by noisy images, below average color performance, and persistent chromatic aberration.
Color
Color accuracy in video mode and still mode varied greatly, with the former performing very well and the latter poorly.
The 510 HS' color accuracy on still photographs is below average, returning an error value of 3.4 in our test where lower scores are better. Light blues are the least lifelike shades, but the camera also has some problems with light yellows, light greens, and moderate reds. Captured images will be less convincing and lifelike as a result, especially photos with human subjects.
Video is a different story—its color accuracy is actually much better. The color error value came down to 2.76 and saturation was almost perfect, off by only 0.2%. If we didn't run this test ourselves, we may not have believed the result. It's a shame though, because in terms of sharpness, video fails to impress. The 510 HS is only able to resolve 550 lw/ph vertically and 350 horizontally during Full HD capture.
Noise
Shots are prone to artifacting, and the problem is worse in low light.
The way the 510 HS renders unwanted image noise is very even keel across the ISO spectrum, and this is desirable since many small cameras are prone to drastic and intrusive noise reduction software. Sadly, even though noise behaves properly, overall artifact levels are too high. Only ISO 100 comes away with less than 1.00% noise in normal light, with rates as high as 1.91% at the ISO 3200 maximum.
On average, noise rates are a little over 12% worse when subjected to our 60 lux low light test, a fairly wide gap that we don't always see. In fact, many cameras actually offer superior noise performance in these conditions. The behavior of noise reduction is the same however, progressing slowly and linearly from ISO 100 up to 3200.
Sharpness & Chromatic Aberration
The 510 HS is quite sharp, but chromatic aberration is a constant pest.
Like many cameras of this sort, this ELPH uses artificial software to boost image sharpness. Perhaps it's a necessary evil though, because the 510 HS registered a median average of 2109 MTF50's of detail at the widest focal length and 2003 at the middle of the zoom range. We noticed only a moderate falloff to 1680 at the farthest focal length.
Shifting gears, consistency is usually a good thing, but not when it comes to chromatic aberration. Fringing manifests constantly and predictably with focal length. At the widest setting, green fringing pollutes all edges of the frame in areas of high contrast. At medium focal lengths, blue fringing takes over, for a less pronounced but still noticeable effect. Finally, at 60mm, purple fringing disrupts lines and adds a layer of artificiality to the edges of our shots.