Cameras
Canon Rebel T3i Review
Takes some great features from other Canon SLRs, but with few innovations of its own.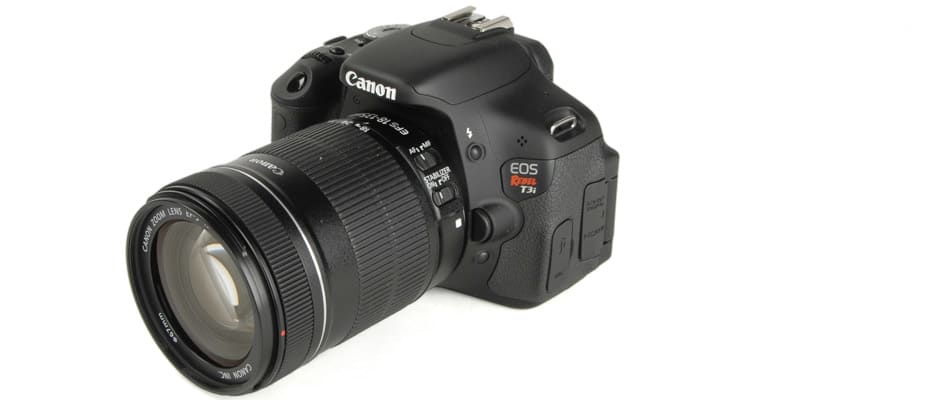 Credit:
Introduction
The Canon Rebel T3i (also known as the Canon 600D or Kiss X5 in certain parts of the world) enters the fray just beneath Canon's recently-released 60D.
Rather than changing into a flashy new outfit, though, the T3i sticks with the same articulated LCD, 18MP sensor, and integrated wireless strobe control as the 60D. Instead, this new Canon distinguishes itself with a slimmer profile, less heft, and more beginner-friendly features—all at a slightly lower price of $899. We suspect that the T3i's performance will fall along similar lines as its close relatives, given the spec sheet similarities, but only a spin through the lab will show for sure.
Design & Usability
Overall, the T3i is an attractive blend of ease-of-use and fine control.
The T3i is enjoyable to shoot with due to its light weight and robust grip. The plastic and aluminum body does feel slightly cheap compared to models like the Canon 60D, however. An articulated 3-inch LCD is phenomenal, especially if you're shooting video or looking to get a shot at a new and different angle. This is the same 1040k-dot swivel-LCD that made its debut on the Canon 60D. Live view AF performance is poor though, and direct sunlight hampers viewing, so take advantage of the optical viewfinder, which covers about 95% of the frame with roughly 0.85% magnification and helpful corrective features.
Buttons for focus/exposure lock and focus assistance are easily accessible.
The control layout on the T3i is just complex enough to offer a challenge to beginners without feeling intimidating. Controls are well-labeled and conveniently placed, but the tabbed, color-coded menu design is a bit convoluted, with several key shooting options stashed deep in the menu. Quick menu gives access to a number of settings while in live view, and buttons for focus/exposure lock and focus assistance are easily accessible too. The focus assistance button selects an AF point in normal shooting and zooms in digitally up to 10x during live view to make focusing easier.
Features
From wireless control over flash to fully manual HD video, the T3i's menu is packed with features, and beginners won't be left behind.
We'll begin outlining some notable features with a quick look at hardware. The T3i features Canon's EOS system, arguably the most beginner-friendly lens system on the market, so both EF and EF-S lenses are compatible. There are about 60 current lenses that will work fine with the Canon T3i, ranging from $100 up to several thousand dollars. In the T3i, you will find the same 18MP APS-C CMOS sensor as on the Canon 7D, T2i, and 60D. Quite simply, since this sensor is packed with 18 megapixels, you can do a lot. If your goal is to print A4-size images and smaller, you can effectively crop out half your image and still get reasonable results. The T3i has the same built-in, 12-foot flash as the T2i before it, and it inherited the 60D's ability to control flash wirelessly.
The T3i inherited the 60D's ability to control flash wirelessly.
In the way of shooting and creative control, the T3i comes with a variety of common shooting modes available on its dial, ranging from full manual control to a variety of helpful auto modes. A creative auto mode will do some of the heavy lifting for the user, but it allows for some adjustments to things such as background detail, image tone, drive mode, and flash mode—all in a simple-to-understand manner that allows for a surprising amount of fine control without needing to know terms such as aperture. A set of picture effects modes, filters, and color modes add some spice to the menu too, and there's 1080/30p recording for the video fans out there. The video mode allows for full manual control over aperture, shutter speed, and ISO during video recording, and auto mode is of course available too.
Performance
The T3i dressed itself in Canon hand-me-downs, resulting in solid performance but nothing we haven't seen before.
Overall image quality was strong in some points and weak in others. With three other cameras in the Canon family that feature this same 18MP APS-C sensor system, there really isn't much that surprised us about the T3i. It showed incremental improvements in its ability to handle noise in still images and video, with slightly improved dynamic range. We also found that in long exposures, Canon improved color accuracy and reduced noise—likely by more effectively dissipating heat from the sensor to reduce interference.
[The T31 showed incremental improvements in its ability to handle noise.
Resolution, however, was sub-par (with the 18-135 lens), with images suffering from very little contrast at the smallest apertures. Colors were very accurate overall, yet the automatic mode tended to over-saturate a bit. Images showed over six stops of dynamic range through ISO 800, with results quickly falling off thereafter. Highlight tone priority and auto lighting optimizer options can help retain detail in the brightest and darkest areas, though, and shooting in RAW also helps.
The Canon T3i utilizes a nine-point autofocus system with a single cross-type center point. This system was snappy for most everyday snapshots, but not always perfectly accurate. Live view reverts to the contrast detection system, though, which is rather slow and inaccurate—a troublesome trend with Canon DSLRs. Image stabilization on the 18-135mm kit lens was effective, especially in high-shake scenarios, such as walking. To conclude, 1080/30p video recording earned solid sharpness results and attractively rendered motion, but autofocus remains painfully slow and auto mode tends to under-expose.
Conclusion
Canon's T3i is a tried and fairly true recipe.
One word comes to mind when discussing the Canon Rebel T3i: safe. The old T2i was certainly a reliable formula, and there's always the danger of spoiling a recipe by changing it too much, so Canon stuck with the same old spices. Canon remains the name to beat in the entry-level DSLR game, but the T3i faces competition that the T2i was never confronted with.
If you already own a T1i or T2i, then the 60D is likely the more appealing upgrade here.
The T3i is something short of shiny and new. Its major enhancement is its articulated LCD screen and the ability to control wireless flashes directly from the camera. Shooters will have to decide if those features are worth the extra money. If you already own a T1i or T2i, then the 60D is likely the more appealing upgrade here. If you're a beginner looking for a lightweight DSLR with solid video credentials, then the T3i is a fine choice. It is an easy camera to pick up and grow with—though you'll want to invest in some better lenses to go with it.
We can definitely recommend the T3i for video quality, solid handling, EOS EF lens compatibility, and image quality. There are some issues with menu organization, slow live view autofocus, and the quality of the 18-135mm kit lens, but these don't necessarily outweigh the positives of shooting with the T3i.
Science Introduction
This entry level SLR's image quality was fairly solid across the board. The T3i handled noise pretty skillfully, color accuracy looked great, and white balance was reliable as well. The 18-135mm kit lens was a rather poor performer, though, failing to capture the sort of sharpness we like to see at this level and suffering from some aggressive distortion as well. Dynamic range results were about average, with little or no improvement over the previous T2i, but there was some progress in terms of video capture.
Noise
The T3i showed moderate improvement over the T2i's noise performance, though this sensor is still beat out by its larger, lower-resolution peers.
The T3i comes with three levels of noise reduction: low, standard, and strong. Standard is generally the most useful, as it applies less noise reduction at the low end of the ISO range (up to about ISO 800) and a greater amount beyond that. In total, standard mode keeps noise to a respectable level, with just about 2% at ISO 6400. If you really want to keep noise out, the maximum setting of noise reduction will drop that amount to 1.4% at ISO 6400, though at a greater penalty to fine detail.
Noise is most apparent in the red and blue channels of the images—yellow and green noise is less of a problem. Luma noise is barely perceptible at low ISOs, only becoming an issue above ISO 800. Without assistance from noise reduction, noise spikes sharply upward at ISO speeds 3200 and greater. This sensor works hard, with an ISO range that reaches to 12800. With no noise reduction applied, noise spiked above 3% at ISO 6400, resulting in practically unusable images. Images were generally printable up to ISO 3200, with a fine measure of detail still intact.
Color & White Balance
The Canon T3i produced very accurate colors and fair white balance performance.
We found that the T3i reproduced colors accurately, though it generally favors slightly more vibrant colors rather than pure accuracy. The automatic mode was over-saturated a bit, with blues and yellows being the least accurate. If you're looking for as much accuracy as possible, the "faithful" picture style is the best choice, as it offers near-perfect saturation and nice accuracy. The automatic and standard picture styles that are available enhance sharpness artificially and are not as accurate as the faithful mode.
The automatic white balance actually outperformed the custom white balance in both compact white fluorescent light and in daylight. This did not hold true for tungsten light, where the Canon T3i had serious difficulty accounting for the color temperature in automatic. Specifically, the T3i produced an average color error of just 92.50 kelvins in lab-simulated daytime lighting—impressive.
Incandescent lighting generally causes havoc with automatic white balance settings on digital cameras, and that was exactly the case here. The T3i produced a strong warm color cast that resulted in an average color error of 1816.15 kelvins.
Next, the automatic white balance produced an average color error of 123 kelvins under compact white fluorescent lighting, with a color error of 211.50 kelvins—outperforming the custom white balance once again.
Sharpness & Stabilization
We found the Canon T3i's resolution to be sub-par with the 18-135 lens, with images suffering from very little contrast at the smallest apertures. Image stabilization was quite helpful, though.
The idea of "sharpness" in a lens is derived from its ability to keep distinct areas of contrast from blurring into one another—a natural occurrence when light passes through any lens. Neither kit lens from Canon offers much in the way of sharpness, but we found the 18-135mm to be particularly poor. It should be noted that we take our test shots using the "Faithful" color mode—the most accurate color mode that we found—which, unlike automatic mode, adds hardly any sharpening to images. That said, both the 18-55mm and 18-135mm kit lenses available for the Canon T3i / 600D are soft at the edges of the lens, especially at the wide angle and with the smallest apertures.
We found the image stabilization on the 18-135mm kit lens to be effective, especially during scenarios of high-shake, such as when walking. Image stabilization was best able to counteract motion at shutter speeds faster than 1/8th of a second—beyond that the shutter is simply open too long to register many sharp images on the T3i.
Distortion
Distortion proved to be a real menace with this 18-135mm kit lens.
We found that the 18-135mm IS lens that we used during testing was subject to heavy distortion across the zoom range. There is more than 3.5% barrel distortion at the wide angle, with pincushion distortion developing through the telephoto range with a maximum of about 1.6%. This distortion can be corrected in post-processing, but 3.5% distortion is poor—even for a lens that covers a large zoom range. When we tested with the 18-55mm lens, distortion was only noticeable at the wide angle, where there was a 2.39% pincushion distortion.
The Canon T3i exhibited little chromatic aberration in our tests using either the 18-55mm lens or the 18-135mm lens. There is noticeable blue/green fringing, but it's largely kept under control and is only visible at the periphery of the lens. In our sample photos we didn't notice it to be a distraction to any large degree.
Video Performance
The T3i improved somewhat over the T2i's ability to handle motion and signal interference, with sharp videos from the 18-135mm lens.
We found that the T3i with the 18-135mm kit lens produced fairly sharp results in video recording. In our test we found that the T3i was able to resolve approximately 750 lw/ph of vertical sharpness, though just 600 lw/ph of horizontal sharpness. This is an improvement over the T2i (tested with the 18-55mm lens) and is slightly sharper than what we have seen from other video-capable DSLRs.
There was a fair amount of artifacting and ghosting with the T3i in video capture. We found that generally the resulting videos were appealingly smooth, though if the camera panned to either direction there was a noticeable rolling shutter effect. Exposure is fully adjustable on the camera, though, so you can adjust shutter speeds to fine-tune motion performance to your liking.
We tested the Canon T3i to see how sensitive it was to light and found that it took just 8 lux of light on a lab chart to reproduce an image that reached 50 IRE on a waveform monitor. This is a fairly acceptable image that, while dark, is still visible with some degree of detail.
Up next