Introduction
Casio has managed to squeeze the extremely high-speed photography and slow-motion video into the EX-FC100, which takes 9-megapixel images (or 6 megapixels at 30 frames per second) and records video at up to 1000 frames per second. While it had some issues with image quality, the high speeds are a powerful draw.
Product Tour
Front
---
Back
---
Sides
---
Bottom
---
Top
---
**Size Comparisons **
---
**In the Box **
---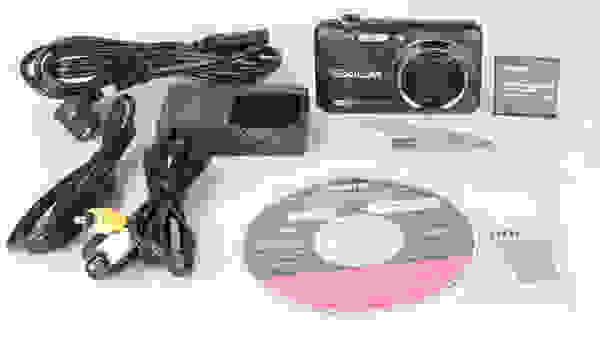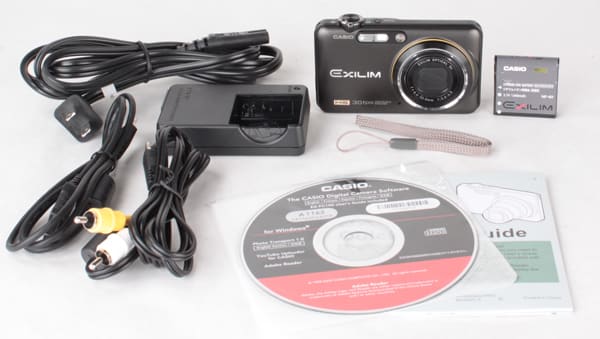 • Casio EX-FC100 camera
• Rechargeable batter NP-40
• Strap
• Battery charger BC-31L
• USB Cable
• Power cord
• AV Cable
• Software CD
• Manual
Color
**Color Accuracy ***(9.62) *
---
The Casio EX-FC100 didn't do very well in terms of color accuracy, with the lowest score of the cameras we chose for comparison. Our test for color accuracy is based on shooting the X-Rite ColorChecker chart under 3000 lux illumination, then analyzing the resulting images using Imatest software, which tells us how far from the photos deviate from the actual color values. Click here for more on how we test color
The chart below shows how each camera recorded the colors in its most accurate color mode. The Casio doesn't have any color modes, so this is its default. While it handled greens and reds quite well, it really struggled with yellows and blues.
NOTE: Because of the way computer monitors reproduce colors, the images above do not exactly match the originals found on the chart or in the captured images. The chart should be used to judge the relative color shift, not the absolute captured colors. 
Compared to the other three cameras we tested, the Casio EX-FC100 was the least accurate.
Color Modes*(3.00)*
---
Unusually, the Casio doesn't offer any color modes. Most cameras can be put into a Vibrant or Muted setting, which tweaks the colors and saturation a bit. The EX-FC100 makes no such options available.
Noise
Noise*(10.11)*
---
The image noise levels on the EX-FC100 were good at ISO 800 and below, but above that proved to be problematic. Image noise is a speckling static-like effect that becomes increasingly apparent at higher ISOs. We test this by photographing the X-Rite ColorChecker chart at every full ISO setting, under 3000 and 60 lux of illumination. We use Imatest to measure the image noise at each ISO.  Click here for more on how we test noise.
The chart above shows the different levels of noise under 60 lux and 3000 lux. Ideally, you want these lines to be as close to one another as possible, but the Casio had noticeably worse noise under low-light illumination.
Compared to the other cameras, the Casio performs very well at ISO 800 and belo. However, at ISO 1600 the image noise jumps, though not quite as badly as it does on the Fujifilm F200EXR.
The chart below shows the different noise levels at a range of ISOs, under both 60 and 3000 lux. The fact that the noise looks so soft and fuzzy at ISO 1600 is due to some attempt at noise reduction processing by the camera.
Compared to the other cameras we reviewed, the Casio has slightly better noise performance than the Canon and Fuji, and noticeably better than the Sony T900, when the entire range of ISOs is taken into consideration.
ISO*(5.00)*
---
The Casio EX-FC100 can shoot ISOs ranging from 100-1600, all at full size, lacking the ISO 3200 setting increasingly common even in compact cameras. This chart shows provides same-size crops to show how each camera's photos look at the different ISO settings. There is some color disparity between them, due to the fact they were photographed using automatic white balance.
NOTE: The images above are not used in our testing or scoring, but are included here to show real-world examples of the differences between cameras at the various ISO settings.
Resolution
Resolution*(9.03)*
---
Our resolution test looks at three factors: distortion, sharpness and chromatic aberration, and the Casio performed below average. For each facet of this test, we photograph a resolution chart at three focal lengths, and from that we can tell how the distortion, sharpness and chromatic aberration change over 18 areas of the lens at each focal length.  Click here for more on how we test resolution.
Distortion (9.09)
The Casio did pretty well in our image distortion test. At 6.4mm, it was a bit heavy on the barreling (1.4%), at 14.4mm and 32.1mm it was around 0.7%, which is far more reasonable. This puts it above the Canon SD970 IS and the Sony T900, but worse than the Fuji F200EXR.
Sharpness (9.36)
The EX-FC100 struggled in our sharpness test, scoring lower than the other three tested cameras. As with most cameras, the images were the sharpest at the very center of the lens, then got less sharp outwards from there, but picked up again towards the edges. The highest sharpness was at 6.4mm, at the dead center of the lens, and the lowest was at 32.1mm, half way between the center and outside edges. The maximum sharpness we saw was just over 2000 line widths per picture height (a measure of how many alternating black and white lines the camera could theoretically resolve), but on average it was below 1200 lw/ph, which is much less than we saw on other cameras.
Chromatic Aberration (8.11)
The chromatic aberration follows a similar pattern to the sharpness. It's at its best at the center of the lens, gets worse as you head out, before improving again at the corners. However, the best chromatic aberration is found at the focal length of 14.4mm, half way through the zoom range of the camera.
This chart shows same-size crops from our resolution chart, taken at the center and edges of the frame, to show the sharpness and chromatic aberration.
Due to its low sharpness, the Casio received a lower resolution score than the comparison cameras.
Picture Quality & Size Options*(7.25)*
---
The EX-FC100 has a broad selection of image sizes, and has three compression settings: fine, normal, and economy. It does not shoot RAW.
Image Stabilization*(0.00)*
---
Our image stabilization test is based around typical indoor lighting, around 100 lux, and an exposure time of approximately 1/30th of a second. These are the sort of conditions that typical indoor photography deals with, and when image stabilization is most needed. The Casio did very poorly in this setup; its image stabilization system actually made the images look significantly worse. Click here for more on how we test image stabilization.
Video
Movie Mode*(12.50)*
---
The Casio Exilim EX-FC100 doesn't have a distinct movie mode, seperate from still photography. Rather, it just has a big red button on the back, that you press to start recording video, while you use the shutter button for still shots. You can toggle between normal speed, and slow-motion/high-speed. In normal mode, the resolution can be set to HD (1280x720) or standard definition (640x480). The slow motion modes have varying sizes, depending on how fast the shutter speed is. For examples of how these look, refer to our Sample Images page. The problem with some of these modes is that the resulting video is so small as to be almost useless. The 1000 fps video, for instance, requires a huge amount of light to correctly expose, and the final movie is tiny and very poor quality. However, the 210 fps video is a much more reasonable size.
Since there's no dedicated Movie or Video menu, it's hard to tell which available options affect the movie mode, or if they just change still photography. For instance, you can alter the metering and ISO, but it isn't clear if these tweak the movies or just the still images, because everything is contained within a single mode. We weren't able to see any difference between video performance at ISOs 100 and 1600, but it's hard to say.
While shooting video, you can press the shutter button to record a still photo, up to 10 times in each recording.
Video Color*(9.41)*
---
The Casio EX-FC100 was surprisingly accurate for video color, given the trouble it gave us in terms of photographic color accuracy. The chart below shows the color error, so a short line is better. The Casio performed better than any of the comparison cameras except the Canon SD970. Click here for more on how we test video color.
Video Sharpness*(1.50)*
---
The sharpness test for video looks at how well the camera can resolve detail, while in motion, both horizontally and vertically. Even though the Casio records in HD, the sharpness is quite low, barely beating the standard definition Fujifilm F200EXR. The chart below shows video resolution measurements, so a taller bar is better. Click here for more on how we test video sharpness
Movie Scene Modes
---
The FC100 has two special scene modes for video. The first is pre-record, and this continually buffers five seconds of video (or two seconds of high-speed video), which are then saved when the record button is pressed, after which normal recording continues. YouTube video mode saves the movie in a special folder on the SD card, which can easily be uploaded from using Casio's bundled software. It doesn't actually change the recording setting at all.
Sample Photos
Sample Photos
---
Click on any of the following image samples to see them at full size. If you're on a slow connection, this may take some time to load, as they're very large files.
Still Life Examples
---
The images below all link to full size versions of our still life, at every available ISO. These images may take some time to load, as they're quite large files.
NOTE: The images above are not used in our testing or scoring, but are included here to show real-world examples of the differences between cameras at the various ISO settings.
Playback
Playback Mode*(8.25)*
---
During playback, images can be zoomed up to 8x, while zooming out will take you to 25-image thumbnail mode. Pressing the Display button alters the amount of information on the screen, from image only, to basic playback information and finally full shooting info including histogram.
The Slideshow options are diverse. The slideshow can be set to all files, all images except continuous shutter ones, snapshots only or movies only, The interval can be set from 1-30 seconds, and the slideshow length from 1-60 minutes. There are five different transition effects, four of which have music attached. These can be replaced by music from your computer, but only IMA-ADPCM format WAV files, in mono.
In-Camera Editing*(6.00)*
---
The EX-FC100 has a wide variety of editing tools built into the camera: motion print, movie editing, white balance, brightness, rotate, resize, trim, copy, divide group, CS frame edit. Many of these are self-explanatory, though some deserve some extra discussion.
Motion print saves a frame from a movie file. Either a single frame is saved, or a composite image of nine-frames is created in a film strip frame visual. The movie editing tool trims a file to between two points. This camera also has the rare ability to adjust the white balance of an image, after it's been taken, and it can be shifted to any of the presets (daylight, overcast, shade, day white fluorescent, daylight fluorescent or tungsten).
Usually in playback, if images were recorded in continuous shutter/high-speed mode, they're lumped together while browsing. Divide group splits them into the individual shots, and CS (for Continuous Shutter) frame edit lets you use the editing tool on all of a group at once.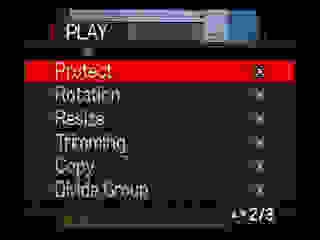 The editing controls
Direct Print Options*(2.50)*
---
For DPOF, the number of prints to make from each image can be set, and a date can be imprinted on the file. Plugging directly into a PictBridge printer offers the same choices, plus the ability to change paper size. There is no way to print a proof sheet.
Hardware
Viewfinder*(0.00)*
---
As with the vast majority of point-and-shoot cameras presently on the market, the Casio Exilim EX-FC100 does not have a viewfinder.
LCD*(3.65)*
---
The LCD on the EX-FC100 is 2.7-inches in size, with a resolution of 230,000-dots. This is pretty average, and of noticeably lower quality than the Sony T900's 920,000-dots and the Canon SD970 IS's 410,000.
The EX-FC100's screen
The LCD can be set to three levels of brightness, as well as Auto 1 and Auto 2. These auto modes adjust brightness based on current light levels, with Auto 2 adjusting more quickly.
Flash*(5.50)*
---
The flash can be set to auto, off, on or red-eye reduction. Its intensity can be set on a continuum of ±2. It's rated from 4 inches to 10 feet at wide-angle. Shooting against a blank wall, it suffered from a fair amount of light dropoff, but nothing too unusual.

The flash is easy to block
The flash is placed very near the shutter button, and is very easy to block accidentally. Next to it is the autofocus assist lamp, which wasn't overly powerful -- the camera had a lot of trouble focusing under very low light.
Lens*(7.00)*
---
The lens on the FC100 is a 5x zoom, with a range of 6.4mm to 32mm (which is equivalent to 37mm to 185mm in 35mm parlance). At wide-angle, the maximum aperture is a fairly slow f/3.6, and f/4.5 at maximum zoom.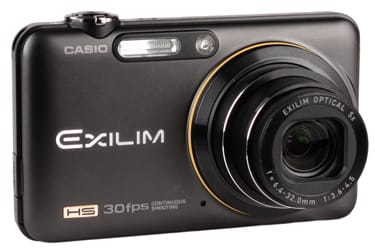 The lens, while extended
The act of using the zoom is quite jerky, as it lurches over pre-determined steps of focal length. This makes it very difficult to precisely frame an image while zooming, as it doesn't have any fine controls.
Battery*(8.50)*
---
The included Lithium ion rechargeable battery is a 3.7-volt, 1300mAh NP-40 unit. Casio rates the battery as able to last 300 shots on a charge, and we feeling this is pretty accurate. For a small point-and-shoot, this is a pretty lengthy charge.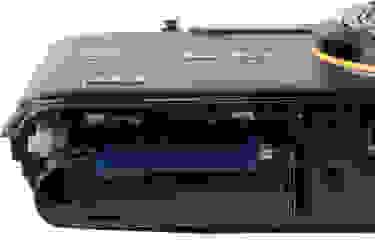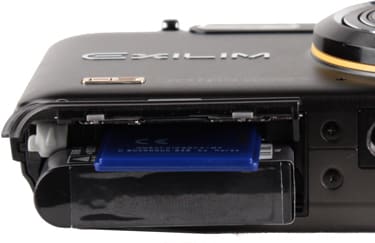 The camera has good battery life
Memory*(4.00)*
---
The EX-FC100 takes SD and SDHC cards, which are inexpensive, high capacity, and easy to come buy. The camera also has some degree of built-in control for an Eye-Fi wireless card. You can turn the card on and off from within the camera, which can save battery life.
Jacks, Ports & Plugs*(1.00)*
---
There is only one port on this camera, a proprietary I/O that is used for both USB and AV. This makes replacing cables costly and difficult, as opposed to using a standardized I/O format.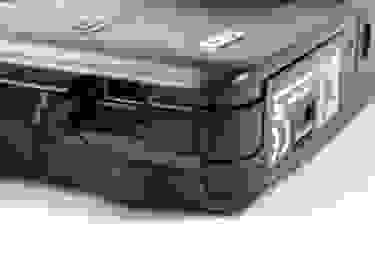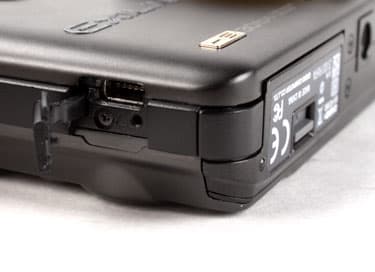 *The sole I/O port

*
Controls
Shooting Modes*(13.50)*
---
The EX-FC100 does not have a manual mode, or any priority modes. It does, however, have an absolutely huge number of scene modes. It also has a very nice customization option, where you can assign any photo you've taken to the Best Shot menu, and the settings used for that photo will be saved for future use. You can make up to 999 of these, which is really handy.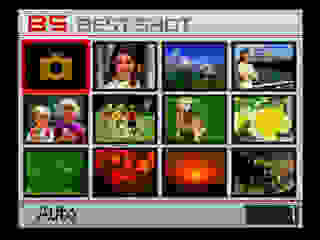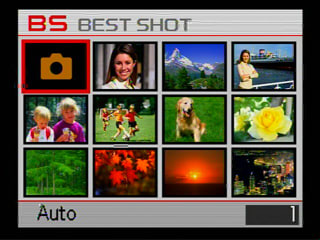 *Best Shot, known to
most as Scene Modes

*
Casio calls their scene modes 'Best Shot' modes, usually abbreviated to the poorly chosen acronym BS.
Some of these deserve slightly greater explanation. The High Speed Anti Shake mode is meant to combine multiple images to create one that is relatively free of blurring. This effect is slow to work, and makes noisy images, but seems to function as promised. The Move Out and Move In CS modes let you set up a framed area of a composition, and will start photographing as soon as something moves into (or out of) that area. Multi-motion Image layers multiple images in stages across the photo, a bit like a zoetrope.
Picture Effects*(4.50)*
---
The most extensive picture effect selection the Casio has on offer is its Color Filter system, which overlays a color on top of the image. It has red, green, blue, yellow, pink and purple. There's also sepia and black and white modes. The camera also lets you tweak sharpness, saturation and contrast, all at ±2 steps.
Focus*(10.00)*
---
In autofocus mode, the focus point can be set to spot, free (uses the whole frame), or tracking (which attempts to track moving objects). The focus mode itself can be set to autofocus, macro, pan focus (which has a fixed focal length, depending on zoom setting), infinity, or manual focus. The manual focus system enlarges the center of the image, and is controlled using the left and right buttons. It's very touchy, and hard to use properly.
The EX-FC100 has a face detection mode that can spot up to 10 faces.
Exposure*(3.00)*
---
The exposure compensation runs ±2EV in 1/3 steps, and there is no bracketing.
The EX-FC100 has an exposure compensation tool, unhelpfully called 'Lighting', which can be turned on or off. When on, it does pull quite a bit of detail from shadows, but adds noise. There is an example on our Sample Photos page.
Metering*(8.50)*
---
The metering can be set to multi, center-weighted or spot.
White Balance*(7.00)*
---
The white balance presets are daylight, overcast, shade, day-white fluorescent, daylight fluorescent and tungsten. It also ahs the unusual ability to apply these to an image in playback, which is a very rare tool. It can also manually white balance, or be left on auto.
Aperture*(6.00)*
---
At wide-angle, the maximum aperture is f/3.6 the minimum f/8.5. At tele it's f/4.5 to  f/10.8. The maximum isn't very fast, and the minimum isn't enough to provide a fantastic depth of field for landscape work.
There is no way to manually set aperture.
Shutter Speed*(7.00)*
---
Generally, the shutter speed runs from 4-1/1000 seconds, which isn't too impressive. But when flicked over to high-speed photography mode, the shutter speed maxes out at an astonishing 1/40000 second exposure.
There is no way to manually set shutter speed.
Self-Timer*(3.00)*
---
There are three timer settings. 10-second, 2-second, and triple. This last takes three shots after a 10 second delay.
Drive/Burst Mode*(11.50)*
---
The incredible speeds that the EX-FC100 can reach are the primary selling point for the camera, and what separates it from other models on the market. You access the high speed modes by pressing a button on the top of the camera, which lowers the resolution to six megapixels, but ramps up the speed considerably. We would have liked to have some sort of burst mode available at full resolution, even if it was slower.
The burst rate can be set to 3, 5, 10, 15 or 30 frames per second. The maximum number of images saved can be set to 5, 10, 20 or 30 frames. There's also the ability to pre-buffer images constantly, for up to 25 shots in advance. If this is done, then when the shutter is pressed the buffered images are saved, and the remaining number of photos are taken. This is great for making sure you don't lose the perfect shot in the time it takes you to press the shutter down.
Another button on top of the camera is labeled Slow, and this starts up slow motion mode. When this is activated, the camera records three seconds of still footage, which is then played back in slow motion, so you can choose to save individual frames as still photos.
Shot to Shot (15.53)
At the maximum speed of 30 frames per second, the Casio EX-FC100 blows every other camera in our test group out of the water.
Design & Handling
Handling*(7.00)*
---
The Casio EX-FC100 is 0.88 inches thick (22.4mm), but feels smaller due to its rounded edges and recessed holding area. It's a bit light, but had enough heft that you don't feel like it's about to fall out of your hand. It's small enough that it'll fit into all but the tightest of pockets, and just generally looks and feels sleek.
Buttons & Dials*(7.25)*
---
The control layout on the EX-FC100 is frustrating, to say the least. There's not a lot of space on a point-and-shoot of this size, and Casio definitely dropped the ball in terms of using it well. The layout feature that bugs us the most is that there are separate buttons for shooting and playback mode. The vast majority of cameras will switch between shooting and playback with a single button, as well as let you exit playback by pressing the shutter button. The Casio does neither, and uses up precious real estate by having the separate buttons for each. Likewise space could have been saved by having a mode dial/switch of some description instead of a high-speed button, switch for video resolution, and separate button for video recording. Given how small the controls are, a slightly better design with larger buttons would have gone a long way to making the shooting experience more pleasant and practical.
Menu*(4.50)*
---
The menu system isn't abysmal, but has a few issues. The first is that the camera takes you out of the menu system whenever you change an option, which makes altering multiple settings a chore. Also, all of the menu levels have more than a page of options, which requires lots of scrolling. How the options are arranged makes little sense. Why is focus mode in the Record menu, but Metering in the Quality menu?
Manual & Learning*(3.75)*
---
The printed manual that comes with the camera is worse than useless. The English section is a mere 22 pages long, and is trilingual in English, Spanish and French. Almost none of the features are covered, and there's no discussion of the high speed mode at all. The table of contents only has nine entries, and there is no index.
On the other hand, the manual provided on CD (you can download a copy from Casio here) is pretty decent, quite well written, and actually explains what the camera does. However, it doesn't do a stellar job of explaining some of the trickier settings, like the slow motion feature.
Canon SD970 IS Comp
When comparing the Casio EX-FC100 and the Canon PowerShot SD970 IS, the photographic quality advantage clearly goes to the Canon, but the Casio high-speed and slow motion abilities make it a far better tool in certain situations.
The Canon has a better score in every test bar speed and image noise, and the latter was quite a small difference. In image stabilization, resolution and color, the difference between the two was significant. The Canon also shoots 12 megapixels to the Casio's nine, has a wider array of ISOs, and a better control scheme.
The thing is, if you're looking at buying the EX-FC100, those factors probably don't matter very much. You don't care that the menus aren't laid out logically, or that it doesn't have any color modes. You care about the speed. And if you want a camera that can capture incredibly slow-motion videos, or that split-second perfect moment, then the Casio has that. On the other hand, if you care more about the quality of the photo, and don't need the crazy speed, the Canon has more going for it.
Fujifilm F200EXR Comp
The Fujifilm FinePix F200EXR is like the Casio EX-C100 in that it has an interesting hook that separates it from other cameras. While the Casio has extreme speed, the Fuji has a new type of processor that lets it halve its 12-megapixel image resolution, in exchange for lower image noise or better dynamic range. In our testing, we didn't see a huge improvement in terms of image noise, but the dynamic range setting did pull extra detail out of over-exposed areas.
In our testing, the Fuji performed substantially better for color accuracy and resolution, but had worse image noise. Both cameras' image stabilization systems failed to impress, and while both struggled in video testing, the Casio was sharper and had more accurate color. The Fujifilm was also exceptionally slow to take photos, and paled in comparison to the Casio. The Fujifilm is also a significantly bigger camera, and doesn't have the sleek curves of the EX-FC100, though it's by no means hideous.
One major advantage that the Fujifilm has is its better set of controls. It can shoot at higher ISOs (though at reduced resolution) and has aperture and shutter priority exposure modes along with full manual exposure control. Its video is limited to just 640x480, which in the day-and-age of low-cost HD is a deal-breaker for some people. If you're a stickler for manual controls, the Fujifilm has a something going for it, but once again, those who feel the need for speed will love the Casio.
Sony T900 Comparison
The Sony T900 and Casio EX-FC100 are both very stylish cameras, but Sony's attention to design and aesthetic is obvious. The T900 is sleek, slim and looks fantastic. It has a high-resolution 920,000-dot touch-screen LCD, and shoots 12-megapixel images. However, neither camera offers extensive photographic control (the Sony is so point-and-shoot oriented, it doesn't even provide the ability to manually white balance). Both have issues with their control schemes too. The Casio has small buttons and a menu system that boots you out after every settings change. The Sony's menu system is grossly over-simplified, with optionsthat  disappear for unexplained reasons, and the touch screen feel inaccurate and laggy.
For photographic quality, the advantage lies in Sony's court. It has better color accuracy and resolution, as well as having one of the more effective image stabilization systems around. On the other hand, its images tend to be noisy, and the tiny lens has issues with distortion. For video, the color was more accurate on the Casio, but the sharpness was better on the Sony.
The Sony gets major points for its stylishness, and its amazing good looks are a major draw for some people. That said, lovers of the flashy and cool will also doubtlessly be impressed by shooting video at insane speeds, as only the Casio can offer. Both cameras have interface problems, but have enough of a 'wow' factor to pull buyers in.
Conclusion