Cameras
Fujifilm Finepix HS20EXR Review
The FinePix HS20EXR is Fujifilm's most advanced superzoom this year.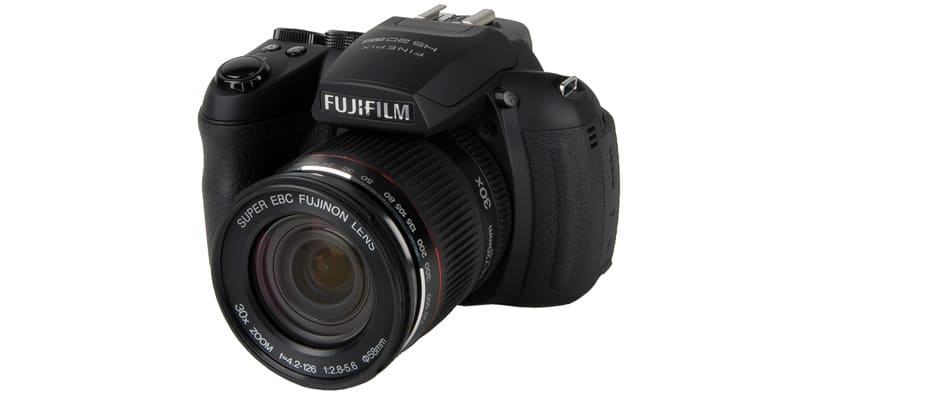 Credit:
Introduction
The FinePix HS20EXR is Fujifilm's most advanced superzoom this year, distinguished by full manual zoom and focus rings. We liked the feature-rich HS10, this model's predecessor, but this segment of the market has grown increasingly competitive in recent months.
We've seen some strong improvements to superzooms from Nikon, Canon, and especially Panasonic, whose high-end superzoom performances have skyrocketed. Fujifilm needs to overcome a few lingering image quality problems in order to surpass the stiff competition. We let the tests decide whether this flagship model can rise to the occasion.
Design & Usability
Body shape and features are modeled after an SLR, so handling is fantastic.
Navigation on the HS20EXR is fairly painless. Full-screen display with zoom is where you'll spend most of your time, while zooming out reveals grid display modes of varying proportions. A handy image search function will sort your photos by date, face, favorites, and more, and the information display also gets its own hot key, complete with clear readouts.
The 200k-dot electronic viewfinder is a bit too dark, but there's barely any lag, making this EVF our preferred tool for framing and shooting. Conveniently, beside this viewing window is an eye sensor that automatically swaps from the LCD to the EVF upon sensing a user's eye. On the opposite side of the eyecup, a diopter adjustment wheel can compensate for individual differences in eyesight. The LCD is nice too, though, rendering both color and motion accurately. There is no lag time and the screen articulates up and down for overhead or chest-level shooting. Users will also be pleased at the addition of a hot shoe.
Features
The HS20EXR cuts out the silly stuff and takes direct aim at more experienced buyers.
This FinePix offers a fine level of in-depth creative control. To begin with, a large mode dial offers full "PASM" shooting, a custom mode, a panorama mode, a fully automatic mode, and several others. 17 disparate scene modes offer mainstays such as Landscape and Sport, but also items such as Cat mode. Editing is simplified and silly picture effects are entirely absent, but various tweaks for color, white balance sharpness, and more fill in the gaps. The HS20EXR isn't all business, though. Color modes called "Film Simulation" harken back to the proud tradition of film photography with offerings including Velvia, which increases the vibrancy of color, and Astia, which reduces saturation.
The extreme focal length reaches 30x optical zoom—enough to capture detail from a few blocks away.
The lens is the star of the ultra zoom category though, and the HS20's is one attractive piece of hardware. Encircled by shining bezels of red and chrome, the assembly looks like an expensive SLR at a passing glance. The illusion is reinforced by an over-sized manual zoom ring and a smaller manual focus ring, each rubberized and notched for grip. The extreme focal length reaches 30x optical zoom—enough to capture detail from a few blocks away.
RAW image editing is supported, but it burdens functionality, and DPOF tagging is possible from the playback menu for home printing. HD video is on offer too, but in-camera editing is not supported for this mode, so shoot carefully.
Performance
The set of serious-minded, professional features and design components do little next to such unappealing images.
The HS20EXR did well on a handful of our performance tests, but it struggled on the whole. Color accuracy was pretty decent, lending a flattering, realistic element to each shot, especially those with human subjects, but other elements interfere after that. Noise creates some pretty bad image pollution, and on top of that, noise reduction software is heavy-handed and unappealing. At default settings, ISO 100 shots are smudged and blurry. This algorithm is the worst of both worlds, using an aggressive and heavy-handed technique, while also failing to keep image noise at a usable level.
The HS20EXR's sensor shift "Dual Image Stabilization" is one of the most effective applications we've ever tested.
Sharpness and purple fringing are abysmal too, and the camera's focus ring did not operate as smoothly as we'd hoped. A quirky autofocus system does little to help matters. At least stabilization picks up some of the slack. The HS20EXR's sensor shift "Dual Image Stabilization" is one of the most effective applications we've ever tested, improving images considerably in shaky situations. Video performance is drastically improved over the HS10, with competitive color accuracy and versatile capacities for speed and format, but sharpness is rather poor.
One more thing: The "EXR" mode either detracted from or failed to improve upon image quality in general, including color accuracy.
Conclusion
Yesterday's megapixel is today's superzoom. Without a solid overall system to back individual elements like these, neither can constitute a great camera.
Let's start with a history lesson. Come back! It's short! At the earliest stages of amateur digital photography, one single specification, megapixel count, was used—for better or for worse—to quickly convey the quality and worth of a camera. This was unwise, though, because there are many factors that impact quality, and raw resolution is merely one of them.
These days, thanks in part to websites like this one, the public is more aware that megapixels are just a small part of a larger system. But another single statistic has begun to hog consumer attention: optical zoom. To meet demand, fixed lens cameras that prioritized extreme zoom and undercut SLR price tags came forth and the "superzoom" category was born. We therefore respect Fujifilm for ignoring another silly, fleeting trend, and aiming to deliver a more feature-rich HS20, as opposed to just slapping another 5x zoom onto the previous model and calling it a day.
Despite adopting a strategy that we respect, the HS20 lags behind current competition.
The reason we say all this is to contextualize a tragic truth: The Fujifilm FinePix HS20EXR, despite adopting a strategy that we respect, is barely an improvement over the HS10, and it lags behind current competition. Images are noisy, blurry, and unflattering. Sharpness has dropped, which is bizarre seeing as the glass has remained unchanged. Fringing was terrible in our lab test, though admittedly not quite as bad in the real world.
It's a sad situation. We want to love the HS20EXR, with its robust feature set and serious, professional design, but this camera just doesn't take very appealing photos. We don't recommend that HS10 owners upgrade, and we further recommend that new superzoom customers take their business to Panasonic, Canon, or Nikon this year instead.
Science Introduction
Our barrage of tests seem to have sunk this flagship Fujifilm. The HS20 was hit hard in noise, sharpness, and distortion tests alike, though its performance in color and image stabilization tests was better.
Sharpness
Chroma and luminance noise was high, and noise reduction software was heavy-handed and unappealing. Nobody wins. Sharpness bombed too.
Noise rates were a major let-down, breaching 1% as early as ISO 200, then quickly shooting up to 2.35% before noise reduction fought back. At ISO 3200, this model's full resolution maximum, noise finally reached an unacceptable 2.72%. The problem was represented evenly by both chroma and luminance noise, but the worst part of this metric was the ugly and destructive way that this camera's noise reduction software tried to help. At default settings, even ISO 100 shots were smudged and blurry. This algorithm is the worst of both worlds, using an aggressive and heavy-handed technique, while also failing to keep image noise at a usable level.
Artifacting is actually slightly lessened by shooting in low light. In our 60 lux test, noise did drop by a fraction of a percent, however the trends were the same: lots of noise early on, spike at ISO 800, and then again at ISO 3200.
In terms of sharpness, the old HS10 was a poor performer, but the newer HS20 lowers the bar even further. Edges are blurry at every focal length. And yet again, we see useless "enhancement" software. The FinePix's sharpening algorithm damages shots while simultaneously failing to actually improve sharpness. Amazing.
Color Accuracy
These tests were about the only highlights in a slew of poor results.
The HS20EXR offers pretty solid color accuracy, achieving an error value of only 2.69 in our test. This will add a flattering, realistic element to all shots, especially those with human subjects. Problem areas, where they do exist, are spread out evenly across the spectrum. Flesh tones, greens, and blues are all darker than they should be, though only slightly. Saturation is also nearly perfect, off by only 1.5%.
Incredibly, this camera's sensor shift "Dual Image Stabilization" is one of the most effective applications we've ever tested. The camera was able to resolve 57% more detail with stabilization active, and the "Continuous" option is also helpful for framing long-zoom shots steadily.
Distortion
Some distortions were downright abysmal, and resolution is just pathetic
Resolution is the HS20EXR's most severe problem. Viewed up close, we see that the vast majority of shots range from unsharp to utterly blurry. Two factors contribute to this: First, the camera's autofocus frequently makes poor guesses. We had to re-shoot a number of sample photos after realizing that they were totally out of focus. Second, the ambitious 30x lens simply fails to deliver the sharpness we've come to expect, even compared to other superzooms.
Considering the HS20EXR's reliance on software, and since distortion is predictable and easily corrected with software, it's surprising that this Fujifilm makes so little effort to minimize distortions. Purple fringing plagues most images, especially those taken at the mid and far focal lengths. Truthfully though, many superzooms face the same problem due to complex lens geometry.