Cameras
GE E1410SW Review
The GE E1410SW is surprisingly mediocre for its price point. We recommend looking elsewhere.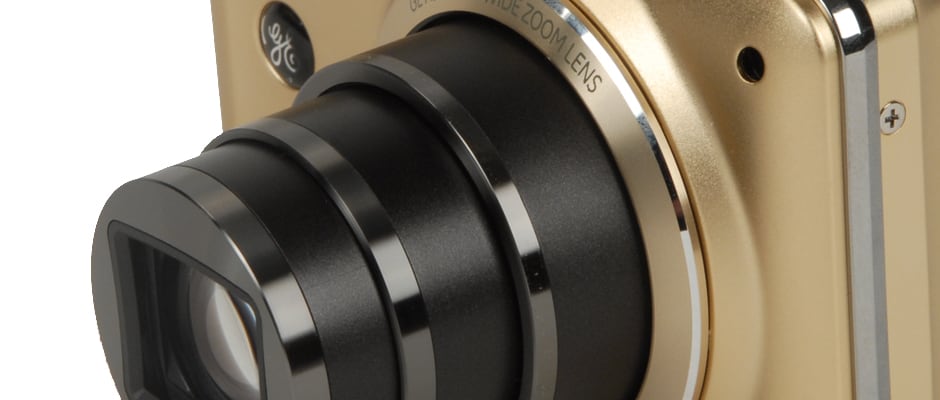 Credit:
Introduction
That's what popped into our heads after spotting the E1410SW earlier this year at CES. While not traditionally known for its imaging products, a little research reveals that a few cameras have carried the General Electric brand since as early as 2007. Who knew?
On paper, the unpronounceable E1410SW is at least competitive, offering 10x zoom in a compact body for only $160. We aren't expecting much from this one, but until we get it to the lab, you never know...
Design & Usability
Our champagne-colored test model is strangely reminiscent of an old Buick...
The physical design of the E1410SW is dated, to say the least. We hate the champagne color, and the rest of the design seems to have been pulled directly from Kodak's repertoire. We understand GE is new at this, but c'mon guys, if you want to compete, your camera should at least look cool. In any event, the E1410SW's smooth, small chassis is difficult to grip by nature. Rubberized, ergonomic features are not to be found. Button layout is extremely simple—a decent-sized directional pad with shortcut keys and three buttons on the rear panel: mode, function menu, and playback.
Next, a rather drab menu system is divided into two sections—the Function menu and the main menu. We strongly prefer the Function menu for its speed and convenience, but the system as a whole is quite simple and legible.
The flash emitter's distinguishing feature is that it just won't stay off [...] infuriating.
For hardware, the camera's black lens maxes out at 10x optical zoom, much better than average for this price range. Zoom action is quick, thanks to a powerful yet loud motor, but control is imprecise, often hampering accurate framing. The low quality LCD monitor represents one of the chief cost-cutting efforts. It's a 3-inch panel, but resolution is only 230k pixels, making image rendition somewhat uglier than the competition. Viewing angles are narrow from any direction and brightness isn't powerful enough under bright sunlight. Meanwhile, the flash emitter's distinguishing feature is that it just won't stay off. For some reason, the interface always forgets your previous flash setting and continually reverts to automatic—infuriating. This even happens in Manual mode, and the recycle time is very slow.
Features
The affordable E1410SW is low on extra features.
No mode dial exists on this tiny camera, but above the directional pad is a dedicated mode button. Using this, users may choose between standard Auto and Manual modes, as well as others like Movie, Panorama, Scene, and Face Beautifier. Manual mode allows control over ISO level and exposure compensation, the latter of which extends +/- 3 full stops, a rarity for this class of camera. Other than that, the only available technique for tweaking exposure is to manipulate metering. No priority modes are available.
Remarkably, with "Continuous Shot mode," which is a full resolution setting, the storage buffer seems to be unlimited.
Continuous and burst mode photography are the E1410SW's best features, with one caveat: all such modes cause a reduction in image quality, even if it's just a slight one. Remarkably, with "Continuous Shot mode," which is a full resolution setting, the storage buffer seems to be unlimited. It's therefore possible hold down the shutter ad infinitum, taking shots until—presumably—your battery or memory card runs out. On top of that, the maximum speed of the full resolution Continuous Shot mode is 10.9 frames per second, making this camera one of the fastest compacts around.
Beyond its efficacy at continuous speed shooting and the plethora of scene modes available, the GE E1410SW is relatively bereft of extraneous features. No less than 24 different scene modes are available, but we rarely took advantage of them. Options include Landscape, Sport, an automatic scene selector, and more, but those are run-of-the-mill.
Performance
You don't have to be an expert to notice this camera's shortcomings.
Even an untrained eye can see that the average shot captured with the GE E1410SW is neither sharp nor free of noise. Dynamic range is narrow, color accuracy is worse than average, and ugly fringing betrays a low quality lens.
The E1410SW is not a viable option for low-light photography.
While the E1410SW is sharp at the dead center of the frame, detail quickly drops off as we near the edges and corners. The optical image stabilization is not helpful in the least and in low-light, things get even worse. The E1410SW is not a viable option for low-light photography, so don't even think about shooting at high ISOs.
Conclusion
The GE E1410SW is at least a serviceable point-and-shoot, and a legitimate contender in the open marketplace.
If you're worried about investing in a company that isn't exactly known for its imaging products, rest assured, the GE E1410SW is at least a serviceable point-and-shoot, and a legitimate contender in the open marketplace. Whether or not anyone will buy it is another story. Still, you should at least give this camera a glance. It's got a few quirks, some bad, but some really great—as if the young General Imaging department still has its naiveté intact, unblemished by the norms of the industry at large. Take continuous shooting for example. The E1410SW apparently has no data buffer, and it can write sequential shots indefinitely, not to mention at a decent 10.9 frames per second—stupendous for the sub-$200 category. White balance adjustment differs from the norm too. It's so simple and painless that we wondered why no one thought of it before.
The key failure is image quality, though, plain and simple.
Then again, some odd behaviors aren't so refreshing. The camera's insistence on resetting flash to Auto after every power-up is a constant annoyance, and maybe even a little insulting to the consumer base. We appreciate the quick and responsive menu system, but its dry presentation denotes a degree of underdevelopment. The key failure is image quality, though, plain and simple. Shots are unsharp everywhere except the center, and noise can be a problem at any ISO level. Dynamic range is very limited, making for poor landscape shots, and color accuracy is a bit worse than average.
The best way to purchase the E1410SW is therefore with a discount. At $160, this camera is competitive in price, but not in performance. Should you stumble across a deal of some kind, something that involves buying the camera for, say, less than $100, that is a fine value. Otherwise, there are just too many other options out there.
Science Introduction
GE's E1410DW isn't a bad deal at its asking price of $159, but this simple camera really only has one job—shoot an accurately colored, sharp picture—and it can't quite stick the landing. While its overall image quality isn't terrible, there's more wrong with it than right, and your average shot is going to have at least one, if not numerous, errors. Here's why:
Sharpness
The lens struggles to retain sharpness everywhere except the center of the frame.
In our resolution lab test, the E1410DW's detail levels fell below 1500 LW/PH most of the time, with more valleys than peaks across various zones. Generally speaking, the lens seems sharpest near the middle of the focal range, with detail falling off as zoom ratio increases, and most noticeably at the widest focal length.
Why is this bad? It's quite simple, really. Unless you're only taking wide-angle shots of small, centered subjects (a malnourished tree, a very large dog), 75% or more of your picture is going to be blurry, which is pretty much the antithesis of what a wide-angled shot should do.
Noise Reduction
The E1410SW has poor noise performance and should not be considered a viable option for low-light photography.
This GE's artifacting rates are never lower than 0.75% at ISO 100, and already approach 1.00% by ISO 200. Noise reduction software kicks into high gear at ISO 800, but the algorithm is too aggressive and thus causes pixelation and obscured details. Shots captured at the maximum ISO of 3200 are borderline-unusable.
The result is pretty egregious pixelation at almost every ISO level, making a clean, clear shot much more difficult to get.
White Balance
Why aren't more white balance systems this simple?
White balance options are contained within the convenient Function menu, and five presets are available including two different fluorescent options. Manual white balance adjustment is surprisingly simple to use: just highlight the appropriate menu position, and click the shutter. The system reacts instantaneously and doesn't even close the menu, allowing an immediate retry if you miss the correct temperature. We wish all cameras did this.
Other Tests
Up next