Cameras
JVC GC-PX10 Digital Camera Review
It's aliiive! JVC's GC-PX10 is a camera / camcorder mash-up that would make Dr. Frankenstein blush.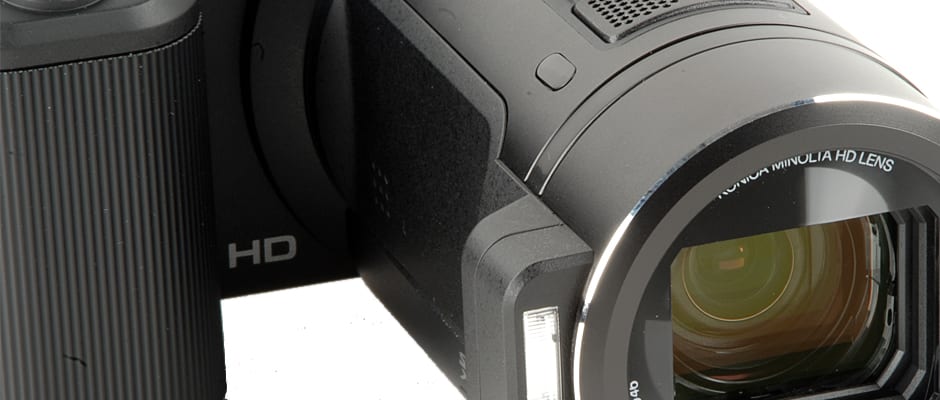 Credit:
Introduction
JVC's GC-PX10 is a unique little camera. The company seems to have taken the hardware of a camcorder, and simply affixed an ultracompact body to the back. Marketed as a "true hybrid," the model is equal parts dedicated video device and dedicated still device. So we'll be testing as such.
What you're reading right now is the still shooting review. We're going to put the GC-PX10 through the very same set of tests that we would for any digital camera. Later, our sister site, Camcorderinfo.com, will test and review this model as a camcorder. Hopefully, the two separate reviews will provide a complete analysis of all this experimental camera is capable of.
Front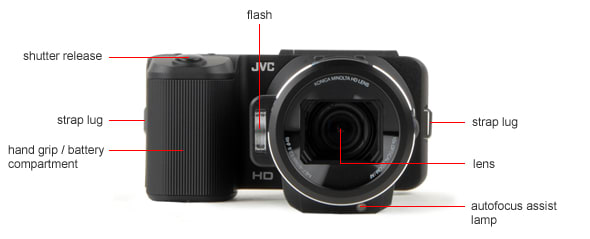 Back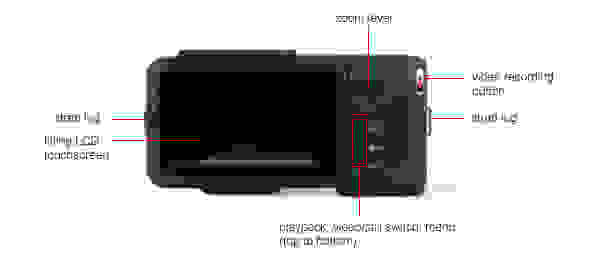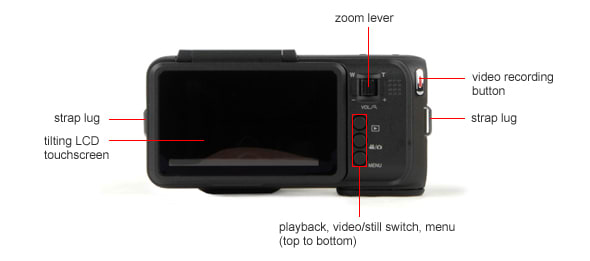 Sides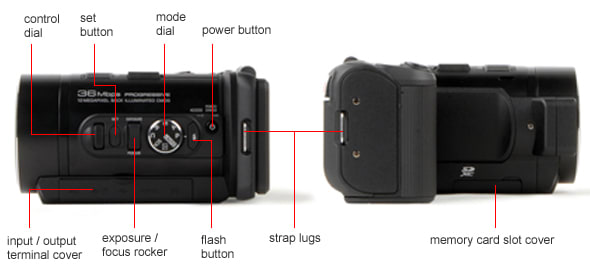 Top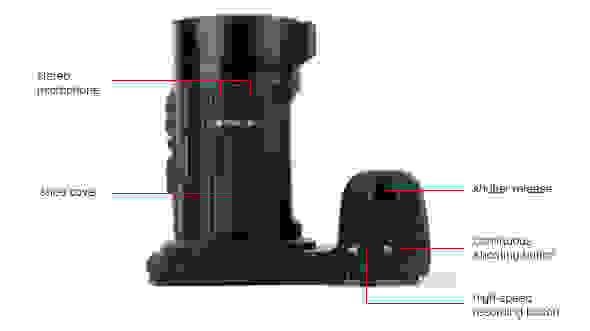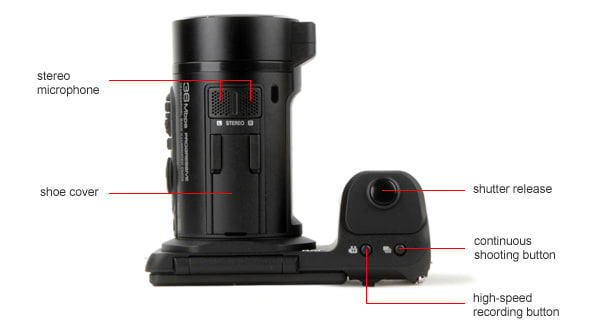 Bottom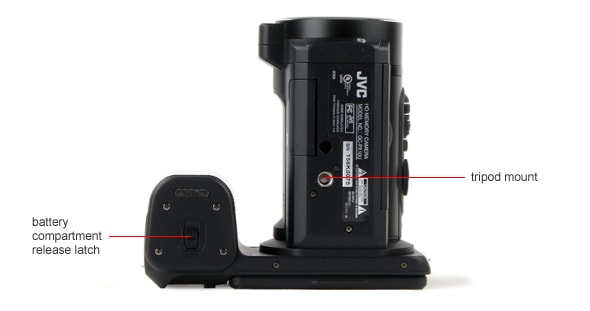 In the Box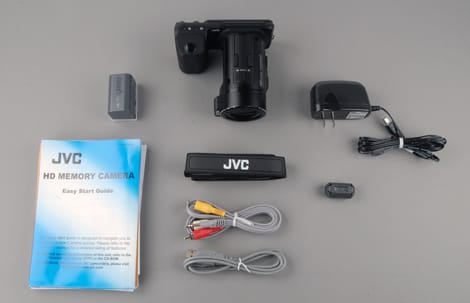 In the box:

• JVC GC-PX10 "HD Memory Camera"

• BN-VF815U rechargeable battery with cover

• DC wall socket adapter cable

• neck strap

• Easy Start Guide

• Basic User Manual

• composite video cable

• USB cable

• ferrite core
Color
While shooting still photography, the GC-PX10's color gamut is extremely inaccurate. Just about every single color is off by a significant margin, and this means shot will look less natural, less convincing, and less lifelike; especially shots with human subjects. Our tests were also 17% oversaturated, which worsened the already-poor score. More on how we test color.
Color performance is therefore much worse than many cameras at a fraction of the price. Canon's PowerShot 100 HS, for example, nearly triples the GC-PX10's score, yet only costs $150, to the PX10's $800.
Color Modes
Color mode options are not available, since the still capabilities of the GC-PX10 are somewhat limited in general. We think color modes can sometimes confuse the shooting experience, so we don't mind their absence here.
Noise
We were shocked by the GC-PX10's strong noise score, because shots taken with this camera are consistently noisy. How can this be? Well, most of our sample shots were polluted with large colored splotches which may either represent an undesirable quality of this sensor, or the result of heavy noise reduction software. Either way, it's possible these splotches are so large that our testing equipment fails to recognize them as artifacts. We have to retain the score for the sake of consistency, but rest assured, this is a very noisy camera. More on how we test noise.
Noise, and the splotching problem that comes with it, is just as bad in low light. Our 60 lux test showed the very same issue, which becomes distracting by ISO 400.
Though our scores do give the advantage to JVC, in practice this is far from true. In the face crops below, notice how sharp and natural shots appear when taken with the EX-ZR100 and especially the 100 HS.
ISO
Those familiar with digital cameras may have difficultly locating the manual ISO options menu. Camcorders refer to this as "gain," and so does the PX10. Once you've made to your way to it, you'll find ISO levels extend from 100 all the way to an impressive 6400, which would've been even more impressive if the shots didn't look so bad.
NOTE: The images above are not used in our testing or scoring, but are included here to show real-world examples of the differences between cameras at the various ISO settings.
Resolution
Across every metric, all resolution scores are again worse than point-and-shoots at a fraction of this camera's cost. JVC may make a fine camcorder, but the GC-PX10's lens is not suited to still photography at all. More on how we test resolution.
Distortion ()
Distortion is easily corrected in software, so we regularly see cameras achieve the maximum score of 15 points here. Not so with the PX10. Its wide angle lens produces the most severe distortion of the lot: nearly 3% at the widest focal length, although this does taper off as zoom increases.
Sharpness ()
Resolution of fine detail is so poor that we had to retest in order to make sure our shots weren't out of focus. Edges aren't even clean at the very center of the frame, and only get worse as we move closer to the edges. The same is true for all focal lengths. Performance is similar to–though still not as good as–the Panasonic ZS10, which retails for $250.
Chromatic Aberration ()
Chromatic aberration abounds at every focal length and in every area of the frame. High contrast areas are consistently subjected to blue and green fringing, and this is surprising given the lens' not-so-ambitious 10x maximum zoom.
Quality & Size Options
Pictures may be shot in 4:3 and 16:9 aspect ratios, with four size options for the former and three for the latter. Two levels of compression, fine and standard, are available, although the PX10 does not support lossless RAW encoding.
Image Stabilization
Performance of the GC-PX10's image stabilization is actually quite excellent. Image quality skyrockets from 58 MTF50 units of detail up to 115, an improvement of 49%. More on how we test image stabilization.
Only the Panasonic ZS10 offers a more effective stabilizer in this comparison group. The other two models' were almost completely ineffective in our shaker test.
Video Mode
Since the GC-PX10 is, after all, half camcorder, video capabilities are robust. Full HD 1080p recording at 60 frames per second is possible, with thorough control access during shooting including optical zoom and autofocus. Although videos are encoded in MPEG-4/H.264–not AVCHD, the bitrate is extraordinarily high, and is in fact superior to AVCHD.
Video Color
Color accuracy is significantly better while shooting video than stills, and the PX10 posts one of the best scores of our comparison group. Greens and moderate blues are the most accurate colors, while dark blues, magentas, and flesh tones still lag behind. More on how we test video color.
Video Sharpness
We measured sharpness at a whopping 900 lw/ph horizontally and 800 vertically while using the PX10, by far the best video detail of this entire group, not to mention every other fixed lens camera we've tested this year. While the results are impressive, they're not totally surprising given this camera's design. More on how we test video sharpness.
Playback Mode
Image review is rudimentary, consisting only of a fullscreen view option with zoom, and a grid display mode. The interface, especially in grid, is painfully slow. Since the grid is only two pictures high but infinitely wide, scrolling takes far longer than it should.
In-Camera Editing
In-camera editing is all but absent from the PX10. The software is only capable of rotation, no cropping, resizing, or red-eye correction. Some light video editing is also possible, but on the whole this camera's editing functionality is extraordinarily limited.
Direct Print Options
Even the cheapest cameras can usually squeeze a full six points out of our direct printing section. But the 800-dollar PX10 includes no DPOF tagging of any kind and is not compatible with the ubiquitous PictBridge standard.
Display
The GC-PX10's design does not include a viewfinder, so framing is left to the rear LCD, which tilts 180-degrees to a full front-facing position. At 230,000-dots, this is a low resolution model, but it gets the job done and is mostly accurate to the final shot. This is also a touchscreen LCD, and usage can be hit or miss. The screen sometimes registered the wrong option, while at other times the touch functionality would lock up entirely, forcing us to simply wait for 10 seconds or so.
There may also be a shielding issue here. The electrostatic panel produces some static while swiping the finger, which the user can both feel and hear. It doesn't hurt or anything, but the effect is a tad unusual.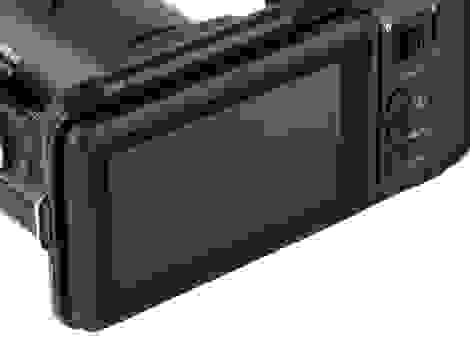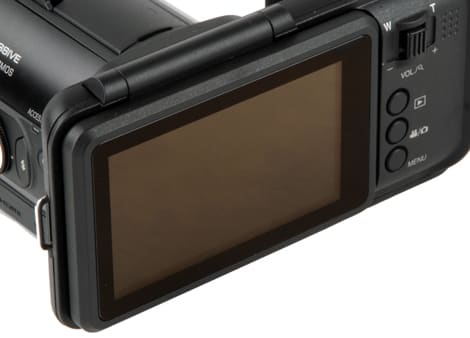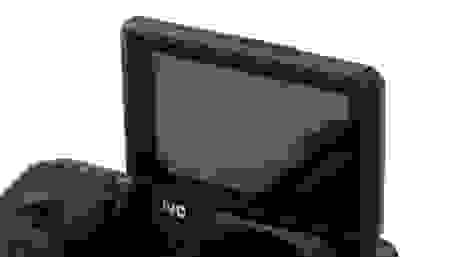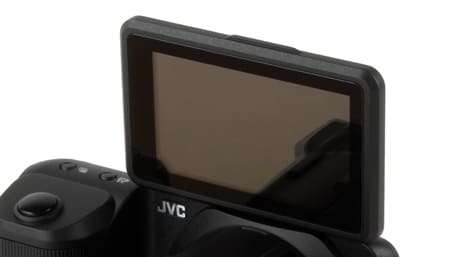 Flash
The PX10's unique design allows the flash emitter to be placed at the tip of the lens barrel, and we'd call this an ideal position, far out of the way of errant fingertips. JVC recommends limiting flash photography to less than two meters shooting distance, which places the PX10 at the extreme low end of flash strength. In practice, the flash isn't quite so weak, but no better than a budget point-and-shoot.
Lens
The oversized lens barrel is this camera's defining feature. It's heavy, and looks a bit ridiculous to us camera geeks. When we call this a camcorder fastened to an ultracompact, we mean it quite literally. The cap is automatic, a rarity for a lens of this size (though not quite so rare for the average camcorder), and at least the front looks somewhat professional, with a thin silver bezel surrounding the opening. Unfortunately that bezel can point a reflection directly at subjects, in fact this is visible in our macro sample photo.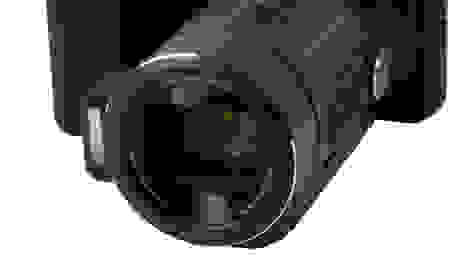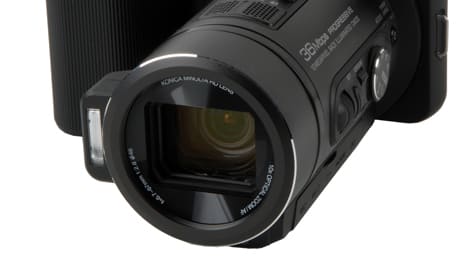 10x isn't a long zoom by digital camera standards, especially with this giant barrel. But the wide angle lens make the distance seem longer than it is. In the sample below, we were able to gather some detail from about a block away, and this left us pretty impressed.
Battery
The entire right hand grip is this camera's battery compartment, and also ground-zero for one of the GC-PX10's most severe examples of "corner-cutting." The compartment cover is attached to the body using only a flimsy plastic band. Once removed, it hangs awkwardly in place, while the user attempts to pry out the battery release and shake out the battery itself. That compartment cover, by the way, has a quirky release too, which took awhile to get used to.
The battery itself is rated to only 270 stills on a single charge, fairly low for a battery of this size. Our own experiences confirmed this figure, as the PX10's charge seemed to run down faster than most.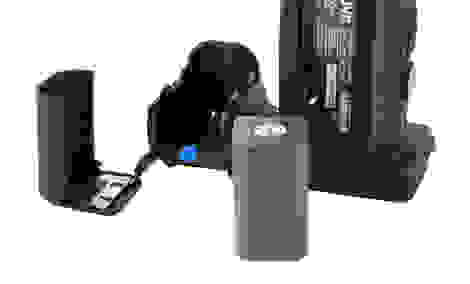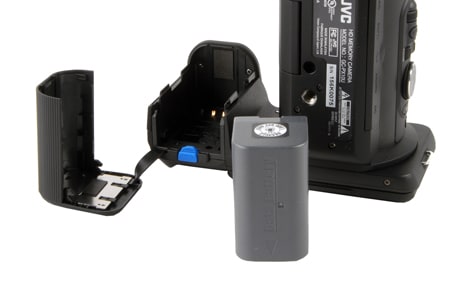 Memory
SD, SDHC, and SDXC memory cards are supported, but not necessary, since the GC-PX10 is equipped with 32GB of internal memory. That's enough for almost six thousand maximum resolution stills! We even found access speeds to be slightly faster while using internal memory, compared to SD cards. This is a clear advantage over almost all traditional digital cameras.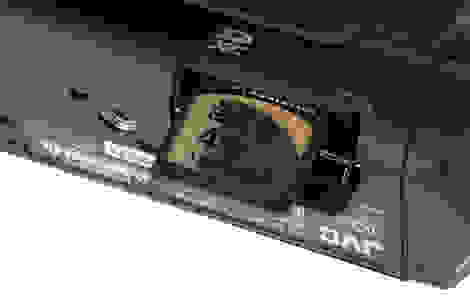 Jacks, Ports & Plugs
Most connectivity options are housed underneath a wide, plastic terminal cover at the bottom of the lens barrel's left side. There are two external power inputs (an advantage camcorders have over most cameras), a 3.5mm AV output, a standard mini-USB port, and a standard mini-HDMI port for output to an HDTV.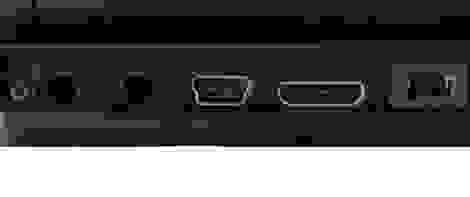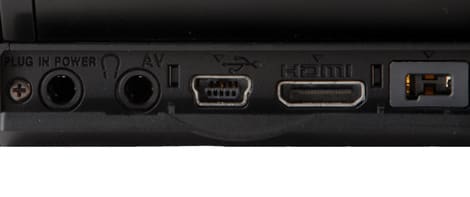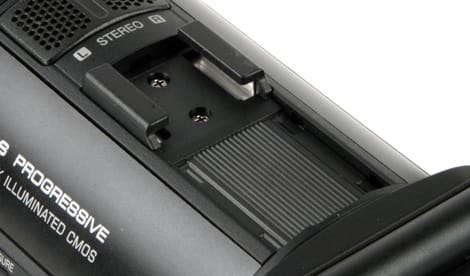 At the top of the lens barrel, a shoe mount is concealed underneath a large plastic cover. This is a "cold" shoe however, with no electric contacts to provide battery power to accessories.
Shooting Modes
A mode dial is located on the left side of the lens barrel. Here you'll find full "PASM" shooting options complete with Program Auto, Aperture Priority, Shutter Priority, and Manual exposure. There's also a customizable "User" mode, an "Intelligent Auto" mode, subject tracking mode, and dedicated "Scene" mode setting.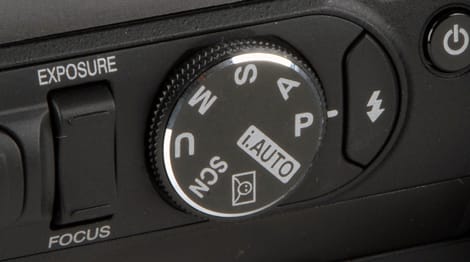 Scene Modes
13 scene modes are available, and they're a pretty typical lot. Beach, Snow, Sports, Fireworks, etc. Some of them are strangely redundant too. For example, there's Portrait mode, Landscape mode, and Landscape and Portrait mode. See, this is why we never use scene modes.
Picture Effects
Camera people sure seem to love their silly picture effects. Apparently someone forgot to slip JVC the memo though, because the PX10 doesn't have any.
Manual Controls
This camera features electronic manual focus, and it's actually one of the most responsive implementations we've seen. Pressing down on the exposure / focus rocker unlocks focus, and their nearby command dial adjusts. While not quite as quick and precise as an SLR lens, the feature is far better here than in most fixed lens cameras.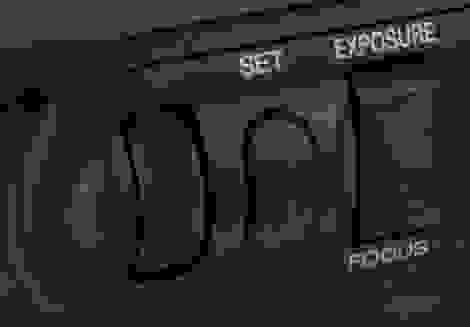 Drive/Burst Mode
Drive mode options are pretty robust, and include time-lapse interval shooting, high-speed video at up to 300 frames per second, and full resolution continuous still shooting. Compared to this feature set, self-timer options are relatively limited, with 2 second, 10 second, and face recognition self-portrait timer settings.
Shot to Shot ()
In burst mode, the GC-PX10 is extremely fast. We clocked the fastest full resolution burst at just a hair over 30 frames per second. For a fixed lens, electronic shutter camera, this is way above average. The buffer does max out at a little over three seconds, and recording to memory takes another full minute, but the result is no less than one hundred full resolution shots.
Handling
For a few seconds, handling of the PX10 is fairly comfortable, thanks mostly to the oversized right hand grip. But after a short while, the off-balance body design starts to cramp up the thumb, and a two-handed grip becomes necessary.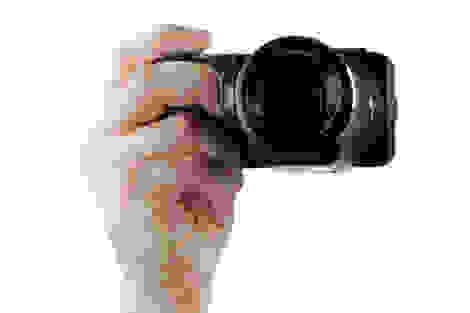 On the rear panel, a lip beside the thumb rest might've helped alleviate the strain, but the surface is too smooth. Eventually, we ended up leaving our thumbs closer to the top of the camera, dangerously close to the high-speed shooting button.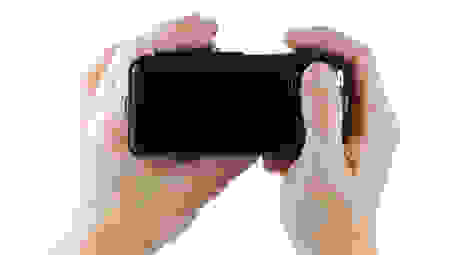 Since the left hand is needed to support the weight of the heavy lens, access to the side control panel is less than ideal. You'll use the pointer finger to adjust settings while the thumb alone carries the weight of the barrel. It's a bit of a balancing act, and although a few irregularities should be expected with such an experimental camera, we wouldn't quite call this experiment a success.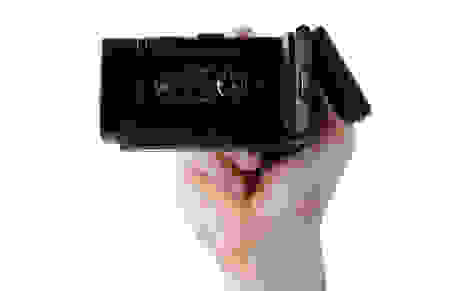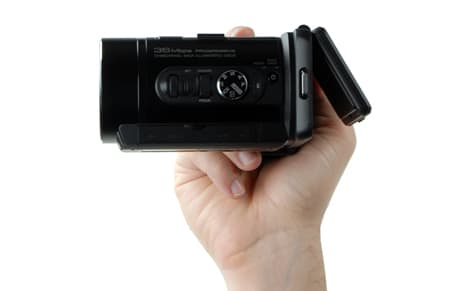 Buttons & Dials
On the rear panel, buttons are more reminiscent of toys than high-end equipment. Each of the short-throw buttons offer very little tactile feedback, which is only excusable because there's only three of them. The zoom lever, on the other hand, is fairly smooth, and offers camcorder-style control and precision.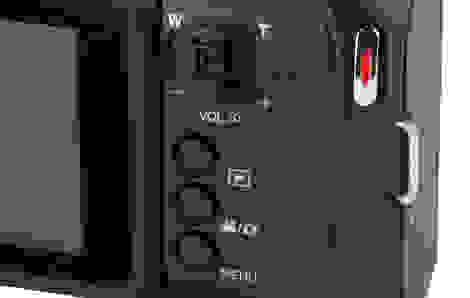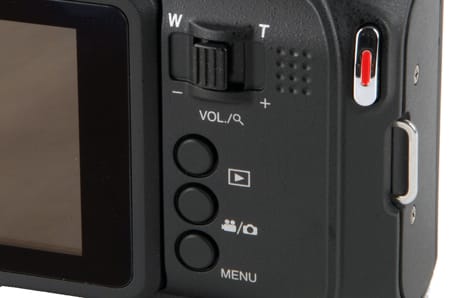 Up top, the high-speed and burst mode buttons are arranged simply, a good distance from the all-important shutter release. The shutter button is the best of them all, with a longer stroke and stronger tactility; a diamond in this rough button layout.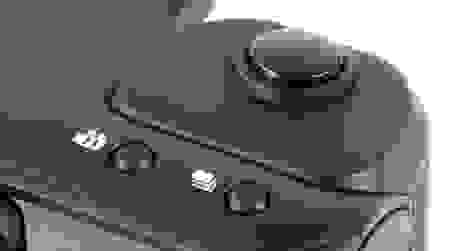 Menus
JVC's menu system is sluggish and poorly designed. The touch-based interface means options must be physically larger, so less of them fit onscreen. Adjusting a simple shooting variable therefore requires a few seconds of scrolling each time. Changing something causes the menu to automatically exit, and it doesn't remember your place for next time. Beyond the shooting menu, the preferences menu is the same way, except longer.
It's a shame because this camera is such a fast shooter, well-suited to action shots. But the slow interface necessitates preparation in advance, and by then the decisive moment may have passed you by.
Manual & Learning
JVC included plenty of paper with the GC-PX10, but they neglected to print anything helpful on it. While sure to be a hit with those who hate trees, we were hoping for more information about the camera. For that, we turned to the helpful online user manual, and wondered why this version wasn't included in the box, rather than a short "basic" user guide and quick-start sheet.
Panasonic Lumix DMC-ZS10 Comparison
The 250-dollar Casio Exilim EX-ZR100 bested the 800-dollar JVC GC-PX10 in almost every single one of our tests, and is the superior still camera by far. And although this is only the first comparison of three, the results begin a pattern that will continue for all of them.
JVC's only advantage here is drive mode capability. Though Casio is known for this, not even the ZR100 can match the recording speed of JVC's awkwardly-named "Falconbrid" processor. But this is hardly a 500-dollar advantage.
Canon PowerShot ELPH 100 HS Comparison
Panasonic's ZS10 doesn't produce images quite as attractive as the other comparison cameras, but still fared much better in our image tests than the GC-PX10. Burst shooting is more of an issue between these two models, since the ZS10's capabilities are relatively limited. Still, this is not a 500-dollar difference.
Other than that, the scores are fairly lopsided. The ZS10 boasts superior colors, noise in practice, sharpness, chromatic aberration, and even handling. All for a fraction of the cost.
COMP 3
What can we say? The Canon 100 HS recently won our Reviewed.com Select Award for Best Camera Value, while the GC-PX10 is arguably the worst value of any camera we've tested.
At this writing, the 100 HS is down to less than $150 retail. So when we see test scores that double and triple the GC-PX10, it's hard to make a case for the supposed "hybrid" camera. Canon's affordable ELPH takes beautiful shots, and we easily recommend it over the JVC.
Conclusion
A "true hybrid" the PX10 is not. We'd estimate you're getting about $80 worth of camera, while the remaining $720...well...that's for CamcorderInfo to decide.
As it stands, the GC-PX10's unique body design is little more than a disguise. JVC makes a fine camcorder, and this may even be one of them, but the optics, interface, and physical handling are not suited to still photography. And much about the PX10 betrays JVC's unfamiliarity with the space, such as the lack of basic in-camera editing, lack of playback options, or even the lack of picture effects–silly as they often are.
The GC-PX10 is also cheaply constructed. Rubber is entirely absent from the plastic body, buttons feel chintzy and toy-like, the touchscreen LCD is unresponsive, and the battery compartment is a joke. It would be hard for us to recommend a camera like this, even if performance was excellent.
Of course performance wasn't excellent, so instead of wasting cash on the GC-PX10's steep MSRP, we recommend picking up an inexpensive pocket camera, and saving the rest for a proper camcorder. Maybe even a JVC camcorder. As to that, it still remains to be seen whether the PX10 will succeed as a video device. A full review on CamcorderInfo will be close behind this one. But as a digital still camera, JVC's experiment is not successful. We respect any company willing to innovate, but performance will need to multiply before earning our recommendation.
Photo Gallery