Cameras
Nikon 1 V3 Digital Camera Review
Nikon's flagship mirrorless camera is a speed demon.
Credit:
By the Numbers
Nikon is one of the household names in the photography industry and over the last few years has really made a push to take the sports photography market from what was conventionally Canon dominated. The Nikon 1 V3 has speed that makes most sports photographers drool at 60 FPS, but how does it measure up on all the other fronts? Will the speed be the only thing making it a good camera?
Every major camera manufacturer–with the exception of Canon–is making a significant push on the mirrorless front. Nikon is no different, and the company has been aggressively iterating on its mirrorless designs. The 1 series debuted with the awkward-looking Nikon 1 V1, pushing out the Nikon 1 V2 only a year later. Nikon has held on to most of the things that the V2 did right–such as 60fps burst shooting at full resolution–and added to it with the Nikon 1 V3 (MSRP $1,199.95 with detachable grip and EVF).
The V3 is more than just an updated version of the V2, though. Just like Nikon did when it updated the Nikon 1 V1 to the V2, Nikon's engineers have completely redesigned the body. The V3 is much more likely to be mistaken for a high end point-and-shoot than a compact DSLR. Though this means the electronic viewfinder has become a detachable accessory, it's great for any sports photographers looking for a small second camera to carry at events.
But with the high-end mirrorless market absolutely chock full of incredible values, the Nikon 1 V3 has an uphill climb. It can shoot faster than just about any other camera on the market, but is that enough to compete?
Color and White Balance
When we ran the V3 through our color tests, we saw some pretty accurate results. The color modes are pretty straight forward with Standard, Neutral, Vivid, Portrait, Landscape, and Monochrome. The most accurate of which was the "Standard" color mode which had a ∆C00 (saturation corrected) of 2.31 and was at 99% saturation. That is about as good as we see from most SLRs so there is no knocking the color accuracy of the V3.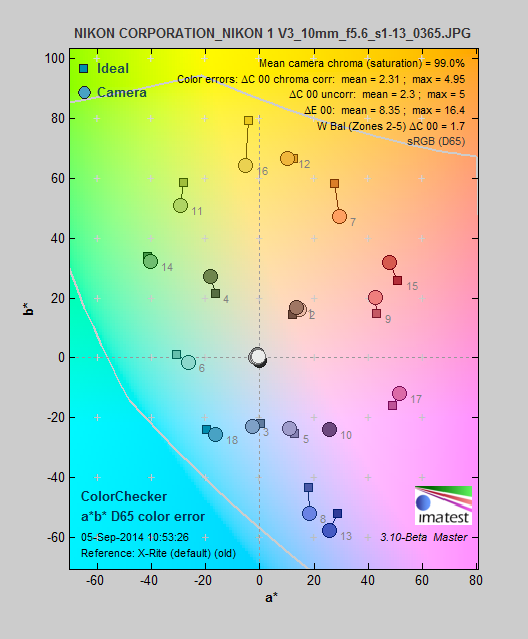 White balance on the other had was not the greatest while set to auto. We saw a variation of color error up to 2330 kelvin while on auto in tungsten light and 2600 in daylight, but only 160 kelvin in florescent. When we switched over to custom white balance all of the light forms were well under a variance of 100 kelvin. That said you are probably best to do custom white balance if you are shooting JPG in order to get the most accurate colors.
Design & Handling
No Napoleon complex here
Nikon rarely changes up camera designs from one year to the next. The company's DSLRs have had the same basic look and feel for more than a decade. But with mirrorless cameras Nikon's been much more aggressive. The Nikon 1 V3 has gone undergone quite the transformation from the V2. Nikon moved the flash into the body, added function buttons to the back and rear control dial, rearranged the top-side controls, and moved the AF assist lamp and infrared sensor across the body.
The V3 also has repositioned microphones under the lens instead of on top top. Most notably, the EVF is no longer included in the body, though it will be included in the box for the basic $1,200 kit. Just about the only things that didn't get touched are the mode dial and the buttons on the left side of the rear LCD.
The changes—save for the viewfinder—are primarily for the better. The camera's profile has been considerably slimmed, but its magnesium alloy construction feels more durable than even Nikon's DX DSLRs. And though the large grip of the V2 is gone, there's still a plentiful amount of rubberized material on front to hold onto. Of course, the grip hasn't disappeared entirely, it's just also been made a detachable accessory. It'll be useful if you plan to mount large F-mount lenses, but otherwise it's unnecessarily bulky.
In addition to reworking many existing controls, Nikon has also added a tilt screen and an additional command wheel on the front of the camera. The addition of the front command dial gives you the ability to change aperture settings while shooting manually, without having to press the function key first. On lenses that lack focus rings the front command dial also lets you manually focus, which is awkward but workable once you adapt to it.
One neat note on the rear, tilting LCD: the back left buttons are attached to the tilting screen panel. This means that you have access to playback, menu, display, and trash buttons while having the screen tilted. Some other tilt screens will leave these controls attached to the main body, which makes getting to them a bit awkward.
After all these changes, I would have to say that the V3 is actually easier to handle than its predecessor the V2. While I was using it, I found that it handled well in most situations, with plenty of manual control for advanced shooters. Tracking subjects on longer focal lengths–such as the 85mm equivalent, 32mm 1.2–got a little tricky due to the lack of a viewfinder, but since you get one in the box you can make the choice to have it or leave it at home. That's not ideal, but it's better than no viewfinder at all.
Noise & Resolution
The Nikon 1 V3 has an ISO range of ISO 160-12800. This is pretty standard for a compact system like this and that said, the results were nothing out of the ordinary. If you look at Mrs. Rosie aka the Riveter, you will start to see a loss of detail as low as ISO 400, but it really starts to show at ISO 800. This is a little lower than we would like considering the kit lens is not very fast–wide open at f/3.5. There is high ISO noise reduction, but it is not going to save the quality of the image very much. We would suggest investing in a faster lens if you need to shoot in low light instead of ramping up the ISO.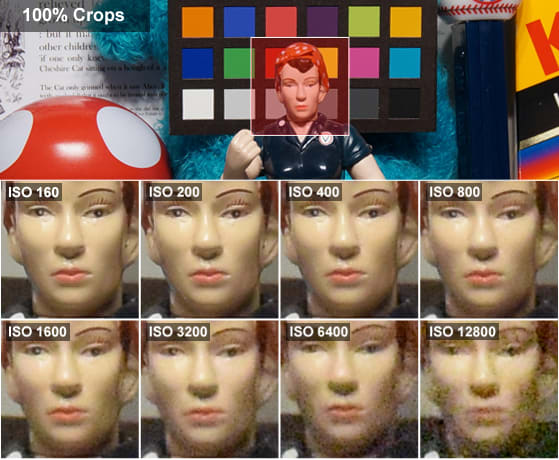 One thing we know for sure about the V3 is it is sharp, you can tell immediately when looking at its images. It performed well in the resolution testing and we consistently saw resolution in excess of 2000 line widths per picture height at MTF50. It did have a bit of sharpening from the software, but nothing overwhelming. As you can see below, there is not a ton of over sharpening on camera which leads to a sharp image that doesn't sacrifice quality to get it.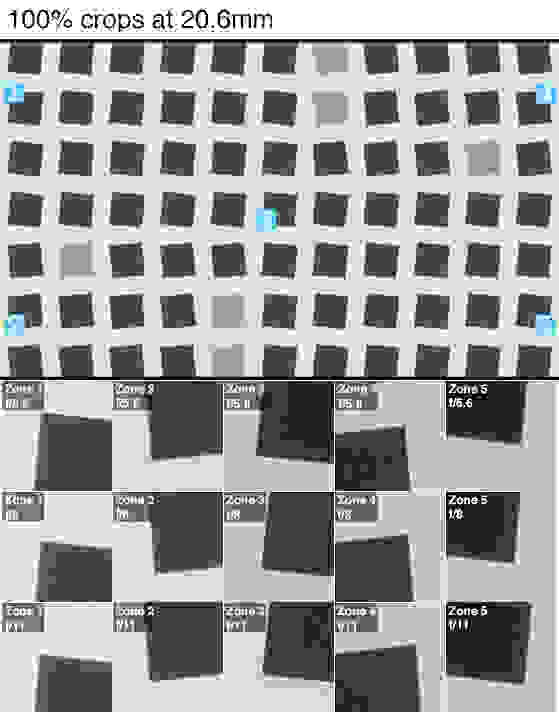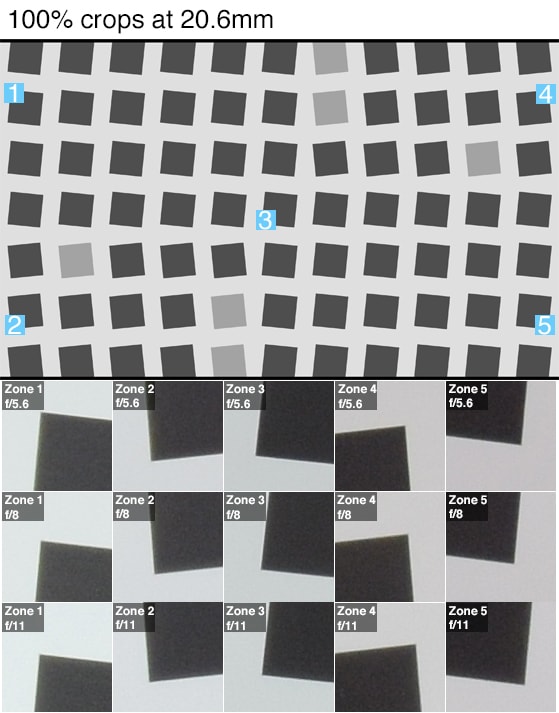 The 10-30mm f/3.5-5.6 is not the sharpest or fastest lens on the planet and it does suffer from some distortion. We noticed both barrel distortion at 10mm and pincush distortion at 20-30mm with the lens. The barrel distortion basically gives it the bowed out look that a lot of wide angle lenses tend to have.
Performance
"America is all about speed... Hot, nasty speed." -E. Roosevelt
Let's get down to the stuff that really matters–performance. The V3 has seen some big upgrades over the V2, including: a better monitor, a new sensor, Nikon's high-end Expeed 4A processor, improved video performance, and an increased ISO range. Of course, the biggest carryover from the V2 is full-resolution 60fps burst shooting—still the Nikon 1 series' calling card and unmatched by competing cameras. Unfortunately, in other areas the V3 is still lagging behind the market due to its smallish sensor.
The first thing you should know is that the V3 with the kit lens–10-30mm f/3.5-5.6–is incredibly sharp. Plenty of this is down to the JPEG engine's processing, but this might be the most impressive compact kit lens you can buy. We also shot with the new (and very expensive) Nikkor 32mm f/1.2, which was amazing for portraits and low-light, giving us a good idea of the range of performance the V3 is capable of.
In the lab the V3 did poor in some areas, but excelled at color accuracy. Of all the modes we found that "Standard" was the most accurate. All the specialty modes such as "Neutral" and "Vivid" did their jobs of decreasing and boosting saturation appropriately, with pleasing gradation all around. The white balance performance was less than stellar, however. Auto white balance was well off the mark with all light except fluorescent, but all of the custom settings were within 100 kelvins of being correct.
High ISO performance also wasn't the best that we've seen. Given the relatively small "1-inch type" sensor size, we weren't too surprised by this. Even Micro Four Thirds sensors are significantly larger than what the Nikon 1 cameras are packing, which makes it difficult to gather light efficiently. There are noise reduction options that work relatively well, but we still don't think you should live above ISO 800 too often. Take a look at the chart below to have a visual of the noise while climbing the ISO ladder.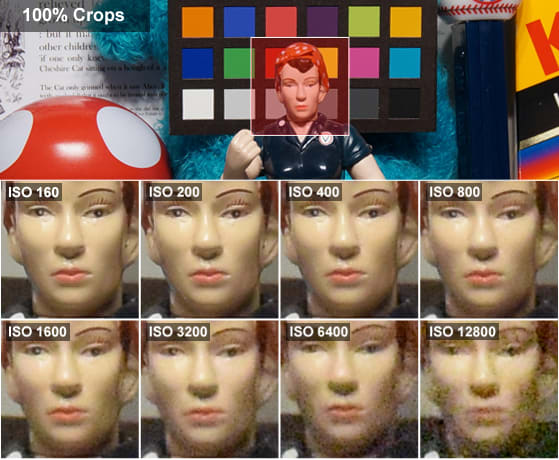 The other issue with high noise is a lack of dynamic range, specifically in the shadows. This makes it very difficult to rescue details from dark parts of your scene without also bringing up a significant amount of ugly grain. The V3 did better than some previous 1-series cameras, but ultimately this is a sensor that's still well behind the current Micro Four Thirds and APS-C pack.
Where the V3 undoubtedly makes it up is with video and high-speed shooting. For video, the V3 records a plethora of sizes and qualities including 1080p and 720p at both 30 and 60 FPS. It also shoots 720p at 120 FPS, and even up to 1200 FPS at a 416x144 resolution. Video performance is certainly aided by the overall sharpness performance. We saw sharp results in both bright and low light, but it does struggle when getting in areas that are about as dark as a dim restaurant. You might want to consider a faster lens or additional lighting if shooting in those settings.
Continuous Shooting
Continuous shooting is the shining light that sets the V3 on the top pedestal. The V3 tops out at 60 FPS for 40 shots with no continuous auto focus with the option to throttle down to 40 shots at 30 FPS. If you want continuous auto focus you are looking at the option of 10 or 20 FPS. This is a pretty significant step forward from the V2, which topped out at 15 FPS with auto focus. All of these shooting modes are in full resolution and with the option of RAW. You won't find a much faster camera to photograph something like Usain Bolt breaking the 100m dash world record.
Features
A camera with a particular set of skills...
The V3 isn't as feature-laden as some compact system cameras on the market, as it's a camera focused on two things: speed and control. It has multiple drive modes that allow you to shoot up to 20 FPS with continuous autofocus and up to 60 FPS with focus locked on the first frame. To compare, the V2 capped at 15 FPS with continuous autofocus, so that is a 25% increase in speed and quite a step forward. For those shooting sports, that's a massive benefit.
The sensor includes phase-detect autofocus, with contrast-detect focus backing it up. This gives you the ability to better track moving subjects in certain areas of the frame. This is essential for shooting action and sports, letting you get the most out of the V3's continuous shooting credentials. In our experience it isn't quite as solid as the phase-detect AF sensors in traditional DSLRs, but it's better than contrast-only, especially in limited light.
Though the grip has been shaved down considerably, the V3 also seems geared heavily toward existing Nikon shooters. With the FT-1 F-mount adapter you can mount around 80 Nikkor lenses and almost triple the reach that they have with the 2.7x crop factor of the V3. This means if you happen to have a $20,000 Nikkor 800mm f/5.6E laying around... you could have a 2160mm f/5.6E with the adaptor. Obviously, this is an outlandish use case, but it's still fun to consider the possibilities.
The V3 is able to connect via Wi-Fi for sharing and uploading images straight off the camera with its free smartphone app.
Beyond speed and full manual control, the V3 has plenty of convenience features, as well. The V3 is able to connect via Wi-Fi for sharing and uploading images straight off the camera via a free app. You can also use the app as a remote control for the V3 itself. Nikon has also brought the "Creative Mode" to the V3, which allows you to shoot with different effects such as "HDR", "Selective Color", and "Easy Panorama". These all complement each other, giving you plenty of creative options without having to ever mess with a computer.
Conclusion
A useful tool for sports photographers, but for everyone else...
A camera can have all the tilt screens, pop-up flashes, and function buttons you can fit on it. But all that really matters is whether or not it can perform when it matters most. That's what separates toys from tools. The V3 is easily the best Nikon mirrorless camera we've seen yet, but it still only lands somewhere in the middle of this spectrum; it's primarily a camera for enthusiasts, but it could fill a role for more serious use in certain situations. In a vacuum, it's a great little camera and a big step forward for the Nikon 1 system.
Unfortunately, the V3 with its $1,200 kit is simply overpriced. The issue, at least for now, is a lack of choice. Is the V3 plus a kit lens, an extra-large grip, electronic viewfinder, and (for now) a free F-mount adapter really worth $1,200? Potentially, if you've got a bunch of compatible F-mount glass you want to use.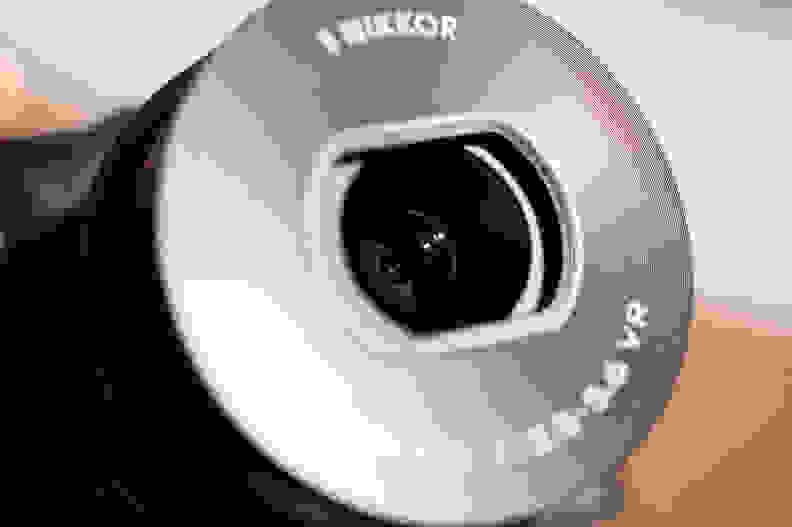 But that's the only kit that's available for now. And what's worse is the V3 is competing against cameras like the Sony A6000 and Olympus E-M10, both of which have larger sensors, perfectly adequate handling, and EVFs included in the bodies for far less than $1,000. If this camera cost $700-800 and made the EVF and grip optional accessories it would be a far more reasonable request. Instead, Nikon is forcing you to go all-in with accessories that you may not need or that you can get for less money elsewhere.
So what does justify spending this much on a camera like this? Speed. This thing is hands-down the fastest mirrorless camera on the market. If that's what you need—especially if you've already got Nikon F-mount glass—then sure, this price could be workable. Otherwise it's the best mirrorless camera we've seen from Nikon yet, but that's not enough to justify the huge price difference between it and its closest competition.
Video Performance
Video on the V3 is about as varied as it gets with an SLR. You get the full HD gamut of 1080 and 720 with both 30p and 60p options for both. You also have standard definition options with recording up to a staggering 1200 FPS. As far as the performance goes, it is enhanced greatly from the overall sharpness of the camera. In bright light we saw 575 line pairs per picture height (LPPH) horizontally and 600 LPPH vertically. In low light we saw these numbers drop to 550 LPPH horizontally and 525 LPPH vertically. These are pretty standard numbers for a camera in this class, but the variety of resolutions is certainly a plus.
Low light sensitivity is hampered a lot by the kit lens. If you want to get a useable image in low light you can go as low as 12 lux with the kit lens. If you invest in a faster lens such as the 32mm f/1.2, you could get as low as 8 lux, but it is hard to justify $900 just for a few more stops on video. However, we would recommend it if you shoot in low light often.
Up next