Cameras
Nikon Coolpix AW100 Digital Camera Review Archive
It's been a big year for rugged cameras and, with its new Coolpix AW100, Nikon aims to best them all.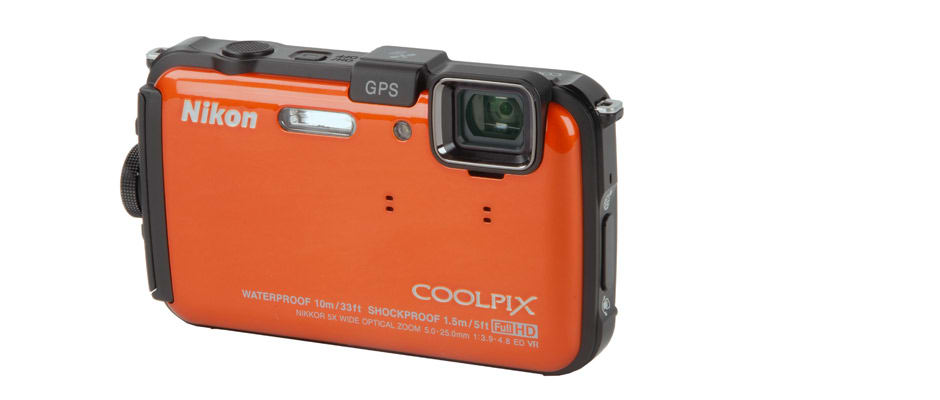 Credit:
Introduction
Nikon's Coolpix AW100 is the company's response to a few excellent toughcams released this year, specifically the Sony TX10, Panasonic TS3, and the Pentax Optio WG-1. Nikon's model is distinguished by an integrated GPS transceiver, paired with detailed in-camera mapping software. And of course, the AW100 is fully adventure-ready, waterproof to a depth of 33 feet, shockproof from a height of 5 feet, and freezeproof down to 14 degrees Fahrenheit.
Check out our 7-camera waterproof shootout to see how the year's best tough-cams compare.
Front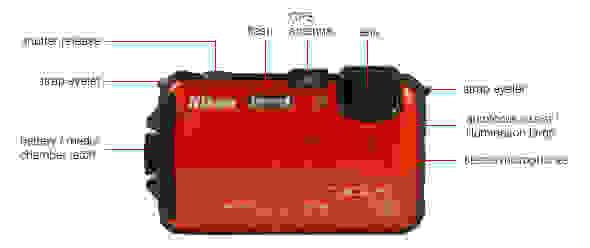 Back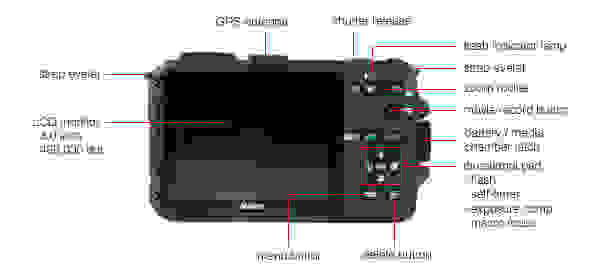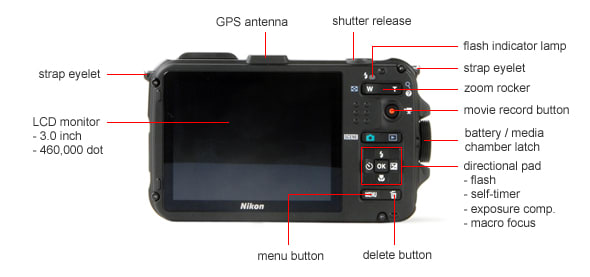 Sides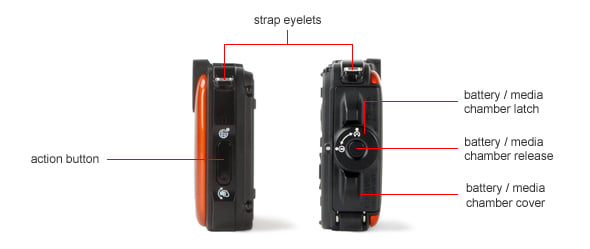 Top


Bottom


In the Box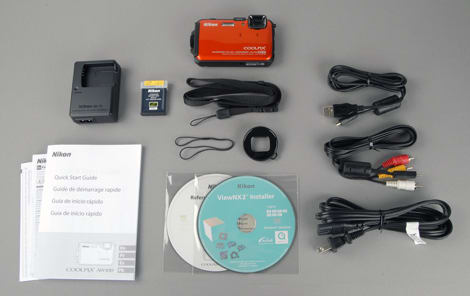 In the box:

• Nikon Coolpix AW100 digital camera

• neck strap

• EN-EL12 rechargeable lithium battery with terminal cover

• MH-65 battery charger

• filter adapter UR-E23 with cord

• USB cable UC-E6

• A/V cable EG-CP16

• software CD-ROM (ViewNX 2)

• reference manual CD-ROM

• quick start guide (20 pages)

• warranty card and safety information
Color
Color accuracy performance is good but not great. In our test where anything below 3.0 is strong, the AW100 returned an error rating of 3.4. Not bad, but very poor yellows, greens, and blues prevent this camera from ranking higher than it does. Saturation level is almost perfect however, off by only a fraction of a percent. More on how we test color.
In this most important test, the AW100 places behind our comparison group. Sony's TX10 and Panasonic's TS3 are each slightly more accurate, while the Pentax WG-1 runs away with this test, earning an error rating of only 2.42.
Color Modes
The AW100 does not offer any disparate color modes to choose from, and while we usually don't mind, a more accurate mode is sorely missed here. Nikon has proven they can deliver an accurate sensor when they want to, and given the specificity of which colors are inaccurate (greens for trees, blues for the sky, and yellows for bright skin), we're guessing the gamut has been deliberately altered for outdoor nature shooting. That's hardly a drawback considering the camera's audience, but we would've liked an additional, more accurate color mode for general use.
Noise
Unwanted image noise is a bit of a problem for the AW100. At the minimum ISO, noise levels already start off pretty close to 1%. Ideally, a high performance camera may not cross that level until ISO 800 or more. But in this case noise is perceptible as early as ISO 200, and rises steadily up through ISO 800, at which time the smoothing software kicks in. Noise reduction pushes artifacting back down to around 1%, but does so at the expense of crisp edges and proper saturation. By ISO 1600, most shots aren't usable. More on how we test noise.
Both noise performance and the behavior of noise reduction software are similar in low light. Noise only increased by an insignificant 0.07% in our 60 lux test, and once again smoothing software seemed to take off at ISO 800.
Pentax's Optio WG-1 has similar problems with noise, and shots tend to become grainy above ISO 200. The rest of the field, however, is well ahead of the AW100. Both the Sony TX10 and Panasonic TS3 take clean shots up to ISO 800, and the TX10 can even produce a decent full resolution capture at ISO 3200.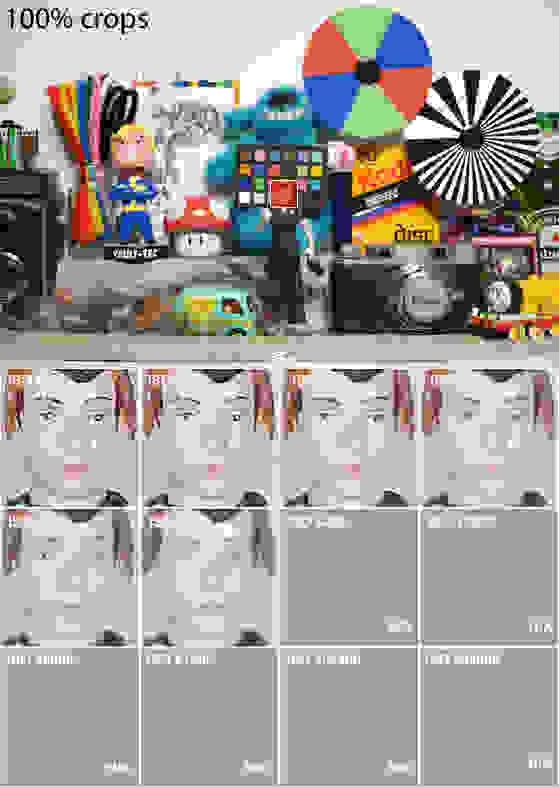 ISO
The AW100's ISO range extends from 125 to 3200, though some of them are unusable. You might get away with one or two lucky shots at ISO 1600, but 3200 is a dull, smudged, artifacted mess. At least all ISO levels are full resolution.
NOTE: The images above are not used in our testing or scoring, but are included here to show real-world examples of the differences between cameras at the various ISO settings.
Resolution
Thanks to an expertly-crafted lens, resolution is the main area in which the AW100 will set itself apart from the pack. The pro's aren't without their con's though. While part of these scores can be attributed to hardware quality, the AW100 relies heavily on edge and contrast enhancement, resulting in images that are sometimes affected by distracting haloing. More on how we test resolution.
Distortion ()
A perfect distortion score, such as this one, are not all that uncommon, since the effect is predictable and easily corrected in software. Warping is worst at the widest focal length, maxing out at only 0.29%.
Sharpness ()
The Nikon AW100 is the sharpest toughcam we've tested this year, at times registering upwards of 2400 MTF50 units of detail, with much of that sharpness retained even near the edges of the frame. Shapes and corners are crystal clear, save for the aforementioned haloing effect. In the chart crops below, notice the bright white and dark black lines that border areas of high contrast. Those are the side-effects of sharpness and contrast enhancement, and can become distracting in high detail scenes.
Scores are exaggerated by reliance on default software enhancement, but the AW100 is certainly deserving of this comparison group's top sharpness honors.
Chromatic Aberration ()
Only the Sony TX10 offers better chromatic aberration performance than the AW100. Fringing, when it occurs, does so at a variety of wavelengths (colors), creating purple and yellow fringing at the corners of the frame. But the effect is minimal and typically restricted to middle and far focal lengths.
Quality & Size Options
All shooting resolutions are 4:3, plus one 16:9 option. Maximum resolution is 16 megapixels, and there's a bonus resolution (called "16M" with a little star next to it) that offers even better compression quality. All tests were performed using this mode. Sadly, no RAW shooting mode is available.
Image Stabilization
The AW100's lens-shift image stabilization is one of the finest examples we've tested this year, and produced the best scores of this comparison group. In our precision shaker test, image sharpness improved by 65% with vibration reduction active. The camera supports two VR options: On, and "On (Hybrid)." The non-hybrid version scored better in the lab. More on how we test image stabilization.
The Pentax WG-1 and Panasonic TS3 are both equipped with effective stabilizers, and so is the Sony TX10 though we were unable to test it. None were quite so strong as the AW100 however, and this will certainly aid in the action photography for which the camera is intended.
Video Mode
This is a Full HD 1080p device, equipped with stereo microphones and capable of encoding H.264 for up to 29 minutes. High speed shooting is also possible, though this severely limits shooting resolution. Optical zoom is unlocked while recording, and autofocus may be set to single or constant, and this choice is separated from still shooting as well.
Video Color
As is so often the case, color accuracy is much worse when shooting video. The AW100's color error rating skyrockets to 5.69, however this is still better than every other model in our comparison group. More on how we test video color.
Video Sharpness
Sharpness is also above average while shooting video, though not quite as strong as the TX10 or TS3. The AW100 is capable of resolving 500 lw/ph of detail horizontally and 525 vertically during video capture. Together with the relatively impressive color score, this makes the AW100 the year's best compact digital still camera for shooting video. More on how we test video sharpness.
Playback Mode
Playback mode is navigated through a fairly typical interface, the directional pad selects photos or options individually while the zoom lever zooms in to fullscreen with magnification or out to grid and calendar view mode. Video playback enables a decent onscreen display, including fast forward, frame by frame, and clip splitting.
The playback interface may also be navigated by something Nikon calls "Action control response." An internal gyroscope detects physical movement of the camera, and pictures may be skimmed through with a flick of the wrist forward or backward. This feature is more trouble than it's worth though, we found ourselves accidentally triggering the function during general use, and this major annoyance certainly isn't worth the ability to waggle your way through review mode.
In-Camera Editing
In-camera editing ranges from the mundane to the entertaining. Basics like rotate, resize, crop, and copy are all there. More advanced functionality like retouch, dynamic range enhancement, and filter effects can have subtle or dramatic effects. We've applied a few of our favorite effects to a ridiculous picture of Andrew, Production Assistant Wizard, in the gallery below.
Direct Print Options
DPOF options are found in the "Print order" menu item. Images may be tagged for printing individually, with up to nine copies per shot. The interface is pretty intuitive, but can be slow when navigating through a large amount of photos.
Display
The AW100's 3-inch, 460,000-dot LCD is of high quality, with bright, accurate colors and a wide viewing angle. Reflectivity is only moderate, and this will definitely make a difference while shooting outdoors.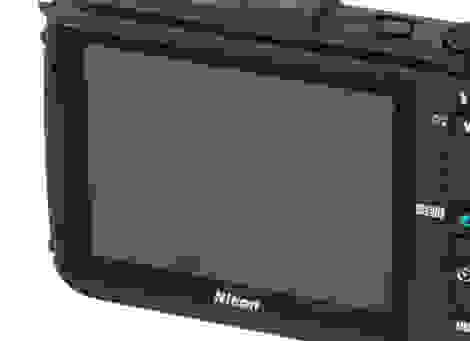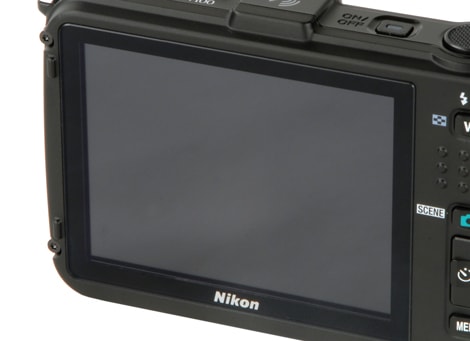 Flash
The flash emitter is well placed, out the way of errant fingers while the shutter release is in use. The bulb is small though, with a range of only 11 feet, making it one of the weaker compact camera flashbulbs out there. We're not totally surprised, since this is a camera made for the outdoors.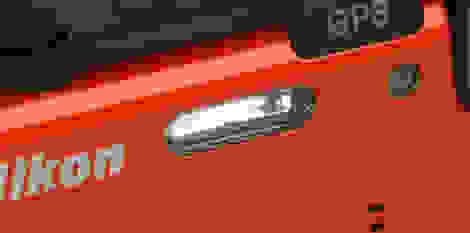 Lens
A 40.5mm filter adapter ships with the AW100 and clips onto the lens housing. From there, a small cord may be attached to this adapter, allowing the user to easily swap back and forth. A neutral density filter may be desirable for bright, sunny shots, so this feature is a welcome addition.
Adjustment of focal length is controlled by the rocker on the rear panel, and extends out to a decent 5x optical zoom, enough to reach across a street for example. What's most impressive is the lens' ability to retain decent image quality even as the zoom extends. This is a fine lens and a testament to Nikon's good name.
Battery
The included EN-EL12 rechargeable lithium battery is CIPA rated at approximately 250 shots, placing it slightly above average. The battery slot is housed underneath a waterproof compartment cover on the right side of the body, accessed by a sturdy release and latch. If this camera is a gift for a beginner, be aware the battery can be accidentally locked into place backwards.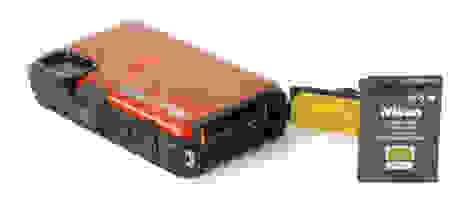 Memory
Next to the battery slot is the media card slot. The AW100 is compatible with SD, SDHC, and fast SDXC memory cards, and also features 83 megabytes of internal memory for emergencies (though this is only enough for 10 full quality photos).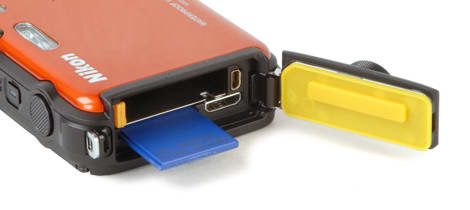 Jacks, Ports & Plugs
The same all-encompassing waterproof compartment is also home to both connectivity options. Tucked in the corner between the memory and battery slots are two ports, a mini-HDMI and a proprietary USB. The AW100 ships with cables necessary for interfacing with a PC or outputting composite video to an analog or digital TV.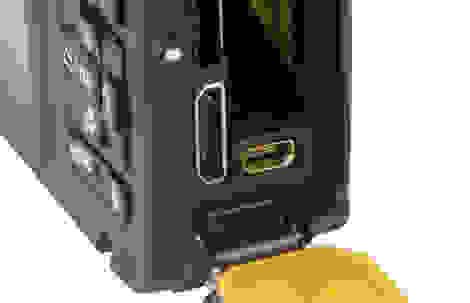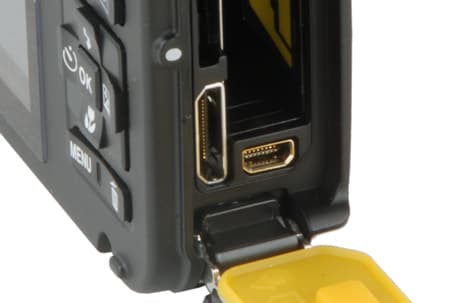 Other Hardware
Durability
The AW100's main selling point is its armored body. The camera is waterproof down to 33 feet, shockproof from a 5 foot drop, and dustproof. These stats are equal to or better than all the models in our comparison group, even the Pentax WG-1.
GPS Transceiver
Would you believe this camera's GPS actually works? Geo-tagging is a relatively recent addition to the compact camera space, and it sometimes seems like more implementations aren't functional than are. The AW100's is excellent however, featuring an electronic compass, advanced mapping software with points of interest, and the antenna even works indoors from time to time. This is a new benchmark for camera-based GPS.
Shooting Modes
Shooting modes are accessed by a small button opposite the playback mode button, and opens up a menu containing Easy auto mode, Scene modes, Effect modes, Smart portrait mode, and Auto mode which stands in for Program. We don't like to see Effects separated from Auto, and would've preferred to combine the controls of both. We also think the namings of Easy auto and Auto can be confusing, but overall the suite of shooting modes is above-average for this class.
Scene Modes
There are 19 scene modes to choose from and most are old favorites, such as Sports, Sunset, Fireworks, and Food; plus one or two new ones like Museum. We feel like Underwater will get the most use, since many new buyers will be anxious to make the most of their new waterproof camera. This mode seems to boost the responsiveness of automatic white balance while upping shutter speeds overall. The Underwater scene mode is by no means necessary for underwater shooting however.
Picture Effects
Compared to the wide variety of scene modes and in-camera editing features, Effect mode options are few and unexciting by comparison. Check out the widget below for examples of all six effects. The most useful are probably High-contrast monochrome and Selective color, both of which perform their function well.
Manual Controls
Drive/Burst Mode
The AW100 features a good selection of continuous shooting and drive mode options. The Continuous H and Continuous L settings capture three- or eight-shot bursts respectively at full resolution, Best Shot Selector fires off ten shots and saves the sharpest one, and Multi-shot 16 takes 16 high speed shots and arranges them in a 4 by 4 single picture mosaic.
Shot to Shot ()
We clocked Continuous H at just over 7.5 frames per second, a little better than Nikon's claim of 7.1 frames per second. Continuous L was less impressive, achieving only 1.25 frames per second, less than the company's 1.4 frames per second claim. Continuous L also offered less capacity than the manual claims, only 8 shots max versus the 12 expected, though we were using an SDHC memory card.
Handling
Overall handling is better than average for a compact camera, thanks to the chassis' rounded corners and extra surface area on the front. Fingers fall nicely into place, though two-handed shooters will need to take care not to obscure the lens with the fingers of the left hand.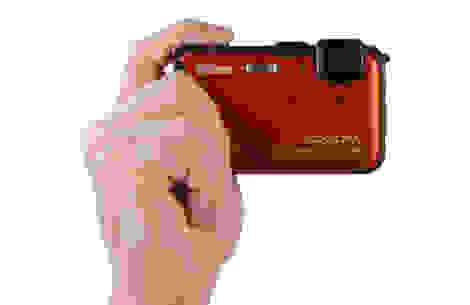 On back, an ergonomic thumb rest is in decent position beside the movie button and within easy reach of the zoom rocker. Accessing the main control panel will require a shift in your grip however. Over on the left panel, the oversized action button is well out of the way of the left hand (when necessary), though this button is rarely used anyway.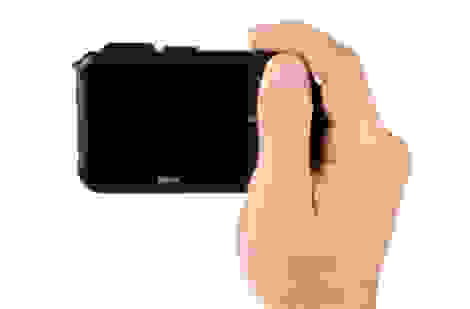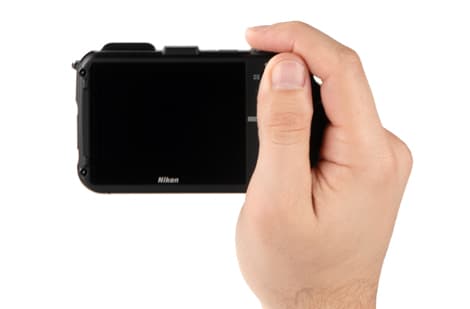 Buttons & Dials
It's not like we don't like this camera's buttons, in fact they have outstanding tactile feedback. We just have a hard time believing someone could operate them underwater. The large shutter release doesn't have this problem, but as for the rest of them, there's no way. While not strictly a thumbnail-only control panel, all of the buttons require a degree of precision. In fact their size is what we'd typically find in a non-waterproof ultracompact.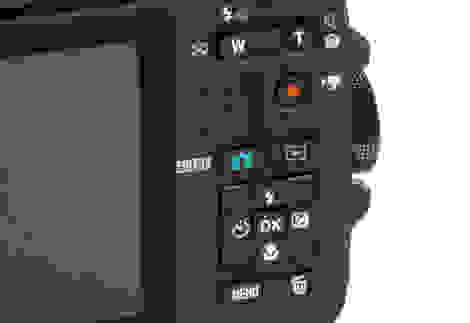 Another problem is the action button on the left panel. Its length and labeling suggests a two-sided rocker, but the button actually performs only one of two functions at a time, swapped by a menu setting, and one of them is useless. We used this button exclusively to access the internal mapping software.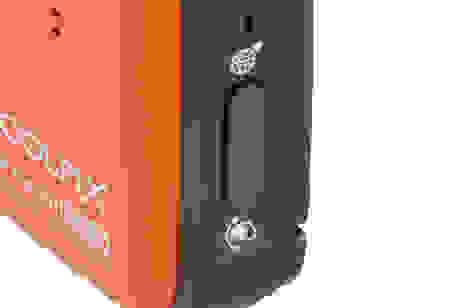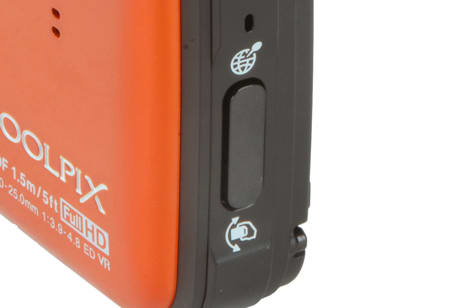 Menus
The menu is a tab-based system operated entirely by the directional pad. Navigation is quick, but some options seem to have been left out for the sake of simplicity. Metering, for example, is not user-configurable. We do like that image, movie, and setup options have been split into separate sections, even if some of those sections are more limited than we're used to.
Manual & Learning
The 20-page quick start guide will be helpful to beginners but didn't serve our purposes very well. For more information, an electronic version of the full manual is found on an included CD-ROM. This document was far more informative and properly indexed for search.
Pentax Optio WG-1 Comparison
Sony's TX10 is more ultracompact than toughcam, and we often call it a "ruggedized in disguise." Durability features are limited as a result, but the shooting performance of the TX10 is relatively strong. The TX10 takes cleaner, less harsh pictures at low ISOs than the AW100, and although the margin becomes slimmer above ISO 800, we'd name Sony the winner at this end of the spectrum too.
But the TX10 isn't as sturdy as the AW100, it cannot withstand the same water pressure, and doesn't offer any GPS functionality. So this decision comes down to application. If you need a camera for wilderness adventure, go with the AW100; if you need a camera for pool parties, go with the TX10.
Panasonic Lumix TS3 Comparison
Pentax's Optio WG-1 has the best color accuracy of this group, but its image quality is held back by noise. A significant and noticeable amount of grain is introduced by ISO 400, and while the AW100 has its own problems with noise, the effect is worse for the Optio. With identical durability and GPS features, there's little reason–other than price–to recommend the aging WG-1 over the AW100.
COMP 3
The Lumix TS3 is a refinement of Panasonic's TS2 and makes strides in some areas while taking steps backward in others. The camera takes visually pleasing shots, but has severe problems with sharpness and haloing. All shots are soft and, as a result, the TS3 posted some of the worst resolution scores we've seen. Against the AW100, which boasts an expertly crafted lens and aced our resolution tests, this quality makes up the bulk of the difference between the two.
Other than that, the two cameras are nearly identical. They even look similar. We'll leave this one up to personal preference. Some will prefer the soft look of the TS3 which, we must admit, does retain what detail it has all the way up through ISO 800. On the other hand, the AW100 has some image quality problems, but captures more image data to work with.
Conclusion
It's been a great year for ruggedized cameras and we see Nikon's AW100 as the capstone. Many of the features and technologies found throughout various companies' many toughcam offerings have been brought together and–not quite perfected–but certainly advanced by the AW100. What Pentax tried to accomplish with the WG-1's GPS transceiver, Nikon has finally got working with the AW100. Sony's efforts to meld form and function with their TX10, may have resulted in the hardy but stylish look of the AW100, which hints at a purpose-built chassis without looking like a toy. Panasonic's troubles with sharpness are altogether absent from the AW100, which benefits from a razor sharp, expertly manufactured lens.
Of course there's still plenty of room for improvement. Color accuracy isn't great, and this will affect both human subjects and landscapes. Haloing and edge enhancements also detract from image quality, which is sad because these are software after-effects and should be optional, but the simplified menu system doesn't allow it. Noise and noise reduction are also problematic, and again the menus lack an option to fix it. Noise and compression artifacts are observable even at ISO 125, and the smoothing software has a blurring effect at ISO 800 and above.
But the Coolpix AW100 will still rank the highest of this year's rugged cameras, thanks almost entirely to the lens. Chromatic aberration is minimal in shots captured with the AW100, and sharpness is retained all the way to the edge of the frame, an advantage for landscape shooting. A number of advanced features also add to the fun of owning this camera, including high quality 1080p video, ultra high speed shooting at 240 frames per second, a GPS suite that actually works, and a variety of scene modes, picture effects, and in-camera editing options.
Depending on your needs, there may be reason to purchase a more stylish toughcam like the Sony TX10, or something more suited to macro shooting like the Pentax WG-1, but for most users seeking an adventure-proof upgrade, it's hard to go wrong with the Nikon Coolpix AW100, our overall best rugged camera of 2011.
Update August 2012: Though it was released about a year ago, the AW100 remains as Nikon's current tough-cam. Some stiff competitors were released this year, and though the AW100 maintains a high score in our tests (some of our video tests changed this year), we think that it's a middle-of-the-road model among its peers. Check out our 7-camera waterproof shootout to see how the year's best tough-cams compare.
Comparisons
Photo Gallery