Cameras
Nikon Coolpix P510 Review
Nikon's P510 sure puts the "zoom" in superzoom. Its 42x lens has a staggering 1000mm telephoto focal range.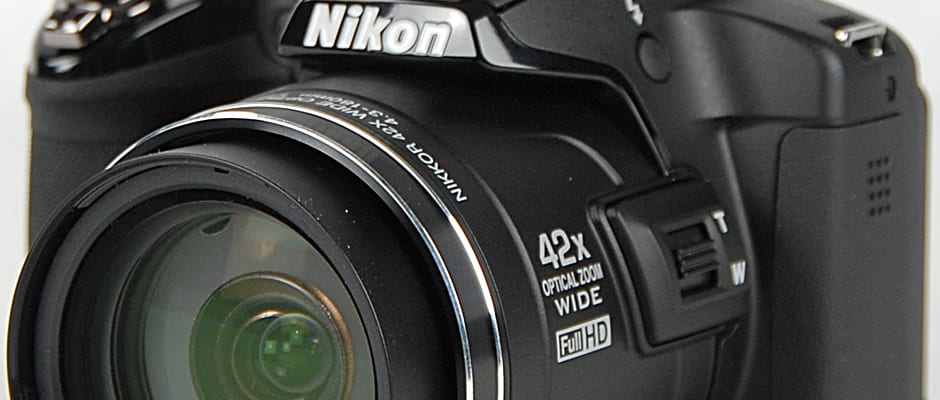 Credit:
Introduction
Nikon sure puts the "zoom" in superzoom. Nobody had even caught up to the 36x lens in 2011's Coolpix P500, and the new P510 pushes the bar even further: to 42x, with a staggering and symbolic 1000mm telephoto focal range. The sensor also gets upgraded to a 16.1-megapixel BSI CMOS 1/2.3-inch chip, and Nikon threw in some on-board GPS for good measure, too.
The P510 looks like a strong buy based on the length of its zoom alone, but this Nikon needs to match its far-reaching lens with quality images too. We got to work testing this ambitious camera to see if the "super" in superzoom could back more than just range. The Nikon Coolpix P510 is available now in black and red for a suggested price of $429.95.
Design & Usability
Buttons are cramped and there isn't a quick menu, but handling is comfortable and the LCD is excellent.
Superzoom design doesn't vary much, yet the Nikon P510 is surprisingly small, especially given its 42x zoom range. Unless you have roomy pockets though, a shoulder strap is a better option. Grip and a textured coating make for nice handling, but buttons are a little cramped. The build quality is feels cheap too—the body gives if you squeeze it—but that's part of what makes this camera light. An electronic viewfinder, although low-res and laggy, offers a diopter adjustment dial to accommodate four-eyed photographers, but the real gem is the bright, 921,000-pixel LCD—one of the best in the class. A pop-up flash boasts a 26-foot range, which is powerful for a small, built-in bulb.
A detail that's sure to please hands-on photographers is the assignable "Fn" button next to the shutter.
The button layout is pretty typical, with straightforward keys—Menu, Trash, Playback, Movies, and a Display toggler. A detail that's sure to please hands-on photographers is the assignable "Fn" button next to the shutter. We typically used it for changing ISO settings, though it can bring up menus for Autofocus, White Balance, Burst Shooting, Metering, Color Mode, and Image Size as well, easing manual shooting considerably. The menu system is laid out well, with tabbed navigation. But some tabs contain nearly two-dozen options, and there isn't a clear rhyme or reason to their order. Barring more physical buttons, some kind of actual quick menu would have been helpful.
Features
DSLRs and higher-end superzooms offer a wider range of control, but the P510 still has a fine and varied assortment of features for both new and experienced photographers.
As with any superzoom, the lens is the centerpiece of the P510; it has an enormous 42x zoom range, stretching from a 24mm equivalent wide angle to a staggering 1000mm equivalent telephoto setting. The sensor is new and improved—a 16.1-megapixel, 1/2.3-inch backside-illuminated CMOS. That's a decent chip, and though it certainly isn't the best available, it affords speedy burst shooting and short shot-to-shot times (among other benefits). The control scheme is a standard mix of auto, manual, and scene modes. The available shutter and aperture options are limited compared to DSLRs and higher-end superzooms—shutter speeds won't slow more than 1/30, and the minimum aperture is just f/8.3, but that beats most point-and-shoots. In addition to typical controls, users can also adjust higher-level parameters such as noise reduction, sharpening, contrast, and saturation. The wonky on-board GPS doesn't really work in crowded urban areas and it simply tags shots with longitude and latitude; no altitude, navigation, or built-in mapping.
Multi-shot composite modes [...] take a handful of shots and combine them into a single photo with less noisy grain.
As for the fun stuff, about 20 scene-specific presets (landscape, sports, and so on) will satisfy casual shooters, as well as a handful of fun filters like fisheye. There are multi-shot composite modes too, which take a handful of shots and combine them into a single photo with less noisy grain. Eight familiar special effects are available, like sepia and silhouette, as well as basic in-camera edits, like quick adjustments for brightness, contrast, shadow boosting, and skin softening. Average HD video capability is also amongst the P510's many offerings.
Performance
For once, the "super" in superzoom describes more than just sheer focal range.
Big zoom too often compromises great image quality, but the P510 forms clean, detailed photos in most settings, and the telephoto shots look great too. Image quality is solid overall, with sharp, detailed images and realistic colors, and unlike so many models, this Nikon's telephoto shots are as sharp as at any other point in the focal range. For a 42x lens on a compact body, this is absolutely stupendous.
The widest aperture and the longest zoom struggle noticeably when lights are dim.
This camera's noise handling software, while certainly not terrible, is below-average compared with competition, scrubbing out detail at high ISOs. Viewed at the full 16 megapixels, photos look a bit soft even at the lowest ISO setting, but the problems disappear when the shots are scaled down to regular, realistic viewing and print sizes. Indoor and low-light photography are decent, however the widest aperture and the longest zoom struggle noticeably when lights are dim. As for the video mode, we spotted trailing and stuttering during testing, and though these don't hamper quality greatly, the final product feels a bit amateurish.
Conclusion
Finally, a big zoom that doesn't stomp on image quality.
Superzooms are popular for plenty of great reasons, but the main attraction is always huge zoom. The Nikon Coolpix P510 certainly has that covered. Its massive 42x, 24-1000mm equivalent lens has the longest reach of any camera out there by a long shot. We've been very critical of big zooms recently, because they frequently come at the cost of image quality, but if we keep getting cameras like the P510, count us in.
Battery life should be better [...] and the build quality feels a bit cheap for this price point.
The P510 is a solid all-around camera. Image quality is strong for a point-and-shoot, and handling is quite comfortable. Photos are clean and nicely detailed in most situations, with realistic colors too. Battery life should be better on an expensive camera like this though, and the build quality feels a bit cheap for this price point. As is almost always the case, GPS doesn't work well in cities. Without RAW capture or more on-body controls, the P510 doesn't offer quite the same level of user control as some of its competitors, including the Panasonic FZ150, Sony HX100V, or Fuji X-S1.
Nevertheless, the P510 finishes with a very strong overall score. It may not offer everything that everyone wants, but the enormous zoom range and strong image quality are reason enough to put the P510 toward the top of the superzoom dog-pile, especially for casual photographers.
Science Introduction
The P510 performed well on tests across the board. It produced wonderful color and sharp pictures, and it didn't drop the ball toward the end of its range. Noise reduction software sometimes has too much of a smoothing effect and low light performance is a bit weak, but otherwise this camera came out on top.
Noise Reduction
The P510 handles noise well, but maybe not as well as the competition.
Without considering the competition, the P510 earned a strong noise score in our test. At the default noise-reduction setting, the noise-to-signal ratio didn't cross 1% until ISO 400, and maxed out at just 1.44 percent at ISO 3200, the top native ISO setting. That's very good for a point-and-shoot.
Of course, the noise-to-signal ratio doesn't tell the whole story. Noise reduction here is pretty smart, but it's still pervasive. Even shots at the base ISO setting have an overly smooth quality to them. At medium and high ISO settings, this becomes problematic as it scrubs away fine detail. Of course, that's really only if you're pixel peeping at 100 percent resolution; at regular viewing and print sizes—up to about 75% of the full size, or roughly the equivalent of 12 megapixels—the balance of noise reduction and detail retention is acceptable, even at ISO 1600.
Sharpness and Low Light Performance
Consistency is the name of the game when it comes to sharpness and low-light performance
The P510 earned a great sharpness score. We measured an average of 1622 MTF50s across all focal lengths and all areas of the frame, and a maximum of 2072 MTF50s at the center of the frame at the middle focal length. (We tested with the default sharpness setting and the standard color profile.)
As we expected, sharpness drops notably at the telephoto setting, but only down to an average of about 1260 MTF50s—we've tested plenty of superzooms that don't even average 1200 MTF50s, so the P510 is a legitimate sharpshooter by those standards. That being said, the real-world images don't look as crisp as the test scores let on. Some noticeable edge enhancement is at work, and there's a bright "halo" effect that occurs beyond darkened borders. Even if the details are technically sharp, the noise reduction (even at base ISO) smudges away the finer points.
In adequate lighting, at the wide end of the focal range, focus is as quick as we'd hope for in a superzoom. It slows down notably in dimmer lighting, and especially as the focal length extends. But generally, it's quick and accurate. All things considered, the P510 is fine for taking shots in low-light, especially using the night landscape multi-shot composite mode. Noise is kept under control and colors stay saturated for the most part. But with a maximum aperture of f/3.0 (and that quickly drops as the focal length extends), there are limits. Moving objects will blur, and telephoto shots are very, very iffy.
This is typical for a current superzoom (some of them start at a paltry f/3.5), and honestly, everyone should be reasonably satisfied with the P510's low-light performance; even just two or three years ago, superzooms couldn't do much of anything useful in marginally poor lighting.
Color and Chromatic Aberration
Color accuracy was nearly spot-on, but chromatic aberration testing had less happy results.
The Nikon P510 can produce very realistic colors. We measured a minimum color error of 2.59, captured in the standard color profile with all of the default settings. Under 3.5 is decent, under 3.0 is very good, and 2.59 is excellent. Saturation was near-perfect, at 97.44 percent. The score could have been even better if yellow was more accurate—it was way off the mark, much paler than the ideal shade of yellow. Blues and reds are slightly exaggerated (as they almost always are in point-and-shoot cameras), but just about every other hue was right on the mark.
The P510 earned a strong chromatic aberration score, but looking at the fringing on our resolution crops, it's obviously a case of hot-and-cold performance. It's excellent in some parts of the frame and awful in others. The problematic areas, no surprise, seem to be toward the edges and corners. This is a pretty common phenomenon with superzoom cameras, though this is a particularly strong case. Just keep in mind that this score is an average; in real-world use, it's going to produce noticeable aberration at times.
Other Tests