Cameras
Nikon Coolpix S9300 Review
Nikon's Coolpix S9300 is a upgrade from the S9100, with GPS functionality and a greater megapixel count.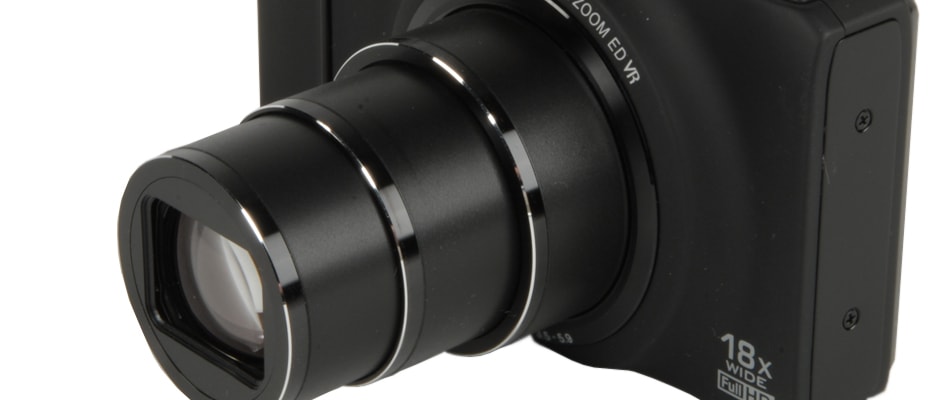 Credit:
Introduction
Current Coolpix 9100 users may be tempted to yawn at Nikon's new Coolpix S9300, a direct replacement in the company's travel zoom lineup that adds more megapixels, a GPS... and not much else.
We're inclined to yawn too, but we reserve judgement until the test results are analyzed in full. With its almost unchanged set of features, this camera needs to rely entirely on image quality and performance in order to win our favor, and with a greedy, 18x optical zoom, that's a very tall order. Too often, the more the zoom, the worse the image quality, but it takes a lab to know for sure.
Design & Usability
The S9300's ergonomic grips are not as comfortable as they look.
Say what you want about compacts, but this is one is just plain sexy. This is a clean, angular, professional device—very Nikon. The only trouble is that though it looks grippy and stable, it isn't. On the rear panel, a wide, rubberized thumb rest seems great at first, but then it soaks up oil from the skin and become slippery. Ultimately, we ended up cradling the S9300 at the base of the thumb while pinching it between the thumb and middle finger. This is average for an ultracompact, but the appearance of ergonomic features is misleading.
A gorgeous 3.0 inch, fixed position LCD monitor dominates the rear panel.
We really love the button quality and layout, but the menu can't keep up. Design of this tab-based interface is fine, but responsiveness is sluggish, especially when swapping between tabs, and there's no "quick" menu alternative either. A gorgeous 3.0 inch, fixed position LCD monitor dominates the rear panel. This accurate display is 921,000-dots, which is above average, and it's covered by an anti-glare coating. A flash emitter springs up from a housing on the left, top side whenever extra illumination is called for, but it can be manually depressed back into position. We dislike the sluggish barrel on the 18x optical zoom lens, which made us wait around after taking a shot.
Features
The S9300 offers disappointments for enthusiasts and beginners alike!
Hardware is simple and functional, with adequate connectivity and an excellent LCD monitor, but the cumbersome lens action is the only real downside there. Controls are relatively limited, considering this is Nikon's flagship travel zoom. EV and ISO are the only ways to fine-tune your exposure, since shutter and aperture are not manually controlled, and shooters can pick from seven shooting resolutions, but lossless RAW is not supported. In essence, there is no fully automatic mode, so beginners beware: Auto mode is really just program auto, with fully customizable image size, white balance, metering, and ISO.
Low speed continuous mode is slower, but it can also handle nearly 50 shots in a row.
All shooting modes are accessed via an excellent hardware mode dial. This dial has spots for continuous shooting, scene selection, effects, and more, but we really would've preferred priority modes instead of some of these extraneous selections. Continuous shooting gets its own stop on the mode dial and the suite of options is extensive. At full resolution and minimum ISO, we clocked the S9300's high speed continuous mode at 6 frames per second, for as many as 6 shots in a row. We discovered though, that by boosting sensitivity up to 3200, we were able to get 7 frames per second, and the low speed continuous mode is slower, but it can also handle nearly 50 shots in a row. These are strong numbers, but the camera is slow to recover from a burst, so get your timing right. As for the fun stuff, there is GPS, six picture effects such as Soft and Nostalgic, and extensive in-camera editing options that allow everything from retouch to dynamic range enhancement.
Performance
Were it not for the S9300's beautiful color and excellent noise handling, it may have zoomed to its doom.
The S9300's image quality is a toss-up, with color accuracy coming in above the baseline, but sharpness falling way behind. This sort of thing is very common for compacts that feature ambitious travel-zoom lenses, which is why we always recommend that consumers weigh the true necessity of telephoto shooting. Sharpness poses a particular problem for overall image quality, most especially at the longest 18x zoom. The optics are just too strained at the maximum length to produce clean images, so as always, for best results with the S9300, zoom out. We can give you another reason to squint mistrustfully at big travel zooms: the optics struggle with light, causing ugly light distortions in all high-contrast areas, at all focal lengths, but especially at the middle and telephoto end of the range.
This model's noise reduction method is among the best and most flattering techniques.
This marks the end of our griping, because color accuracy is above average, and white balance is amazing. The S9300 offers no customizable color modes,but that's not so bad, because this camera's color looks very lifelike and we were extremely impressed by its white balance too, which functioned skillfully under varying lighting conditions. This model's noise reduction method is among the best and most flattering techniques too, with very low noise rates even at ISO 3200. Noise, when it does occur, isn't quite as ugly as most digital noise either. This type of noise has a grain to it, instead of hideous smudging and pixelation. To round things out, HD video, though average in terms of low light performance, offers plenty of control and admirable sharpness.
Conclusion
Zoom-itis claims another life
The Coolpix S9300 fails to sufficiently distinguish itself from competing travel zooms. None of our test results were high water marks for the category, though none were among the worst either. Despite design and looks to the contrary, this is a strictly-average camera.
On the plus side, the S9300's noise reduction performance came within striking distance of the outstanding Casio ZR100, as well as the Sony HX9V, our highest rated travel zoom. Nikon's automatic and custom white balance algorithms are also freakishly accurate, posting some of the smallest error values we've ever seen; and that goes for all cameras, not just compacts.
Sadly, these details aren't enough to excuse some severe and systematic problems with many of our most important ratings. Sharpness and chromatic aberration, for example, are particularly poor. We see this all too often with travel-zoom and superzoom cameras. Manufacturers squeeze extra long lenses onto tiny cameras and the glass just can't keep up. It seems not even Nikon is immune to this temptation. The S9300 has a textbook case of zoom-itis. Furthermore, the increase in megapixel resolution does not result in especially sharp stills, and while the new GPS module is better than most, it's only a distraction from lackluster image quality. For $350, there are better options out there. Buy them instead.
Science Introduction
Testing indicates that the S9300 is not the sharpest tool in the shed. This is a real shame too, because its white balance is stellar, its color is lovely, its noise performance is formidable, and it even offers competitive video.
Sharpness & Distortion
A big, fat, arrogant zoom once again muddies up overall image quality.
The S9300 cannot match the resolution of many travel-zoom cameras out there. It lags way behind the Sony HX9V, as well as the Casio ZR100 and the Fujifilm F600EXR. The reason for this is the cumulative score across the focal range. At times, we recorded over 2300 MTF50s of detail at the widest focal length. However this figure dropped to an average of just over 800 at 18x zoom. We often see this trend from travel zooms because the optics are just too strained at the maximum focal length to produce clean images. If optical zoom isn't essential for your shooting style, don't fall for this extra long lens, there are significant drawbacks. Zoom out for better pictures.
Here we go again. Since this tiny lens reaches out to an extremely ambitious 18x zoom ratio, the optics just cannot avoid chromatic aberration. Fringing is present in all high-contrast areas at all focal lengths, but especially the middle and telephoto end of the range. These effect worsen incrementally as zoom increases.
Color & White Balance
Color accuracy is above average, but white balance is stupendous.
The S9300 has no color modes, leaving the user with no options to change or improve the color gamut. That's not so bad though, because the camera's handling of color is above average. We recorded a minimum color value of 2.85 in our accuracy test, 0.15 points better than the 3.00 average. Saturation was over by about 12%, so we've slightly reduced the score accordingly. Blues are by far the most problematic shades of the gamut, although skin tones also have some trouble. So be aware that human subjects may not appear as lifelike as they would with a more expensive camera.
We were extremely impressed by the S9300's custom and automatic white balance. Like every camera, this one has trouble automatically balancing incandescent light, but under daylight or fluorescent the reading is almost perfect. In fact these two temperatures are even more accurate than their custom white balance equivalents. Custom white balance is of course much better for incandescent light, and in fact that reading is almost perfect too. That means we have in-camera options for near perfect white balance in any lighting situation. The rule for this camera: custom white balance under yellow incandescent light, automatic otherwise.
Noise Performance
This model's noise reduction method is among the best and most flattering techniques in the class.
Noise reduction is one of this camera's best features, with performance that's in lock-step with the best this category has to offer. Artifacting rates, first of all, are very low. In fact the only ISO level in which we recorded more than 1.00% noise was the maximum, 3200. Noise, when it does occur, isn't quite as ugly as most digital noise. This type of noise has a grain to it, instead of the hideous smudging and pixelation that's common.
Video
Motion quality and low light sensitivity are plain average, but decent video sharpness was a pleasant surprise.
Videos shot with the S9300 do not move smoothly, especially in areas with patterns. Moving objects don't judder or skip, but there's a subtle bit of trailing due to the low frame rate.
To test low light sensitivity, we record the least amount of ambient light a camera requires to collect 50 IRE of video data. The S9300 requires 24 lux. That's better than some point and shoot cameras, many of which require 45 lux or more. But it's still a paltry score compared to any camcorder.
The S9300 boasts above-average sharpness for video content though, resolving 600 lw/ph of detail both horizontally and vertically. While this performance is sufficient for most applications, those with an interest in some light videography should look to the Panasonic ZS20, which ran away with this test.
Other Tests