Cameras
Panasonic Lumix DMC-GF3 Review
The Panasonic GF3: the most diminutive member of the company's small interchangeable lens camera lineup.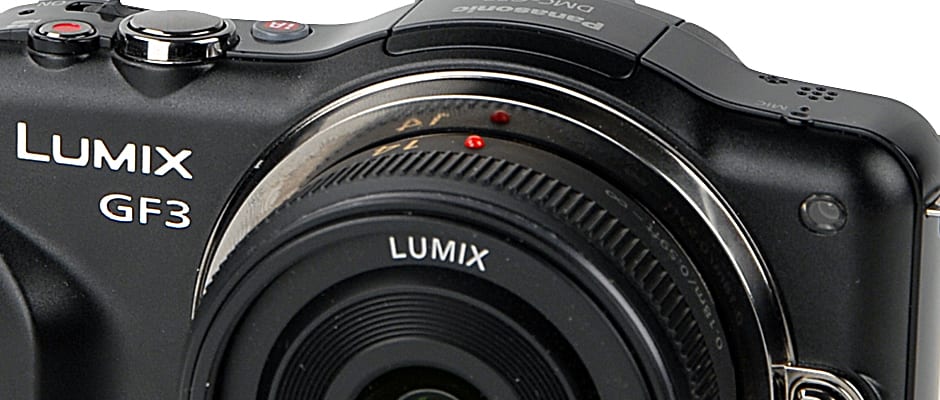 Credit:
Introduction
The GF3 is the latest Micro Four Thirds camera from Panasonic, eagerly shedding even more size to become the most diminutive member of the company's small interchangeable lens camera lineup. The camera follows in the footsteps of the GF2 —curiously released less than a year ago—offering a combination of touchscreen control and pocket-friendly size that will appeal to a wide variety of photographers.
With higher quality options above it in Panasonic's lineup, the GF series has certainly put the enthusiast favorite GF1 behind it, squarely aiming for those stepping up from point-and-shoot cameras in search of better image quality. It is available in red, pink, brown, white, and black, as body-only or kitted with either a 14mm or 14-42mm lens option.
Design & Usability
The GF3 traded some of its old hardware for a lighter, more portable body.
The GF3 is just small enough that it can slip easily into a jacket pocket or a small bag, though obviously any of the larger Micro Four Thirds lenses are going to limit portability drastically. The 14mm pancake lens is especially useful for landscapes, group portraits, and macro photography, so vacationers will certainly enjoy having the GF3 in tow.
Most controls are within a thumb's reach, but users will no doubt miss a physical mode dial.
Anybody with experience using a more advanced point-and-shoot camera will be right at home with the GF3. It copies the shrinking trend of Panasonic's GF-series, trading in hardware like its old hot shoe for a smaller body. There is still no rubberized material, and the grip has been shrunk down somewhat, but the camera isn't difficult to hold onto. Most controls are within a thumb's reach, but users will no doubt miss a physical mode dial, which has been replaced by a touchscreen version. The touchscreen aspect is entirely secondary to the operation of the camera, enhancing physical hardware rather than replacing it. The menu is organized into several tabs, and each tab has several pages, so there is no quick way to navigate pages without extensive scrolling. Unfortunately, that does present a bit of a learning curve. All in all, it's a legible menu that gets the job done and it shouldn't send beginners howling for a refund.
Features
Beginner-friendly features and plenty of manual control fit in the palm of your hand.
The GF3 offers quite a lot in a very small package, with plenty of manual controls, touchscreen operation, and enough customization to keep enthusiasts happy. It showed promise as a video recording device, but despite being one of the better Micro Four Thirds cameras out there for video, we were underwhelmed by the GF3's disappointing sharpness and motion scores. Picture effects settings are broken into two distinct sections: Photo Style (which alters color and also allows adjustments to saturation, contrast, noise reduction, and sharpness.) and Creative Control (six modes that make more dramatic changes by way of contrast and tone). In-camera editing sticks mostly to the basics, though users can also text stamp images, and several burst modes and self timers are available as well.
The 14mm kit lens permits manual focusing.
In the way of hardware, the GF3 employs a 12.1-megapixel CMOS sensor that allows for a variety of quality and size options to choose from, including RAW. The 14mm kit lens permits manual focusing by virtue of the focus ring itself, but you'll have to activate this feature through the camera's menu system in the first place. As for ISO, it ranges from 160-6400, with options for both automatic ISO and intelligent ISO. There weren't any reduced resolution options for ISO sensitivity, though we found ISO 6400 to be usable whenever noise reduction was kept at the default or bumped up to higher levels.
Performance
Decent noise performance and pretty color, but the lens isn't wowing anyone
The GF3 performed rather well, producing images with nice color, limited noise even in high ISO situations, and solid dynamic range. The camera also shot faster than its previous iteration, upping its shot-to-shot time from 2.8 frames per second to four shots in one second.
0.59 feet sounds small, but with such a wide angle lens, you're not going to get satisfying close-ups of any small objects.
The kit lens was fairly sharp, particularly at the center of the frame, but smaller apertures resulted in softer images. Additionally, though the autofocus is fairly quick, the lens doesn't have a particularly noteworthy close focus distance. The listed 0.59 feet sounds small, but with such a wide angle lens, you're not going to get satisfying close-ups of any small objects. The general AF performance is quite good though, and it is somewhat aided by the touch screen control, allowing users focus on an object by touching it on-screen.
Conclusion
A little camera with big advantages.
Comparing the GF3 to its predecessors is like looking at one of those "history of man" posters in reverse. The old GF1 featured enthusiast-level manual control, physical dials, and customizable options, and the GF2 and now the GF3 feature intelligent auto modes, touchscreen control, and beginner-friendly button layouts.
The GF3, released less than a year after the GF2, is physically pared down even more, deserting even a hot shoe, the last vestigial fragment of its enthusiast beginnings, in favor of a trimmed frame that could play body-double to any number of mid-range, travel zoom point-and-shoots. With the GF3, Micro Four Thirds lens compatibility, solid color accuracy, and improved low light image quality all sit in the palm of your hand.
In total, the GF3 is a very appealing compact camera that, through sheer association with the Micro Four Thirds lens family, offers incredible upsides for anybody—enthusiast or novice—willing to pick it up and give it a try.
Science Introduction
The GF3 showed solid improvement over the course of our lab tests when compared to the older GF2. The GF3's images offered low color error, near perfect saturation, and acceptable noise levels even in high ISO situations. It also offered solid dynamic range results without sacrificing a great deal of detail in the name of noise reduction.
Color
The GF3 had very accurate colors across the board, with near-perfect saturation levels in several color modes.
We found that the GF3 was able to produce colors with a color error of just 2.52 in the natural color mode, with a saturation level that was around 95% of the ideal. The natural mode does offer a flat appearance compared to the other color modes, but this led to more accurate colors that can then be altered after the fact. The standard mode was also very accurate, in one test offering better accuracy than the natural mode, though it tended to result in images that were around 1/3rd of a stop underexposed.
Further, every color mode on the Panasonic GF3 offered decent color accuracy, with the worst—the vivid color mode—showing a color error just 3.81 degrees. This is to be expected, as the vivid mode purposely skews blues and magentas to offer deeper, richer colors that are very oversaturated by design. Every other color mode had an error under 2.75, which most cameras can't manage at their best.
Noise
The GF3 did not show remarkable improvement in noise results over its predecessor.
The GF3's default settings kept noise to a manageable level by itself, but there will be times where either smooth gradation or the retention of fine detail will take priority, for which you can adjust the noise reduction level appropriately. At the minimum level of -2, noise still only amounted to more than 1% of the image at ISO 1600 and above, crossing 3% at the maximum ISO of 6400. At the maximum level of +2, noise just barely crosses 1.5% at the maximum ISO speed. At the levels of +1 and -1, respectively, noise ramps up and down accordingly, and we recommend shooting at +1 for the greatest benefit without losing too much fine detail.
At the default level, we found the Panasonic GF3 managed to keep noise under 2% up to ISO 6400, with it only slightly passing that threshold at its maximum ISO speed. In the picture style menu, users can make further adjustments to noise reduction on a scale of +/- 2 steps. Shooting in the default setting resulted in images that should be printable to normal 8''x10'' sizes.
Dynamic Range
The GF3 showed good dynamic range results, though this is impact somewhat by the presence of noise reduction. We found the camera was able to preserve more than 6.5 stops of clean dynamic range at ISO speeds of 200 and lower before noise began to creep in. Range fell off predictably from there, though even at ISO 6400 the camera provided 3.25 stops of clean dynamic range.
When framing with the 14mm fixed kit lens, it's clear to see that there is some distortion at every aperture. Measured out, there is approximately 1.18% barrel distortion with the lens, though that is likely after some correction applied in-camera, as Panasonic frequently does with their own lenses. The end result is quite good, however, and 1.18% distortion is largely inconsequential.
Video
The the GF3 has limited manual controls in video mode, the auto functions work very well. We just wish it had done better on sharpness and motion tests.
The GF3 didn't capture motion video very well in our testing. The one positive was that its videos looked smooth, but the negatives included quite a bit of trailing, some artifacting, and lots of ghosting and blur. There was even some pixelation present in the rotating pinwheels in our test video. The 1920 x 1080 AVCHD mode produced the best looking video in terms of motion, and we saw more interference when using the other recording settings.
Also, though the GF3 does record Full HD video, like the GF2 before it, the camera didn't do very well in our video sharpness test. It managed a horizontal sharpness of roughly 525 LW/PH and a vertical sharpness of 600 LW/PH. These numbers do show a bit of an improvement over the GF2, but not by a huge margin.
Shooting with the 14mm kit lens with a wide aperture of f/2.5, the Panasonic GF3 was able to record a usable image with just 7 lux of light. This is a strong performance for the little Micro Four Thirds camera, and it is very similar to the result we got from last year's GF2 (it needed 6 lux of light to reach the same brightness levels). Results will likely be different, of course, if you use a different lens with the GF3, so take note what lens we used for this test (and all of our video testing).
Other Tests