Cameras
Panasonic Lumix FH5 Digital Camera Review
Unremarkable, but not bad, performance, but with nothing to really recommend it.
Introduction
Another year, another big batch of pocket-sized point-and-shoots. Panasonic's FH series is perhaps best known for last year's FH20, one of the first sub-$200 cameras with an 8x zoom range. That line is also home to a handful of less-interesting, short-zoom point-and-shoots, like the FH5, on review here.
It's difficult for a camera like this to stand out among the dozens of nearly identical competitors with svelte designs, good-enough image quality, and light feature sets. We put the FH5 through our battery of tests to see if it has any tricks up its sleeve.
The FH5 is available at an MSRP of $169 in blue, red, black, and pink shades.
Front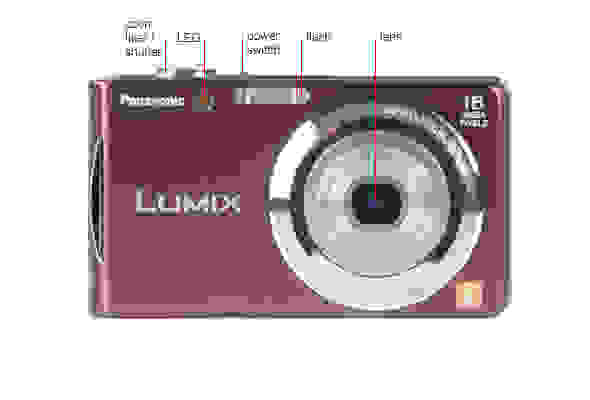 Back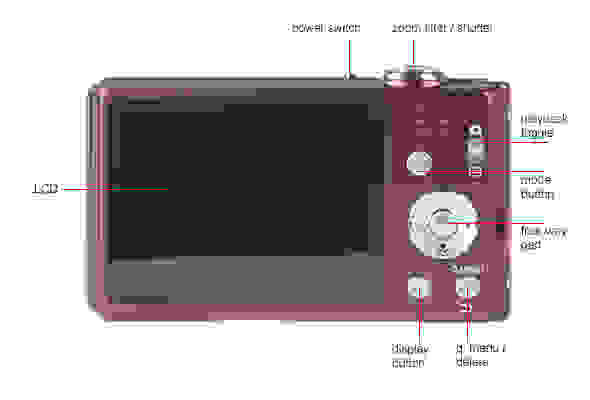 Sides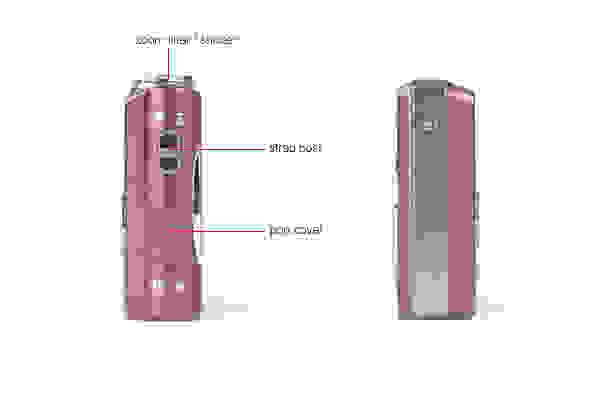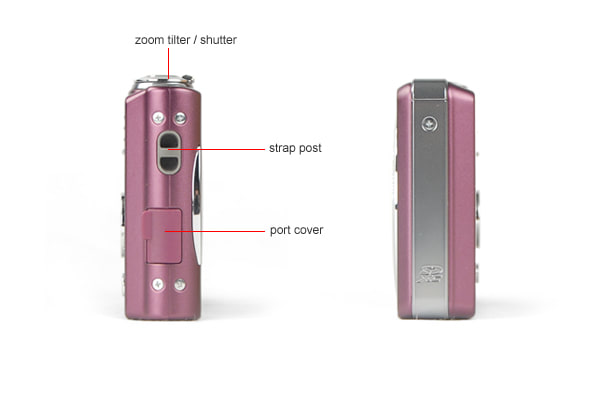 Top


Bottom


In the Box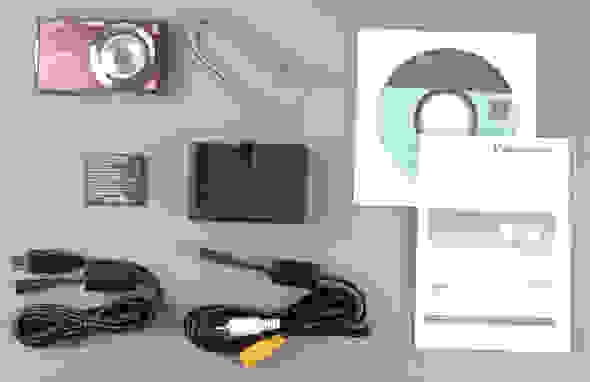 • Panasonic Lumix DMC-FH5 digital camera

• rechargeable lithium-ion battery (NCA-YN101G)

• battery wall charger (DE-A91)

• micro-USB cable

• A/V cable

• wrist strap

• CD-ROM with manual and software

• basic owner's manual FH25/FH5/FH2
Color
The FH5 earned strong color accuracy scores, especially considering its low cost. The smallest color error we measured was 2.99 (anything under 3.0 is solid) with 97.15% saturation. Light blues are the most exaggerated hues (for striking blue skies), and reds and yellows are over-vivid, too. But most of the other shades are just about spot-on, and taken as a whole, the color profile is believable. More on how we test color.
Compared to other point-and-shoots in this price range, the FH5 sits in the middle of the color-accuracy pack. It's on par with the Samsung PL120 and much more accurate than the Sony W570, but well behind the Canon ELPH 100 HS, which earned a superlative score.
Color Modes
The FH5 offers a large handful of color modes. We found that Natural was the most accurate (and so the basis for the color score and the profile that we used for the rest of our testing). Standard mode shoots somewhat more exaggerated and saturated colors across the board. Vivid pushes that even further. Cool mode leans on the blues, while Warm leans on the reds. B&W and Sepia are self-explanatory.
None of these modes are adjustable or customizable, though we don't expect that level of control on a low-level camera like this.
Noise
The FH5 earned a very good score in our noise test. Its overall average noise ratio, accounting for all ISO settings in both bright and dim settings, is just 0.99% of an image. Some of this strong performance surely has to do with liberal noise reduction—the crops of Rosie the Riveter below start to lose detail as low as ISO 200—but it's applied intelligently.
More on how we test noise.
The FH5 shows slightly lower noise levels in lower light (60 lux) than bright light (3000 lux), but the results are pretty consistent. Both start around 0.7% at base ISO. At 3000 lux, noise increases consistently until ISO 1600, but at 60 lux, noise stays at 0.71% at ISO 200 and then increases steadily until the maximum sensitivity.
Out of our comparison group, the FH5 earned the best noise score, handily outpacing the Samsung PL120, Sony W570, and Canon ELPH 100 HS. While we would say that in general, the FH5 does take pretty clean shots overall, there are a few caveats.
First, just because a camera shows less noise doesn't mean that the shots necessarily look better. The ELPH 100 HS doesn't process its images as much as the FH5, so the shots look sharper, even if they are a bit grainy. Your preferences may vary.
Second, Panasonic wisely capped the FH5's full-res ISO range at 1600. The W570 and ELPH 100 HS both extend out to ISO 3200, arguably beyond their sensors' reasonable capabilities (all for the sake of marketing). The results from those max-ISO tests drag down the overall average. We're not taking anything away from the FH5—it performed well, but the scores would be closer if we measured the Canon and Sony cameras without their top sensitivities factored in.
ISO
As we mentioned, the FH5 offers ISO settings from 100 to 1600 at full resolution, and up to 6400 in the High Sensitivity scene mode, though at a significantly reduced resolution. Users can't control the ISO level in that mode, so it's up to the camera's discretion. The results are sloppy, so we recommend avoiding it altogether.
NOTE: The images above are not used in our testing or scoring, but are included here to show real-world examples of the differences between cameras at the various ISO settings.
Resolution
Resolution is acceptable but not great, even among low-cost point-and-shoots. Distortion is barely noticeable, which is great, but our attention was fixed on the poor sharpness. More on how we test resolution.
Distortion ()
The FH5 earned the best distortion score that we award. At the wide-angle, we measured almost 1% barrel distortion, but at the middle and telephoto settings, we saw almost no distortion at all. The Sony W570 also earns our top distortion score (not an uncommon event, honestly). The Canon ELPH 100 HS has more noticeable distortion, but just barely, while the Samsung PL120 shows quite a bit more.
Sharpness ()
Sharpness is incredibly inconsistent. It's above average at the center of the frame, but showed some of the lowest scores we've ever seen around the edges, particularly on the right side. The FH5 finishes well behind the comparison group in this category.
Chromatic Aberration ()
Chromatic aberration is kept under control, with just slight fringing at the edges of the frame at the wide and telephoto focal lengths. The FH5 has the best score of the comparison group, though they all perform pretty well in this regard.
Quality & Size Options
At its maximum resolution, the FH5 cranks out massive 16 megapixel images at a 4:3 aspect ratio. It can also shoot in 16:9 and 3:2, all at various resolutions, as little as 0.3 megapixels.
Image Stabilization
The FH5 scored remarkably well in our stabilization testing. We measured a 47% average improvement with stabilization turned on, which is sky-high. It's short zoom range helps the cause, but we rarely find such a notable improvement in a point-and-shoot. More on how we test image stabilization.
All of the other cameras in this comparison group earned no points in stabilization testing, so the FH5 is the clear champion in this category.
Video Mode
As we'd expect on a low-budget point-and-shoot, the FH5's movie mode is meant to shoot just very basic video. It is a high-def shooter (720p at 30 frames per second), so videos look much sharper than they do on two- or three-year-old standard-def point-and-shoots. But optical zoom is not supported, autofocus locks at the beginning of the clip and can't adjust to movement, and aside from white balance and resolution, everything is automated. In other words, it's a nice extra, but nothing special.
Video Color
Despite strong still-photo color, the FH5's video color is way off the mark. To be fair, that's the case with just about all of the point-and-shoots we've tested, but the FH5 is on the bad side of average here. More on how we test video color.
Video Sharpness
Sharpness, too, is below average even for a cheap point-and-shoot. It's high-def, so it'll beat any standard-def point-and-shoot from last decade, but don't expect clear details, especially on moving objects. More on how we test video sharpness.
Playback Mode
Playback mode is straightforward for a point-and-shoot of this nature. Rather than a dedicated playback button, the FH5 has a two-way toggle that switches between shooting mode and playback mode. Having a toggle makes it convenient to start up the camera in playback mode and keep it there, though unlike most current digital cameras, simply touching the shutter won't bring it back to shooting mode, which took us a minute to get used to.
Once the FH5 is in playback, the four-way pad navigates through photos, while the zoom tilter zooms in on details, or out to multi-shot or calendar views. The on-screen display can indicate a shot's settings, its time-stamp, or no info at all. The mode button brings up a menu to switch between normal, slideshow, calendar, and filtered playback modes. A few filtering, printing, and editing options lie in the menu system. Deleting shots is easy, with single, multi, and all deletion options.
In-Camera Editing
In-camera editing is limited to resizing and cropping. Both are available in the playback menu. Even by cheap compact standards, this is a light editing suite.
Display
As with most compact cameras, the FH5 does not have a viewfinder, so everything runs through the LCD. It's a 2.7-inch, 230,000-pixel screen, both mediocre specs, but on par for the price. Lag isn't a problem, and while it can be tough to view in direct light, that's the case with pretty much any LCD.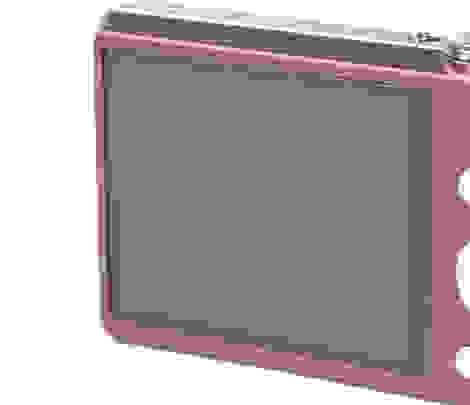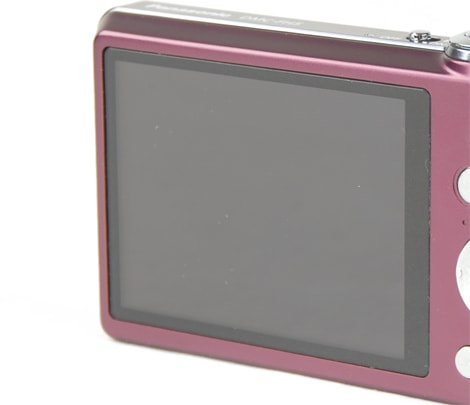 Flash
A tiny flash is built into the top-middle of the front panel, just above the lens. The spec sheet claims that it's effective to about 11 feet, which is weak, but we've seen worse. Controls are limited to auto, red-eye correction, forced, and off.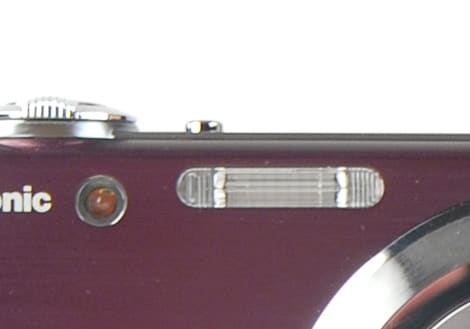 Lens
The FH5 comes equipped with a 5.0-20mm, f/3.1-6.5, Leica-branded lens. It isn't expertly crafted in a German workshop, but Leica's engineers think it's good enough to put their name on it. It sits flush with the camera body with the power off, and extends about an inch with the power on.
The 4x optical zoom ratio is modest by today's standards, but still effective. The Intelligent Zoom function (known generally as "advanced" zoom) can extend the zoom range out to 5x without an obvious loss in quality, and when both modes are combined with digital zoom, the maximum range is 20x, but at very poor quality.
Battery
The FH5 runs on a rechargeable lithium-ion battery, inserted into a slot behind a door on the bottom-right of the camera. It charges in a standalone wall adapter. The battery is rated for 290 shots, though we got closer to 250 before having to juice it up again.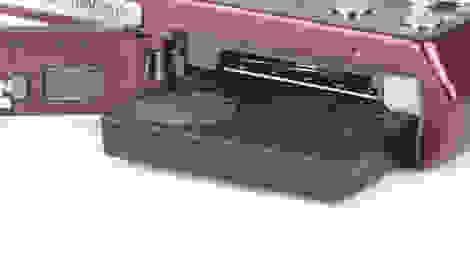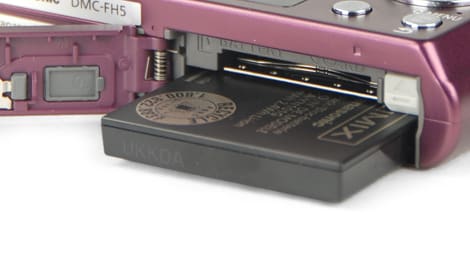 Memory
In a big surprise, by which we sarcastically mean not a surprise at all, the FH5 records to SD/SDHC/SDXC memory cards, which slide into the camera right next to the battery.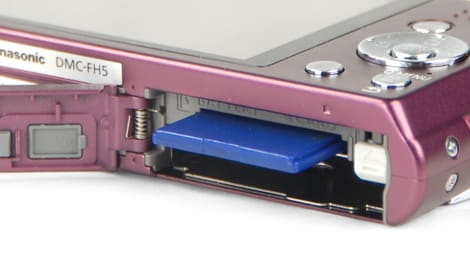 Jacks, Ports & Plugs
One lonely micro-USB and A/V port sits behind a rubbery flap on the right side of the FH5's body. It's common for low-cost cameras like this to forgo HDMI jacks, but we'd still like to see a high-def output on any camera that shoots high-def video.
Shooting Modes
The FH5 is geared for automatic operation, offering one auto mode, one program mode, a video mode, and several preset scene modes. Intelligent Auto is generally accurate and worry-free. Normal Picture, as program mode is known here, allows users to take more control over their shots, but not to the degree that a true manual mode would. There is also one customizable slot for a scene mode, so users can pick one that they think they'll use most often.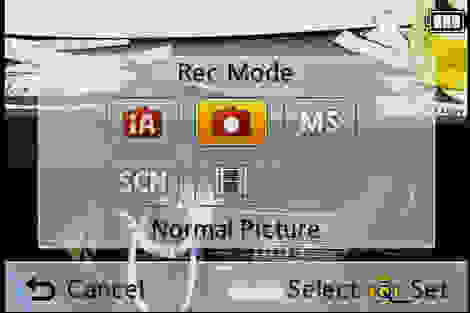 Scene Modes
25 preset scene modes are available, all of which are common to Panasonic cameras. There are a few portrait modes, a few landscape modes, a panorama-assist function, some night-oriented modes, and several more miscellaneous scene or subject-specific settings.
Picture Effects
A small handful of effects are available, including Film Grain, Pin Hole, and High Dynamic. It's a modest collection, less than what the Samsung PL120 and Canon ELPH 100 HS offer, but it's better than the zero modes offered by the Sony W570 and many other cheap-o point-and-shoots.
Manual Controls
Drive/Burst Mode
Since it's based around a CCD sensor, the FH5 is not a speedy shooter. It does have a full-res "burst" mode that's really more of a continuous drive mode, but no matter what it's called, it's sluggish by today's standards. There's also a reduced-res Hi-Speed Burst mode that cranks up the speed to about 2 shots per second, but they're only 3 megapixels.
Shot to Shot ()
The top full-res speed is a pretty consistent 1.05 frames per second. Most low-end point-and-shoots clock in below 1fps, so the FH5 does feel a bit faster than competitors like the W570 and especially the PL120. But it's significantly slower than any of the CMOS-based compacts out there, including the ELPH 100 HS.
Handling
Like any camera small enough for a pants pocket, the FH5 is too small for most human hands. That's the tradeoff, take it or leave it.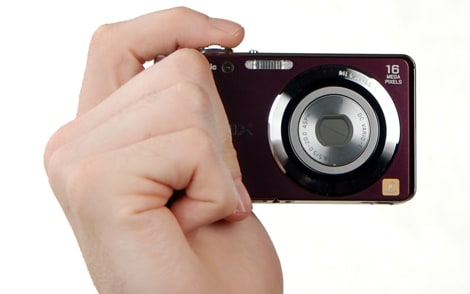 The FH5 has no real grip anywhere on its body. The only plausible way we found to hold it with one hand was to put out forefinger on the shutter and our thumb on the bottom to provide support. Otherwise, unintentional button-mashing will follow, or it'll slip. Wear a wrist strap, and hold it with two hands.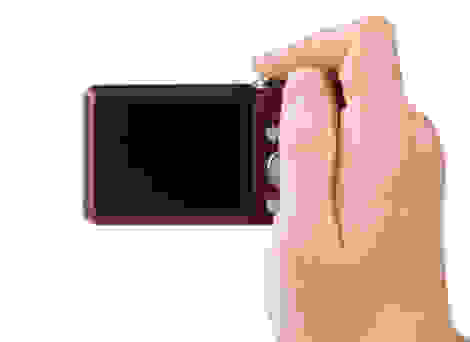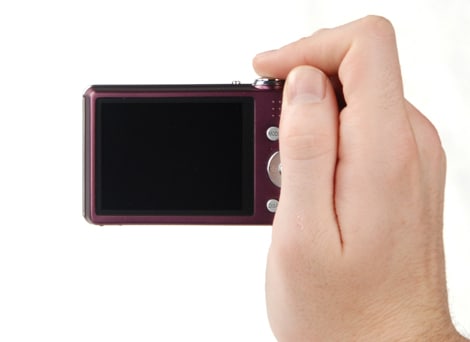 Buttons & Dials
The FH5 rolls with a standard point-and-shoot button layout. The rear panel hosts three buttons, a four-way pad, and a toggle for playback and shooting modes.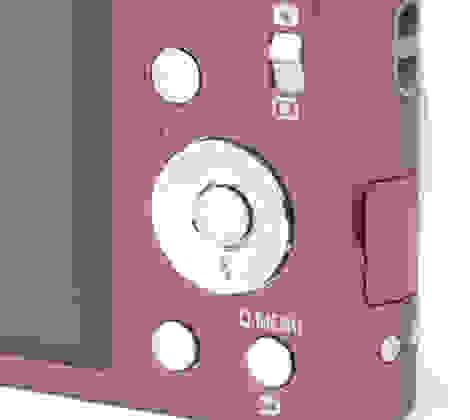 Up top, there's a shutter/zoom-tilter combo and a power toggle. All of the buttons and slides are made out of metal and provide a nice tactile feedback. Since the body is so tiny, there's no room for a mode dial (there aren't many modes anyway).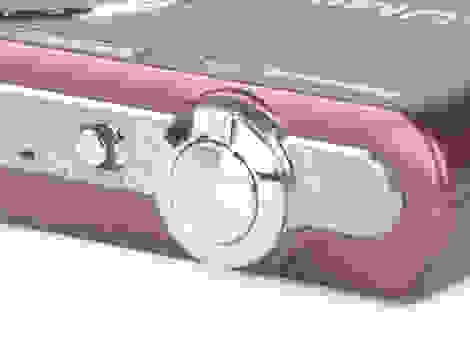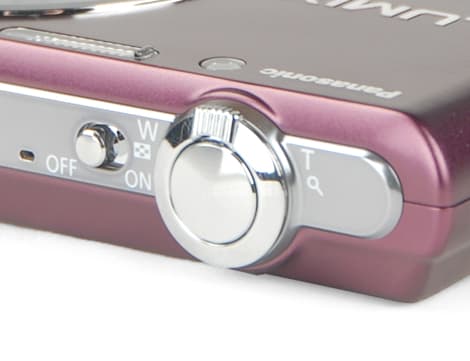 Menus
The menu system is laid out logically and is easy to navigate. It's basically identical to any other small Panasonic point-and-shoot from the past few years, so returning users should feel comfortable. The dedicated Q. Menu button accesses the most common shooting settings (ISO, white balance, size, and so on) without leaving the image preview. All of those functions are also available in the full, proper menu system, plus a number of less-common adjustments. It's divided into two tiers, one for shooting (or playback, in that mode) and one for setup. The design looks a little cheesy and could use a facelift, but it doesn't interfere with the user experience.
Manual & Learning
Since Panasonic's FH-series cameras are all so similar, the FH5 ships with a basic manual that also covers the FH2 and FH25 models. Even the full manual on the accompanying CD is written to apply to all three cameras. The FH5 doesn't offer any substantial in-camera help feature.
Samsung PL120 Comparison
Comparing the Panasonic FH5 and Sony W570 is an exercise in tedium. These are two of the most unremarkable cameras to grace our labs this year. Their spec sheets are very similar: 16 megapixels crammed onto a tiny CCD sensor, modest zoom ranges, svelte and stylish designs, and sparse feature sets.
There really isn't much to separate these two spectacularly mediocre shooters. We'll side with the FH5 since it earned a slightly higher overall score and generally costs a bit less than the W570. But if your camera search comes down to the FH5 or the W570, they're basically interchangeable, so pick whichever one costs less at the moment.
Canon PowerShot ELPH 100 HS Comparison
Super-cheap point-and-shoots are like blades of grass on a football field. Something about these cameras—anything at all—needs to stand out if they're going to get attention.
Consider the Samsung PL120: It has a front-facing LCD. That's great! It's genuinely useful, a defining characteristic, and it doesn't bring along a bloated price tag either. Image quality is fine for the price, and there aren't big flaws that hurt the user experience.
Then think about the Panasonic FH5. Image quality is fine for the price, and there aren't big flaws that hurt the user experience. And, well, that's about all we can say about the FH5. Sure, it's a bit faster and more intuitive than the PL120, but the PL120 is a bit cheaper and a lot more fun to use. We side with the Samsung.
COMP 3
Canon's ELPH 100 HS recently won Best Budget Camera and Best Camera Value in our 2011 Selects Awards. It's the cheap camera by which we measure all other cheap cameras, and the Panasonic FH5 doesn't measure up.
The two cameras have similar spec sheets, but the The ELPH 100 HS handily beats out the FH5 in just about every performance category: color, resolution, video, speed, control, handling—everything except noise, and even that's debatable because the FH5 smears its high ISO shots with noise reduction.
The FH5 isn't a terrible camera, but the ELPH 100 HS is better in almost every conceivable manner. It only costs a few extra dollars, and it's worth every penny. This decision is a no-brainer.
Conclusion
Based on its performance scores, the Panasonic FH5 is an average point-and-shoot. Colors are accurate, noise is well controlled, and resolution is acceptable. It's nothing special, but as a cheap, easy camera built for the most casual of photographers, it gets the job done. If you're at Best Buy or WalMart for a Black Friday event and it's on sale for $120, it'll make a decent gift.
But no camera is an island, and considered in the context of the whole marketplace, it's hard to find a good reason to recommend the FH5. Entry-level point-and-shoots are pretty much indistinguishable from one another. The Canon ELPH 100 HS is the clear exception, shooting the best pictures and videos at the fastest speeds, so it doesn't make sense for us to recommend any of the other featureless cameras out there, especially since they're all about the same price.
If the FH5 had even a single defining characteristic—a longer zoom ratio, a burst mode, a front-facing LCD, anything—we could make a case for it. But for know, it's another merely decent point-and-shoot in a sea of merely decent point-and-shoots.
Photo Gallery
Up next