Cameras
Pentax Optio RS1500 Digital Camera Review
This little point-and-shoot posted some surprising results for such a low-budget option.
Introduction
Pentax's Optio RS1500 is an inexpensive, entry-level point-and-shoot geared toward the first time camera owner. Inside this tiny package is one giant selling point: a surprisingly capable 14-megapixel sensor that produced images of a much higher quality than we expected. Shoddy construction and difficult handling hold this model back, but overall the RS1500 is a tempting value for beginners.
Front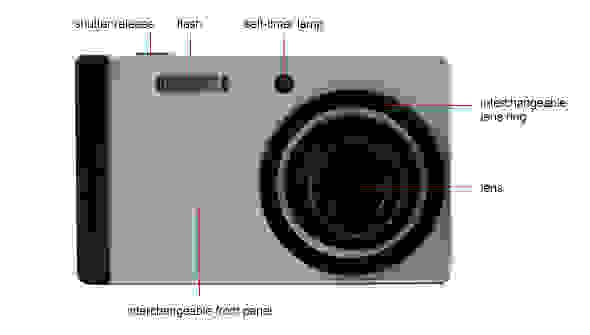 Back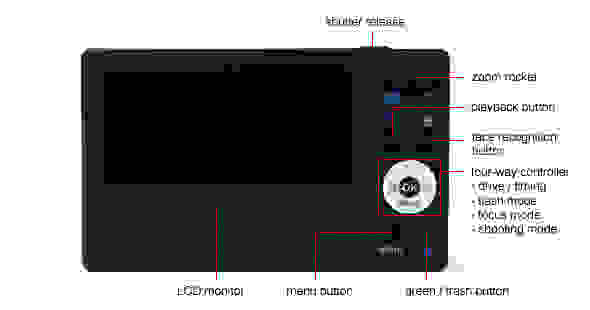 Sides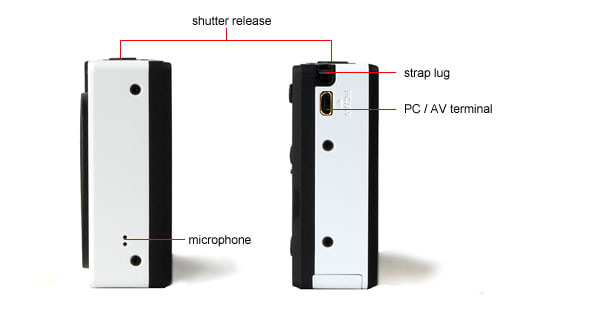 Top

Bottom

In the Box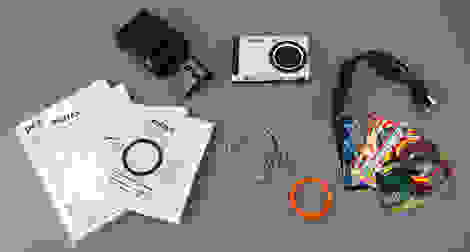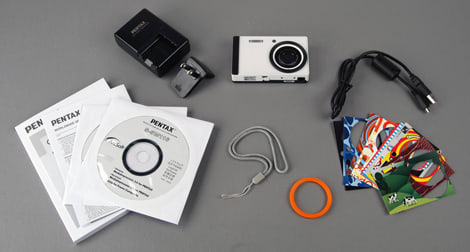 • Pentax Optio RS1500 Digital Camera

• D-LI108 rechargeable lithium-ion battery

• USB cable

• Alternative skins

• Alternative lens ring

• Strap

• Pentax MediaImpression 3.0 (2.1 for Mac) software CD-ROM

• Operating Manual CD-ROM

• Quick Guide

• D-BC108 battery charger
Color
The Pentax Optio RS1500 produced an average color error value of 3.8 with oversaturation of approximately 109% in our lab tests. What does that mean to you? Probably next to nothing.
The RS1500 is an aggressively priced low-end model, with style and functionality geared toward the beginner. So if you're in the market for this point-and-shoot, we'd guess you're less interested in the uncorrected delta value of our accuracy tests, and more interested in how everyday photos are going to come out.
For the entry-level user, accurate color means human subjects will appear more flattering. Most images will look less like overly-processed stock photos, and more like what you see with your eyes. For this reason, color performance is one of the most important metrics for all users, regardless of experience. More on how we test color.
The RS1500's score is actually pretty solid, but the worst inaccuracies were found in blues and flesh-tones. Still, the results exceed the comparably-priced Casio Exilim EX-S200 and almost equal Panasonic's DMC-ZS3, which costs twice as much.
Color Modes
The Pentax's color modes and scene modes are lumped together into one large "mode" menu. This isn't preferable, and we would've liked to see color modes in their own menu, with the ability to be adjusted separately.
Surprisingly, "Blue Sky" produced the most accurate colors in our test, whereas a mode like "Natural" or "Neutral" typically does so. This may have been an anomaly in our testing, since the results were nearly identical to the "Natural Skin Tone" and "Program" modes. Program is much more customizable than others in this camera, so--given the performance similarity--we used it for the remainder of our tests.
Noise
A camera's noise performance is the degree to which its sensor can detect light without introducing random noise, grain, and other ugliness. For its class, the RS1500 is a strong performer, returning a baseline noise level of only 1.07% at ISO 100, and topping out at 1.41% at ISO 1600. More on how we test noise.
Noise levels were worse in low light conditions, but this is to be expected. The RS1500 averaged 1.65% noise when our testing environment's ambient light was reduced to only 60 lux. Disappointingly, no noise reduction settings are available in the camera's menus.
The pricey Panasonic ZS3 performed disproportionately low in this test, therefore our RS1500 surpasses it by a wide margin. Were it not for the outstanding noise performance of the Casio EX-S200, the RS1500 would've taken first place in our comparison group.
ISO
ISO options, the settings that increase a camera's sensitivity at the expense of image quality, are consistent with the RS1500's peers. Full resolution ISO settings extend from 100 - 1600, and will allow for decent shooting even in dimly lit environments. For emergencies, ISOs of 3200 and even 6400 are available, however shooting is limited to only 5 megapixels.
NOTE: The images above are not used in our testing or scoring, but are included here to show real-world examples of the differences between cameras at the various ISO settings.
Resolution
For such an inexpensive camera, it's easy to forget the RS1500's sensor clocks in at a respectable 14 effective megapixels and, as a result, offers extremely high resolution performance for this price range. This will mean cleaner edges and more detail in all shooting scenarios. More on how we test resolution.
Distortion ()
The RS1500's distortion results were exactly on par with the best of our comparison group, which can mean only one thing: Pentax cheated.
Not kidding. While this model's test results were excellent, it doesn't take an expert to spot massive, obvious distortion on the live view screen before taking a picture. Pentax must be using an anti-distortion algorithm to correct this flaw before writing images to memory.
You see, this tiny lens is just too small to gather enough light without introducing distortion. But since the effect is identical for each shot at a given focal length, Pentax can predict and correct for it. Given our results, this algorithm is clearly doing a fine job.
Sharpness ()
Sharpness scores were outstanding. The little RS1500 almost managed to double to performance of the $300 Panasonic ZS3, easily surpassing all others in our comparison group. Again, what this probably means is that some sort of software sharpening is being applied to image files as they're written. But it's tough to complain about results like these. Shots taken with the RS1500 will have better definition and clarity than other comparable models.
Resolution was best at the middle focal length, 9.8mm. This is common to most cameras since the most distortion is introduced at a lens' extremes. Beginners, simply take important shots at a 2.0x optical zoom for best results.
Chromatic Aberration ()
Chromatic aberration causes unsightly color bleed or "fringing" in areas of high contrast. The RS1500's scores were good, on par with the rest of our comparison group. Yet in practice, performance seemed even better. Visible fringing is minimal during real-life shooting, even on the brightest days. For the most part, this problem was relegated to small branches against bright skies. For all intents and purposes, chromatic aberration is invisible except to those looking for it.
Quality & Size Options
A total of five image size options are available, two of which are 16:9 resolutions for display on widescreen monitors. A few notable absences are disappointing here. RAW shooting is not supported at all, images are stored only as JPEGs. Compression quality of JPEGs cannot be adjusted either. Neither of these are surprising given the target audience, but compression options would've been helpful for occasions when the memory card approaches its maximum.
Image Stabilization
The Optio RS1500 is not equipped with a stabilizer of any kind, we were therefore unable to perform this test. This will cause reduced image quality during shooting scenarios such as walking, riding in a vehicle, or using maximum zoom while shooting from the hand. More on how we test image stabilization.
Video Mode
Video capture with the RS1500 is extremely poor. Basic functions like zoom and focus become unavailable once a recording begins. Shooting video is therefore limited to the most basic applications in controlled environments. Resolution is capped at 720p at 30 frames per second, which we suppose isn't terrible for this class of camera. For 150 bucks, we certainly weren't expecting the best video performance out of the RS1500, but the complete lack of functional control while shooting is an oversight by any standard.
One redeeming quality is the inclusion of some basic in-camera video editing functionality, found in the playback menus.
Video Color
Video color performance takes a nosedive compared to this camera's still accuracy. We measured an average color error factor of 5.2, with wildly inaccurate greens and light blues. Recordings were undersaturated by about 84%. We must admit however that lighter skin tones were decent. More on how we test video color.
Video Sharpness
The RS1500 scored similarly to the Canon A3000 and Casio EX-S200. Which is to say it scored horribly.
This Pentax was able to resolve only 350 line widths per picture height horizontally, and only 400 vertically. Suffice to say, these are not impressive figures. While we almost never recommend shooting video with a point-and-shoot, we most certainly wouldn't do so with the RS1500. More on how we test video sharpness.
Playback Mode
Playback options are basic but effective, and consistent with both other Pentax's and other point-and-shoots of this caliber. Recorded shots may be viewed full-screen or sorted into grids of varying sizes, which may be adjusted with the zoom rocker. Calendar view is easily accessible, and on-screen cues make navigation even easier. Full-screen images may be zoomed in up to 10x.
In-Camera Editing
Robust in-camera editing is a hallmark of Pentax and the same is true of the RS1500. The basics are there: rotation, red-eye compensation, resizing, cropping, and copying; along with some cool additions. Slideshow includes a couple screen and sound effects (no background music though), Small Face Filter and Natural Skin Tone use face recognition to re-proportion or recolor portraits, Digital Filter offers effects such as sepia and fish-eye for the younger crowd, and there's also an option to pick one recorded image for use as the start-up screen (which works even after removing or reformatting the memory card).
Direct Print Options
PictBridge is not supported by Pentax cameras, and again it is sorely missed. DPOF settings for pharmacies and one-hour photo joints are consistent with other Pentax models. The user may specify the number of copies and toggle date stamping for individual images or all of them at once.
Display
The RS1500 is not equipped with an electronic or optical viewfinder, nor an accessory shoe with which to attach an optional one. So your only option for framing shots is the rear LCD monitor. At only 230,000 dots this is not a high resolution monitor, but it's serviceable enough to preview the kind of images you'll be taking with this camera. The LCD's viewing angle is also very poor, especially vertically, where this tends to matter the most. For example, shooting from inside a crowd tends to necessitate holding the camera above one's head. This will be difficult with the RS1500.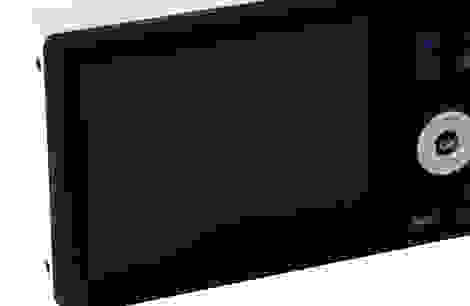 Flash
This Optio's built-in flash is entirely average, but at least it's placed out of the way of the right hand. While zoomed out, the effective range is a little more than 15 feet. Flash options are minimal: auto, on, off, and red-eye reduction are your only choices. In a camera designed for simplicity, this is no surprise. The flash is harsh, and options to adjust intensity would've been helpful, but may have also confused beginners.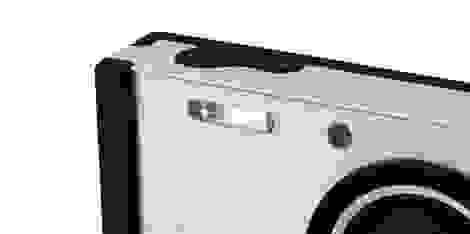 Lens
The RS1500 uses Pentax's own 4.9 - 19.9mm lens with a 4x optical zoom. Aperture settings range from f/3.2 - f/5.9. That's not very far, so shutter speed is the camera's primary method of regulating light. Even beginner users should be aware of this limitation because—unless you're comfortable adjusting ISO settings—images may turn out blurry in low and medium light, since the camera needs to keep the shutter open for much longer.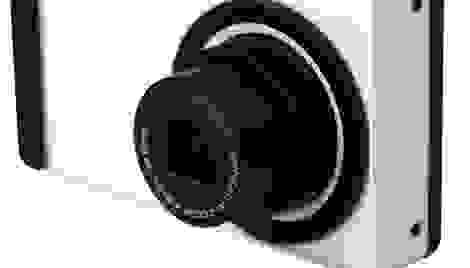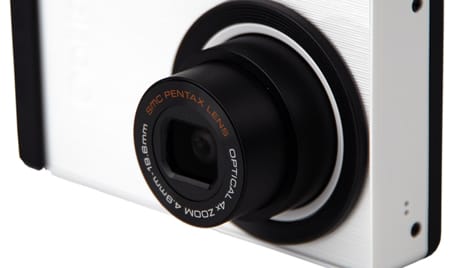 As mentioned previously, the lens introduces significant distortion which the software must compensate for. A focal length of 9.8mm (2x optical zoom) will reduce this effect. Digital zoom of 6.7x is available on top of optical zoom, for a total zoom factor of 26.8x. We advise turning this option off entirely though, since digital zoom is always fugly.
Battery
Pentax's D-LI108 lithium battery powers the RS1500 for approximately 210 consecutive shots, according to the widely recognized CIPA standard. In practice, you'll find yourself recharging quite often. The absence of an optical viewfinder means the LCD screen is constantly eating up battery life.
While recharging though, at least you'll get to use the very cool D-BC108 charger, a two piece, multi-mode unit that plugs into either an AC cord or wall socket directly.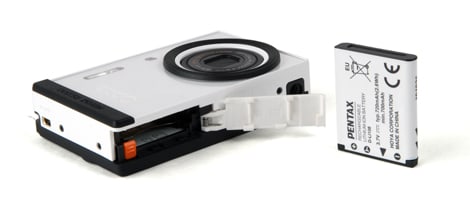 Memory
This camera supports SD and SDHC format memory cards, though not the superior SDXC standard. Not a big loss, SDHC is plenty fast. We could not find a listed maximum card size, but we tested with a 16GB which would've topped out just shy of 7000 pictures.
In a pinch, the RS1500 is also equipped with 21.6MB of internal memory, which is enough for about nine pictures.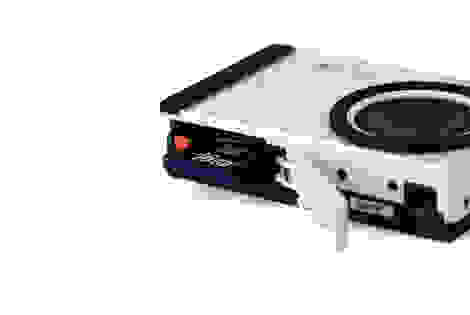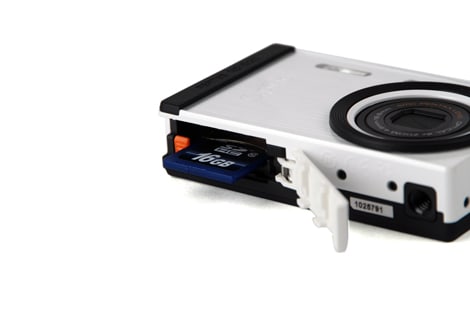 Jacks, Ports & Plugs
A single PC / AV port is the sole means of data transfer other than the memory card. PC connectivity is achieved via an included micro-USB cable, however a cable for video output is not included. So if you're jazzed up about the slideshow playback function, be prepared to shell out for an optional cable.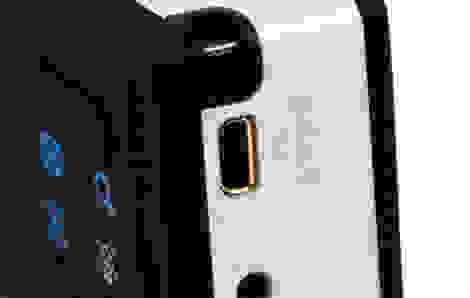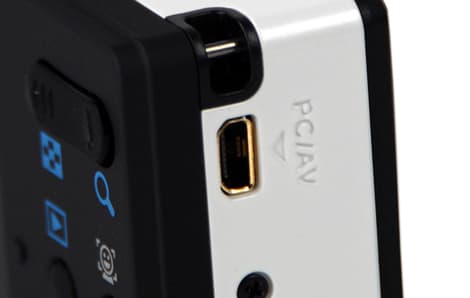 Other Hardware
Customization
We added an extra point for the customization options present in the RS1500. Pentax hopes this will be a major selling point of the camera and, for the right person, it could be. Ten "faceplates," which are really little more than paper, ship with the camera, along with an orange lens ring. By removing the lens ring and a clear plastic layer on the front panel, users may insert their choice of faceplate. The plastic at least keeps the front panel from looking like it's covered with a cheap piece of paper.
Alternatively, users may print out their own faceplate using included software.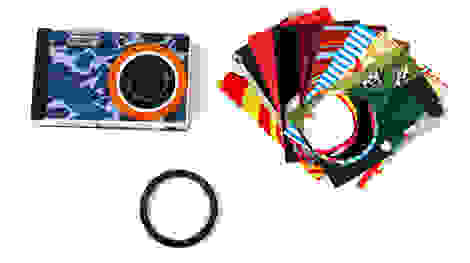 Shooting Modes
All shooting modes, scene modes, and color modes are relegated to the same, all-encompassing "Mode" button. Therefore control over the behavior of the camera is extremely restrictive. If one of the included modes happen to suit your current shooting situation perfectly, then that's great. But if you need to shoot, say... a fast-moving subject, at sunset, with proper skin tone; well that's a problem.
The setup is obviously geared toward the inexperienced, and for some this might be genuinely appealing. But we wish Pentax had split up this long menu into several more functional ones.
Of all these options, the ones we would normally call "scene modes" make up the majority. Landscape, Blue Sky, Sunset, Flower, Night Scene, Sport, Kids, Pet, Portrait, Food, Candlelight, Surf and Snow, and Text are your options here. Remember, Blue Sky was technically our most accurate mode, while Sunset drastically adjusts color temperature for a glow that actually highlights sunset very effectively. Some other interesting ones include Flower, which sets focus to macro and softens the outline of petals, and Kids, which—according to the camera—actually tries to make your kids appear healthier. Apparently that's the world we live in.
Picture Effects
Picture effects are found in the Digital Filter section of the playback menu. Pentax normally goes all out with these but the options are mostly lame in the RS1500. Sepia, fish-eye, tint, and some others are included. We missed some of the more impressive, processor-intensive options, such as color extraction.
Aside from this, a surprisingly functional three-shot panorama mode is available inside the all-powerful Modes menu.
Manual Controls
The only element of the body even close to a manual control is the zoom rocker, and even that is partially automated. Like some cameras in this class, zoom can only be set to a number of predetermined points along the focal length. This probably won't matter for the target audience, but if you require a 1.5x zoom that's too bad, 1.4x or 1.7x only.
Drive/Burst Mode
Timing options were not as robust as they could've been. Countdown timers come in two flavors: two seconds and ten seconds, with no remote control option. Aside from full resolution continuous shooting, a reduced resolution high-speed burst mode is available, firing off ten 5MP exposures in relatively rapid succession. An even further reduced resolution mode allows 16 low-quality shots in about two seconds.
Shot to Shot ()
At full resolution, the camera's continuous shooting performance is quite slow, managing less than one shot per second. This is still faster than the Canon A3000 and Casio EX-S200, but considerably slower than the Panasonic ZS3. The camera's behavior is also pretty inconsistent in this mode. The first two shots may be 1.06 seconds apart, but the next two may be 0.8 seconds apart, or 1.5 seconds apart. After only three shots, the buffer fills and subsequent shots are over two seconds apart.
If you're a professional action sports photographer, the Pentax Optio RS1500 may not be for you.
Handling
When your camera has the form factor of a small brick, handling is going to take a hit. The design of this model is geared around aesthetics, not function. The body is lightweight and flimsy, especially at the battery and memory compartment. Most of the right hand's fingers lack an ergonomic destination, so shooting with any degree of support and precision is impossible without a tripod.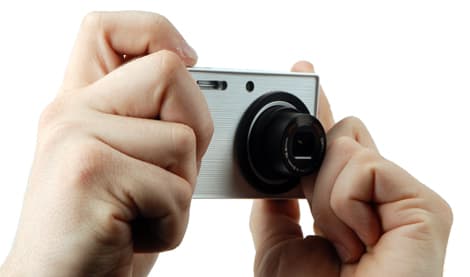 Pentax did make some minor—very minor—efforts to address handling. A small recession for the left pointer finger has been indented into the top of the chassis, and three small embellishments are placed between the rear control panel and LCD, presumably for grip. The right thumb does have a nice resting place on top of the rear panel, with all buttons close at hand, so we can't fault this design entirely.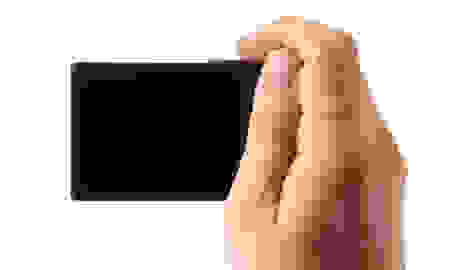 Buttons & Dials
Buttons themselves have an excellent tactility to them, with an accompanying click for each. The shutter release has barely any stroke, but the autofocus feedback is strong and does not encourage over-pressing. This isn't a quality that's normally on people's minds when purchasing a camera, but these subtleties can have an impact on overall enjoyment, whether you notice them in action or not.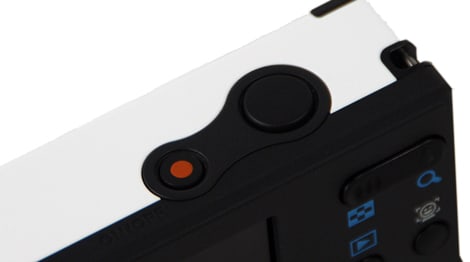 On the rear panel this trend continues, with excellent button feedback save for the directional pad, which is a bit on the soft side. Typical finger positioning places the thumb in a good spot to navigate all rear buttons.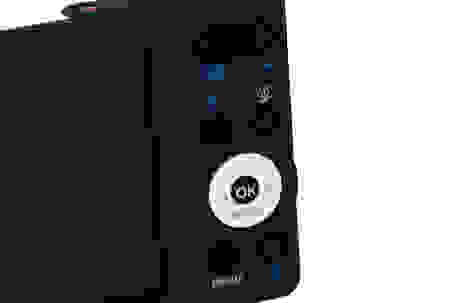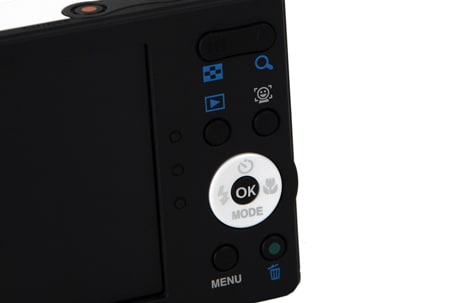 Menus
Tabbed horizontal menus are currently thought to be the most painless way of presenting all the complex settings and preferences of a digital camera to its user. The RS1500 opts for a more traditional vertical scrolling set of menus, but with so few available options in this camera, tabs are barely missed.
The disadvantage here is that scrolling down is necessary to view all options. Settings are split into two vertical menus, Recording and Setting. At any time, the user may swap between the two using the zoom rocker.
I should also mention one more unique interface feature, this model's ability to set every operating sound—power, shutter, navigation, self-timer—to the purrs of a household kitten. So...yeah, there's that.
Manual & Learning
The camera ships with a tiny, 12 page quick start guide which will probably be just fine for the target audience. If you're feeling adventurous, or hungry for more information, the full manual is available on an included CD-ROM. We were happy to see this inclusion, typically an online manual is the only option for point and shoots.
Canon PowerShot A3000 IS Comparison
At a current price around $300, the Panasonic Lumix DMC-ZS3 is double the price of the Optio RS1500. This is a different class of camera, so the comparison really isn't a fair one. Perhaps the easiest way to analyze the two, is to explain exactly what you're getting for that extra $150.
By splurging for the ZS3 you'll be earning yourself—first and foremost—a larger, more capable lens. The Lumix's larger body allows room for a 12x optical zoom. The ZS3's sensor also handles color more accurately, which will cast subjects in a more flattering light. The Panasonic's body is much sturdier than the Pentax's chintzy plastic. Video performance is also a major deal-breaker, the Panasonic was nearly twice as accurate and far sharper while recording video.
On the other hand, the extra $150 will not get you any better resolution or sharpness during still shooting, since the Panasonic is only a 10 megapixel camera. These are two of the most important metrics in photography, and show a major limitation of this aging model.
Casio Exilim EX-S200 Comparison
Canon's PowerShot A3000 launched at an MSRP of $150 and now retails for roughly $80. This is the most analogous model to the RS1500, in fact it could be said that our Pentax replaces the Canon's former market position.
When the A3000 debuted, we were surprised at how far point-and-shoots had come. Lineups that once produced grainy, noisy images, were now capable of decent high-resolution capture, thanks to ever-falling technology and production costs. Pentax's RS1500 is the next step, improving on key performance areas like color, noise, and sharpness; while keeping the price point down.
The same drawbacks are here too. Awful video performance, slow continuous shooting, and the lack of image stabilization all hamper the RS1500, just as they did for the A3000. But with across-the-board improvements made to other factors, there's very little reason for new customers to choose the Powershot over the Optio.
COMP 3
By and large the Casio Exilim EX-S200 is an inferior camera to the RS1500, but two anomalous test results keep it afloat. For some reason, this little camera boasts much stronger noise results than the rest of our comparison group (though noise is a finicky metric for point-and-shoots), and is also equipped with a stabilizer that functions almost as well as the expensive Panasonic ZS3.
These are certainly some unorthodox design priorities, but if low light and high shake shooting are important to you, then this Casio may actually be worth a look. Otherwise, the scores are worse across the board, including extremely hot and inaccurate color. At only $50 less, we don't feel the savings are worth it.
Conclusion
You've got to hand it to Pentax, they certainly have a clear definition of this camera's audience. The most casual user cares about the following: how do my pictures look, and how few buttons do I have to press? In this regard, the Optio RS1500 is sort of a dream come true. Shots do look nice. Solid color accuracy will flatter subjects, and excellent sharpness means plenty of detail. Not even a pro could argue with that.
Shoddy build quality? Who cares. Laughable video capabilities? Big deal. Uncomfortable, ergonomically unsound form factor? Um, I'm not a scientist.
These elements may not matter to you, and that's totally legitimate. Not everybody needs a camera north of $300, just like not everybody needs a $8,000 medium format DSLR. For such an inexpensive package, the Pentax Optio RS1500 is actually pretty impressive. Stabilization is absent, handling is cramped, and video is gross; but for the right customer, this little point-and-shoot may just be exactly what you're looking for.
Photo Gallery