Cameras
Pentax X90 Digital Camera Review
6.9 OVERALL SCORE Strong performance, and a nice manual control set, but not the most comfortable handling.
Introduction
The Pentax X90 is a solid ultrazoom camera, with strong performance and a healthy range of manual control options. The menu and controls are easy to navigate, so even a beginner would have no trouble figuring out how to perform a custom white balance or swap between Aperture Priority and full auto mode. There are a couple of strange button design choices, however, and the narrow grip left much to be desired. This makes the Pentax a definite try-before-you-buy camera.
Product Tour
Front
---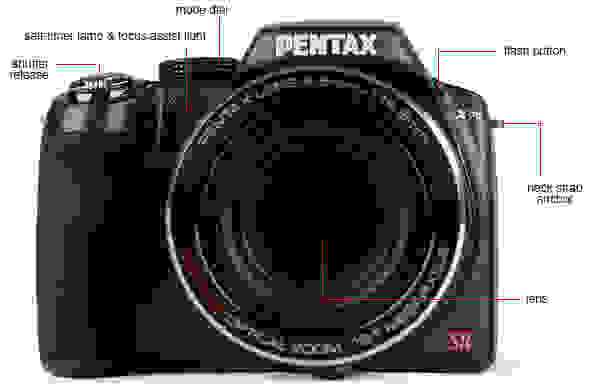 Back
---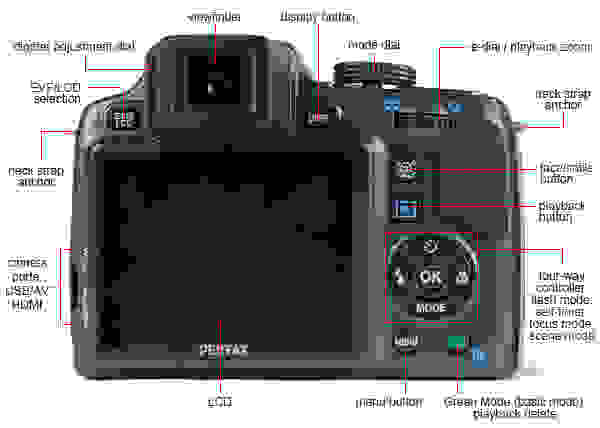 Sides
---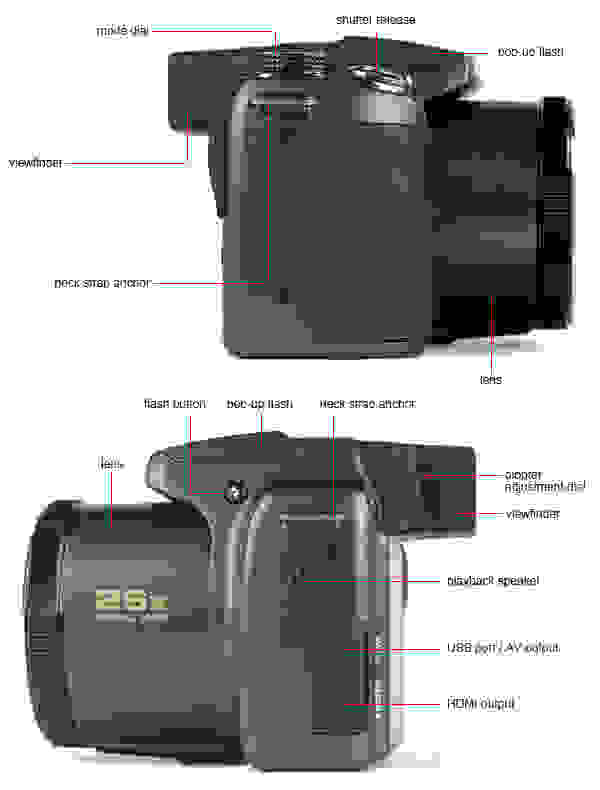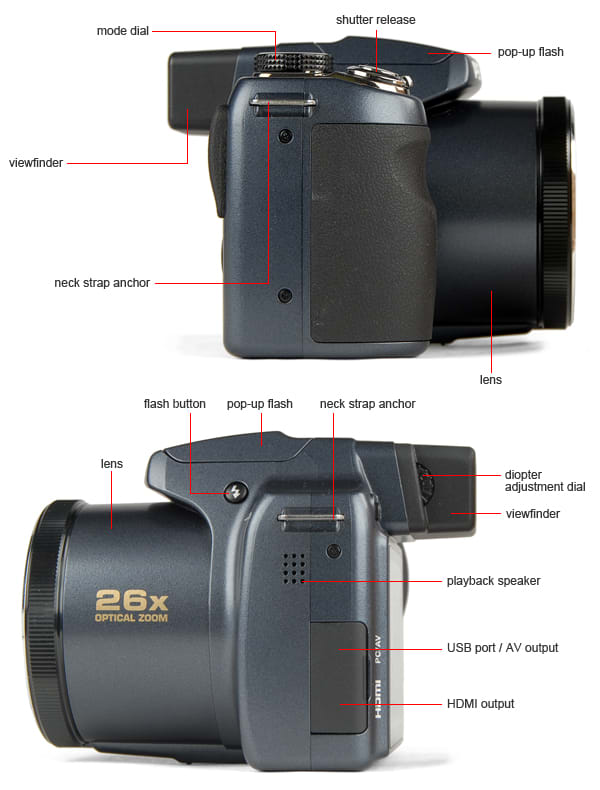 Bottom
---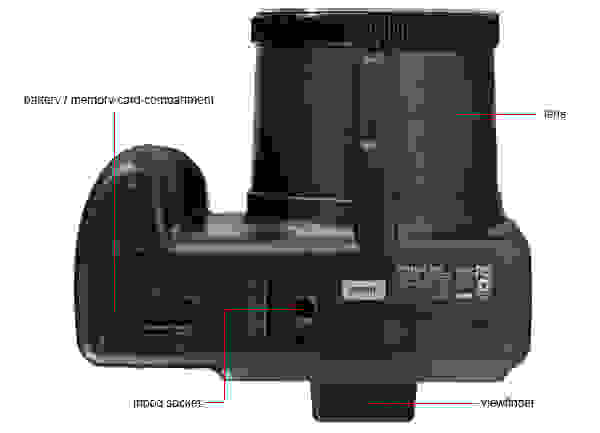 Top
---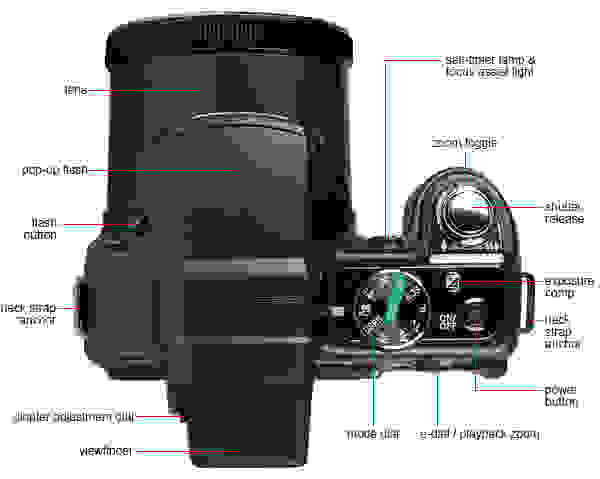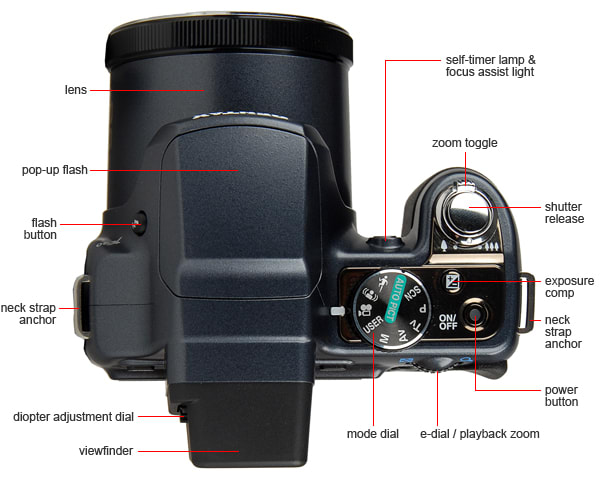 **Size Comparisons **
---
**In the Box **
---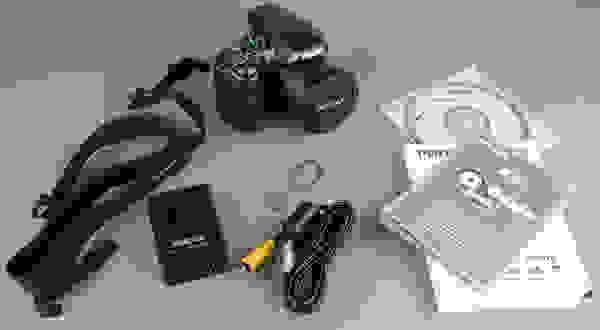 • Pentax X90 digital camera
• shoulder strap
• lens cap
• USB cable
• AV cable
• battery charger and AC plug cord
• rechargeable lithium-ion battery (D-LI106)
• software CD
• Operating Manual
• Quick Guide
Color
**Color Accuracy ***(9.95) *
---
Color accuracy on the Pentax X90 is roughly average for this type of camera. We achieved the most accurate results shooting in the "Normal" color tone, which yielded an average color error of 4.02 and approximately 100% saturation. As is often the case, the X90 had more trouble with some colors than others: dark blue and orange were greatly skewed, while the camera had no trouble at all with light skin tones and light blue. Click here for more on how we test color
Though the X90 had generally good color performance, it was well surpassed by the impressive accuracy of the Fujifilm HS10.
NOTE: Because of the way computer monitors reproduce colors, the images above do not exactly match the originals found on the chart or in the captured images. The chart should be used to judge the relative color shift, not the absolute captured colors.
Color Modes*(3.00)*
---
The Pentax X90 is not equipped with a wealth of color modes. The menu includes an Image Tone option, which allows you to select from Bright, Normal, and Monochrome. You can also manually tweak some of the image settings, though not with much precision. Pentax supplies users with a simple three-increment scale for making individual adjustments to sharpness, saturation, and contrast.
Noise
Noise*(11.88)*
---
As with color accuracy, the Pentax X90's noise performance was just about average among the competition. As you might expect, noise levels were higher in low light, but the difference is not as great as you might expect. In bright conditions (i.e. 3000 lux), noise averaged 1.71%, while noise levels at 60 lux averaged 1.84%. Click here for more on how we test noise.
Like most cameras, the Pentax X90 generally has more noise at the higher ISO levels. The spike at ISO 3200 is sharper than you might see elsewhere, but noise levels never reach unacceptable heights. One impressive noteworthy piece of data is the impressively low noise levels we found at ISO 800. Most cameras exhibit an increase in noise at this level; the Pentax X90, however, seems to capture pleasantly clear photos through ISO 800.
The crops below were taken from our noise test, captured at various ISO levels in both bright light (3000 lux) and low light (60 lux) conditions. As you can see, there is a significant jump in brightness between ISO 80 and ISO 400—especially in low light. There is also a huge gap in visible noise between ISO 800 and ISO 1600. Just to the naked eye, this suggests that Pentax may be employing some kind of noise reduction that is either not activated or simply ineffective at ISO 1600.
ISO*(7.00)*
---
The Pentax X90 has a modest selection of ISO levels available, especially if you consider only the full-resolution options. The latter is limited to ISO 80 through ISO 1600, which ISO 3200 an 6400 available only with a maximum resolution of 5 megapixels. The camera is, however, equipped with a handy auto ISO correction feature, which allows the user to limit the ISO range utilized in auto mode. ISO Correction allows you to set a maximum ISO of 100, 200, 400, 800, or 1600.
The table below shows 100% crops taken from still life photos, at all available ISOs. The final two shots from the X90 appear smaller because ISO 3200 and ISO 6400 reduces the maximum resolution.
NOTE: The images above are not used in our testing or scoring, but are included here to show real-world examples of the differences between cameras at the various ISO settings.
Resolution
Resolution*(10.39)*
---
Overall resolution on the Pentax X90 is quite good: images are sharp enough to rival even the more expensive competitors. Of course, resolution is impacted by sensor, lens, and processing, but Pentax seem to have their ducks in a row for the X90. Photos look sharp to the naked eye and what we see is backed up by test results. Despite these strong results, the X90 couldn't keep up with the impressive resolution performance of the Panasonic FZ35. Click here for more on how we test resolution.
Distortion (15.00)
There was virtually no distortion present in our resolution test for the X90. This means that the camera nets our maximum score in this category.
Sharpness (9.00)
Sharpness results from the X90 were very good, even compared to many other point-and-shoot cameras. However, this is the one category where the Pansonic FZ35 really shone. The maximum horizontal sharpness of the Pentax X90 was 1968 lw/ph, but the minimum vertical sharpness was only around 500 lw/ph. In contrast, the Panasonic FZ35 measured a maximum horizontal sharpness of 1971 lw/ph and a minimum of over 800 lw/ph.
Ultimately, our review cam had a wide range of results at various points in our sharpness testing. The FZ35, however, was consistently sharp in all areas of the testing photos.
Chromatic Aberration (6.94)
Photos taken with the Pentax X90 were relatively free of problematic chromatic aberration. As you can see in the crops below, the discolored artifacts are mainly present when shooting at the top end of the zoom range. When compared to similar cameras, x90's performance in this test was average.
Picture Quality & Size Options*(0.00)*
---
The Pentax X90 offers users a number of size and quality options, ranging from the full resolution 12-megapixel option to the practically useless 640 x 480 option. Every resolution option is coupled with a quality level: one, two, or three stars. Quality level is Pentax's way of allowing users to set the amount of compression used.
Image Stabilization*(TBA)*
---
Our stabilization rig is currently offline. Performance scores for this test will be available shortly. Click here for more on how we test image stabilization.
Video
Movie Mode*(12.25)*
---
Though the Pentax X90 does not offer full 1920x1080 HD recording, it does offer a number of options for quick and dirty video capture. The maximum resolution for recording video is 1280x720/30p. Two standard definition options (640x480 and 320x240) are also available, and all three resolutions can be captured at 30p or 15p.
There is a clip size limit of 2GB, which is about ten minutes of video on the highest resolution setting. A few manual controls are available in video mode, but not many. White balance and exposure compensation can both be set, as can sharpness, contrast, and saturation. There is no live autofocus or optical zoom while recording video; your audio will not be marred by noisy focus motors, but it will also be highly constrained.
Video Color*(6.46)*
---
Color accuracy while shooting video was good, but greatly diminished from the X90's color performance when taking still photos. Color accuracy was 6.19 and saturation was just 81.95%. Click here for more on how we test video color.
Video Sharpness*(1.37)*
---
Video sharpness was quite poor—and it's the main reason we can't recommend using the Pentax X90 to capture video. Constrained at a resolution of just 1280x720, video did not look sharp. Our test results confirmed this, measuring just 425 lw/ph vertical sharpness and an abysmal 375 lw/ph for horizontal sharpness. Click here for more on how we test video sharpness.
Sample Photos
Sample Photos
---
In the following sample images, clicking on the larger image will download the full resolution original. Each photo is accompanied by three actual-size crops.
Still Life Examples
---
Below you will find sample photos from our standard still life. As always, you can click on a thumbnail to view the full-size original.
NOTE: The images above are not used in our testing or scoring, but are included here to show real-world examples of the differences between cameras at the various ISO settings.
Playback
Playback Mode*(10.00)*
---
There are very few surprises in Playback mode, particularly in how images are displayed, deleted, etc. There is a minimum of display options: you cannot sort pictures by calendar view, faces, event folders, etc. There is, however, playback zoom, and a number of information options, including a histogram.
As with most point-and-shoot cameras, there is an in-cameras slideshow option.
In-Camera Editing*(8.00)*
---
The Pentax X90 really shines in its in-camera editing options. The more common features are all present, as well as several bonus options. You can rotate, crop, and resize. The latter only allows you to select from the resolutions supported by the camera, but the crop tool is entirely manual. You can also grab a still image from recorded video.
There are a couple of novelty features—like the ability to insert a dopey frame around your image or the bizarre "small face filter," which "reduces the size of faces in the image, for well-proportioned portraits."
The digital filters are far more handy. You can change the image to black and white, sepia, "toy camera," or retro. You can also add a color filter (red, pink, purple, blue, green, or yellow), or remove a color (red, green, blue). You can boost a particular color (blue, green, pink, or red), add a soft focus blur, create a fisheye effect, or apply a brightness adjustment, along a thirteen-increment scale. All in all, this is a lot of post-production control to have inside your camera.
Direct Print Options*(4.00)*
---
The X90 includes support for the common DPOF and PictBridge printing features. DPOF allows you to mark photos for printing on the memory card. A compatible printer will notice this and automatically select the marked photos for printing. PictBridge allows you to connect directly to a compatible printer through the USB cable, and select and print images from the camera.
Hardware
Viewfinder*(5.50)*
---
The Pentax X90 does offer a viewfinder—something that is becoming increasingly rare on point-and-shoot cameras. A small button to the left of the viewfinder allows you to toggle between LCD and EVF (electronic viewfinder). On the left side of the viewfinder is a small diopter adjustment dial. The resolution of the EVF is 200,000 dots.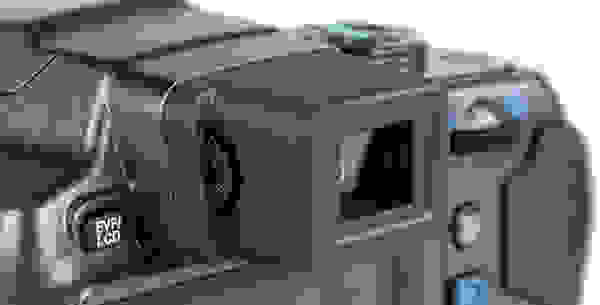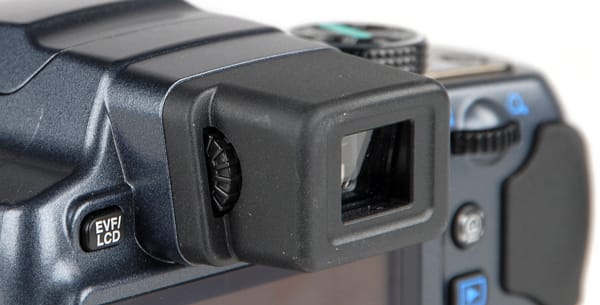 The electronic viewfinder extends from the body of the camera and is a nice option to have.
LCD*(3.90)*
---
The X90's 2.7-inch LCD is pretty run-of-the-mill. The resolution is 230,000 dots and it doesn't tilt, flip out, or do any fancy tricks. You can set the brightness of the monitor to one of seven brightness increments.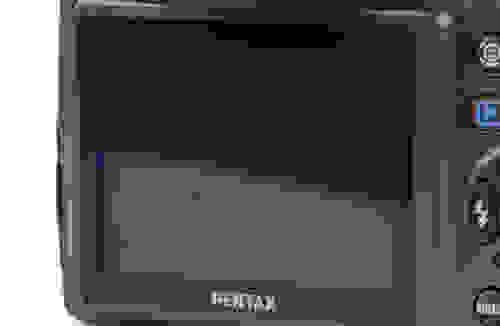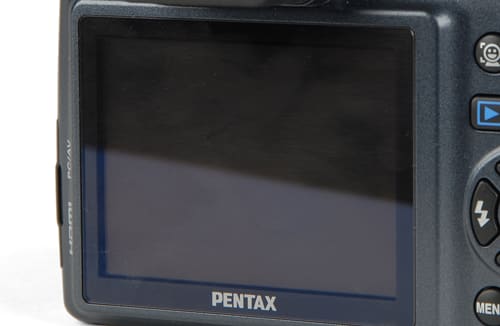 The 2.7-inch LCD is fairly unremarkable.
Flash*(7.75)*
---
The X90 has a nice, concealed flash. A button on the left side of the camera pops up the flash from its hiding place. There are a number of flash modes: auto, flash off, flash on, auto + red-eye reduction, flash on + red-eye reduction, low-speed sync, and slow-speed sync + red-eye reduction. The range of the flash is reported as  approximately 0.2m - 9.1m. There is manual flash exposure compensation available.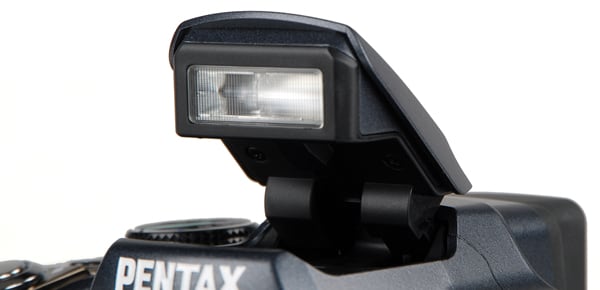 The flash pops up like a funky alien head.
Lens*(16.00)*
---
Ultra-zoom cameras are all about the lens... and the X90 is no different. The camera is equipped with a 26x optical zoom, 4.6mm-119.6mm lens. Reduced resolution options give the user access to intelligent zoom and, as always, there's also digital zoom (6.25x) if you don't mind some image degradation.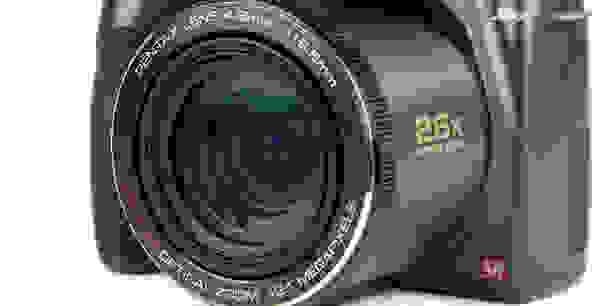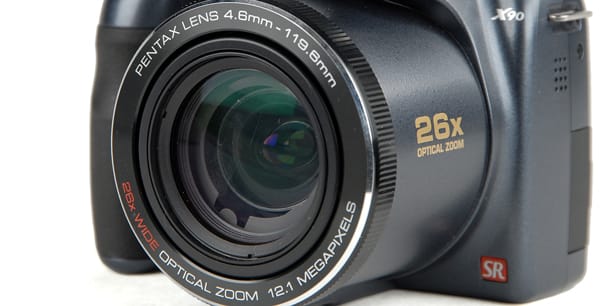 The X90 packs a hefty zoom lens.
Battery*(8.00)*
---
The D-LI106 rechargeable lithium-ion battery tucks into the same compartment as the SD memory card—located on the bottom of the camera. You can recharge the battery only by removing it from the camera and placing it in the charge station. The battery is rated for approximately 255 pictures.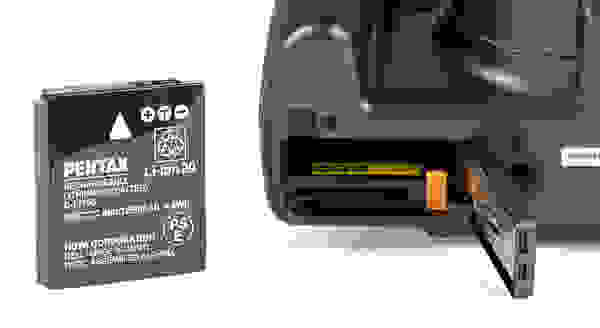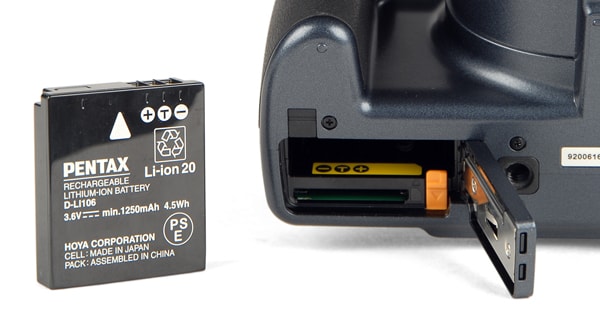 The small rechargeable battery tucks into a compartment on the bottom of the camera.
Memory*(3.00)*
---
The Pentax X90 has a minor amount of internal memory, but photos and video are recorded primarily to removable SD/SDHC memory cards. The X90 is not compatible with SDXC cards. The memory card slot shares a compartment with the rechargeable battery.

The X90 records primarily to SD/SDHC memory cards.
Jacks, Ports & Plugs*(4.50)*
---
The X90 has a single port compartment, located on the left side of the camera. Within, there are ports for HDMI and a proprietary USB/AV cable.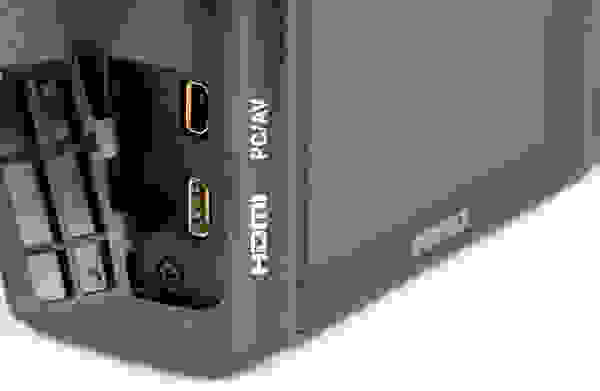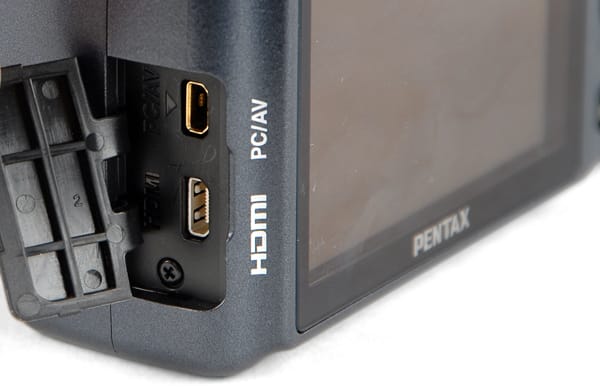 The Pentax X90 hosts a standard HDMI connection and a proprietary port for USB/AV.
Controls
Shooting Modes*(20.00)*
---
The X90 comes with a modest array of shooting modes, primarily selected via the top-mounted mode dial. You can choose from Manual, Aperture Priority, Shutter Priority, Program, Scene, Auto, Sports, and Digital SR. The latter is described by Pentax as a "higher sensitivity" mode that reduces blur.
Pressing the mode button on the back of the camera will allow you to select a scene mode—if you happen to be in Scene mode. Choices here are: landscape, flower, portrait, backlight, half-length portrait, night scene, night scene portrait, stage lighting, surf & snow, baby, kids, pet, food, fireworks, frame composite, party, museum, sunset, digital wide, and digital panorama.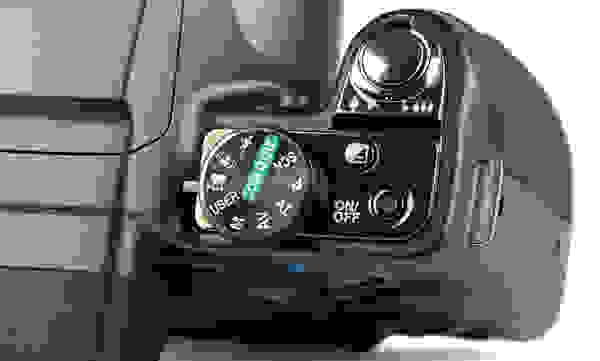 Picture Effects*(3.25)*
---
The Pentax X90 has very little in the way of Picture Effects. You can select a bright, natural, or monochrome Color Tone, but all other effects are applied in post-production via digital filters. If you want to do taht sort of thing in-camera instead of on your computer, the X90 offers black and white, sepis, "toy camera," retro, color filters, color extraction, color emphasis, soft focus filter, fish-eye, and brightness controls. Again, there are all digital effects applied after you've taken the photo.
Focus*(10.00)*
---
The X90 features TTL contrast detection autofocus—basically, it's the same exact kind of autofocus you find on the vast majority of point-and-shoot cameras. It does, however, have more focus modes than most cameras of this type. There is a standard autofocus (range of 0.4m to infinity) and a macro mode (0.1m - 0.5m). However, there's also a 1cm Macro mode (0.01m - 0.3m) and an infinity mode. All autofocus modes operate with the help of a focus assist lamp in low light.
If you want a little more control over focus, there's a full manual focus and AF area selection. The latter allow you to choose from one of twenty-five focus areas near the center of the screen. This is more useful than full manual focus, which really just lets you choose one of fourteen focal increments using the directional pad. There is no soft control to get a precise manual focus. There is also no focus assist.
The various focus modes are easily accessible via a dedicated button on the back of the camera.
Exposure*(5.00)*
---
The X90 has the standard exposure compensation control: ±2 in 1/3 EV increments. As an added perk, the camera does offer flash exposure compensation, which is not always available on point-and-shoot cameras. The X90 also has two separate dynamic range correction options: one for highlight correction and one for shadow correction.
Metering*(7.00)*
---
There are no surprises in the X90's metering options: the camera offers the standard choices of multi-segment, center-weighted, and spot metering.
White Balance*(6.50)*
---
The X90 has the usual array of white balance options, including a decent manual white balance. We found the manual white balance to be fairly accurate and very easy to use. If you'd prefer, there is an auto white balance option or a number of presets: daylight, shade, tungsten light, and fluorescent light. The latter actually includes settings for three different types of fluorescent lighting: daylight colors, daylight white, and white light.
Aperture*(9.50)*
---
The X90 offers full manual aperture control, in both manual mode and Aperture Priority mode. There are typically about ten apertures to choose from at the widest angle setting; the range narrows as you move up in the camera's 26x zoom range.
Shutter Speed*(10.00)*
---
As with aperture, shutter speed can be manually controlled on the X90: both Shutter Priority and full manual modes are available. There is no bulb setting available, but you can choose from over forty shutter speeds, ranging from 4 seconds to 1/4000.
Self-Timer*(3.50)*
---
The ordinary self-timer options on the Pentax X90 are quite limited: just the two-second and ten-second modes. The camera does, however, include a surprisingly versatile interval timing feature.
Unfortunately, you cannot set the interval for anything less than ten seconds, so you can't quite use your ingenuity to set up a multi-shot self-timer. If you want a self-timer set for longer than ten seconds, however, interval record gives you greater options. The minimum number of phoots taken is two, but you can always delete the second photo if you don't get back to the camera in time.
Drive/Burst Mode*(6.00)*
---
The X90 has a handful of drive/burst options, including a standard continuous shot that we found to be incredibly disappointing (see Shot to Shot, below). To get a quicker burst, you can choose one of the reduced resolution options. In these burst modes, resolution is capped at 5 megapixels (2592 x 1944), but you can select one of three speeds.
Shot to Shot (0.51)
If you want to shoot at the maximum resolution, continuous shooting is your only option. Unfortunately, this method is slow indeed. We found there to be an average of about two seconds between photos—practically an eternity when you're trying to capture action moments.
Design & Handling
Handling*(6.00)*
---
The Pentax X90 is definitely on the small side for ultrazoom cameras. The body seems to be pushing the limit of compact size for so large a lens. The good news is that its small size makes the X90 incredibly portable. The bad news is that you really have to cramp your hand around the right side in order to use a traditional handhold. That protrusion that usually serves as a grip is difficult for any but the smallest hands to curl around comfortably.
The result is that, despite the form factor, it's actually more comfortable to hold the X90 like an ultracompact camera: the camera resting on your two thumbs. With the shutter button so far forward, you might actually find yourself using your right middle finger if you choose to balance the camera on your thumbs.
Buttons & Dials*(10.25)*
---
The buttons and dials on the X90 are all well-made and well-positioned. Everything is within easy reach, as long as you're using a traditional hand-hold, as pictured above. However, we found this handhold to be uncomfortably cramped. As a result, you don't get a lot of support for your grip and will only be able to operate the shutter and adjustment dial one-handed. All the other buttons will require you to support the camera with your left hand, so that you can reach buttons with your thumb or forefinger.
If you want a more comfortable grip, we suggest resting the camera on two thumbs or holding it primarily in your left hand. This frees up your right to more comfortable operation.
No matter your handhold, you may find that a few of the buttons are poorly labelled. The face detection/smile shutter button is clearly marked, but most people will not know what the button does. The top-mounted mode dial contains one option that has an utterly baffling icon; as it turns out, the feature itself (Digital SR) is a bit baffling. There's also the big green button, which suggest some kind of easy mode, but is really a custom button that you can use for your choice of operations. Finally, there is the horribly labelled "mode" button, which does absolutely nothing unless you are in Scene Mode.
Menu*(7.00)*
---
The menu on the X90 is very simple to navigate, with everything packed into one of two tabs: Record Mode and Setting. You can get through all the options pretty quickly just using the d-pad, though if you're somewhere in page three, you have to go all the way back to the top in order to switch to the second tab.
Best news of all is that all the options appear exactly where you would expect them to; Settings encompasses the nitty gritty, hardware-oriented options, while Record Mode is everything that impacts the capture of photos and video. The menus can be displayed in one of 21 different languages.
Manual & Learning*(6.50)*
---
The Pentax X90 comes with a surprisingly thick Operating Manual, which will answer nearly all your questions about camera operation. The manual is organized sensibly, with lots of internal references to send you to another part of the manual if you need more information. The table of contents lists topics by camera operation, while a more in-depth index send you to specific camera controls. We especially appreciate the icon index that immediately precedes the regular alphabetical index. You can download a pdf version of the Pentax X90 Operating Manual from the Pentax website.
Nikon P100 Comparison
The Pentax X90 and the Nikon P100 are very similar cameras, with nearly identical designs and specs. Given their similarities, the ultimate decision for most consumers will probably come down to price and brand loyalty. Nikon wins in name recognition, but the results of our testing labs tell a different story. Both cameras had solid color and noise scores and mediocre video. The X90, however, scored much better in our overall resolution testing: the Nikon P100 suffered from abysmal lens distortion and a disappointing amount of chromatic aberration.
In the end, you're left with two cameras that look similar on paper (and in photos), but it's the Pentax that takes better photos—especially if you want to make use of that big 26x optical zoom. And you can get all that and save $50.
Panasonic DMC-FZ35 Comparison
We just love the Panasonic Lumix DMC-FZ35. The name doesn't roll off the tongue quite like the X90, but the performance numbers do. The FZ35 captured incredibly sharp photos—better than anything else in this category by a longshot. Noise and color scores are top of its class and the handling is comfortable and easy. True, the FZ35's video is pretty poor, but we didn't exactly strike gold in the video department of any ultrazoom this year.
True, you'll pay $50 more for the Panasonic model, but we think that's $50 well spent when it gets you photos as good as these.
Fujifilm HS10 Comparison
The Fujifilm Finepix HS10 is a fantasic ultrazoom camera—a camera that beat out the X90 is just about every performance category. To be honest, we can think of no compelling reason to purchase the X90 over the HS10, unless you get an incredible deal or receive it as a gift. In some areas, the difference is only small (i.e. video performance), but a lot of small improvements can really add up. We also found the HS10 more comfortable to hold and just as easy to use... all in all, a great deal for just $30 more.
Conclusion