Cameras
Samsung PL90 Digital Camera Review
The Samsung PL90 is a great little camera for just $149.99. It has excellent performance and a simple-to-use interface. The only thing holding it back from true greatness is some mediocre hardware—something consumers could avoid by spending just a little bit more money.
Introduction
The Samsung PL90 is a great little camera for just $149.99. It has excellent performance and a simple-to-use interface. The only thing holding it back from true greatness is some mediocre hardware—something consumers could avoid by spending just a little bit more money.
Product Tour
Front
---
Back
---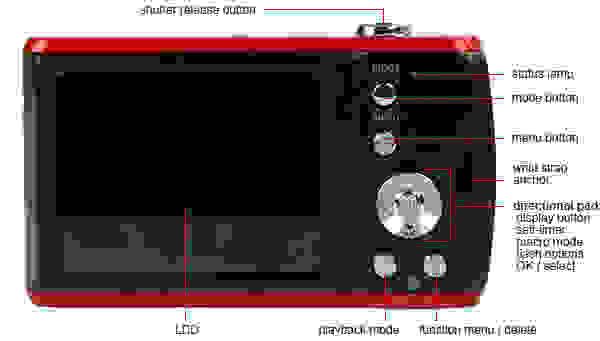 Sides
---
Bottom
---

Top
---

**Size Comparisons **
---
**In the Box **
---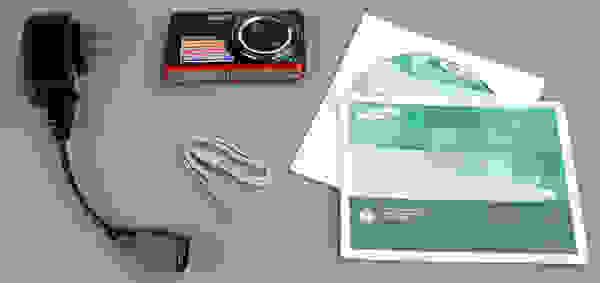 • Samsung PL90 digital camera
• rechargeable lithium-ion battery BP70A
• wrist strap
• User Manual CD-ROM
• Quick Start Manual
• AC adapter and USB extension cable (optional)
Color
**Color Accuracy *** (12.62) *
---
The Samsung PL90 performed very well in our color accuracy test, accomplishing a very low color error of just 3.17. Colors were slightly oversaturated—around 108%—but not so much that they look unnatural. Considering the PL90's very affordable price point (just $150 MSRP), we were pleasantly surprised to see how accurately colors are captured. The PL90 exceeded the color accuracy performance of our comparison models, including the much more expensive Samsung TL225. Click here for more on how we test color.
The chart below demonstrates how each camera rendered a particular shade on our color testing chart.
NOTE: Because of the way computer monitors reproduce colors, the images above do not exactly match the originals found on the chart or in the captured images. The chart should be used to judge the relative color shift, not the absolute captured colors.
Color Modes*(6.00)*
---
The PL90 offers the same fine selection of color modes that we've seen on many Samsung models. There are ten in all, including Normal (auto), Soft, Vivid, Forest, Retro, Cool, Calm, Classic (black and white), Negative, and Custom RGB. The latter allows you to tweak RGB levels—each along a 17-increment scale. Samples of each color mode can be seen on the controls page.
Noise
Noise*(13.13)*
---
Noise performance on the Samsung PL90 is incredibly impressive, particularly for an entry-level camera. The PL90 performed as well as the Nikon S4000, which captured clear photos at many ISO levels. We were particularly impressed by the PL90's consistent noise performance through ISO 800, where many cameras have difficulty maintaining low noise levels. There is a spike at ISO 1600, but it's not nearly as severe as we usually see on point-and-shoot cameras. Click here for more on how we test noise.
As you can see in the chart below, the PL90 had slightly higher noise levels at the lower ISOs, but had impressively little noise at the higher ISOs. At ISO 400 and above, the PL90 beat out even the more expensive Samsung TL225. If you plan to use the camera for a lot of low light shooting, you will not be disappointed.
ISO*(6.00)*
---
The Samsung PL90 has a modest selection of ISO levels available. The full range extends from ISO 80 to ISO 3200, but ISO 3200 is a reduced resolution setting and can only capture photos up to 3MB (2048 x 1536). You can see all of these ISO settings in action in the table below.
NOTE: The images above are not used in our testing or scoring, but are used to show differences between cameras at the various ISOs in an easy to understand manner.
Resolution
Resolution*(8.94)*
---
Resolution is the one testing area in which the Samsung did not perform well. Considering the camera's excellent scores in every other area, we were disappointed to see mediocre sharpness, average chromatic aberration, and downright poor lens distortion. Click here for more on how we test resolution.
Distortion (5.95)
The PL90's greatest weakness in resolution was the poor lens distortion. Especially at the widest zoom angle, the lens created terrible distortion, scooping the ends of the image inward in what's nearly a fisheye effect. When using the full 4x optical zoom, distortion was less significant, though still noticeable. The examples below demonstrate the distortion at various focal lengths.
Sharpness (11.17)
The PL90 did not have strong results in the sharpness testing either—a disappointment that is likely the product of a poor lens. The results were not terrible, but they did not live up to the excellent performance that the PL90 displayed in our color and noise testing. The camera captured a maximum horizontal sharpness of about 1862 lw/ph and a maximum vertical sharpness of approximately 2069 lw/ph. That number alone is quite good, but it comes from the center of the image. Further out, in particular at the edges, the sharpness is considerably worse. You can see this discrepancy in the crops below.
Chromatic Aberration (7.85)
Chromatic aberration is about average on the PL90; this is the one component of resolution that didn't disappoint us. We found that many point-and-shoot cameras had just about the same performance in this test.
Picture Quality & Size Options*(8.25)*
---
The Samsung PL90 has a healthy range of image size offerings. Each of the seven resolutions listed below can be shot using Superfine, Fine, or Normal compression.
Image Stabilization*(5.97)*
---
The Samsung PL90 proved to be quite capable in our stabilization testing, particularly for an affordable point-and-shoot camera. The camera features a separate DIS (Digital Image Stabilization) mode. DIS is nearly identical to Program mode, offering all the same white balance and exposure options, resolution choices, and color modes. The only notable feature that's missing is the camera's drive modes (like continuous shot and exposure bracketing). Click here for more on how we test image stabilization.
As you can see from the crops above and the score chart below, the Samsung PL90 proved to have impressive DIS—especially compared to these similar cameras. The Canon A3000 stabilization seemed to result in virtually no improvement, while the Nikon S4000 and Samsung TL225 both demonstrated moderate improvement. Photos captured in the PL90s DIS mode were remarkably sharp.
Video
Movie Mode*(9.5)*
---
The Samsung PL90 has a decent little photos mode: a little better and more versatile than what you would get on your cellphone, but certainly nothing like what you'll find on any dedicated camcorder or DSLR. The PL90 captures only standard definition video at 480/30p, 480/15p, 240/30p, or 240/15p. Most of the cameras we test—even low-cost point-and-shoot cameras—offer at least 720/30p HD video. For many users, standard definition video is just fine.
We were pleased to find that most options that are available in photo mode are also present in movie mode. You have the full range of white balance, exposure compensation, metering, and color mode options. You do not have the ability to shift ISO, utilize face recognition, or change the focus area. The PL90 does have one interesting bonus option in movie mode: you can choose from audio on, audio off, or zoom mute. The zoom mute feature automatically switches the audio off whenever the camera is zooming. This could prove tricky to use well, but it will prevent you from picking up the awful sound of the camera mechanisms moving as you zoom. You also have the option to use digital image stabilization while recording video.
Video Color*(5.91)*
---
The PL90 did not do particularly well in our video color testing, but it did not do particularly bad either. Many point-and-shoot cameras struggle in our video testing, so the PL90 bested quite a few in this test. The camera captured a minimum color accuracy of 6.77, with a saturation of 93.31%. That is not as impressive as the performance turned in by the Nikon S4000, but it's better than anything that either of the other comparison models achieved. Click here for more on how we test video color.
Video Sharpness*(1.79)*
---
Considering the PL90 captures only standard definition video, the camera did quite well in our video sharpness testing. The PL90 recorded a maximum horizontal sharpness of 450 lw/ph and a maximum vertical sharpness of 425 lw/ph. That's about average—or even just above average—for this type of camera. Point-and-shoots typically turn in abysmal video sharpness scores.
Sample Photos
Sample Photos
---
In the following sample images, clicking on the larger image will download the full resolution original. Each photo is accompanied by three actual-size crops.
Still Life Examples
---
NOTE: The images above are not used in our testing or scoring, but are used to show differences between cameras at the various ISOs in an easy to understand manner.
Playback
Playback Mode*(10.25)*
---
Playback mode on the Samsung PL90 is quite versatile and easy to use. There are several different ways to view your photos and videos, including a 20-thumbnail view, a 9-thumbnail view, an iTunes-like coverflow, and regular single image/video playback. In the three thumbnail views, you can press the menu button to filter videos and images. Available filters include type (photo or video), date, week, and color. That last option is an intriguing one; the camera actually looks at the RGB contents of the photo/video and sorts it into red, green, blue, black, and miscellaneous. It's a unique way to look at all the photos you've taken.
In the regular single playback view, pushing the display button will bring up a small amount of information on your photo: ISO, aperture, shutter speed, flash on/off, size, and date. There's no way to show additional information, like the color mode used, exposure compensation, or a histogram. While in this view, you can zoom in up to 12.5x and crop your images to match. You can also access the in-camera editing options.
Video playback offers far fewer options. The same display/filter options apply, but you can't get additional information to display onscreen and zoom does not work during video playback. (The zoom toggle serves as a volume adjuster instead.)
In-Camera Editing*(9.50)*
---
The options for in-camera editing on the PL90 are surprisingly varied, and Samsung made sure that the most important functions were present and worked well. During photo playback, you can zoom in on any part of an image up to 12.5x, then crop the image to your zoom specifications. It's one of the better zoom/crop tools we've seen. You can also do a basic resize, scaling your photo down to 5 megapixels, 3 megapixels, or 1 megapixel. From this same interface, you can also scale a small photo to be saved as your start-up image for the camera.
Other in-camera editing options include photo rotation, auto contrast balance, red-eye fix, face retouch, and add noise. You can also adjust brightness, contrast, and saturation along a five-point scale. The color modes that are available in record mode are also available here, which means you have access to Soft, Vivid, Forest, Retro, Cool, Calm, Classic (black and white), and Negative, as well as the Custom mode that lets you tweak RGB levels.
All in all, this is an excellent range of in-camera post-production options.
Direct Print Options*(6.00)*
---
The PL90 gives you all the usual access to PictBridge and DPOF. In conjunction with the PL90's built-in USB arm, that means that you'll be able to connect the camera to a printer and print photos directly.
Canon PowerShot A3000 IS Comparison
We can think of very few good reasons to purchase the Canon A3000 over the Samsung PL90. The are both the same low price (MSRP $149.99) and both about the same size. The PL90, however, had superior performance in nearly every area, particularly color, noise, and stabilization. Both cameras have mediocre standard definition video recording, so that isn't a good reason to buy either one.
The Canon does have a slightly better interface and a better lens: the sub-par lens on the PL90 is the cause of the camera's resolution woes. Fortunately for Samsung, those woes only occur at the outside edges of the photo and only then at some focal lengths. Overall, the PL90 is an excellent performer with a great set of options at an affordable price.
Nikon Coolpix S4000 Comparison
Nikon has assembled an impressive package for just $179.99 in the S4000. True, it is thirty dollars more than the humble PL90, but that's $30 well spent. The two camera are about even in performance, except that the Nikon has a far better lens; that means that the S4000 isn't plagued by lens distortion and poor sharpness along the outside edges of its photos.
The story, however, doesn't end there. The S4000 has a user-friendly touchscreen interface, 720/24p HD video, and a lovely 3-inch LCD. It lacks the convenience of a built-in USB arm, but it makes up for that by recording to regular SD/SDHC memory cards—not the tiny microSD cards you'll have to use with the Samsung PL90.
All in all, if you need to save a little cash or you really value a slight improvement in stabilization performance, the Samsung PL90 is an excellent camera to own... just not quite as good as the Nikon S4000.
Samsung TL225 Comparison
The Samsung TL225 offers a significant step up—particularly in price—when compared to the Samsung PL90. Both cameras offer excellent performance, particularly with pristine low-noise images. The most significant difference in performance is in the TL225's resolution scores, which were quite good across the board. By contrast, the PL90's mediocre lens caused the camera to really struggle in sharpness and distortion tests. On the other hand, the less expensive model did fare better in our stabilization testing.
The true reason for the difference in price, however, is a difference in features. The PL90 has a built-in USB arm, but the TL225 has a front LCD—an upgrade that's a lot more expensive than a built-in USB arm. The Samsung also capture 720p HD video (though it's not much better than the PL90's standard definition video). In addition to the small front-mounted LCD, the TL225 also has an incredibly impressive rear LCD, measuring 3.5 inches, with a 1152K resolution. And it's a touchscreen. That's a lot of bonus hardware to offer for $100. But it's also hardware that you might not really care about.
If all these bells and whistles don't impress you, consider saving yourself a hundred dollars and picking up the small and simple PL90.
Conclusion