Cameras
Samsung SH100 Digital Camera Review
Our full review of the Samsung SH100. We loved the PL120, so how does this Wi-Fi model stack up?
Introduction
The Samsung SH100 has the distinction of being one of the first and one of the cheapest Wi-Fi enabled digital cameras. This functionality is poorly implemented however, so we're left with a strictly-average ultracompact easily surpassed by the competition, both from other manufacturers and by Samsung's own models.
Front
Back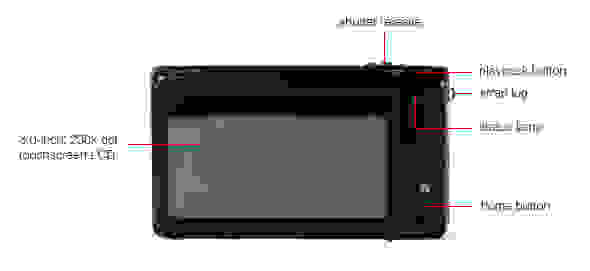 Sides
Top

Bottom

In the Box
In the box:

• Samsung SH100 digital camera

• AC adapter / USB cable

• rechargeable battery

• wrist strap

• touch pen

• Quick Start manual

• user manual CD-ROM
Color
Compact point-and-shoots such as this one tend to emphasize convenience and affordability over precise color accuracy. There's nothing wrong with that of course, but we don't often see both. Some Samsung models are an exception to this trend, but the SH100 is not one of them. This camera's color reproduction is mediocre, and unfortunately some of the worst colors are those that contribute to skin, like bright red. So expect people to be rendered in a slightly artificial and unflattering way. More on how we test color.
These results are frustrating considering the outstanding performance of a similar Samsung model, the PL120, which had some of the most accurate colors we've recorded from a point-and-shoot. It's too bad, we would've pegged the SH100 for the more accurate model, but the tests don't lie. At least results weren't as bad as the Casio EX-S200, which earned a disproportionately low color score.
Color Modes
The SH100 does not use color modes in the usual sense, so the default temperature is your only option. This certainly made testing simpler, but we still would have preferred a few alternative settings...especially a more accurate one.
Noise
The SH100's range of available ISO levels is wider than some competitors, and as a result its noise levels vary just as widely. Noise artifacts range from an imperceptible 0.72% at minimum ISO, all the way to 2.92% at ISO 3200, which is very destructive. The vast majority is luma noise, which causes images to become grainy and pockmarked. More on how we test noise.
There is essentially no difference between noise rates in average light versus low light, although statistically noise performance is ever-so-slightly better in low light conditions. The biggest difference is found at ISO 3200, which averaged 2.65% in low light versus 2.92% at 3000 lux. Both images are unprintable however, so the comparison is more academic than practical.
We see similar performance across the board from this comparison group, however Casio's Exilim EX-S200 does pull ahead thanks to lower noise at full illumination. The Casio also boasts far clearer images at ISO 3200.
ISO
The SH100's available ISO's extend from 80 to 3200, the latter of which is rare for this class, although each model in our comparison group happens to feature this setting as well. No reduced resolution extended ISO settings are available.
NOTE: The images above are not used in our testing or scoring, but are included here to show real-world examples of the differences between cameras at the various ISO settings.
Resolution
The SH100's resolution capabilities are superficially impressive but, like most point-and-shoots, are also the results of cheating. An aggressive edge and contrast enhancement algorithm is hard at work, boosting results past the actual performance of the sensor. This camera's software is particularly destructive too, so each of the following results should be taken skeptically. Despite the good scores, edges are jagged and bordered by undesirable white flares in areas of high contrast. More on how we test resolution.
Distortion ()
Lens distortion is visible at the widest focal length, but only by those deliberately seeking it out. At 2.5x and 5x, the effect is minimal and will only be detected by a keen photographic eye. This is a significant improvement over Samsung's own PL120, though not quite as strong as either the Exilim EX-S200 or the Coolpix S4100.
Sharpness ()
The SH100's overall sharpness is significantly better than the rest of the field. We achieved the most detail at a focal length of 11.2mm, in this case a 2.5x optical zoom. Leaving the lens zoomed all the way out robs images of roughly 25% detail, while taxing the lens to its maximum 5x zoom eliminates more than half.
Chromatic Aberration ()
Chromatic aberration arrives in the form of dark blue fringing and is mostly limited to the left side of the frame. The problem is worst at the widest focal length, as shown in the interactive table below. This result is among the best in our comparison group, surpassed only by the Nikon Coolpix S4100, and even then by a relatively slim margin.
Quality & Size Options
The SH100's still shooting resolutions are precisely identical to the PL120, eight modes are available with three levels of compression quality beyond that. There is no ability to shoot in RAW mode, however, considering the target audience as well as this model's automatic image "enhancements," this shouldn't really make a difference.
Image Stabilization
There is no visually perceptible difference between images captured with or without stabilization. The SH100 is equipped with digital image stabilization, which is about as effective as digital zoom. Our test detected only a 4% increase in image quality after activating the stabilizer, an inconclusive result. More on how we test image stabilization.
The only useful stabilizer in our comparison group comes from the EX-S200. Casio's pocket camera features a sensor-shift stabilizer, very rare technology for this price point, which improved sharpness by over 50%. At the other end of the spectrum, Samsung's PL120 actually worsened image quality with shake reduction in use, so at least the SH100 doesn't sink that low.
Video Mode
The brick-like form factor of most ultracompact cameras makes them less than ideal for video shooting. The SH100 is also limited by poor autofocus during video, however optical zoom is available, and that's rare for this segment of the market.
Video Color
The SH100 is almost identical to the PL120 in terms of video performance. Both are extremely inaccurate across the entire color gamut, and they lag way behind the Nikon S4100 and Casio EX-S200. More on how we test video color.
Video Sharpness
Video resolution is very much the same story: the Samsung models are nearly identical, and each lag behind the competition. But in this case, no camera in our comparison is particularly adept at motion picture sharpness. More on how we test video sharpness.
Playback Mode
The touchscreen interface is most useful during playback mode, where a swipe of the finger allows the user to breeze through one or more pictures in sequence. Touch also aides in the multiple deletion process, a tap of each shot to be erased is far quicker than a directional pad. And while these features have the potential to speed up playback mode, the interface itself can be sluggish. Reading from memory can cause a slight delay, say a half second or so. The same is true of entering or exiting playback.
Calendar mode is notably absent, but otherwise the feature set is typical. Fullscreen review with 13.5x zoom is supported, and shots can even be cropped directly from this interface.
In-Camera Editing
Speaking of cropping, for proper in-camera editing, navigate away from playback mode and back out to the main menu. There you'll find the Photo Editor program, and it's capable of everything from brightness adjustment, contrast adjustment, and saturation adjustment, all the way to backlight correction, face retouching, red-eye removal, and smart filter application; with fine adjustments for many of these. Here again, the interface is a bit sluggish though.
Direct Print Options
DPOF is accessible from the playback menu, but the interface is slow and frustrating. Images for printing must be specified one at a time, swapping in and out of the DPOF menu with each shot. Up to 30 copies of each image may be printed. The SH100 also supports the popular PictBridge standard for home printing.
Display
The SH100 does not include a viewfinder, nor a hot shoe with which to attach one, so your only option for framing is the 3-inch LCD. This is a resistive touchscreen model and it's fairly responsive, certainly enough to navigate most menus without incident. 230,000 dots is plenty for a screen of this size on a camera of this price, and we found the monitor's color temperature was spot-on. Smudging is bound to occur on top of the screen's plastic coating, but the problem isn't as bad as some cameras we've tested, and never distracts from shooting or navigating menus.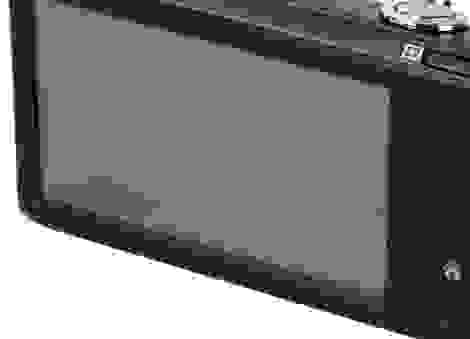 Flash
With a maximum range of only 3.2 meters, this camera's built-in flash is less effective than competitors. On the other hand, its physical placement is far out of the way of the right hand, and the feature set is robust, with options for red-eye reduction, fill in, and slow sync.
Lens
The Samsung-built lens isn't the sturdiest piece of equipment, and the plastic enclosure isn't weather or dust sealed either. We never experienced a problem with particles or sticking, but this is always a possibility in the sub-$200 bracket. Like most point-and-shoots, the lens cap is automatic.
5x optical zoom is above average for this price range, and an additional 5x digital zoom is also available (for a total of 25x), although we never ever recommend using this feature.
Battery
The included lithium battery held a charge well in our time with the camera. Charging is accomplished via either a USB to AC socket adapter or, conveniently, by simply connecting the unit to a USB port. Samsung rates the battery's performance at approximately 220 photos or 90 minutes of video per charge.

Memory
MicroSD and microSDHC memory cards are supported for primary storage. Those are the less common, teeny-tiny cards that fit on the tip of a finger. In a pinch, 6.9 MB of internal storage is available in the camera itself, but this isn't enough for even a single full resolution shot.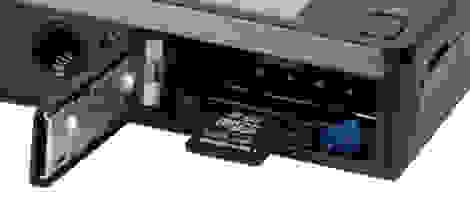 Jacks, Ports & Plugs
All external connectivity is accomplished through a USB socket on the lower right side of the body. While this makes battery charging simple, it makes output to a TV impossible. We also would have preferred a standard USB port, rather than a proprietary one.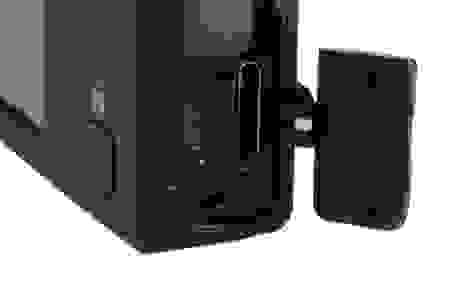 Other Hardware
Wi-Fi Transceiver
One of the SH100's intended selling points is wireless network capability. An 802.11 b/g/n internal antenna is housed inside the camera body, and it functions as designed. Unfortunately, that design left us scratching our heads.
From what we can tell, the software is only capable of using Wi-Fi for very specific purposes, such as uploading directly to Facebook, Picasa, and others; or using the remote viewfinder smartphone app, which could be fun for deploying the SH100 as an impromptu security camera. This means that the most basic and important functions, such as simply transferring files to a nearby computer, are absent. The device also failed to properly connect to networks on most occasions, leaving Wi-Fi an almost entirely ill-conceived and useless feature.
Shooting Modes
Most users will find themselves shooting exclusively in either Smart Auto or Program mode. Smart Auto is a fully automatic mode that adjusts all settings based on the detected scene, including awareness of macro or fast-action conditions. On the other hand, Program mode allows full control over all shooting variables, with the exception of shutter and aperture.
Scene Modes
Scene modes are located on the second panel of the main menu and the selection is fairly limited. Available settings are Landscape, Sunset, Dawn, Backlight, Beach & Snow, and Text; and the camera will optimize color temperature and other settings for use in each of these shooting conditions.
Picture Effects
Picture effects are spread throughout various "apps" in the SH100's main menu. There are tons of fun and useful options here, but the short list would be Vignetting, Beauty Shot (with skin retouch), Photo Filter, Movie Filter, Night shot, Palette Effect, Object Hightlight, Magazine, and the ever-popular Magic Frame overlay feature. Fine adjustments exist for each option, however the app-style interface can be a little confusing. More on that later.
Manual Controls
Drive/Burst Mode
Three self-timer settings are available and should suit most users: a 2 second, 10 second, and 10 second followed by 2 quick shots. Other drive mode options include automatic exposure bracketing, which fires three shots at varying EV levels, and motion capture, which fires off 30 low resolution shots at nearly 6 frames per second.
Shot to Shot ()
At full resolution, the SH100's continuous shooting is much slower. We clocked this model at approximately 0.66 frames per second, slightly slower than both the PL120 and the Nikon S4100. Casio's EX-S200 does not feature full resolution continuous shooting.
Handling
Overall handling of the SH100 is cramped. And while that's true of just about any ultracompact, the problem is slightly worse on this particular model. Aesthetically, we prefer this camera's matte finish to Samsung's usual glossy black, but the plastic body is slippery. This not only makes shooting unstable, but makes the camera prone to dropping. Wear your wrist straps people.
The problem is worse when shooting one-handed. The right thumb rest has some plastic embellishments but rubber is always better. This area is too narrow and the shutter release too far to the right, requiring an acute claw grip and a reset of positioning each time the zoom lever is used. The body is also off balance to the left, exacerbating these one-handed shooting issues.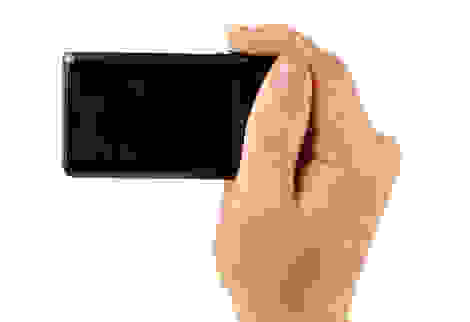 Buttons & Dials
The SH100's interface is predominantly touchscreen-based, so there aren't many physical buttons found on the camera. The main menu button is the only one found on the rear panel, it lies below the thumb rest at the bottom right corner. The playback button, interestingly, is squeezed onto a narrow slanted surface between the rear and top of the body. All that remain are the shutter release and power buttons, each located in their customary positions above.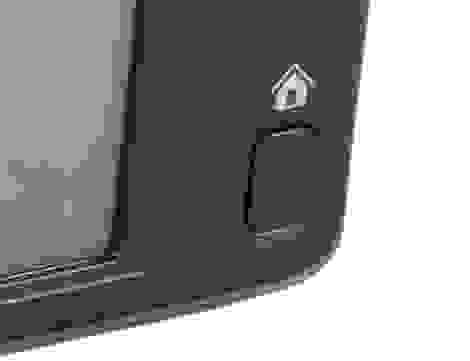 Each button has suitable tactility and performs its function adequately. The position of the playback button is a bit silly, while the power button is slightly out of the right pointer finger's reach. The concave shutter release has a little bit of depth to it, but nowhere near the nice soft stroke we find on pricier cameras.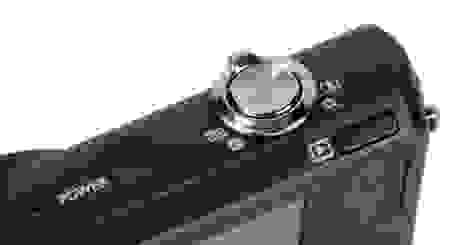 Menus
We normally can't stand touchscreen menu interfaces, although this one isn't the worst we've seen. The "app-style" main menu is inspired by smartphones, but here the system is hit-or-miss. While it's hard to screw up the basics like "Program" or "Settings," some menu items are confusing and redundant. Beauty Shot, for example, allows retouching and recoloring of faces and skin tones, however the same functionality is available in the Photo Editor, which is located right next to Beauty Shot. All the various Wi-Fi options have also been split up into separate "apps" in the menu. In short, we get the feeling Samsung may have deliberately complicated this menu in order to justify a fancy looking interface.
While framing, a secondary menu for adjusting shooting variables is accessed by touching the lower left side of the screen. This is at least better than exiting out to a separate menu, but the touch interface is far slower than some very effective "quick menus" we've seen in this class. We should also note the screen's touch sensitivity seems best toward the center, so tapping options near the edges can mean accidentally navigating to an entirely separate page.
Manual & Learning
The SH100 does not come with a printed full manual, however the complete version is available on an included CD-ROM. Once accessed, we found the manual was mostly comprehensive and necessitated only a little bit of Googling for the more obscure topics. In-camera help and tips are not available.
Nikon Coolpix S4100 Comparison
The majority of our test scores favor the Exilim EX-S200 over the SH100, however the ones that don't are among the most important. The Samsung's reproduction of color is more accurate than the Casio, but by the time we get down to this price range, colors aren't going to match up perfectly no matter which model you choose.
The EX-S200 pulls ahead in video performance, however the biggest difference here is image stabilization. The Casio's sensor-shift method is far superior to the Samsung's ineffective digital stabilizer. So if you plan to shoot from inside vehicles, or even while walking, this may be a deal-breaker.
Samsung PL120 Comparison
The Nikon Coolpix S4100's performance is very similar to the SH100, so this comparison is a tough one. If we were judging by specification sheets alone, we might be tempted to recommend the Samsung for its Wi-Fi capability and otherwise similar price. But in reality the Wi-Fi feature makes very little difference. As little as, say, the S4100's slightly better color performance.
For the same price, we'd choose the S4100's very slight color advantage over the SH100's very slight Wi-Fi advantage. Other than that, the only difference here is handling, where the Nikon's smoother body fits better in the hand.
COMP 3
Out of the two Samsung's, we prefer the PL120 over the SH100, and this is a bit of a shock. The PL120 is a dual view, meaning it comes with a second LCD for framing those corny arm's length self-portraits. This screams "casual market" to us, and yet the PL120's performance was anything but. The best color accuracy of this comparison group, low noise, solid sharpness; an all-around excellent point-and-shoot.
Wi-Fi, on the other hand, being the decidedly more nerdy feature, arrives instead on a camera whose performance seems geared toward those who don't know any better. And as for the Wi-Fi itself, we found it almost entirely pointless. The PL120, not the SH100, is Samsung's best low-end point-and-shoot.
Conclusion
This has not been a positive review, but it's hard for us to feel bad about it, since we're just going to turn around and recommend another Samsung.
The SH100 is, in a way, an example of what not to do when developing new technology. In the process of adding new features–Wi-Fi in this case–the core of the product has been sacrificed. Color, noise, and even handling performance is diminished. But the worst part is that the Wi-Fi itself barely adds anything at all. And that is what not to do: sacrifice performance for a new feature that wasn't worth it anyway.
This point-and-shoot has also contracted the very common disease of enhancement-itis. The sensor itself cannot capture strong enough images, so the software takes over. This produces artifacts, grain, smudged colors, and dirty edges.
Our favorite model in this category is the Samsung PL120, and we recommend it over the SH100. While the dual view screens may be written off as silliness by some, feel free to ignore it and just enjoy the superior image quality. Who knows, someday you might even use the second LCD, which is more than we can say for the SH100's Wi-Fi.
Photo Gallery