Cameras
Sony Cyber-shot DSC-HX100V Digital Camera Review
Sony's HX100V shocked us with an amazing color accuracy score, but can one test carry an entire camera?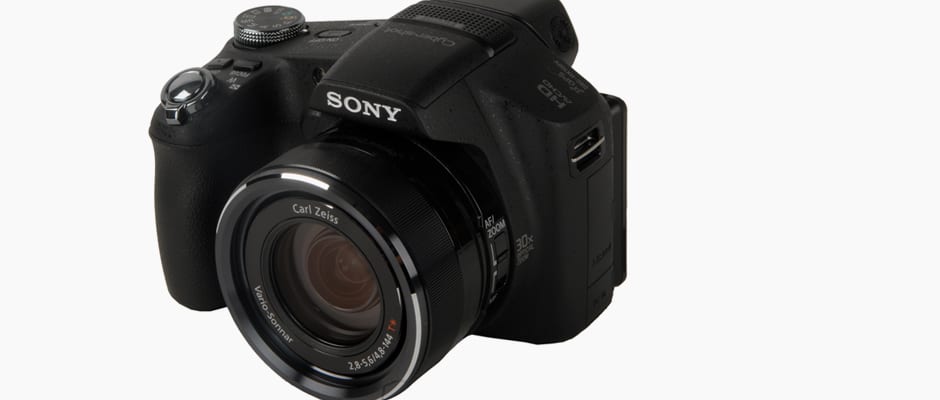 Credit:
Introduction
Sony's HX100V is an ambitious 30x ultrazoom with a tempting spec sheet. A 16.2 megapixel CMOS sensor, Full HD video shooting at 60p, high speed focus, articulating LCD, plus a GPS transceiver. But a camera is nothing without solid image quality and, to our delight, this model's scores were just as strong as its feature set.
Front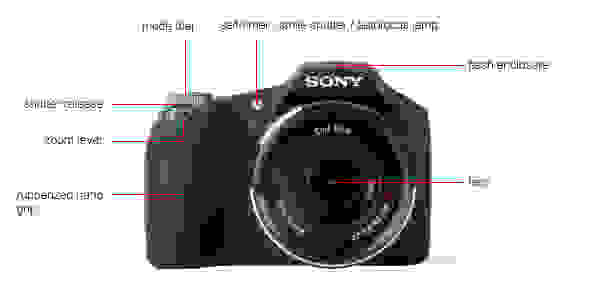 Back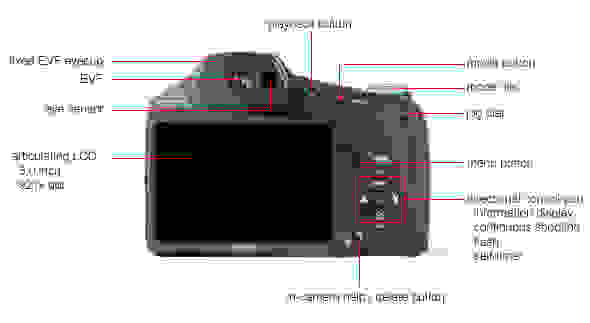 Sides
Top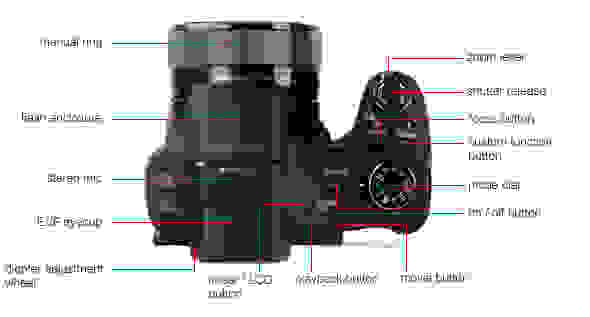 Bottom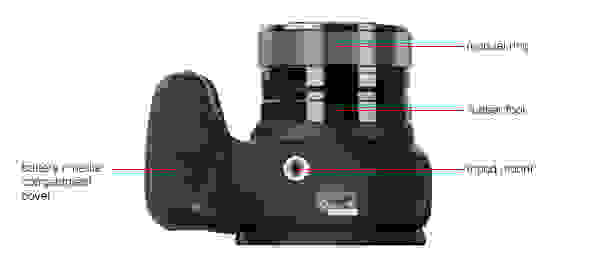 In the Box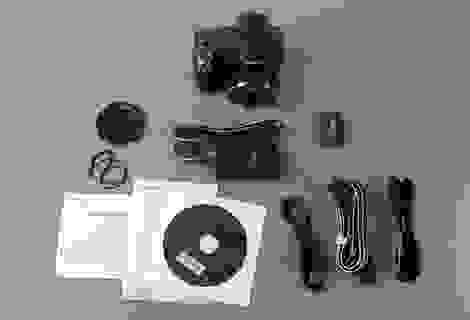 In the box:

• Sony Cyber-shot DSC-HX100V digital camera

• NP-FH50 rechargeable lithium battery

• AC-L 200D AC adapter

• power cord

• lens cap

• neck strap

• lens strap

• proprietary USB cable

• software CD-ROM

• instruction manual

• warranty card
Color
Color accuracy is arguably the HX100V's best feature. The camera boasts near-perfect tone across the gamut, with only minor inconsistencies for dark blues and dark yellows. Saturation is also nearly perfect, off by only 2.1%. More on how we test color.
With an error rating of only 2.12, the HX100V's color performance easily surpasses our entire comparison group, which consists of Panasonic's FZ150, Canon's SX40 HS, and Fujifilm's HS20EXR. In fact, the only camera in recent memory that gives this one a run for its money is the Panasonic FZ47, a cheaper alternative to the FZ150.
Such accurate colors will render all shots more pleasing to the eye, human subjects will look flattering and other scenes will look natural. That's why color is our most important test.
Color Modes
Five disparate color modes are accessible with the HX100V's menu, and the most accurate one is the aptly-named "Real" mode, which certainly lives up to its claim. We shot the remainder of our tests in Real. Sepia and Black & White get their own color modes, and there are also Standard and Vivid settings, but each of these cause accuracy to drop sharply.
Noise
We perform our lab tests in almost the same order they're presented in the reviews, so naturally this camera's spectacular color score left us eager to measure the rest of its performance. Sadly the HX100V does not handle noise as well as it does color. In our standard 3000 lux test, artifacting ranged between a respectable 0.55% at the minimum ISO, to a destructive 1.81% at the maximum ISO. As early as one year ago this would've been an above-average result, but the competitive ultrazoom category has advanced quickly, and these averages now reside close to the bottom of the pack. More on how we test noise.
The results aren't much different in low light. Average noise is up by only 0.03%, a negligible amount, and noise reduction software appears to retain the same behavior which, by the way, is characterized by a slow increase in smoothing software across the entire ISO spectrum. We always test fixed-lens cameras at the default noise reduction setting, since we don't imagine many novices will change it, plus most models don't offer precise control anyway. The HX100V's noise reduction comes in three flavors: standard, plus, and minus. Our scores reflect the standard setting.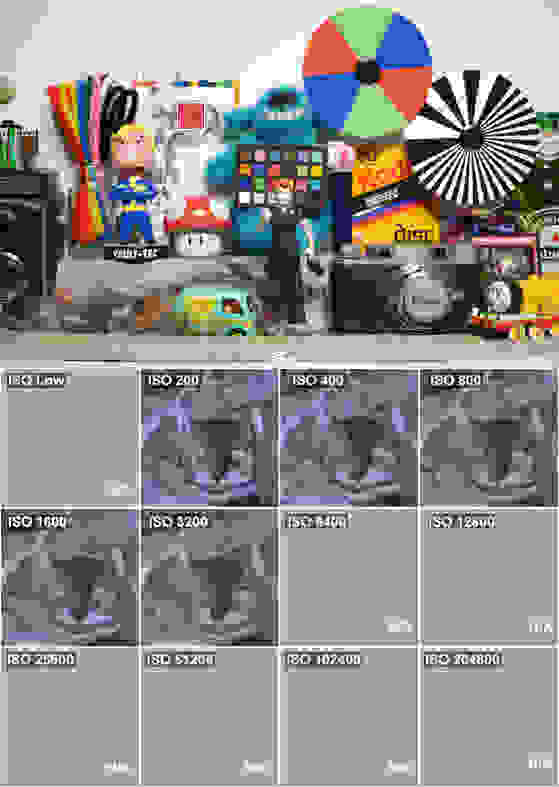 Sometimes, our noise test picks up artifacts that the human eye wouldn't, and the scores disagree with a real world visual scan. Such is not the case this time. In the face crops below, notice that the HX100V introduces visible grain and pixellation as early as ISO 200, while the FZ150 and SX40 HS are still producing rock-solid edges at ISO 800.
ISO
The HX100V's complete ISO range is extremely extensive, and includes every third-stop setting between 100 and 3200. The full list is...100, 125, 160, 200, 250, 320, 400, 500, 640, 800, 1000, 1250, 1600, 2000, 2500, and 3200. Phew. Mercifully, no extended ISO levels are available.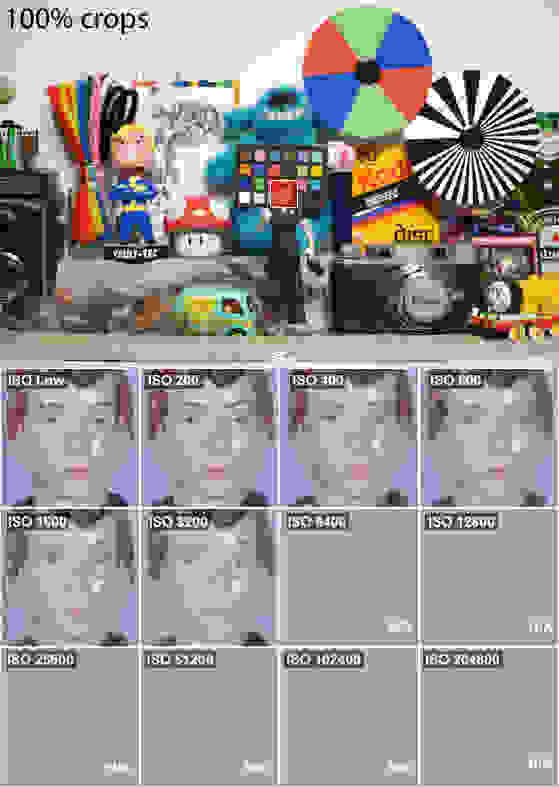 NOTE: The images above are not used in our testing or scoring, but are included here to show real-world examples of the differences between cameras at the various ISO settings.
Resolution
We expected impressive resolution scores from the HX100V, given its Carl Zeiss lens and 16.2 megapixel CMOS sensor. And while the results are strong, the competition is stiff, and this Cyber-shot ends up representing a fairly average level of resolution performance. More on how we test resolution.
Distortion ()
Since the shape of a given camera's optics is constant, distortion is predictable and can be easily compensated for with built-in software. That's the case with not only the HX100V, but also the Panasonic FZ150 and Canon SX40 HS. Fujifilm's FinePix HS20EXR is the only model that doesn't alter recorded shots in this way.

Sharpness ()
The HX100V's overall resolution score lost the most points in our sharpness section. This is a shame really, since fine detail is actually quite strong at the widest and even middle focal lengths. Resolution drops off rapidly at the farthest focal length however. On average, the HX100V is only able to record about one-third to one-half of the detail at maximum zoom than it can at minimum zoom. It's yet another example of why longer zoom ratios don't necessarily equal better photos, in fact the opposite is usually true. The best performer here is Canon, whose experienced optics engineers are able to coax more detail from the SX40 HS' lens.
Chromatic Aberration ()
Chromatic aberration is present in both lab stills and sample photos, usually taking the form of purple fringing in areas of high contrast. This effect is always exacerbated by ambitious long zoom lenses, so if fringing is a concern (say, when shooting on very sunny days) we recommend zooming out to the widest focal length.
Quality & Size Options
Available shooting resolutions are fairly basic: there are high, medium, and low settings for both 4:3 and 16:9 aspect ratios. But that's about the extent of your quality options, there are no settings for compression quality and no ability to shoot in RAW. These limitations aren't entirely unexpected, however most of this year's finest ultrazooms do offer such capabilities.
Image Stabilization
While it isn't possible to turn off the HX100V's SteadyShot entirely, the system operates at two settings: Standard and Active, which are suitable for either moderate or stronger movements respectively.
Since stabilization can't be entirely deactivated, we don't factor stabilization performance into our final score. We did test Standard and Active modes, however, and with our testing procedures, Active mode showed slightly superior horizontal stability than Standard mode, about a 5% improvement. More on how we test image stabilization.
The best image stabilization in our comparison group belongs the the Fujifilm HS20EXR, followed by the FZ150 and then the SX40 HS. Unfortunately, the HX100V comes up at the back of the group. That's not to say that the stabilization isn't helpful, just that we're unable to score it within our rubric because of the way it's set up.
Video Mode
The HX100V's video mode is one of the camera's strongest selling points, specifically, its ability to capture Full HD video at 60 frames per second in progressive scan. This option is essentially future-proofing, since few TVs or video editing programs can handle this type of data. For now, the best benefit is silky-smooth motion in high definition recordings, as evidenced by the test below.
To support this technology, the video mode feature set is also pretty beefy. Optical zoom is available while recording, although it has been slowed to reduce electronic motor noise. Exposure compensation may also be adjusted on the fly, and autofocus is always active too.
Video Color
Color accuracy takes a huge dive in video mode. And while this is quite common, the effect is especially severe for the HX100V. The entire spectrum is far off, with almost every color darker than it should be. In this low-scoring test, Sony's is one of the lowest scores of all. More on how we test video color.
Video Sharpness
Sharpness is an entirely different story however. With the ability to resolve a whopping 700 lw/ph, this camera offers the best video sharpness of our comparison group, while the second-place FZ150 trails behind with 600 lw/ph. More on how we test video sharpness.
Playback Mode
The playback interface is similar to many of Sony's 2011 Cyber-shot models, operated by a combination of the zoom lever and the rear directional pad. Fullscreen display with detailed shooting information and 8x zoom is possible, while zooming out reveals grid and calendar viewing modes. Memory access times are quick, and we never had trouble reviewing our shots.
In-Camera Editing
All of the HX100V's editing functionality resides in the playback menu. Options include crop, resize, rotate, and red-eye correction. Sony also includes unsharp masking as an editing option, a relatively advanced technique that we don't always see in-camera. The effect is subtle and a little bit difficult to see in the widget below, so be sure to click for the full resolution image.
One of this interface's quirks is rotate, which has been separated from the rest of the options and placed lower in the main playback menu. We have no clue why Sony always does this.
Direct Print Options
While Sony's direct print interface is clean, tagging of multiple copies is not possible in-camera. You'll have to let the technician know if you want doubles or triples. This model also does not support the ubiquitous PictBridge standard for home printing.
Viewfinder
The HX100V's excellent viewfinder is comfortable and accurate. As an added bonus, a face sensor lies to the right of the opening, and automatically swaps between the EVF and LCD depending on which one you're looking at. The diopter adjustment wheel is flush with the left panel of the eyecup and does not protrude like a typical dial. This is actually better since turning the wheel is best accomplished with one finger, using the torque of the entire hand, rather than digging in with a fingernail.
The EVF's only downside is a noticeable lag time between actions in the world and their reflection onscreen. If the processing speed was improved here, we'd have a near-perfect electronic viewfinder.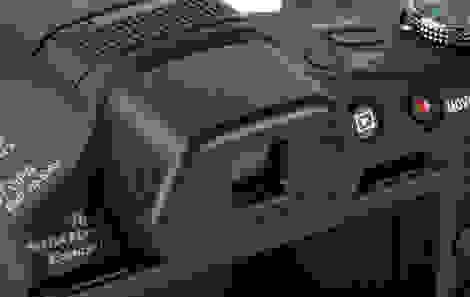 Display
The camera's rear LCD is a tilt-out panel with a 921,600-dot resolution. The screen's vertical range of movement is a full 90 degrees upward, great for video handling, and almost as much downward, useful for shooting in a crowd. While a full swing-out arm is more versatile than this tilt style, horizontal viewing angle is wide, and does a serviceable job keeping this display useful at all angles. Its plastic surface is prone to smudging, but seems to be covered in an anti-reflective coating that's very helpful when shooting in bright sunlight.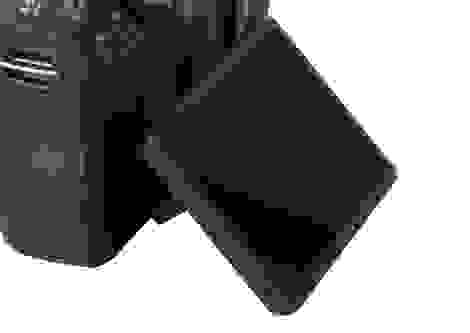 Flash
This model's flash enclosure is located in the traditional spot at the apex of the body. There is no manual release button anywhere, but the bulb assembly will deploy automatically when the user's settings call for it. Flash range is rated at 41 feet 8 inches, and this is much further than average. Shots with flash are generally harsh and uneven, however the HX100V includes Slow Synchro and Rear Slow Synchro settings to prevent subjects and distant backgrounds from becoming too bright or too dim.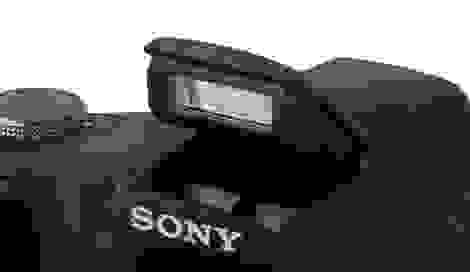 Lens
While a chrome bezel surrounding the lens opening gives the illusion of all-metal construction, the camera's Carl Zeiss lens is plastic and feels cheap upon closer inspection. The lens cap snaps securely to the front of the assembly, and a handy cap strap ships with the HX100V. Strangely, if the user powers up the camera without first removing the cap, there is no fail-safe in place, and the cap simply comes flying off under the pressure of the lens motor. That motor, by the way, is pretty loud, and might've affected wildlife shooting were it not for the obvious advantage of 30x optical zoom.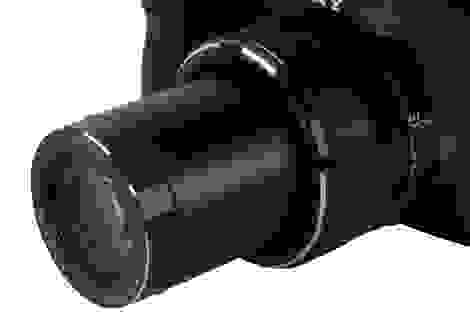 30x gets you pretty far. In the crops below, notice that we were able to capture detail at over 100 yards away. It's strange to write that 30x is now considered fairly average in the great ultrazoom arms race, since this is just such a huge zoom ratio. Still, we've seen superzooms reach all the way to 36x magnification.
Battery
Sony's NP-FH50 rechargeable battery is CIPA rated at 440 shots with the HX100V in viewfinder mode. That's a good number, but what really impressed us was the camcorder-style DC input on the left panel of the body. This allows users to not only charge the battery without removing it, but charge the battery while using the camera. It's rare to see this feature in a fixed-lens camera, since wall current power is useful mostly for studio shooting, and most professional photographers use DSLRs. Sony is certainly confident in their camera to include the feature, and we're personally thankful since this speeds up testing.
Memory
The HX100V, like many Sony products, is dual compatible with both Memory Stick media and SD cards. SD, SDHC, and SDXC class cards are all supported, while "Duo" class Memory Sticks are the only ones supported. Even then, video shooting is only possible with Memory Stick PRO Duo Mark 2 or PRO-HG Duo units.
In a pinch, 19 MB of internal storage memory are availabe, however this is only enough for three full resolution images and video shooting is not possible.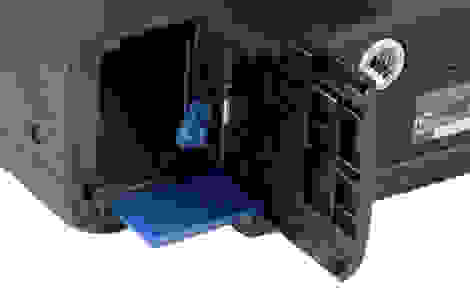 Jacks, Ports & Plugs
Directly above the aforementioned DC power input, all other connectivity options are located underneath a larger plastic terminal cover, which houses a mini-HDMI port and Sony's proprietary Type3c multi connector port. The multi connector can be used for USB or composite video output, although the HX100V only ships with the necessary cables for USB transfer. Mini-HDMI, on the other hand, is a painless way of streaming all those AVCHD clips to a high def display.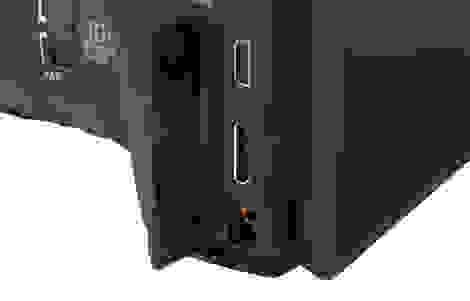 Other Hardware
GPS Transceiver
Sony gets a point for trying, but we never once acquired a GPS signal during our time with the HX100V. While geographic tagging may be an important draw for you during a purchase decision, we recommend you factor this feature out.
Shooting Modes
The HX100V is equipped with a full-featured mode dial, complete with PASM shooting, a custom mode, 3D mode, and dedicated movie and panorama modes. There are two automatic modes as well: Intelligent Auto, which automates settings but allows exposure adjustment, and Superior Auto, which takes complete control over most shooting variables including noise reduction and sharpness enhancement.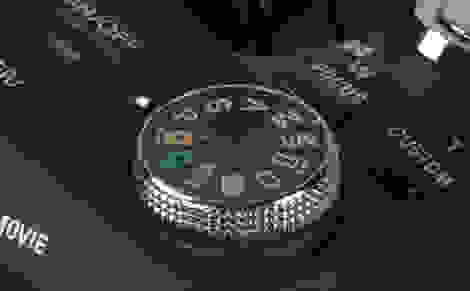 Scene Modes
16 individual scene modes are available ranging from the mundane to the very useful. All of the most typical options are there, including Snow, Beach, Fireworks, and Soft Skin. But our favorites were the ones that assisted with advanced techniques, such as Anti Motion Blur and Backlight Correction HDR, both of which actually do work as intended. This is one of the first cameras with which we would legitimately consider using a scene mode in day to day shooting.
Picture Effects
Picture effects are entirely absent from the HX100V, however the camera does include a few tweaks that get scored here. The main shooting menu features a couple rudimentary sliders capable of adjusting saturation, contrast, or sharpness; and there's even an option to apply an artificial neutral density filter.
Manual Controls
The HX100V's manual controls were a let down for us. There's a grooved manual ring surrounding the lens enclosure, and we were expecting it to work similarly to the ones found on Fujifilm's HS20EXR. But disappointingly, the ring is electronic, not mechanical, so one-to-one physical control just isn't there. By toggling a switch on the left side of the lens, the ring's functionality can be swapped to manual focus, but this is just as imprecise. Ultimately we gave up entirely on the manual ring, opting instead for this camera's zoom lever and excellent autofocus system.
Drive/Burst Mode
Four self-timer settings are available: ten second, two second, and one or two person self-portraits which automatically trigger the countdown once faces are detected. As for burst settings, they come in only two flavors: high speed and low speed.
Shot to Shot ()
At the low speed setting, the HX100V captures only two exposures per second. However, cranking it up to high unlocks speeds even higher than Sony's claim, as much as 10.8 frames per second in our test. Both modes are locked in at a maximum capacity of 10 shots however, and there's a 12 second writing delay after each burst.
Handling
Adjustment of shooting settings requires a two-handed grip, but otherwise physical handling is great. The oversized right hand grip is rubberized and partially recessed for stability in all directions. Our only complaint is that this is the only location that you'll find rubber on the body.
On the rear panel, the thumb tends to rest a little above the textured area for which resting the thumb is intended, but accidentally triggering a video recording isn't likely to happen.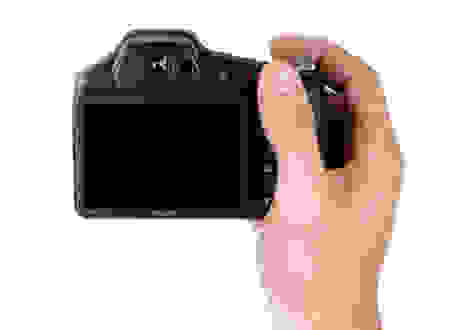 Balance is also a bit of an issue, though not a severe enough one to prevent fun and confident handling overall. The relatively large lens and LCD screen weigh down the left half of the HX100V. But again, the right hand grip alleviates this.
Buttons & Dials
The control scheme is simpler than some competitors, more complex than others. In general, buttons have been moved away from the rear panel in favor of the top of the camera. We're puzzled by the location of the focus and custom function buttons, whose positions are fine once you've memorized them, but until then actually remain somewhat hidden from view behind a lip in the chassis.
The shutter release is particularly useful however, with a long soft stroke and good tactile feedback.
On the main control panel, the directional pad is fairly standard, as is the position of the menu button. However the button's shallow depth means it can get ergonomically "lost" amidst a shaped embellishment bordering it on the top and side. This won't matter most of the time, but can become a bit of a problem during nighttime shooting.
Menus
Sony's menu system is simple and fast. It's a cross between a quick menu for common shooting variables, and a secondary tab-based section. Both are standard and painless vertical / horizontal systems that will be familiar to anyone who's used a Sony within the last year.
The detailed menu is actually accessed from the quick menu, so that adds an extra step. But this interface is only mildly confusing once inside, leaving us with an interface that speeds up shooting, rather than getting in its way.
Manual & Learning
The included instruction manual is mostly comprehensive and an identical electronic version is available online. We're always impressed by Sony's in-camera guides though, and this one is no different, complete with a basic shooting guide, icon guide, troubleshooting tips, "objective" guide for different techniques, keyword search, and recent history. Many shooters won't need this, but functionality like this is nice in the field when a manual isn't close at hand.
Canon PowerShot SX40 HS Comparison
Panasonic's LUMIX FZ150 is currently our favorite ultrazoom camera. And although that distinction seems to change daily, the HX100V will not be dethroning it today.
By and large, these two contenders offer nearly identical performance with only two exceptions: Sony has better color accuracy, and Panasonic has better handling of noise. Otherwise, scores are neck and neck.
A purchase decision will likely come down to what type of shooter you are. If your most common subjects are people, you'll benefit most from the realistic color accuracy and studio-style features of the HX100V. If landscape and scenery shooting is more your style, look to the FZ150 for versatility and more detailed images at higher ISOs.
Fujifilm FinePix HS20EXR Comparison
Canon's world-renowned expertise with imaging optics is the source of this comparison's drama. While the HX100V and the SX40 HS offer similar features and performance, the capability of Canon's lens far surpasses Sony's model. Better sharpness, less chromatic aberration, and low distortion are all characteristics of the SX40 HS.
Still, Canon struggled this time around with color accuracy, the chief area Sony excelled. Human subjects will once again appear more flattering to the HX100V user, but the tradeoff in resolution affects realism too. This was a tough call, but we do also recommend the SX40 HS over the HX100V.
COMP 3
Of all the cameras in our comparison group, Fujifilm's HS20EXR features perhaps the most ambitious lens of all, offering the same 30x optical zoom within an impressive full manual mechanical enclosure. This sort of design is typically reserved for expensive DSLRs, and that's why we were so impressed by the company actually bringing this product to the ultrazoom market.
Unfortunately, the experiment was a bit of a failure. The lens, easy to use as it was, suffered from severe image quality degradation. Sharpness was poor, fringing levels were high, and distortion was noticeable. Pair that with an ineffective noise reduction algorithm, and the HS20EXR just couldn't compete. The HX100V doesn't have these problems, and is the easy recommendation.
Conclusion
When a camera waltzes up to your imaging lab and aces the most important test, it's hard not to be impressed. Such is the case with Sony's Cyber-shot DSC-HX100V. But evaluating this camera was an exercise in tempering our enthusiasm. After recording one of the best color accuracy scores we've ever seen, this model went on to post... good scores in the remainder of our analyses.
The ultrazoom niche has been extraordinarily exciting this year. Industry leaders like Canon and Nikon have found new competition from Panasonic, Fujifilm, and yes Sony. This not-so-little corner of the imaging market has expanded to meet the demand for long, professional-level zoom magnification, at a price that doesn't exclude non-professionals. And while the category has changed to favor zoom ratio above all else, these models are still rooted in–and indeed evolved from–the idea of a "bridge camera," designed to bridge the gap between point-and-shoots and SLRs.
It is as a bridge camera that the HX100V is most impressive. Professional-style features like DC input, manual zoom and focus, and an accurate viewfinder, all empower the user instead of cushioning their assumed lack of skill. The same is true for the HX100V's controls. While many cameras in the category would hide software like noise reduction or edge enhancement, this model lays its capabilities bare, placing creative control back into the hands of users who want it. Video shooting is equally capable, offering future-proof AVCHD 2.0 encoding in Full HD at 60 frames per second progressive.
And yet, we must temper our enthusiasm. In this model's next iteration, we would like to see a few things. First an overhaul of the noise reduction algorithm. Image noise from this camera is a bit too high, even at low ISOs. We'd also prefer a mechanical manual ring, instead of the HX100V's electronic hybrid. We wanted to love this feature, but gave up on it in the end. And finally, a boost in processing power to eliminate the delay of the electronic viewfinder. If the future of photography really is mirrorless, we need EVFs that respond just as fast.
So the Cyber-shot HX100V may not be the year's best fixed-lens camera, and it may not even be the year's best ultrazoom. But this may very well be the year's best true bridge camera. As a model designed to span the gap between cheap point-and-shoots and pricey DSLRs, the HX100V does so rather gracefully. We recommend this model for shooters with the passion of a pro-photographer, but the checkbook of a struggling artist.
Photo Gallery
Up next