Cameras
Sony HX100V Review
The Sony HX100V gracefully bridges the gap between cheap point-and-shoots and pricey DSLRs.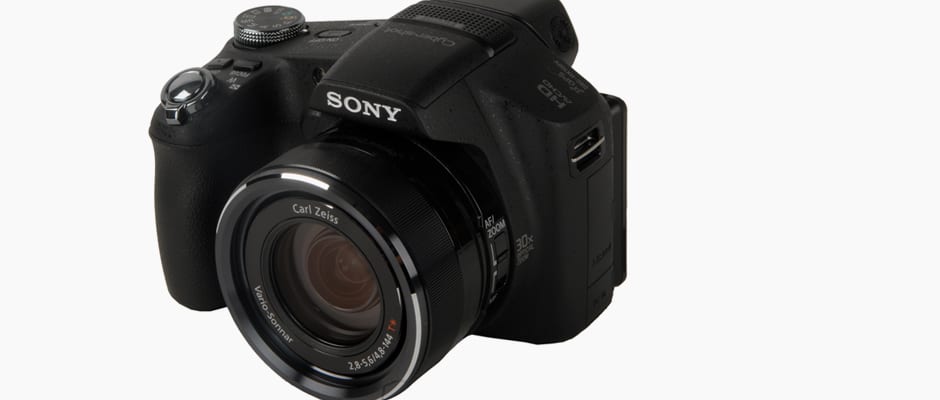 Credit:
Introduction
The superzoom niche has been extraordinarily exciting this year. Industry leaders like Canon and Nikon have found new competition from Panasonic, Fujifilm, and, yes—Sony. This not-so-little corner of the imaging market has expanded to meet the demand for long, professional-level zoom magnification, at a price that won't exclude non-professionals. And while the category has changed to favor zoom ratio above all else, these models are still rooted in—and indeed evolved from—the idea of a "bridge camera," one to close the gap between point-and-shoots and SLRs.
Sony's HX100V is an ambitious 30x superzoom with a tempting set of specs: A 16.2 megapixel CMOS sensor, Full HD video shooting at 60p, high speed focus, articulating LCD, and a GPS transceiver. But a camera is nothing without quality photographs, and superzooms frequently focus more on the enormity of their zooms than on the merits of their images.
Design & Usability
Designed to look like a full-sized DSLR, the HX100V handles well, yet it still feels cheap.
The Sony HX100V's looks as if the company took one of their entry-level Alpha DSLRs and crushed it in a compactor; it's small, tightly designed, and loaded with controls. It's a fixed-lens camera, but it has a 30x optical zoom. While the lens barrel has a nice chrome bezel, the construction is almost entirely plastic, which gives the camera a rather chintzy feel.
The Sony HX100V's looks as if the company took one of their entry-level Alpha DSLRs and crushed it in a compactor.
The camera's rear LCD is a tilt-out panel with a 921,600-dot resolution. The screen's vertical range moves a full 90 degrees upward—great for video handling—and almost as much downward, which is useful for shooting in a crowd. While a full swing-out arm is more versatile than this tilt style, at least the horizontal viewing angle is wide. Unfortunately, the LCD's plastic surface is prone to smudging, but its anti-reflective coating is very helpful in bright sunlight.
The control scheme is simpler than some competitors, and more complex than others. In general, buttons have been moved away from the rear panel in favor of the top of the camera. We're puzzled by the location of the focus and custom function buttons, whose positions are fine once you've memorized them, but until then they actually remain somewhat hidden from view behind a lip in the chassis. The shutter release is particularly useful, however, with a long, soft stroke and great tactile feedback.
Features
Plenty of manual control and 1080/60p video highlight the HX100V's feature list.
In addition to the 30x optical zoom, the Sony HX100V features a number of nice hardware touches. It has a full mode dial on top, an excellent electronic viewfinder, a manual control ring on the lens, and a rear control dial on the back. The HX100V pairs all of these with a 16-megapixel CMOS image sensor, capable of both full 1080/60p HD video and reliable continuous shooting.
The HX100V offers full manual control in addition to some concessions for the novice, such as full auto.
Like most superzoom cameras, the HX100V tries to walk the fine line between pleasing advanced shooters and satisfying amateurs, too. Therefore, the HX100V offers full manual control in addition to some concessions for the novice, such as full auto, intelligent auto+, and a number of dedicated scene modes. There aren't as many creative picture controls as some might like, but this is a camera that users can grow with, leaning on automatic features while they get accustomed to manual controls.
Sony placed a manual control ring on the lens, and we like this idea very much, however, we were a little let down by its execution. Unlike the lens control rings on Canon's S-series, the lens does not have 1:1 control over anything. Instead, it functions like a focus-by-wire ring, making it extremely difficult to make fine control changes. It's a device that holds a lot of promise, but we ultimately found ourselves giving up on it entirely.
Performance
The HX100V stood strong throughout much of the testing, but it lacks the high ISO pedigree of the competition.
We were pleased with the HX100V's lab performance right from the beginning—it aced the first test, color accuracy, putting up one of the best performances we've seen yet. There are a few notable hitches—high ISO performance is especially weak relative to the field—but we were still quite pleased with the HX100V's combination of control and image quality.
The high ISO noise performance is a real letdown, and our main area of concern.
The high ISO noise performance is a real letdown, and our main area of concern. Sony has loaded up the HX100V with all the requisite noise reduction, but unfortunately the result is artifacting, pixelation, and visible grain as early as ISO 200. This is pretty poor comparatively, with many superzooms producing attractive images all the way through ISO 800. It's not a deal-breaker, but it's something to be constantly aware of, especially as you zoom in and when light is at a premium.
Otherwise, the HX100V is a solid performer. The 1080/60p video looked smooth and sharp, and the camera's burst settings were able to capture shots at greater than 10 frames per second. The camera focused fast, too, as long as there was sufficient light and contrast to lock onto subjects. There are definitely better performing cameras in the superzoom category, but the HX100V shouldn't be discounted based solely on its performance.
Conclusion
A model that is part point-and-shoot and DLSR
As a bridge model between point-and-shoots and SLRs, the HX100V is impressive, balancing well the demands of advanced shooters with the easy control and creative options that novices will love. Moreover, this is a model you can grow with, learning about the ins and outs of photography before stepping up to a full-fledged DSLR.
And yet, we must temper our enthusiasm. In this model's next iteration, we would like to see a few things: First, the noise reduction algorithm must be overhauled. Image noise from this camera is too high, even at low ISOs. Second, we'd prefer a mechanical manual ring, instead of the HX100V's electronic hybrid. We wanted to love this feature, but we gave up on it in the end. And finally, a boost in processing power to eliminate the delay of the electronic viewfinder would go a long way. If the future of photography really is mirrorless, we're going to need EVFs that respond just as fast.
If you have the passion of a pro photographer but the checkbook of a struggling artist who's still just learning the trade, then we recommend this camera.
The Cyber-shot HX100V may not be the year's best fixed-lens camera, and it may not even be the year's best superzoom, but this may very well be the year's best true bridge camera. As a model designed to bridge cheap point-and-shoots and pricey DSLRs, the HX100V does so rather gracefully. If you have the passion of a pro photographer, but the checkbook of a struggling artist who's still just learning the trade, then we recommend this camera.
Science Introduction
The HX100V is a difficult camera to assign a final score to. While the camera is capable of incredible color fidelity, we were dismayed to see visible grain as early as ISO 200. Low light is rarely a strength of point-and-shoots, but this model struggles relative to the field, as well. We were pleased to see some excellent results in our shot-to-shot test, however, and buttery smooth 1080/60p video as well.
Color Accuracy
Shining results
Color accuracy is arguably the HX100V's best feature. With an error rating of only 2.12, the HX100V's color performance easily trumps Panasonic's FZ150, Canon's SX40 HS, and Fujifilm's HS20EXR. In fact, the only camera in recent memory that gives this one a run for its money is the Panasonic FZ47, a cheaper alternative to the FZ150. The HX100V boasts near-perfect tone across the gamut, as well, with only minor inconsistencies for dark blues and dark yellows. Saturation is also nearly perfect, off by only 2.1%.
Such accurate colors will render all shots more pleasing to the eye, human subjects will look flattering, and other scenes will look natural. You can always improve shots by making color more vibrant after the fact, but you can't put the genie back in the bottle if you don't have accurate colors to begin with.
Noise Reduction & Detail Loss
Even with comparison to other poor noise performers, the HX100V bombed these tests.
Naturally, this camera's spectacular color score left us eager to measure the rest of its performance. Suffice it to say, the HX100V does not handle noise as well as it does color. In our standard 3000 lux test, artifacting ranged between a respectable 0.55% at the minimum ISO, to a destructive 1.81% at the maximum ISO. As early as one year ago this would've been an above-average result, but the competitive superzoom category has advanced quickly, and these averages now reside near the bottom of the bucket.
The results aren't much different in low light. Average noise is up by only 0.03%, a negligible amount, and noise reduction software appears to retain the same behavior which, by the way, is characterized by a slow increase in smoothing software across the entire ISO spectrum. We always test fixed-lens cameras at the default noise reduction setting, since we don't imagine many novices will change it, plus most models don't offer precise control anyway. The HX100V's noise reduction comes in three flavors: standard, plus, and minus. Our scores reflect the standard setting.
Shot-to-Shot Results
This camera's great burst speeds are even better than Sony claims.
At the low speed setting, the HX100V captures only two exposures per second. However, cranking it up to high unlocks speeds even higher than Sony's claim: as much as 10.8 frames per second in our test. Both modes are locked in at a maximum capacity of 10 shots, however, and there's a 12 second writing delay after each burst. This puts it among the faster cameras we've seen in the market.
Video Quality
The 1080/60p video looks as great as advertised.
The HX100V's video mode is one of the camera's strongest selling points, specifically its ability to capture Full HD video at 60 frames per second in progressive scan. This option is essentially future-proofing, since few TVs or video editing programs can handle this type of data. For now, the best benefit is silky-smooth motion in high definition recordings, as we've seen in our motion test video.
To support this technology, the video mode feature set is also pretty beefy. Optical zoom is available while recording, although it has been slowed to reduce electronic motor noise and to offer a smoother transition. Exposure compensation may also be adjusted on the fly, and autofocus is always active too. It's not going to be as flexible as, say, a full-size camcorder, but it's an excellent option when you want to capture shorter clips.
Other Tests