Cameras
Sony Cyber-shot DSC-W570 Digital Camera Review
A big sensor, but plain looks, plain features, plain performance.
Introduction
The Sony Cyber-shot DSC-W570 is a somewhat plain-looking ultracompact that offers a huge 16.1 megapixel count for a bargain price. We know megapixels aren't everything though, so it's up to this camera's performance and features to set it apart.
Front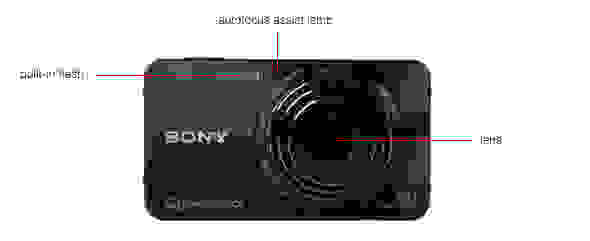 Back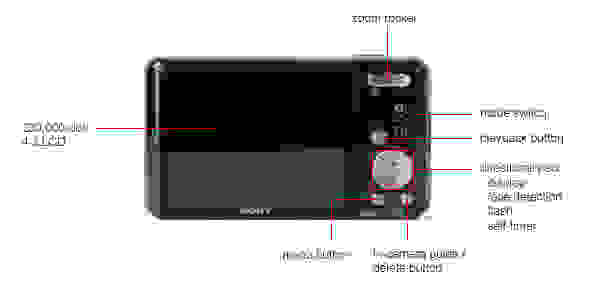 Sides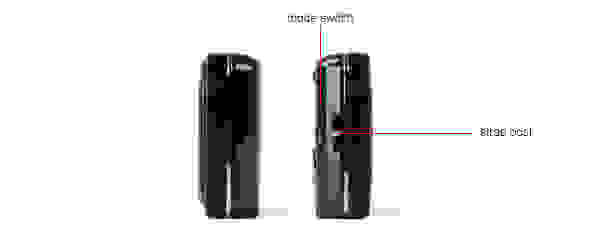 Top

Bottom

In the Box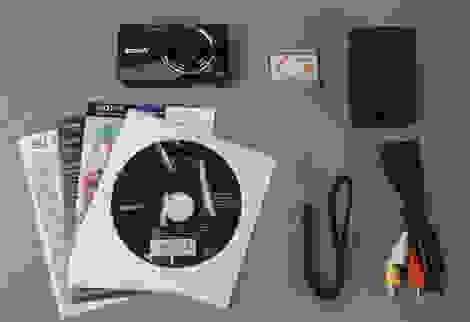 In the box:

• Sony Cyber-shot DSC-W570 digital camera

• battery charger BC-CSN

• rechargeable battery pack NP-BN1

• multi-use cable (USB, A/V)

• wrist strap

• software and user guide CD-ROM
Color
Ouch. The W570 gets off to a rough start in our color test, returning an error value of 3.95, which is rather high. Color accuracy is our most important test, since this affects how flattering human subjects appear and how convincingly other scenes are rendered.
Poor white balance is to blame for the low score. Even after manual adjustment, the W570 settled on a color temperature that was too cool. Therefore the least accurate colors are blues and light greens. But some hot colors aren't safe either, although yellows are relatively accurate, some reds are too dark. More on how we test color.
This score is unsurprisingly trounced by two of our favorite budget point-and-shoots, Canon's ELPH 100 HS and Samsung's PL120. To put the results in context, the 100 HS returned an error value of only 2.48, almost an entire point and a half better than our Cyber-shot. Still, this isn't the worst color accuracy we've seen. The similarly-priced Casio EX-S200 was wildly oversaturated, with an error rating of 4.53.
Color Modes
The W570 does not offer any disparate color modes that might have been used to tweak or improve the camera's poor accuracy. We wouldn't mind this limitation if the model was a stronger performer, but in the absent of this option, all users are stuck with the default mode.
Noise
Noise rates are on the high side. Only images captured at ISO 80 offer noise levels below 1%, and after ISO 400 noise artifacts start to increase dramatically. At ISO 3200, noise maxes out at a highly destructive 2.12%. Noisy shots are also qualitatively unattractive. Colors begin to lose their saturation at ISO 800, resulting in smudged and washed out shots. More on how we test noise.
The problem is worse in low light, though not by much. In our 60 lux test, noise levels stayed even with the matching 3000 lux test until ISO 800, but afterwards spiked even higher, to a maximum of 2.4% artifacting.
While the relatively close test scores suggest these four cameras all offer similar performance, in practice this is far from the truth. The way noise manifests itself differs greatly amongst the comparison group. Canon's noise reduction algorithm is the most appealing, with barely any smudging or loss of color. Samsung's noise reduction is also decent, with just a little more smudging than the 100 HS. On the other hand, noise reduction software used by Casio and our Sony are the worst, destroying detail throughout the ISO range.
ISO
Full resolution ISO values extend from 80 to 3200, with no reduced resolution extended options available. That's pretty much the standard for modern budget point-and-shoots, although the 100 HS does support ISO 6400 at 3 megapixels.
NOTE: The images above are not used in our testing or scoring, but are included here to show real-world examples of the differences between cameras at the various ISO settings.
Resolution
The W570's resolution scores are worsened by one of this camera's biggest flaws, an imprecise and inconsistent focus system. It was difficult to be certain whether images were truly unsharp or simply out of focus. In fact, most of the sample crops shown below are the result of manually choosing the best shot from a set. However, since users will most certainly face this problem in the field, our measured test shots received no such special treatment to compensate for autofocus errors. More on how we test resolution.
Distortion ()
The only aspect of resolution not directly linked to sharpness is distortion. This effect is predictable and easily corrected with built-in software, so we often see cameras achieving the maximum score here. Such is the case for the Cyber-shot W570. Distortion never exceeded 0.4% at any focal length.
Sharpness ()
Sharpness is the metric chiefly influenced by the W570's focus problems. When shots are in focus, haloing and edge enhancement are sometimes visible in areas of high contrast, and while these do improve test scores, they actually detract from overall image quality. Most of the time however, edges are too blurry for edge enhancement, and this prevents shapes and lines from rendering in a defined and ideal way.
Chromatic Aberration ()
The W570's handling of chromatic aberration is actually the best of our comparison group. Blue fringing is still present, especially at maximum zoom, but the effect is lessened compared to the competition. Still, to minimize chromatic aberration, forgo optical zoom.
Quality & Size Options
Shooting resolutions are available in 4:3 and 16:9 aspect ratios. There are four options for 4:3 and two for 16:9. Most people will do all their shooting at full resolution, however these settings can be helpful for saving memory. No compression quality settings are available though, which would have been even more helpful, and the camera has no ability to shoot in RAW mode.
Image Stabilization
The Cyber-shot W570 is equipped with optical SteadyShot, Sony's brand of image stabilization, and we could feel the system working continuously, especially while framing shots. Unfortunately the feature is always on, with no option to switch it off. This means we have no way of establishing a control data set for lab testing, and thus have no choice but to skip this test, awarding no points. More on how we test image stabilization.
The Casio Exilim EX-S200 is the only comparable camera with an effective stabilizer. Although the Canon 100 HS is also equipped with stabilization, we found it actually worsened sharpness.
Video Mode
Even though the W570's video resolution maxes out at 720p, this is a decent video device. There's some control access while a recording is in progress, including screen brightness and optical zoom. Autofocus is also active during recording, and both of these qualities are rare in the budget category.
Video Color
Color accuracy takes a nosedive while shooting video, as it often tends to do. Blues and magentas are especially dark, and the effect is much more severe than during still shooting. Performance here is worse than most of our comparison models, especially the Canon 100 HS, which is very accurate in video mode. More on how we test video color.
Video Sharpness
Resolution of fine detail while shooting video is almost identical to the Samsung PL120: extremely poor. The W570 was able to resolve only 350 lw/ph of detail horizontally and 300 lw/ph vertically in our motion test. So although this is a high definition capture device, don't expect broadcast quality detail. More on how we test video sharpness.
Playback Mode
Playback mode is accessible via a dedicated button on the rear panel. The interface is relatively simplistic. A combination of the directional pad and zoom rocker allows navigation into fullscreen images with an 8x zoom, or out to two dimensions of grid displays or a calendar display mode. While using this interface, down on the directional pad controls playback volume, while up controls screen brightness and information display.
In-Camera Editing
In-camera editing is also fairly simplified. No silly picture effects are available, but editing basics like crop, resize, rotate, and red-eye correction are all there. One additional option, unsharp masking, is a welcome addition and a rarity for this class.
Direct Print Options
DPOF tagging is available from the playback menu, and although tagging of multiple images at once is painless, specifying multiple copies of an image is not supported. Another striking omission is the PictBridge standard for home printing, which is not supported.
Display
The W570's rear LCD is fine for framing and reviewing photos accurately, even though the screen measures only 2.7 inches diagonally and resolution is just a little above average. What's more problematic is the surface's plastic finish, which is prone to smudging and reflection. Viewing angle is also poor, and the screen's default brightness is too dim for outdoor shooting, although this can be remedied with a menu setting.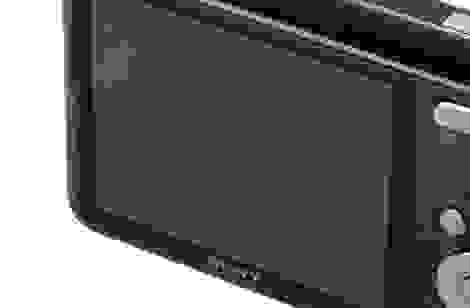 Flash
This camera's weak flash is rated to maximum of just over 12 feet, placing it below average for this category. Still, we suppose if a manufacturer has to skimp somewhere, built-in flash is a decent choice, since it tends to add an ugly harshness to all shots. For this reason, we excluded flash from the majority of our time with the camera, and suggest you do the same. Otherwise, you'll find many of your shots to be overexposed and unevenly lit.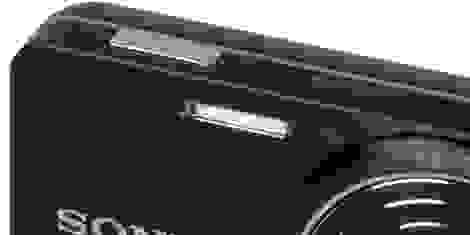 Lens
The plastic lens assembly doesn't feel very sturdy, but no less so than others in this price range. At least the hardware is attractive looking, rimmed by four shiny chrome bezels that lend this camera the illusion of cost. Like most compact cameras, the lens enclosure is automatic.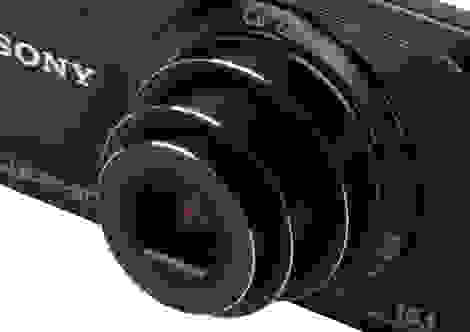 5x optical zoom isn't a ton, but more than some ultracompacts. While you won't capture any detail from the bleachers of a sporting event, 5x will reach across a room or maybe across a street.
Battery
We had lots of trouble with energy consumption while using the W570. Perhaps the battery in our evaluation model was an old one, either that, or the camera is far less efficient than Sony claims. They rate the W570 at 220 still shots per charge, according to the CIPA method, but our time with the unit suggested far less. We've used this particular battery–the NP-BN1–before, and had no problem with it. This time around however, we have no choice but to award a low score.
Memory
Sony never gives up with its memory cards huh? The W570 is dual-compatible with both SD cards, which are used industry-wide, and Memory Sticks, which are used almost exclusively by Sony products. We have plenty of each floating around the office, so this doesn't matter to us, but for many consumers it could be a deal-breaker. Nobody wants to spend extra cash for a new memory card. Be aware that Memory Stick "Duo" are the only ones supported, and even then, only "PRO Duo" sticks are supported for movies. On the other hand, all SD cards are supported, including SDXC.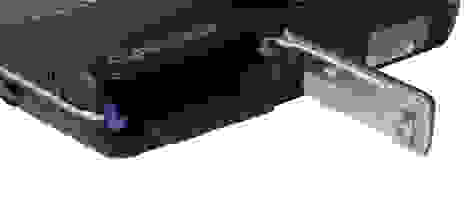 Jacks, Ports & Plugs
All connectivity is accomplished via a small proprietary "multi connector" on the bottom of the camera, between the tripod mount and battery slot cover. The W570 ships with a complementary multi connector cable that allows for both USB and composite video connectivity. This of course means there is no easy way to stream high definition video or stills to a TV.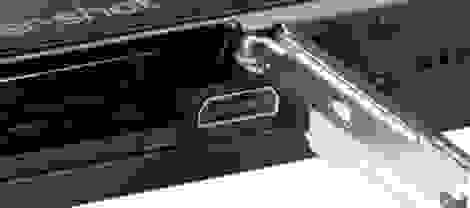 Shooting Modes
One of the W570's more unique features is a hardware mode switch located along the right edge of the rear panel. This allows the user to quickly swap between still shooting, panorama mode, and video capture. We're puzzled by Sony's choice to elevate panorama to a full shooting mode here, rather than a scene mode, however still and video shooting make sense.
We did most of our still shooting in the Program recording mode, however Sony's Intelligent Auto was also pretty effective and accurately guessed our desired shooting conditions most of the time.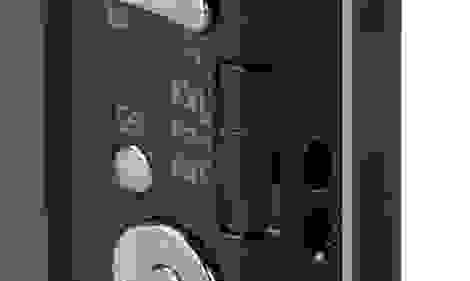 Scene Modes
12 scene modes are available and they are very standard fare, from Pets to Fireworks to Beach and all the rest. One puzzling addition is the Underwater mode, intended for use with a waterproof housing. We wonder how many users will fail to read closely enough however, and end up accidentally drowning their new W570 without proper protection. So read carefully, this Cyber-shot is not waterproof out of the box.
Picture Effects
With the W570, Sony has taken a more serious approach to picture effects: there aren't any. That's right kids, no fish-eye lens or miniature effect or magic frame. We don't miss them that much, and in-camera editing picks up some of the slack with basic offerings like crop, resize, red-eye reduction, and even unsharp masking. Still, these aren't quite "effects," so we award no points here.
Manual Controls
The W570 is not equipped with any manual controls other than manual ISO control. We always miss full "PASM" control when it's not available, but the omission is no surprise in such a simplified model.
Drive/Burst Mode
Drive mode options are split between a continuous shooting option found in the quick menu, and a self-timer key on the directional pad. Continuous shooting is limited, one setting at one speed, however self-timer options are relatively robust. There's a ten second and two second timer, plus automatic portrait modes which automatically start the timer once one or two faces are detected.
Shot to Shot ()
Continuous shooting with the W570 is extremely slow. Capture speed maxes out at just over one frame per second, and even then for only three shots. After that, speed is reduced to only 0.48 frames per second.
Handling
This ultracompact's thin, boxy design gives little consideration to stable handling. The body's smooth edges are difficult to support with one hand, so another thumb is necessary to hold up the left side and keep the camera steady.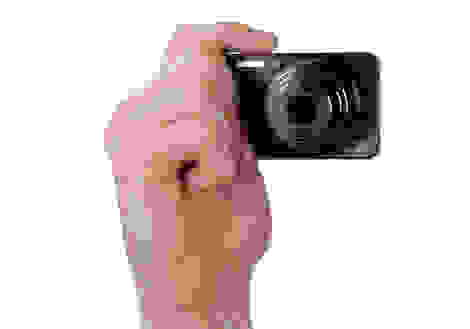 The right thumb, meanwhile, has no place to rest in the absence of a rear grip, and lays directly atop the control panel. The front of the body is textured, though we wouldn't call this a proper grip either, more like a cosmetic surface that's better suited to capturing dirt and oil than providing the fingers with a secure hold.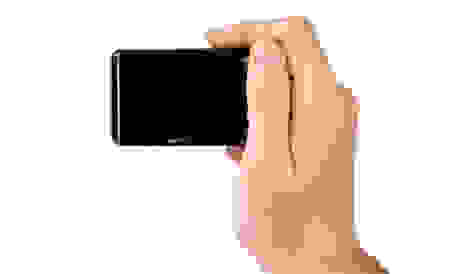 Buttons & Dials
The shutter release and power buttons are the only ones on the top of the camera. Both are very shallow, in fact the on/off switch is actually recessed into the body to prevent accidental pressing. The shutter release is extremely wonky however, with very little stroke and a tactile profile that takes some getting used to. Locking autofocus is particularly imprecise.
On the rear panel, the same problems manifest themselves in other ways. Most buttons are too small, and pressing them is more of a job for the fingernails than the fingers. Again, this will take some getting used to, but the issue is never so severe that accidental pressing occurs.
At least the layout is fine. It's a fairly standard design, and users with even the slightest camera experience will be right at home.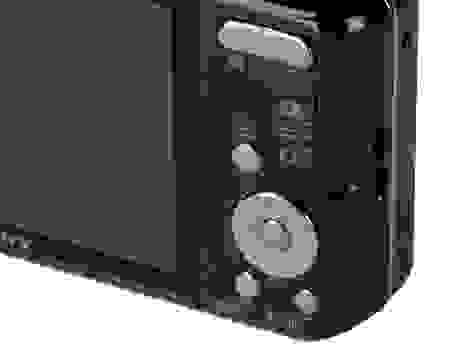 Menus
The menu system is split between a quick menu for the most popular shooting variables, and a more detailed tab-based interface. The former is a painless vertical / horizontal system that allows quick adjustment without leaving the framing screen. It's a bit slower than some other quick menus we've used this year, but far better than a traditional menu.
Speaking of which, the W570's traditional tabbed menu is actually accessed from the quick menu, which does add an extra step. Once inside, this menu is somewhat confusing since pages and tabs are regarded separately. Many pages have blank space too, so it's often unclear whether or not you've reached the last option without glancing at the page counter.
Still, quirks aside this is a good menu interface that speeds up the shooting process instead of hindering it.
Manual & Learning
No printed manual shipped with our test unit, however the downloadable user guide is decent and the W570 does include a relatively robust in-camera help system. It's a nice feature, since nobody want to tote around their physical guide. Amusingly, the in-camera guide is mapped to the delete button, and we think this is inviting a tragic accident or two.
Casio Exilim EX-S200 Comparison
The W570 never had much of a chance against our favorite ultracompact, Canon's PowerShot ELPH 100 HS. All image quality measurements lean–often strongly–in the Canon's favor: color accuracy, noise, resolution; and the same goes for video. the ELPH offers a stronger feature set too, boasting faster shooting speed, better playback options, and superior hardware. With prices so close together, ignore the W570's higher megapixel count, and go with the 100 HS.
Samsung PL120 Comparison
The Casio Exilim EX-S200 is also superior to our W570, but this time the margin is slimmer. The Exilim actually posted worse color accuracy scores than the Cyber-shot, however its resolution of fine detail is much better. Noise is an interesting metric for these two cameras as well. The Sony produced noisy shots throughout the entire range of ISOs, however the Casio produced even uglier shots above ISO 800.
In our opinion, there's little reason to buy either of these cameras with so much competition out there. But if you're somehow forced to choose between them, the Exilim EX-S200 is a slightly better choice.
COMP 3
Samsung's PL120 is another one of our favorite ultracompacts, due in some part to its speedy operation and user interface. But the W570 actually matches the PL120 in this regard, so our comparison must again rely on image quality, and again the W570 falters. Sony's model can't come close to Samsung's color accuracy, and is also surpassed–barely–by the PL120's handling of noise and resolution of detail. Our strict lab tests aside, the PL120 also generally captures more aesthetically pleasing shots, leaving the W570 with few advantages.
Conclusion
Sony's Cyber-shot DSC-W570 is in some ways a reviewer's nightmare. This plain ultracompact takes no risks and never deviates from the category's norm. There's just not much here worth writing about. And while the same can be said for the majority of models in this already saturated market segment, the problem is particularly obvious in the Cyber-shot series which, after so many years and so many iterations, seems to be running out of ideas.
Even in the budget category, it takes more than acceptable performance to stand out, yet the W570 doesn't even manage that. Instead, the only qualities worth actually mentioning are this camera's failings. Most notably, the model's contrast-based autofocus system is imprecise and inconsistent. So while the sensor has enough trouble resolving detail as it is, half the time shots aren't even in focus to begin with.
The W570's LCD screen is also fairly cheap. Of course, at this price range it comes with the territory. But the screen's narrow viewing angle, high reflectivity, and dim default brightness robs everyday shooting of some of its fun. Other features are lacking too, like the slow continuous shooting, simplified playback system, and inaccurate white balance.
But in the end, excellent shooting performance is usually enough to cancel out any criticisms we may have about a camera's design or functionality. And it is here that the W570 falters the most. With sub-par scores in almost every single one of our lab tests, this model lacks any redeeming qualities. We're left with an entirely average camera, and in such a competitive market, that's just not good enough.
Photo Gallery
Up next