Cameras
Sony HX200V Review
A decent superzoom, but the competition is too stiff for us to recommend the Sony HX200V.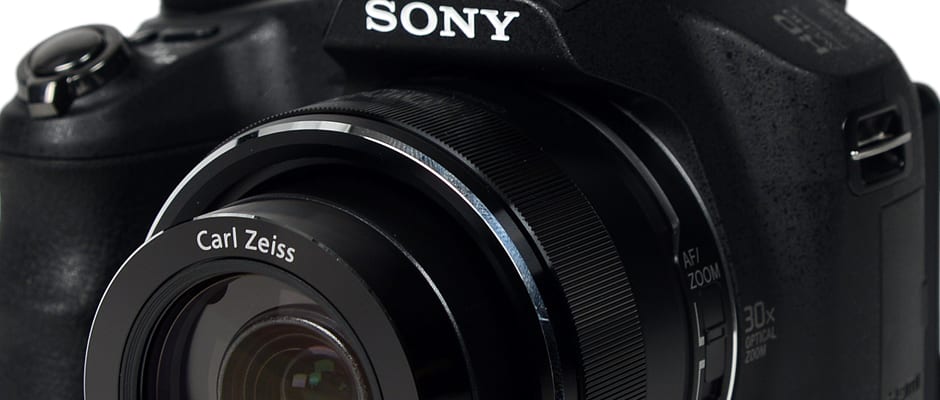 Credit:
Introduction
Sony knows how to make a great superzoom camera. Last year's model, the Cyber-shot HX100V, has been sitting near the top of our overall point-and-shoot rankings since we reviewed it, and it still holds up nearly a year later.
It's easy to rest on your laurels when you've created something great, so perhaps it's no surprise that the $479 HX200V is a very safe update. The body is largely unchanged, keeping the same 30x zoom ratio, same lens ring, same electronic viewfinder, and basically the same button layout. Really, the only significant change is the new sensor, bumped up to a massive 18.2 megapixels.
Design & Usability
A safe update that does little to alter last year's version
The Sony HX200V has all of the components that we'd expect in a first-tier superzoom... from last year. It has a big, comfy grip, a 30x zoom range, electronic viewfinder with an eye-level sensor and diopter adjustment dial, and a lens ring for controlling zoom. That's all nice and fine, but it isn't keeping up with the latest advancements in the superzoom genre. It has no standout design qualities. The overall build quality also feels a bit flimsy and a bit hollow, but superzooms are never as solid as you'd expect them to be, even if they look like serious cameras at a glance.
Handling the HX200V is comfortable, thanks to a large right-hand grip and light weight. The electronic viewfinder has an eye-level sensor, which makes it convenient to switch between the EVF and LCD—you don't have to press anything, just put your eye up to the window. The button layout isn't as ergonomically friendly as some other superzoom models (or similarly sized DSLRs), but it isn't detrimental to the overall experience. Our biggest disappointment is with the lens ring. The weight and action are nice, but the electronic response (to adjust zoom or focus) is very sluggish.
The interface feels unfamiliar at best, awkward at worst.
The button layout on the HX200V isn't terrible compared with other superzooms, but the interface feels unfamiliar at best, awkward at worst. The functions mapped to the four-way pad have an amateurish bent—you can adjust "Photo Creativity" (a simplified, jargon-free way to adjust brightness, color, and saturation) if you're in auto mode, but there's no ISO hot key. Where the HX100V appealed to advanced shooters with some no-frills options, the HX200V seems content to hold your hand and slowly guide you.
Features
The controls are better organized for novices, but there are better options on the market.
Like most Cyber-shot cameras above a certain price, the HX200V has a long roster of extra features. Plenty of picture effects and filters are available. It's one of the fastest burst shooters we've seen. Tons of video settings are available. And as the 'V' at the end of its name suggests, it has a built-in GPS unit for geotagging photos. Like most superzooms, the headline feature is really the huge zoom range—30x, in this case.
The HX200V's lens offers a 35mm equivalent focal range of 27-810mm and a respectable aperture range of f/2.8-5.6. There's a lens ring to electronically control zoom or manual focus depending on the focus mode, which is controlled by a toggle on the side of the lens barrel. As with the HX100V we found the loose, electronic lens ring to be far less functional then the physical rings found on upper-tier compact cameras like the Canon S-series. It's unfortunate, too, because having an extra dial would really go a long way toward improving the shooting experience here.
The HX200V has two auto modes, PASM modes for hands-on shooters, three memory recall settings, 16 scene modes, special shooting modes (like sweep panorama), and a 3D shooting mode for the five people who care. All these modes are accessible from the mode dial. A total of nine Picture Effect modes are available in the menu as well, including HDR Painting, Rich-tone Monochrome, Miniature, Toy Camera, Pop Color, Partial Color, Soft High-key, Watercolor, and Illustration. Some are adjustable in their intensity or character—Partial Color can highlight red, green, or blue for instance, while Illustration has three intensity settings.
Performance
Solid burst shooting, but the new sensor does nothing to improve image quality over last year.
The HX200V takes decent photos for a superzoom, but not the best that the category offers
In a nutshell, the HX200V takes decent photos for a superzoom, but not the best that the category offers. If you're looking at shots on your computer screen or making some small prints, they look great. Colors are accurate and lively (and adjustable, if you wish). The lens is sharp enough to render plenty of detail without much of the ugly color-fringing problems that can hamper long-reaching zooms. But on closer inspection, the shots don't always look so great. Megapixels are a double-edged sword, and they cause clarity problems here—it is unequivocally worse than last year's HX100V. That's what can happen when you cram over 18 million pixels onto a tiny, 1/2.3-inch point-and-shoot sensor. Sony goofed up.
Speed is one of the HX200V's assets, thanks to a speedy BSI CMOS sensor. A nice handful of drive options are available, including two burst settings, plus a white balance bracket mode and three EV bracket modes. All of them are available at full resolution. Sony has garnered a reputation as gifting all their cameras with great burst modes, but the HX200V has a fatal flaw in this regard. Its small buffer fills up after just 10 shots, requiring as long as 15 seconds to write to the memory card. In that time you can do little with the camera, meaning you can easily miss the next important moment.
We were, at least, very impressed with the 1080/60p video quality that the HX200V offers. Like many Sony cameras released these days it's AVCHD 2.0 compliant, which is as good as it gets for most compact cameras. AVCHD is a pain in the neck to edit and copy, but we found that the sharp, crisp videos were generally worth the hassle.
Conclusion
Bottom line: pass on the HX200V
Based in part on the spec sheet but mostly on the price tag, the Sony Cyber-shot HX200V sits in the top tier of superzoom cameras, circa late 2012. It features a long zoom lens and a high-res sensor that unlocks fast performance and excellent video options. It has an eye-level electronic viewfinder that some photographers find essential, and it gives you the option to control the exposure yourself or let the camera do all the work. And all of these goodies are wrapped up in a lightweight body with a comfortable grip, all for less than $500.
That should all sound incredibly impressive—to anyone who lives under a rock. Okay, maybe that's overstating the point, but those once-headlining features are now par for the course. For better or for worse, camera makers keep pushing the boundaries of superzooms. Nikon, Canon, and Panasonic all made impressive upgrades to their superzoom lenses this year. Fujifilm rolled out a premium-tier superzoom with a physically larger sensor, rather than just cramming in more megapixels. Sony, on the other hand, only added extra megapixels to the HX200V, and called it a day.
Standing by a great design is no crime, and if the HX200V had maintained the stellar image quality of its predecessor, we'd give Sony a pass for treading water. But the lazy changes to the HX200V actually make it an objectively, scientifically worse camera than its predecessor. More megapixels aren't always either a good or a bad thing. But in this case, they have some unfortunate consequences on the overall image quality, forcing heavy-handed noise reduction to smear away too much detail.
The simple fact is there are better superzooms on the market for the same cost or less. If you're open to something with a normal zoom, you can even pick up a decent entry-level interchangeable-lens camera for less money than the HX200V. These models will give you better image quality than any superzoom could ever provide, offer better manual control, and are probably smaller as well. You can always add zoom later with another lens—and some budget telephoto zoom lenses go for as little as $300. Bottom line: Pass on the Sony HX200V.
Science Introduction
The Sony HX200V, in a vacuum, doesn't perform badly at all. Images are roundly acceptable, falling neatly into the "good, but not great" category. The HX200V's main issue is that the superzoom category has advanced so much in the past year. More importantly, the entry-level interchangeable lens market has come down in price, further denting the camera's value. In our labs, the HX200V achieved acceptable results for color accuracy, noise reduction, sharpness, and speed, but from both a technical and an aesthetic perspective you can get better photos from plenty of similarly priced cameras.
Color Accuracy
Accurate colors, with plenty of options for tweaking the look of your shots
Color rendition is accurate and lively. The Real color mode earned the best score for the HX200V. We measured a minimum color error of about 2.5, which is very strong. Shots are slightly oversaturated at about 106%, but we tend to prefer a bit of extra saturation from point-and-shoot images.
The other color modes offer good-looking results too. The Standard color mode scored nearly as well as Real, with punchier colors and a bit more contrast. Vivid mode totally oversaturates, but it looks great for landscape shots.
Noise Reduction and Detail Loss
Even base ISO results in more noise than we typically see
It looks like 18.2 megapixels is just too much to cram onto a tiny point-and-shoot sensor. We're generally pretty forgiving about high megapixel counts, but Sony done goofed this time.
The HX200V is very noisy throughout the entire ISO range. We measured nearly 1% noise at ISO 100, which is pretty awful. We expect around 0.6% at base ISO from a camera like this. What's worse, the HX200V applies a ton of noise reduction even at that lowest sensitivity, so details are soft and smudgy. The noise-to-signal ratio climbs to about 2.25% at ISO 1600 and 2.5% at ISO 3200—those are figures we expect from $120 point-and-shoots with crummy CCD sensors. Not good.
When we cranked up the noise reduction profile to to the maximum setting, noise dropped down to levels that are more typical of other superzoom cameras. But detail loss was even worse.
If there's one bit of silver lining, a multi-shot noise reduction feature kicks in at ISO 6400 and ISO 12800, so noise levels actually drop at the highest sensitivities. If we disqualified those figures, the HX200V would have earned a truly awful noise score in our lab tests.
Sharpness and Resolution
Very good center sharpness achieved with considerable in-camera processing
Sharpness is decent for a camera with such a long focal range. We measured an MTF50 of 2000 LW/PH at the dead center of the frame at the wide-angle setting, which is frankly where most people are going to take most of their pictures. Sharpness drops off significantly at the edges and as the zoom range extends, falling to a mediocre 650 LW/PH in the middle of the focal range at the edge of the frame.
We did measure a bit of an improvement in sharpness compared to last year's HX100V; assuming that the lenses are basically similar, the uptick is in line with what we'd expect from the resolution increase—18.2 megapixels this year, up from 16.2 last year.
Some artificial edge sharpening is at work, but that's always the case with point-and-shoots (even DSLRs, really). You won't notice any haloing unless you're looking for it. Sharpness can also be dialed up or down a notch.
Shot-to-Shot Speed
The one true high point of the HX200V's testing
The HX200V is one of the fastest burst shooters we've seen among point-and-shoots, tied with its own predecessor the HX100V and Panasonic's FZ150. We recorded just under 11 frames per second at the maximum speed. But the buffer fills up after 10 frames, and the camera is completely incapacitated for about 15 seconds after each burst. If it's pure speed you need, the HX200V satisfies, but we've seen cameras that are nearly as fast without the same recovery limitations.
Other Tests
Up next