Kitchen & Cooking
I Tried Family-Friendly Meals from HelloFresh: Here's How It Went
We put these crowd-pleasing meals to the test
Credit: HelloFresh
I love to cook. We get fresh groceries every week, and I'm always looking for new recipes. But due to busy schedules and time constraints, my family often ends up in the "dinner rut," having the same five or six meals in rotation. Sometimes, inspiration hits or I have more time than usual, and I attempt something new for good measure. When we fall out of the routine or get bored of Taco Tuesdays and Ahi Tuna Bowl Sundays, or we haven't yet made our weekly grocery store run, that dreaded question emerges: "what should we have for dinner?"
Naturally, I was excited to try the HelloFresh Family Friendly meals and take the guesswork out of dinner time.
So, were the recipes as quick and easy as promised, and, most important, did they taste good?
How does HelloFresh work?
Sign up for HelloFresh, choose the plan you want, and you'll likely see a discount code of some kind. HelloFresh offers promotions all the time, typically with discounts on your first week (even free!) The Family Friendly meals are available for two or four people – I chose four since there are three members in my family, including myself, my husband, and our hungry and growing 9-year-old son. With me working from home and my husband doing so on occasion, I always cook extras anyway and use the leftovers for lunch the following day.
Select from receiving three or four meals per week, covering at least half the week with pre-determined meals. Enter your e-mail address, create a password, add your mailing address and name, and select the preferred first delivery date. Deliveries are on Wednesdays, Thursdays, Saturdays, and Sundays, though this might vary based on location. Enter billing information, and your card will be charged on a regular basis unless you cancel before the cut-off time. You can skip weeks if desired and add delivery instructions, such as to leave the box with the concierge if you live in an apartment or condo, on the porch, or bring it to the back door.


There are more than 30 meal options along with add-ons like desserts and sides that are constantly changing. If you want to go low-carb, vegetarian, or even plant-based, you can pick from a special selection of meals versus the traditional Family-Friendly options. You can also do things like sub in ground turkey for ground beef in many recipes.
The food arrives neatly packed in labelled paper bags with instructions on how to store them. For summer deliveries in Toronto, where I live, the perishable items came in a compostable pouch with recyclable ice packs. I put the fresh meat, poultry, sauces, and other necessary condiments in the kitchen refrigerator and placed the bags in our secondary basement fridge–it's worth noting that if you order the meal kits for 4, they take up quite a bit of space in the refrigerator.
How much does HelloFresh cost?
For Family Friendly plans, four meals for four people in a week would be $155 or about $9.69 per serving (depending on the current promotions), along with $9.99 for delivery (this might vary by location). For three recipes per week, the cost is $10.33 per serving or $123.96. Two-person family meal options equate to $90 ($11.25 per serving) for four meals or $68.94 ($11.49 per serving) for three meals.
As noted, there are often promotional codes or special discounted rates you can use to save money off your first box or even multiple boxes, as well as free shipping promotions. With a code from a friend (several are included in each box to gift to loved ones), you can also get your first week free to try it out.
What's it like to cook HelloFresh's Family Friendly meals?
The first thing to note is that you need to have pantry staples on hand, including salt, pepper, butter, sugar, milk, and olive oil - all items most people usually have well-stocked in their kitchens anyway. You might notice a head of fresh garlic at the top of the box, which will be used in all recipes that week that require garlic.
Once ready to cook, pull out the bag and the respective meat, poultry, or other perishables that go with it, and grab the detailed recipe card, complete with step-by-step directions and photos. I'd highly recommend reading through each step before beginning to avoid making a mistake – there were a few times where I could have (and did) mess up because I didn't read the entire card ahead of time. Some words come in purple lettering, indicating where you can modify the recipe if you're only cooking for two instead of four. This is helpful if someone won't be home for dinner but confusing if you're cooking for four since purple doesn't always mean double or halve the ingredient in question.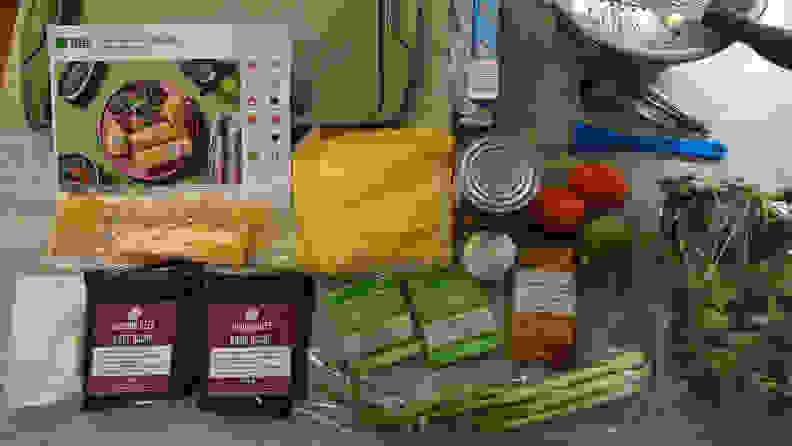 Each recipe card advises what you need in addition to the ingredients that come in the kit, such as pantry staples and things like a pan, baking sheet, parchment paper, mixing bowl, etc. It also informs about crucial first steps, like preheating the oven and/or washing the produce. I'd highly recommend laying everything out before you start to save time. The recipe cards tell you how long it should take to make each meal, with times typically ranging anywhere from 30-45 minutes.
Before I made each meal, I set a timer on my phone then followed the instructions as indicated on the recipe card. I made a total of eight recipes over a two-week period. Here's how a few of them turned out.
BBQ Beef Meatballs with Smashed Potatoes and Garlicky Broccoli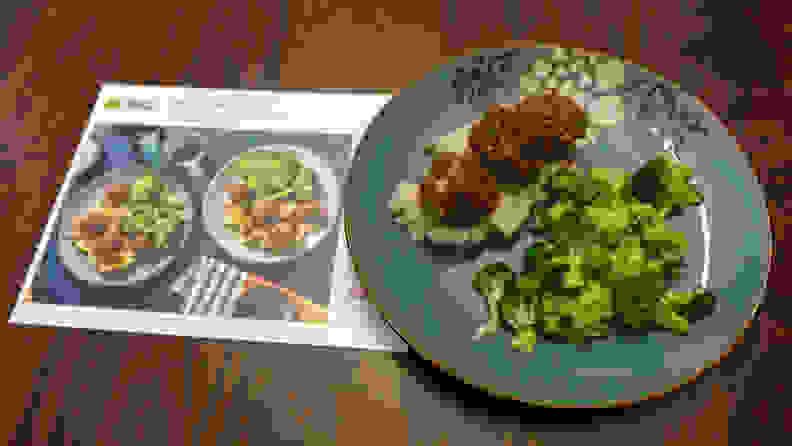 This recipe claims it can be done in 35 minutes. Given this was my first one and I hadn't sufficiently prepared by getting all of the items ready, like the foil, measuring cups, and so on (beginner's mistake!), it might very well be possible to do it in 35 minutes. But it took me closer to 45.
The instructions were easy to follow, minus some confusion with the purple text. For example, step 2 read in purple lettering to use "half the chives" for the meatball mixture. I assumed this meant to use all of them if you're cooking for 4. Once I reached step 6 and saw the last line saying to sprinkle the "remaining chives" over the top, I realized I had made a mistake.
Measurements are in grams on the side of the card, and, for the most part, ingredients are pre-measured and labelled to those amounts so you can simply rip open the package and toss it in. However, I was slightly confused about the garlic. The recipe told me to add 12g of garlic, but it would have been simpler to tell me how many cloves to add.
The meatballs were tasty, though I would have preferred sauteing the garlic in the pan first before adding the broccoli florets so they weren't still slightly raw. The smashed potatoes were a delicious side. As with any dish, always add salt liberally when instructed to ensure maximum flavour.
Fusilli al Forno with Beef and Fresh Ricotta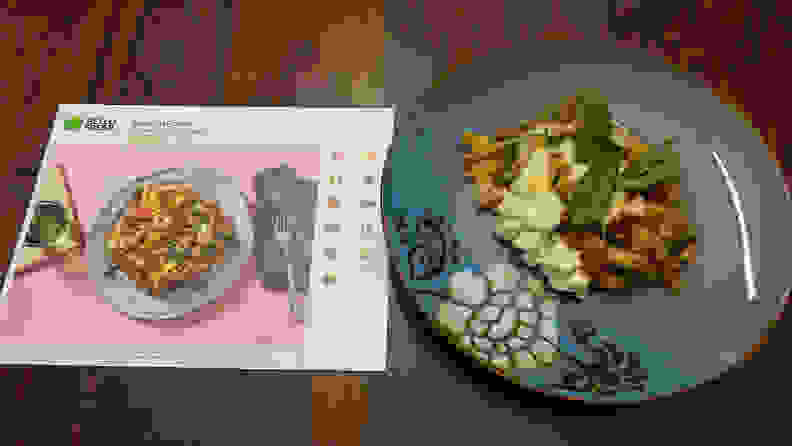 We love pasta in my house – I make it all the time, from spaghetti Bolognese to lasagna to linguine with homemade alfredo or basil pesto sauce. So, we were particularly excited about this dish, and it was one my 9-year-old chose.
Unfortunately, it was our least favourite of the lot. The dish took at least 45 minutes to put together – much longer than the recommended 30 minutes - and the result was bland. It could be partially my fault for under-salting. I also only used a fraction of the chilli flakes to make it palatable for my son, who dislikes spicy food. Nonetheless, it didn't come together as I had hoped.
There were no measurements on the two tubs of ricotta, so I assumed it was pre-measured and I should use both for a full recipe. I did appreciate the modification for the broiling portion: the instruction card noted that if you don't own an oven-safe dish, you can transfer the ingredients to a baking dish and pop it into the oven after cooking to bubble the cheese on top.
Prime Rib Cheeseburger with Grilled Onion Jam and Herby Garlic Hash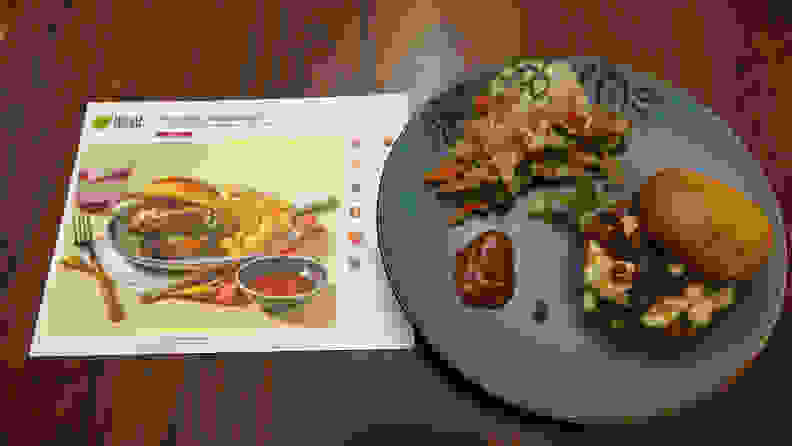 The outright winner of the pack were these burgers, which my husband cooked on the barbecue since the instructions seemed more conducive to grill cooking (though you could certainly use an indoor grill if preferred).
Call it lack of preparation combined with the fact that my husband is generally slower at prep than I am, but it took us 36 minutes just to get the potato hash and onion jam ready and on the preheated grill. If you prefer them soft on the inside, the cook time for the potatoes was more than 25-30 minutes for this step alone versus the 20 minutes noted in the recipe card. Nonetheless, altogether, we had the meal on the table in under an hour. And it was totally worth it.
Like the other recipes, this was a lot of food for four people: I could easily have made only half the potatoes and fed all three of us with leftovers. With that said, the leftover potato hash went perfect with eggs and bacon for breakfast the next morning.
Taste-wise, the burger hit it out of the park. It was flavourful and cooked to perfection (kudos to hubby), while the onion jam added a nice kick. But the showstopper was the cheese curds: we never considered putting cheese curds on a burger, but it totally works (not to mention it's such a Canadian thing to do). We'll definitely be adding curds to our own burger recipes in future.
Chicken Schnitzel with Garlic Potatoes and Mustard Green Beans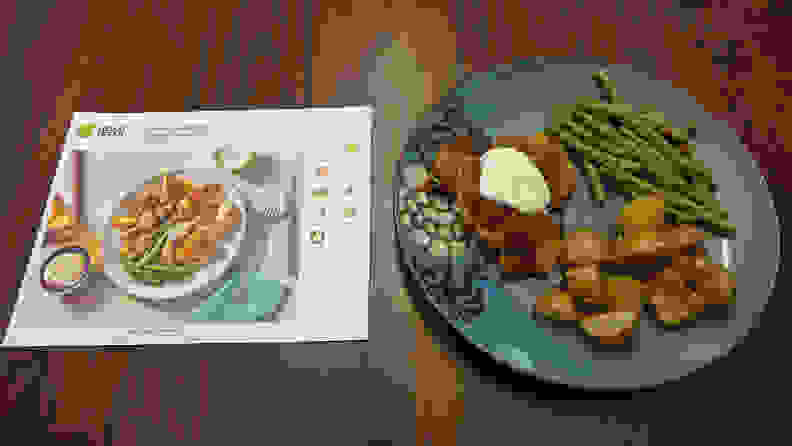 This time, I laid everything I'd need out on the counter before starting the timer, including the ingredients and tools, like parchment paper, baking sheets, and a mixing bowl. I started the timer right after preheating the oven. The entire process took 46 minutes, which is pretty close to the 40-minute stated time for completion that HelloFresh indicates.
The amount of potatoes and green beans was excessive, though it's better to have more than not enough. Having saved this meal for last, which meant it sat in the refrigerator for five days (we skipped one day when we weren't home for dinner), some of the green beans were already starting to get slimy. I used only one of the two bags and still had leftovers.
Once again, the dish was tasty, though I reduced some of the butter as the recipe seemed to call for far more than I'd prefer. We did find a bit of bone/cartilage in the chicken, which was unappetizing. But aside from that, I would use this chicken schnitzel recipe again, along with the mustard green beans, which were a hit.
Are HelloFresh Family Friendly meals actually family-friendly?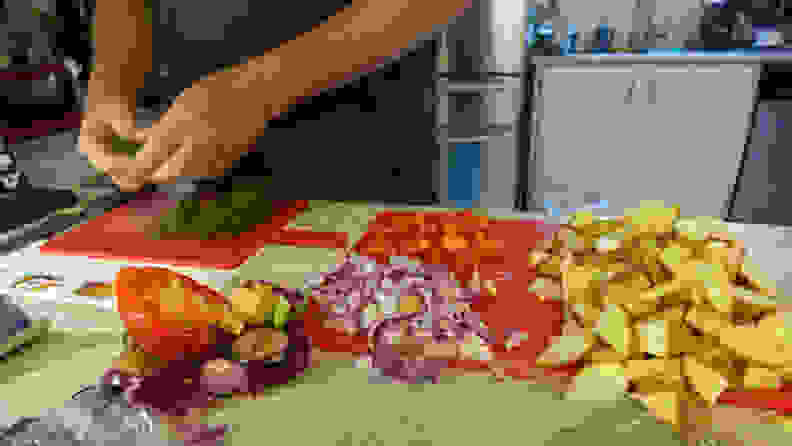 Families come in all kinds, but considering that many families include a picky eater or two, there are options within the Family Friendly meals to satisfy everyone's needs. For example, if you have a family member who doesn't eat red meat, you can sub in turkey for most recipes that use ground beef. (If you want a full-on vegan menu, Hello Fresh has a different plan that caters to these tastes). You can tweak amounts to accommodate personal tastes since you add all of the spices and flavours yourself. For example, in the pasta recipe adding different amounts of red chilli flakes would result in either a mild, medium, or spicy dish. I could easily have added hot sauce to the beef mixture for the taquitos I made on week two if we preferred to make them muy caliente.
As the recipes stand, there are options to appeal to most families. Don't be afraid to make modifications to suit. For example, my sometimes 9-year-old got plain potatoes without the sour cream with his chicken schnitzel, and we left out the onion jam on his burger. For those who are more adventurous, Hello Fresh might even help expand palates. My son, for example, now realizes he likes "squeaky cheese," while I'm not so averse to mayonnaise when using it to coat chicken or pork. The recipes also liven up typically boring ingredients, making green beans, a dish most families probably cook as a side now and then, tastier and kicking potatoes up a flavourful notch.
Are HelloFresh Family Friendly meals worth it?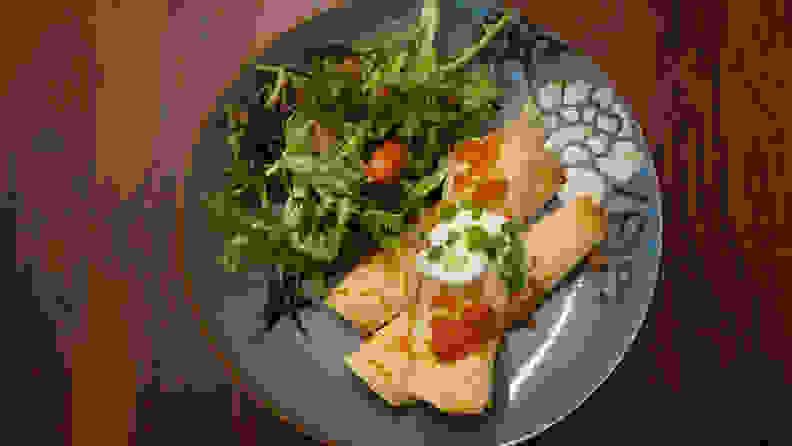 If you're looking to sign up for Hello Fresh with the hopes of being able to get dinner done more quickly, I wouldn't get too excited. A fairly decent cook can put together a pretty good meal in about the same time. However, if you aren't a great cook, the recipes walk you through the process providing a bit of a "for dummies" set-up, for lack of a better term. Even a proficient cook like myself ran into some snags, though, as noted in the review.
However, the process became much easier by the second week, and once I got into a groove, I was familiar with how the recipes work. All four of the second week recipes, which included Parmesan Crusted Pork Chops with Roasted Veggies and Sweet Potato Mash, Beef and Corn Taquitos with Chopped Salad, Teriyaki Chicken on Green Onion Rice with Garlicky Broccoli, and Easy Lamb Curry with Peas, were a hit with the family.
If you're looking for meal inspiration and want to avoid making constant trips to the grocery store, HelloFresh is wonderful. You get high-quality, fresh ingredients and flavourful recipes (with the odd dud) that, chances are, you'll want to keep in your back pocket to make again. From the four recipes I tried, I not only found a few items I'd want to replicate, like the mustard green beans and onion jam. There were also a few simple yet great ideas, such as to put cheese curds on a burger and coating chicken with mayo instead of a milk and egg mixture before covering in breadcrumbs.
HelloFresh seems expensive for portioned ingredients and a recipe card that still, in most cases, requires a ton of prep, from chopping vegetables to slicing and flattening chicken breasts. But if you simply don't have the time to go grocery shopping every week, you're tired of the same old meals, and you love to experiment while cooking, HelloFresh might be for you. Keep in mind that if you're concerned about the environment, there's also a lot of plastic waste from pre-packaged sauces, seasoning, spring mix, vegetables, and other items, though arguably no more or less than you'd get from grocery store purchases anyway.
I found that the recipes took just as long to cook as most other dishes I make for dinner (not including the time to buy the groceries). But what I loved the most was not having to deal with the back and forth "what do you want to have for dinner?" conversation every night. We received our four meals, picked what we wanted each night, and we were set. That, alone, is worth the price of entry.
Subscribe to HelloFresh starting at $9.69 per meal
The product experts at Reviewed have all your shopping needs covered. Visit Reviewed Canada for all the latest reviews, recommendations, buying guides, and coverage of all the best products available in Canada.
Prices were accurate at the time this article was published but may change over time.