Home & Garden
12 space heaters to help you survive a Canadian winter
Stay warm with a heater for any space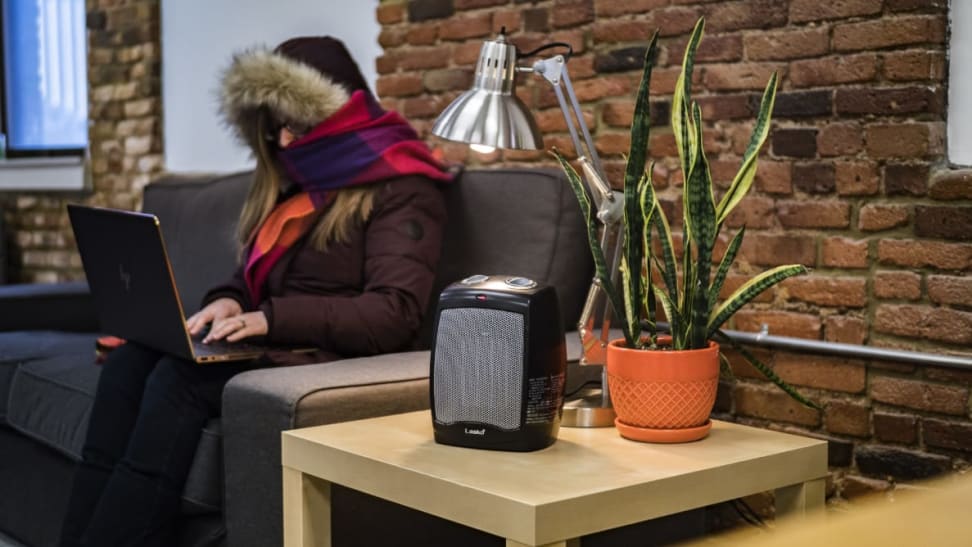 Credit: Reviewed / TJ Donegan
If you find you're never able to stay warm enough during the depths of a Canadian winter, an electric space heater can be indispensable. They can supplement your existing home heating system or, when used on their own, quickly heat up a room at times when you don't want to rely on other heat sources. Best of all, a portable space heater can easily be moved from room-to-room or tucked away in the summer when you no longer need it.
Picking the best space heater for your needs isn't easy, though. You don't want to get one that's too small a heater to keep a large room warm. Having a larger, more powerful portable heater to heat a small area like a bedroom or home office? That's just as bad. What's more, the number of heater technologies available today can be dizzying when it comes time to do some shopping. There are ceramic space heaters, oil-filled models, and infrared units (among other types) from which to choose.
To help get you warmed up in a jiffy, we've simplified things by compiling this list of 12 excellent space heater options to keep you warm through a long Canadian winter.
Safety First
We're just going to come out and say it: space heaters have long been a leading cause of house fires in Canada. So, no matter which one you opt to buy from this list, it's important for you to keep the safety of you and yours, top of mind.
While most models come with safety features like overheat protection and tip-over switches, you'll want to make sure you always keep them a good distance from anything flammable like blankets or curtains, and you should never plug one into an extension cord, as the high amount of power they draw could cause a spark. Now, let's get you warmed up with one of our 12 hot space heater picks.
1. A thin and powerful heater: De'Longhi HMP1500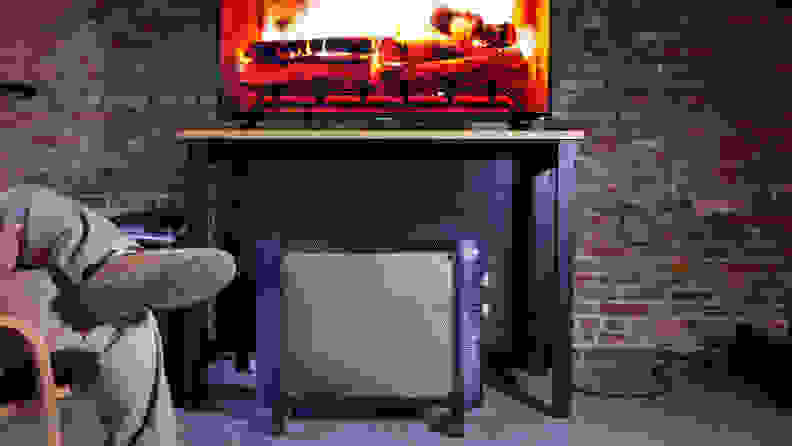 Weighing in at eight pounds, The HMP1500 is significantly heavier than many space heaters. However, its caster wheels make it a breeze to move around on bare or carpeted floors. And despite its weight, an able-bodied individual shouldn't have any trouble moving it up or down a flight of stairs. It has wheels that make it easy to move around, and it can even be mounted on a wall if you're planning on leaving it in one place. It's a micathermic heater, which uses a combination of convection and radiant heat and doesn't require a fan, so it's both thin and quiet. Most importantly, though, it's powerful, and will easily warm up a good-sized room.
Get the De'Longhi HMP1500 from Amazon Canada
2. A small, portable heater: Lasko CD09250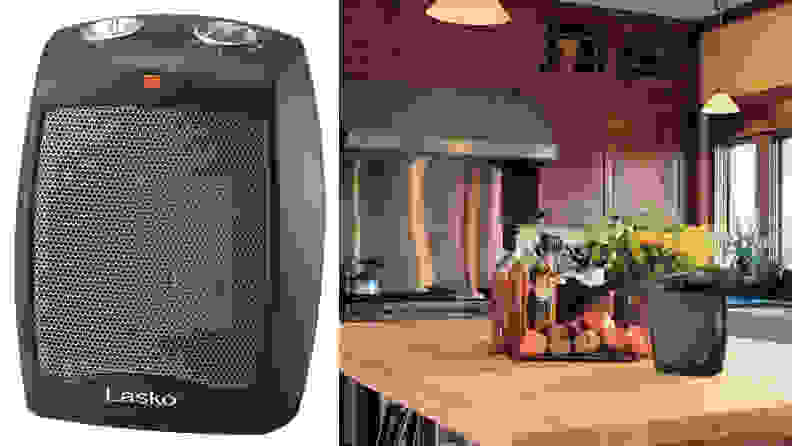 This model from Lasko is about as simple and reliable as a space heater can be. It's easy to move around and might be all you need if you're more concerned with spot heating than keeping a whole room warm. Though there's little in the way of extras, it does have an adjustable thermostat, as well as a safety feature that prevents the CD09250 from overheating.
Get the Lasko CD09250 from Amazon Canada
3. A powerful heater: Honeywell HCE845BC HeatGenius
The Honeywell brand has long been synonymous with home climate control. The company has packed its years of electric heating know-how into the HCE845BC HeatGenius ceramic space heater to keep you warm and toasty.
Our American colleagues choose the HCE845BC HeatGenius as one of their favourite heaters, after extensive testing. It can easily heat a reasonably sized living room or master bedroom, but its fan makes it a bit noisy compared to micathermic models like the De'Longhi HMP1500 or a portable oil-filled heater. like the De'Longhi EW7707CM. Both use convection instead of a fan to silently warm up the space that they're set up in. The controls aren't particularly fancy, but they do present some helpful settings, such as a gradual warm-up option and auto-shutoff.
Get the Honeywell HCE845BC from Amazon Canada
4. A great oil-filled option: De'Longhi EW7707CM
If you're looking for an oil-filled heater, the De'Longhi EW7707CM is one of our favourites. While it didn't pump out as much heat as some other types of space heaters we looked at, it is a more energy-efficient option. It's also a particularly good choice if you need to quietly heat a large room or need to run heater all winter long to prevent your pipes from freezing.
Get the De'Longhi EW7707CM from Amazon Canada
5. A decorative heater: Lasko 6405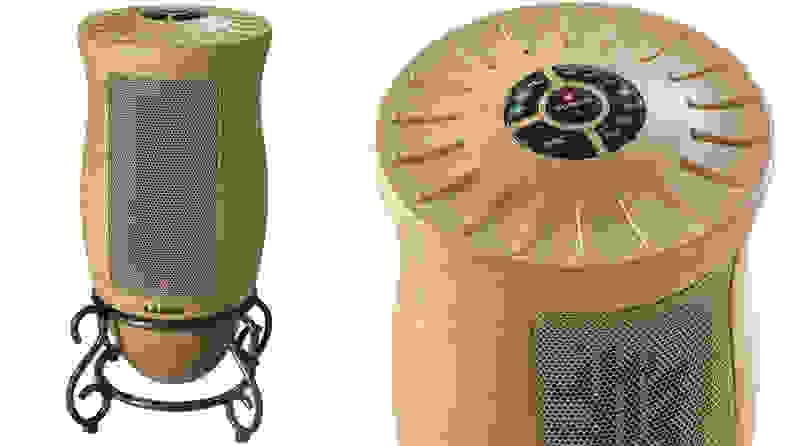 It may not be to everyone's taste, but this model from Lasko is a fine option if you want a space heater that doesn't look like a space heater. It has a unique, vase-like design with a stand that lets you safely place it on a table or desktop. while it might not be the most powerful heater on this list, the fact that it oscillates to help move the heat it produces around a larger area, is a win.
Get the Lasko 6405 from Amazon Canada
6. A sleek and compact option: De'longhi Capsule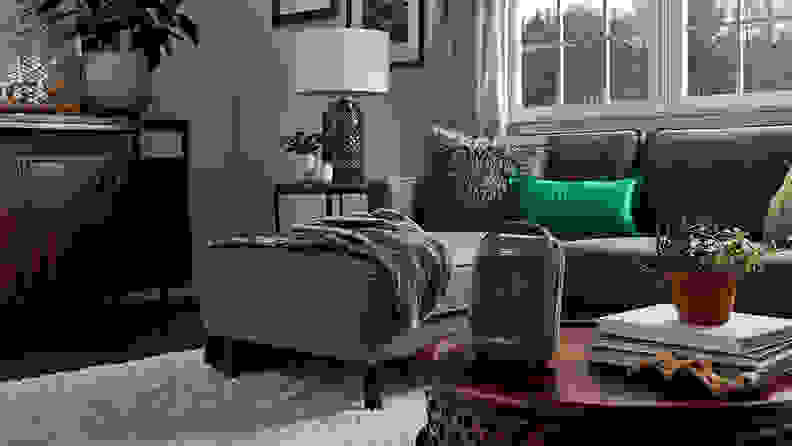 De'longhi's Capsule space heater is both stylish and compact and comes in white or dark grey. Most importantly, it's capable of pumping out plenty of heat.
The Capsule's strap handle makes it easy to move the heater from one room to another without burning your hands, even if it was plugged in and running moments before picking it up. Once spring and summer roll around, its fan-only mode allows you to circulate the season's warmer air.
Get the De'longhi Capsule from Amazon Canada
7. A heater that won't lower your home's humidity: Dr Infrared Heater DR-968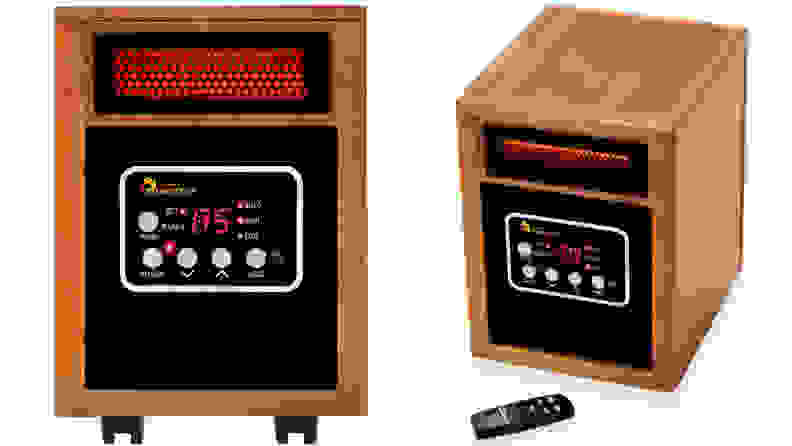 Infrared heaters, like the DR-968, won't lower the humidity in your home as much as other types of space heaters can, which is nice. Unfortunately, our American colleagues didn't find this one to be quite as efficient at heating up a room as ceramic, micathermic, or oil-filled heaters. That said, the DR-968 is a great choice if you're looking for a heater to warm up your home office or to spot heat the area where you're sitting, making it a great companion for an evening of binge-watching Schitt's Creek. As an added bonus, the smooth action of its wheels make this space heater easy to move from one spot to another.
Get the Dr Infrared Heater DR-968 from Amazon Canada
8. A low-profile heater: Lasko 5622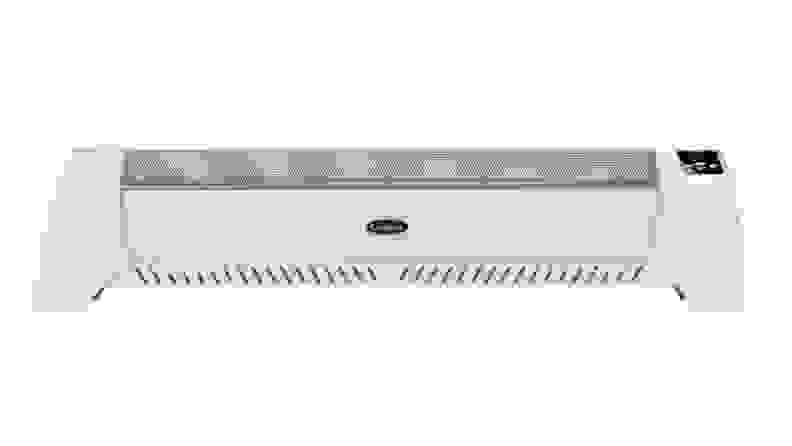 The Lasko 5622 looks like the sort of low-profile electric baseboard heater built into the walls of many older houses and apartments. Unfortunately, we found that it wasn't nearly as powerful as the baseboard heaters of yore, making it better suited to use in a small room or near an outside door to beat back the cold.
On the upside, it is simple to use, is ready to go right out of the box, and comes with a number of useful features like a timer and tip-over protection.
Get the Lasko 5622 from Amazon
9. A combination heating and cooling unit: Dyson AM09 Hot+Cool Fan Heater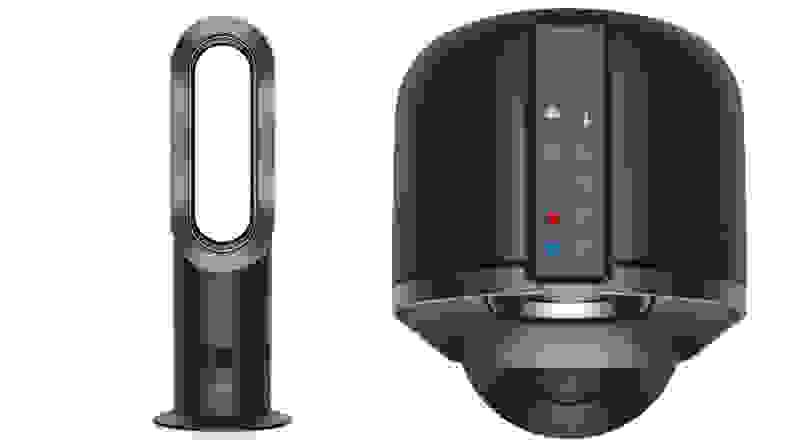 With no exposed heating element or fan, Dyson's AM09 Hot+Cool Fan Heater is easily the most pet- and kid-friendly heater in this guide. As its name implies, when the AM09 isn't busy heating things up, it can be used to cool things down via the fan setting. It comes packing a number of desirable features, including a tiltable body, remote control, and multiple heat and fan levels to help keep you comfortable. Of course, as with any Dyson product, you'll pay a steep price for its design and weight that the brand name carries.
Get the Dyson AM09 from Walmart
10: A tall tower heater: Lasko 755320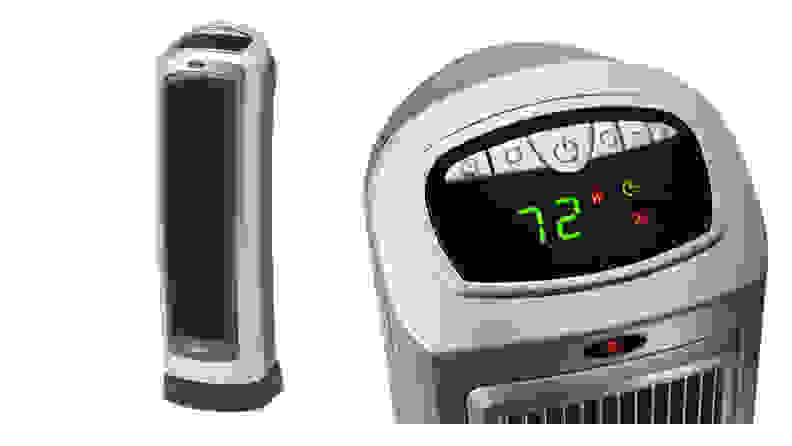 At nearly two-feet tall, the Lasko 755320 is the tallest space heater we tested. Its heat vents take advantage of this height, allowing the 755320 to push a wide, vertical swath of heated air into your home. That the 755320 oscillates just like a tower fan to move the heat around makes sharing its heat with multiple people in a room that much easier.
However, during testing, we found that this heater wasn't able to evenly heat the room we were in. So, consider using it close to where you're sitting or in a small area like a child's bedroom or home office.
Get the Lasko 755320 from Wayfair
11. An ultra-compact option: Honeywell HCE200B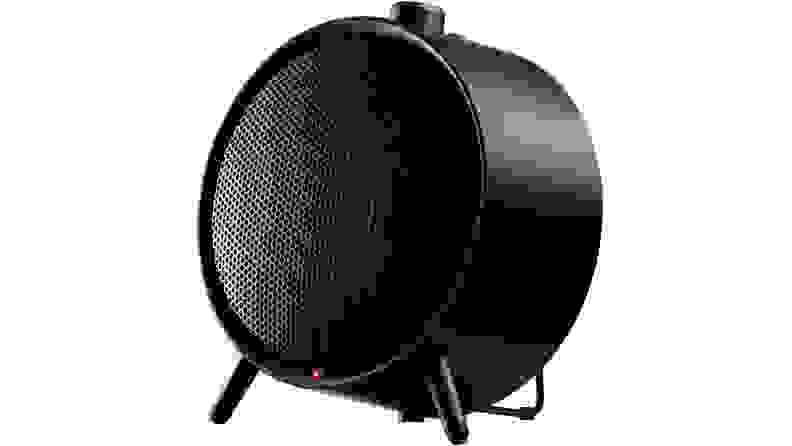 The Honeywell HCE200B won't heat up an entire room, but that's ok: it was designed with spot heating in mind. Available in a black or white housing, this compact ceramic heater features cool-touch sides, an overheat safety sensor, and a tip-over switch that shuts the heater down if it happens to topple over. The generous three-year warranty it comes with makes this space heater all the more desirable.
Get the Honeywell HCE200B from Amazon Canada
12. A space heater with a modern design: Mill AB-H1000DN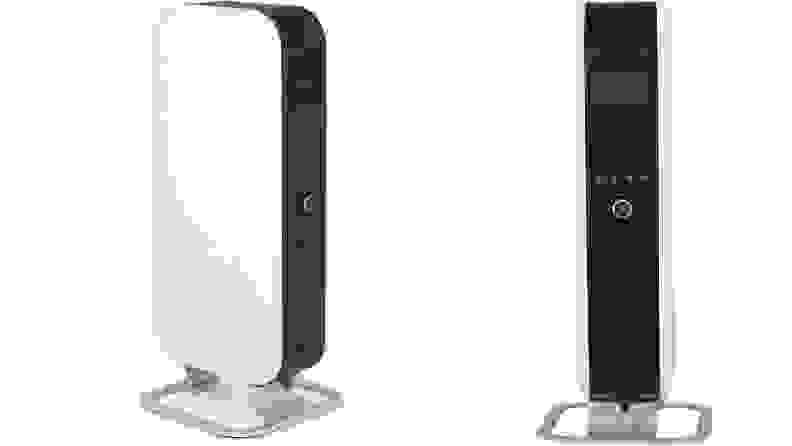 This oil-filled heater from Mill easily stands out among the many space heaters in this guide with its stylish, modern design. The AB-H1000DN is an energy-efficient option, but because it leverages convection instead of a fan to move warm air around the room it's set up in, it's not as quick to heat a space as other heaters featured in this guide can be.
If looks aren't a priority, you can get a lot more heat from units that cost half as much.
Get the Mill AB-H1000DN from Amazon Canada
---
The product experts at Reviewed have all your shopping needs covered. Follow Reviewed on Facebook, Twitter, and Instagram for the latest deals, product reviews, and more.

Prices were accurate at the time this article was published but may change over time.