Home & Garden
Affordable upright vacuums for cleaning your home on a budget
Clean your floors without cleaning out your bank account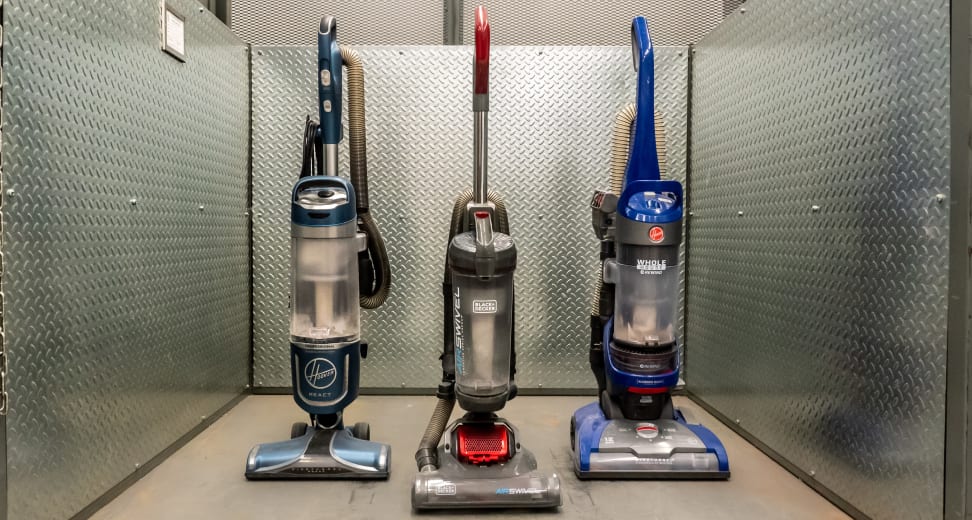 Credit: Reviewed.com / Jonathan Chan
Upright vacuums are a great option for anyone who lives in a home with plenty of large carpeted rooms. Unlike their cylinder counterparts, they are easy to maneuver, and their wide heads mean you can cover a lot of ground and clean up faster.
We've reviewed hundreds of bagless vacuums in our U.S. labs over the years, and expensive models have generally tested well. But, if $500 sounds like a lot of money to spend on a vacuum, don't worry; you can still get great carpet cleaning performance, powerful suction, and convenient features, like easy-to-empty bins and crevice tools, for a fraction of the cost.
Here are four popular and affordable upright vacuums available in Canada that will keep your floors clean.
1. Shark NV352 Navigator Lift-Away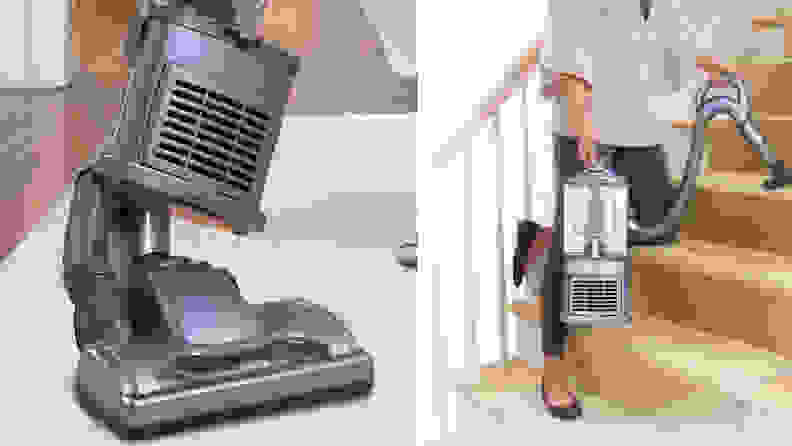 The popular Shark Navigator Lift-Away had a strong showing in our cleaning tests, picking up 38% of the testing dirt we laid out on average. Any vacuum that performs over the 33% mark gets a thumbs up in our book.
It is also the only vacuum in the running with a swivel joint in the brush head, which allows the Shark to pivot around furniture and other obstacles. The Shark's small brush head also helps you reach tight spaces.
Its Lift-Away feature means that users can detach the motor from the handle, which turns the unit into a pseudo-canister, making it easier to clean furniture and stairs. Unfortunately, you cannot use attachments unless the motor is detached, and you have to lug the "canister" around because it doesn't have wheels.
Thankfully, that's the only downfall we can see with this Shark. Its other features don't come with as many trade-offs. For instance, automatic height adjustment means you can go from cleaning a thick area rug to a short-pile carpet without skipping a beat.

Get the Shark NV352 Navigator Lift-Away from Amazon Canada for $239.99
2. Hoover Whole House Rewind
Hoover is a name synonymous with vacuuming. The Hoover Whole House Rewind is a great example. It's a pretty heavy unit, tipping the scales at 18 pounds (8 kg), but it packs tons of features. It comes with a pet turbo tool, pivoting dusting tool, and crevice tool, all of which can be carried onboard. Best of all, the titular rewind feature automatically retracts that 25-foot cord with just a touch of a lever.
During our cleaning tests, the Whole House Rewind picked up about 50% of the testing dirt per pass. That's really good. However, this vacuum dropped the ball on two counts: noise and edge cleaning. On average, our sound meter picked up over 78 decibels—more than enough to wake up the whole house. The second issue is that if you want to clean right up to the wall, you're going to have to bust out the crevice tool.
Overall, this is a great vacuum for anyone who lives in a one-story house and has no small children.

Get the Hoover Whole House Rewind from Amazon Canada for $181.57
3. Bissell 22543 Cleanview Swivel Rewind Pet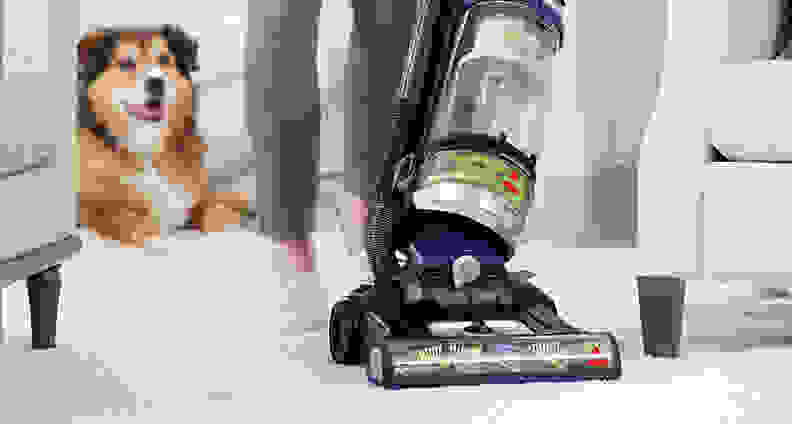 Bissell is a company well known for making vacuums and advocacy on behalf of animal welfare. So it's no surprise that the company makes a wide variety of products catering to pet owners. We have plenty of experience testing Bissell products, like Bissell's dog-washing vacuum.
Unfortunately, the Bissell Swivel Rewind Pet was more of a miss than a hit. We like the automatically retracting cord and the swivel joint that makes it easy to maneuver this vacuum around furniture.
However, we found that this vacuum lacked powerful dirt pickup relative to its price. During testing, we found 41% of the testing detritus in the dirt cup. That's enough to give the thumbs up from us; however, it's outdone by other vacuums like the Hoover Whole House Rewind.

Get the Bissell Cleanview Swivel Rewind Pet from Amazon Canada for $204.85
4. Black & Decker Airswivel BDASV102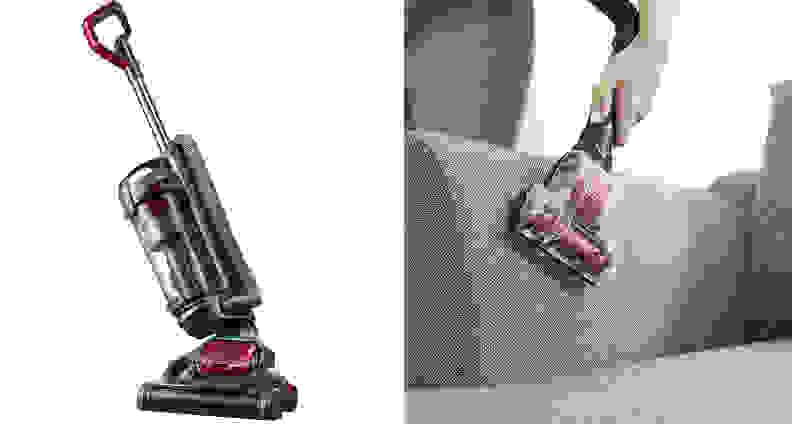 If weight is an important factor in a vacuum you're looking for, then the Black & Decker BDASV102 is worth checking out. Fully loaded, it weighs in at about 10 pounds (5 kg), which places it in the very lightweight category. It's ideal for anyone who needs to vacuum multiple floors. It also has a 30-foot cord, 20% longer than average, so the BDASV102 needs to be repositioned less often.
It's also super powerful for its size, collecting a whopping 70% of the testing dirt in a single pass.
Unfortunately, the Airswivel's construction lets it down. The vacuum feels flimsy, and we're not the only reviewers saying so. Analyzing a large number of user reviews across multiple retailers, we found a significant number of complaints about the unit's longevity.

Get the Black & Decker Airswivel from Amazon Canada for $126.91
The product experts at Reviewed have all your shopping needs covered. Visit Reviewed Canada for all the latest reviews, recommendations, buying guides, and coverage of all the best products available in Canada.
Prices were accurate at the time this article was published but may change over time.