Ovens & Ranges
11 Toaster ovens Canadians can buy right now
Reheat leftovers or cook a full meal with these great toaster ovens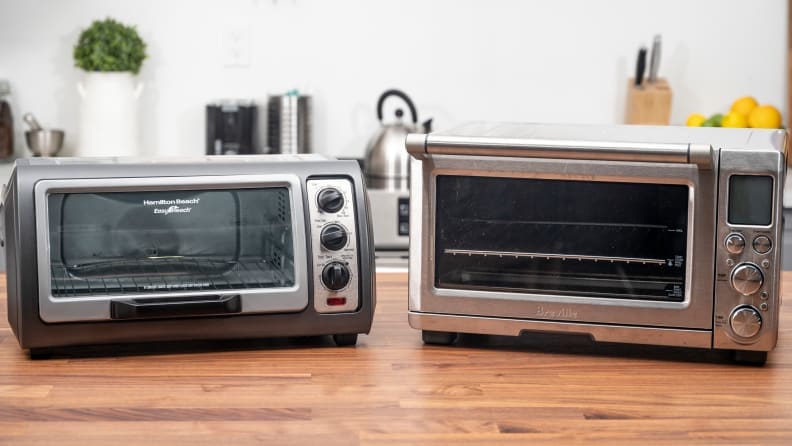 Credit:
Toaster ovens can see a lot of use. A basic one might be used, every day, for toasting bread and bagels, or reheating leftovers when using a full-size oven would be wasteful. Larger, more powerful models that offer a convection setting might even replace your regular oven for many meals, able to cook everything from frozen fries and pizzas to a roast chicken.

If you're not sure where to begin with buying one, we've got a few suggestions that you might want to consider.
An Oven That Will Cook Almost Anything: Breville Smart Oven Pro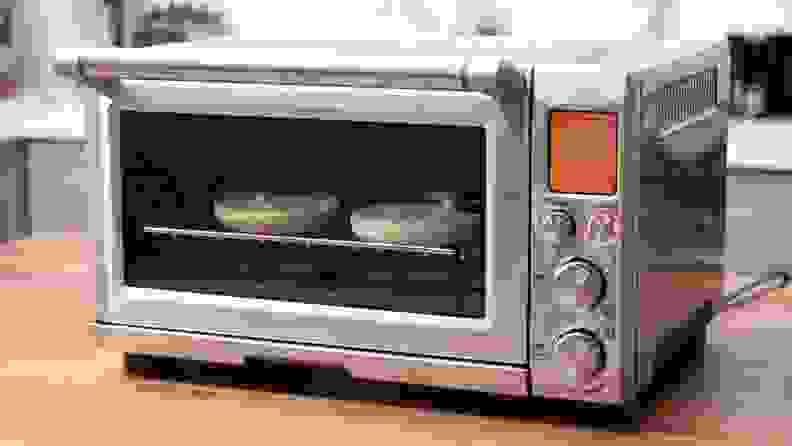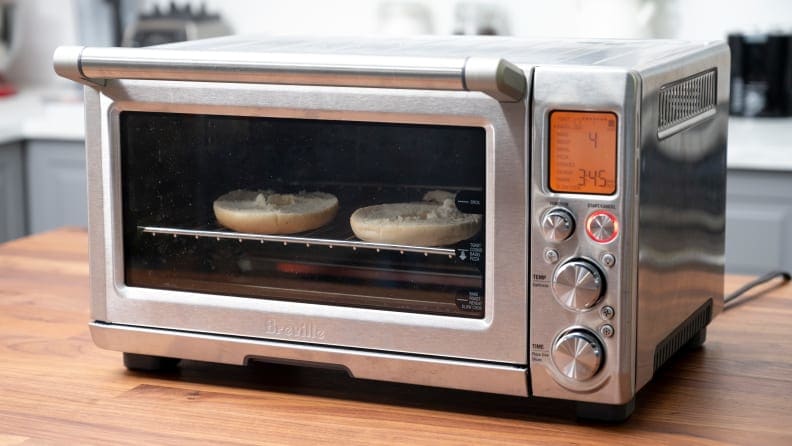 Breville's Smart Oven Pro is a premium appliance, and offers some impressive capabilities, including the oven's Smart Element iQ System that promises to more directly control heat, in conjunction with its many presets. It really is effectively a small oven, and is able to cook almost anything you're able to fit in it (up to a 13-inch pizza or 3.5 quart Dutch oven) as well as a standard, full-size oven. It even has a slow cook setting that actually works as advertised, although you won't be able to cook as large a pot roast as you would with a big, standalone slow cooker.

If there's a downside, it's that all of those settings can make for a slightly complicated interface at first, and Breville missed an opportunity by not including some recipes in the manual.

Get the Breville Smart Oven Pro from Amazon Canada
A Basic Convection Oven: Hamilton Beach 6 Slice Easy Reach Toaster Oven with Convection
This model from Hamilton Beach is much more of a standard toaster oven than the high-end Breville Smart Oven, lacking more precise heating control and multiple preset options, but it does come with a convection setting, and it was the fastest at toasting bread of any of the units we tested. It also comes with a great space-saving door design that rolls back into the oven when open.


There's no fancy digital controls to be found here, however, and we also found its broiling function to be a bit lacking when it came to browning food.

Get the Hamilton Beach 6 Slice Easy Reach Toaster Oven from Amazon Canada
Added Air Frying: Ninja Foodi Digital Air Fry Oven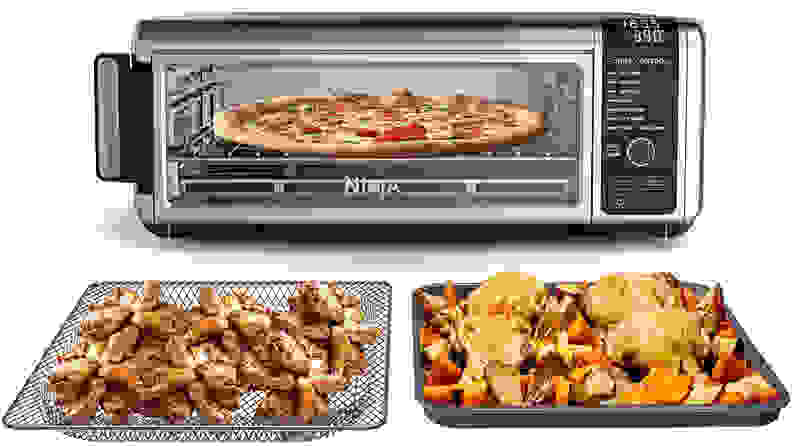 The Ninja Foodi Digital Air Fry Oven is wide enough to toast nine slices of bread at once, but it is also unusually short in height, which makes it difficult to cook larger meals like a roast chicken. Size issues aside, we found little to fault with the Foodi oven—it toasts and cooks well, and includes an air fryer setting that helps set it apart from other toaster ovens. It's also easy to clean, and it has intuitive digital controls that are easy to use and read.

Get the Ninja Foodi Digital Air Fry Oven from Amazon Canada
Large Cooking Capacity: Cuisinart Chef's Convection Toaster Oven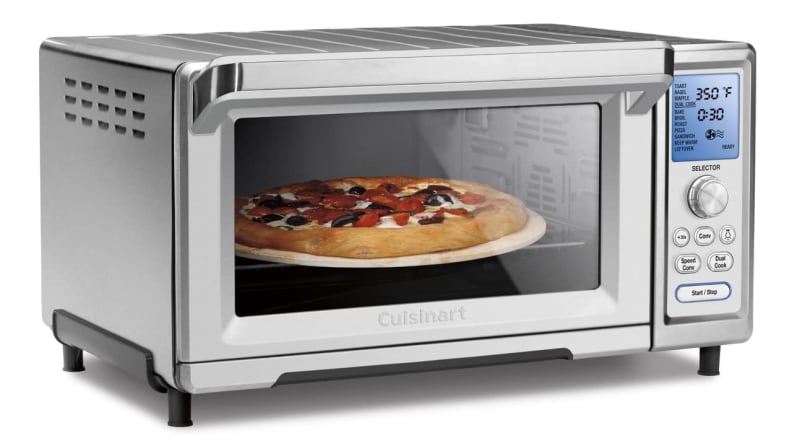 Cusinart's Cuisinart Chef's Convection Toaster Oven is big for a countertop appliance at 53 x 43 x 28 centimetres in size, but that translates to a 0.95 cubic foot cooking capacity, or enough to cook a nine pound-chicken or 13-inch pizza. It also performed great in our tests at toasting, baking and broiling, although we did find the multitude of programming options to be a bit confusing, even with the aid of the manual.

Get the Cuisinart Chef's Convection Toaster Oven from Amazon Canada
Multiple Cooking Options: Instant Omni Plus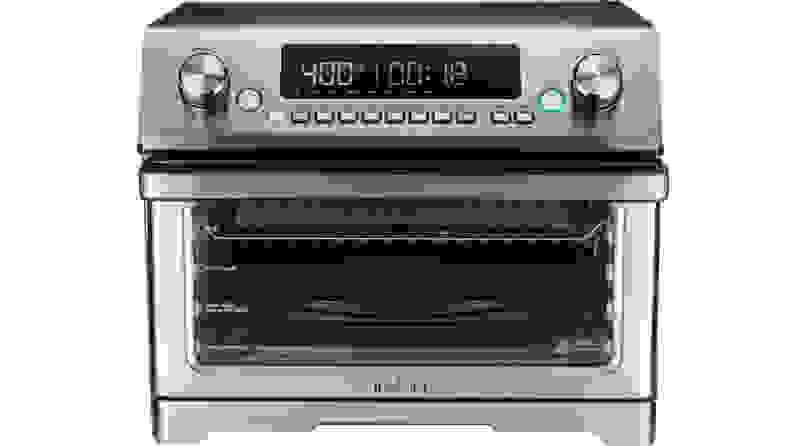 The Instant Omni Plus is another oversized toaster oven that's taller but not as wide or deep as the Cuisinart at 46 x 41 x  36 centimetres. As Instant brand appliances are known for, it offers a ton of different functions, including slow cook, dehydrate and air fryer settings—not to mention a rotisserie. We also found it to be easy to use and easy to clean thanks to its dishwasher safe parts, but it may simply be too big for many people to keep on their countertop.

Get the Instant Omni Plus from Amazon Canada
Stylish and Safe to Touch: Calphalon Cool Touch Countertop Oven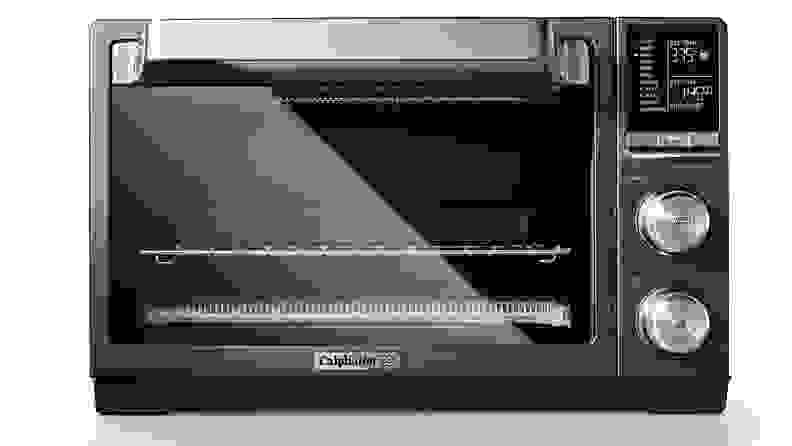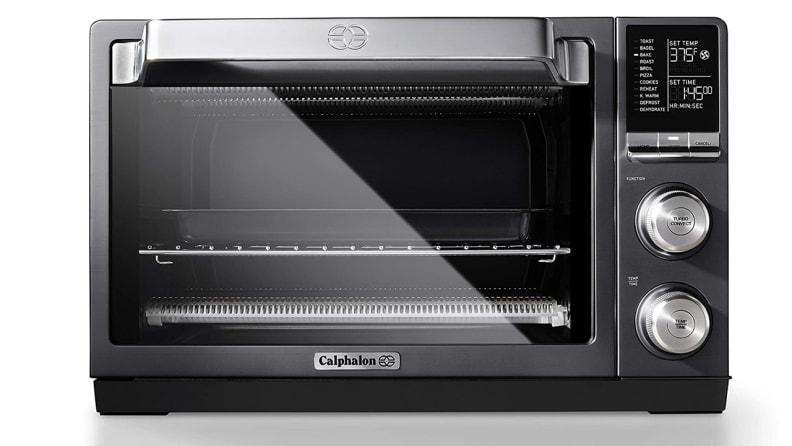 Like many of the toaster ovens we looked at, this one from Calphalon was good at toasting and baking, but the broil function unfortunately just can't match that of a full-size oven. As its name suggests, the oven's exterior also stays cool to the touch when operating, which can't be said of most of the other ovens we tested.

Get the Calphalon Cool Touch Countertop Oven
A Countertop Space Saver: DeLonghi Livenza Compact Digital Oven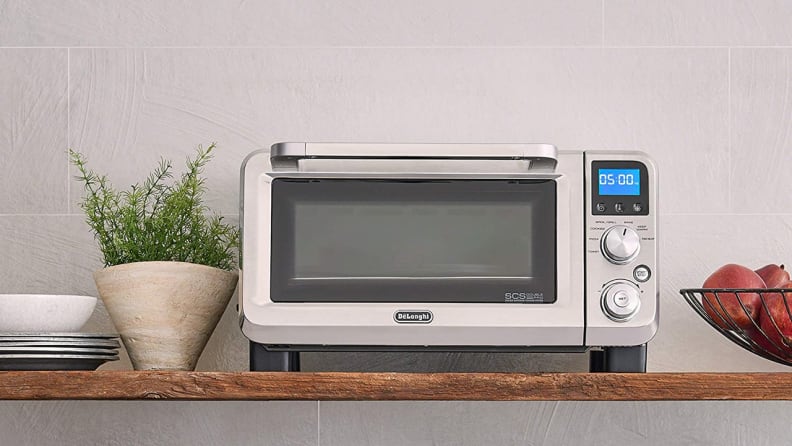 As its name suggests, this model from DeLonghi is more compact than many of the other toaster ovens on this list, measuring 45 x 39 x 24 centimetres, but is still big enough to cook a full 12-inch pizza. We also liked its attractive, all stainless steel design and easy-to-use controls, but it didn't brown bread evenly in our testing, which may not be to everyone's liking.

Get the DeLonghi Livenza Compact Digital Oven from Amazon Canada
A Simple and Compact Oven: Black & Decker 4-Slice Toaster Oven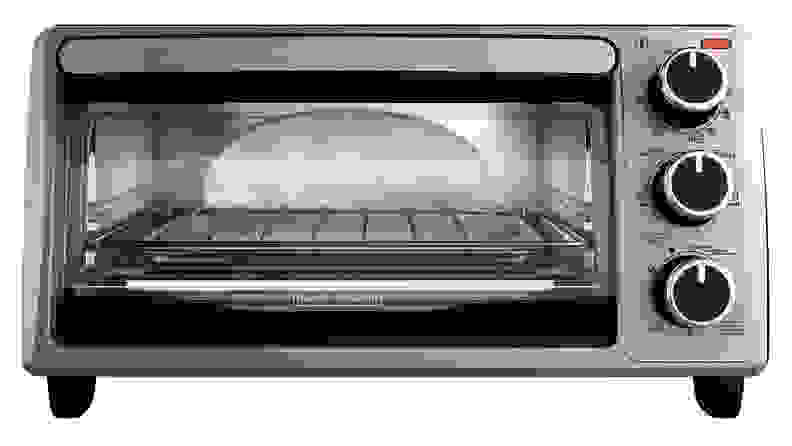 One of Black & Decker's numerous toaster ovens, this particular model is decidedly no-frills, but it's compact and affordable, and more than up to the task of toasting bread or reheating small meals. It's also lightweight and easy to move around if you don't want to leave it out on the counter all the time.

Get the Black & Decker 4-Slice Toaster Oven from Wayfair Canada
Fast and Even Toasting: Panasonic FlashXpress Toaster Oven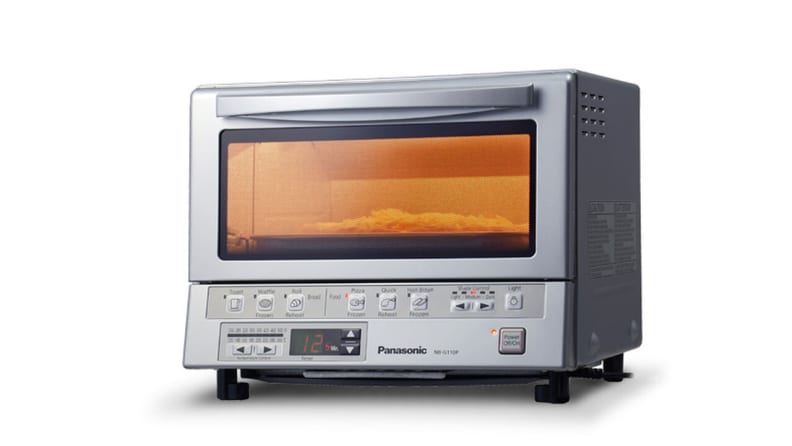 Panasonic's FlashXpress is compact and excels at toasting bread quickly and evenly, but we found it to be more hit and miss at actual baking and cooking. It also lacks a broil function, but it is nice and compact and could be a good option if you're mostly looking to toast bread and bagels, or reheat leftovers.

Get the Panasonic FlashXpress Toaster Oven from Best Buy Canada
Basic Controls and Compact Size: Black & Decker 2-Knob 4-Slice Toaster Oven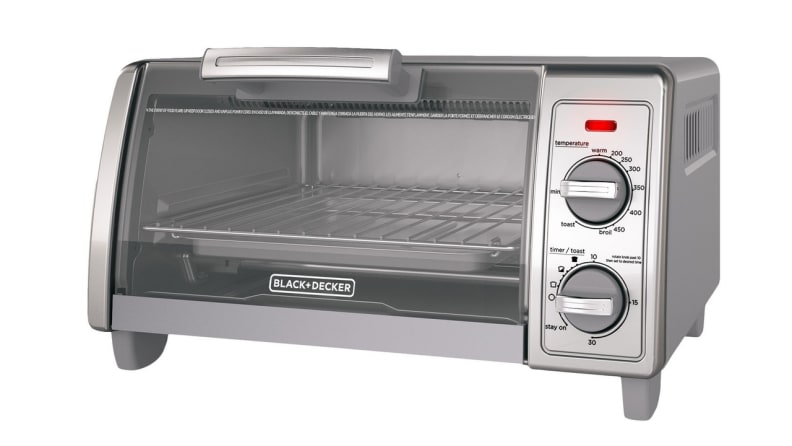 Another affordable option from Black & Decker, this model keeps things really simple with just two knobs to control the cooking settings and timer. It can only hold four slices of bread at a time, however, so you'll still need your full-size oven for anything like a full frozen pizza or large pan of fries.

Get the Black & Decker 2-Knob 4-Slice Toaster Oven from Wayfair Canada
Another Affordable Option: A Hamilton Beach 6-Slice Convection Toaster Oven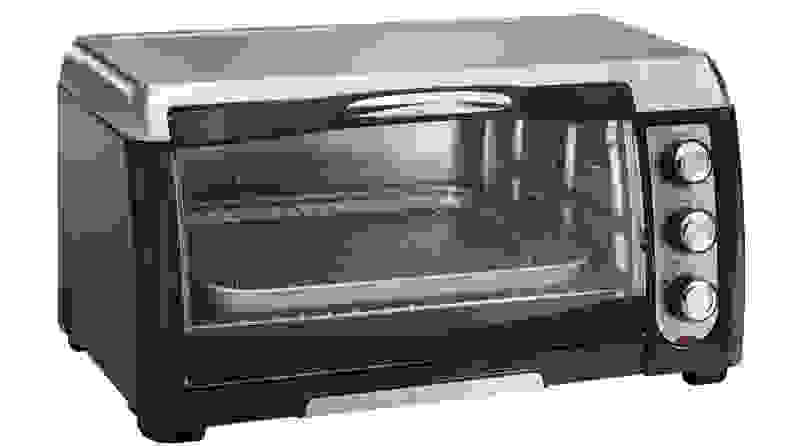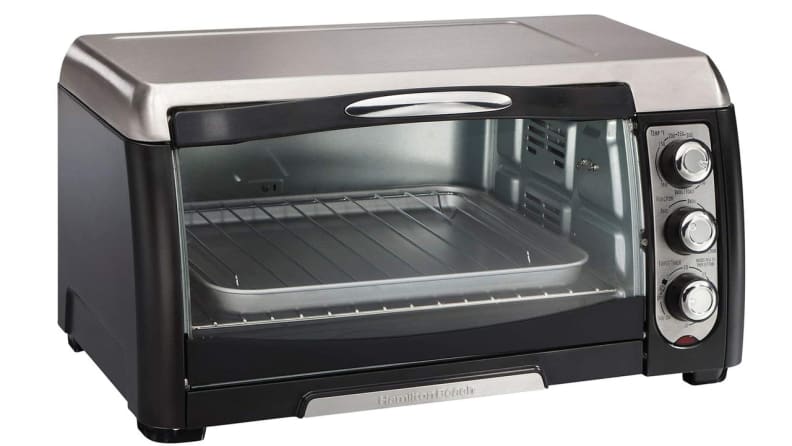 This toaster oven from Hamilton Beach is affordable and a decent size, with a six-slice capacity (or enough room for a 12-inch pizza). It also has a convection function, but there's little in the way of extras beyond that, with only a basic timer and controls, and a fairly nondescript appearance.

The product experts at Reviewed have all your shopping needs covered. Follow Reviewed on Facebook, Twitter, and Instagram for the latest deals, product reviews, and more.

Prices were accurate at the time this article was published but may change over time.