Streaming
The great Canadian guide to video streaming services
Find some new TV shows and movies to watch this winter with these streaming services.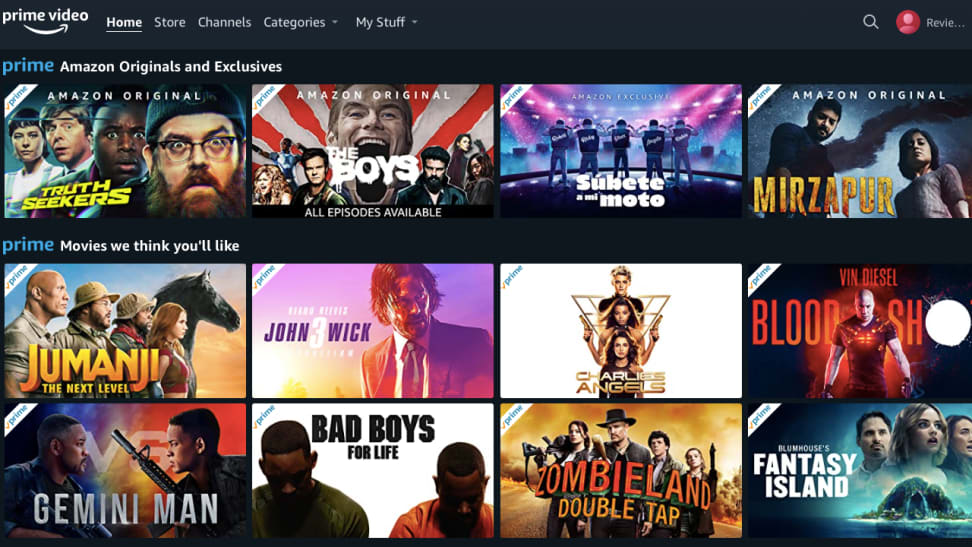 Credit: Amazon
It wasn't long ago that streaming services in Canada paled in comparison to those enjoyed by our neighbours to the south. Now, Canadian streaming services rival those in the United States and offer enough shows and movies to satisfy most folks' viewing needs. Unfortunately, just like in the U.S., all of that content is spread across numerous services, which means that you may have to subscribe to two or three in order to watch everything you want to.
That can quickly add up in cost, and it's not always easy to decide which services to choose if you're looking to limit your total number of monthly subscriptions. If you don't know where to start, or aren't familiar with all of the options in Canada, this guide should help.
Netflix
Netflix is the most popular streaming service in Canada by a fairly wide margin. It produces a ton of original shows and movies, and is widely available on mobile devices, smart TVs and streaming devices like Roku, Apple TV and Amazon Fire TV, among others. Over the past few years, Netflix Canada has been playing catch-up to the number of titles available for the company's customers in the United States, and may offer an even better selection of television series and movies, depending on what you're interested in (it currently has all of the Studio Ghibli movies, for instance, whereas the U.S. does not).
The service's pricing has crept up over the years but is still reasonable considering everything it offers, and now ranges from $9.99/month to $18.99/month depending on the streaming quality you want and the number of devices you'd like to stream to at the same time. One downside: Netflix also no longer offers a free trial in Canada to let you try out the service first. Sign up for Netflix
Crave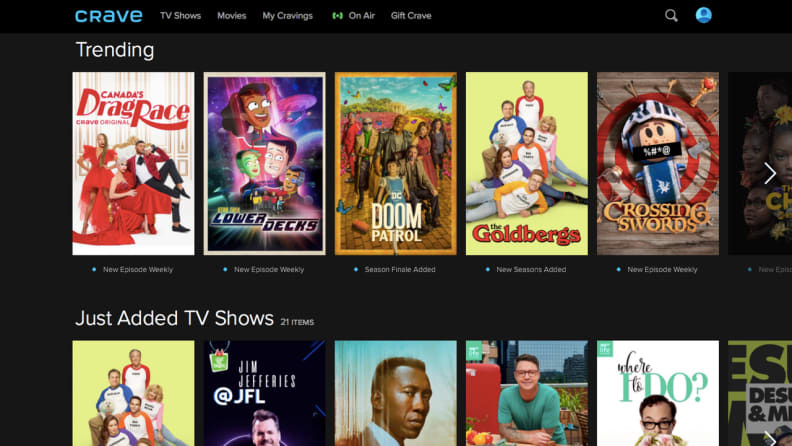 Crave is where you'll find shows from HBO, Showtime and Starz in Canada, along with Crave's original series like Letterkenny and Canada's Drag Race, and an extensive catalogue of current and classic movies. Though not quite as widely accessible as Netflix, you likely still won't have any trouble watching it on your screen of choice, as there are plenty of mobile and smart device apps available.
Crave's basic plan provides plenty of viewing options for $9.99/month, but you'll have to pay an extra $9.99/month on top of that if you want access to all of the movies and current HBO shows that are available, and another $5.99/month for access to Starz content. Crave is also available through many cable and satellite providers, however, so you may want to check with yours first to see if you might get a better rate that way. Sign up for Crave
Amazon Prime Video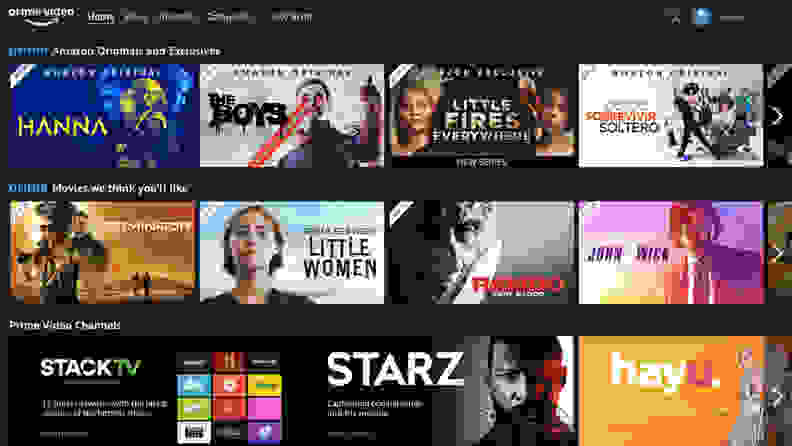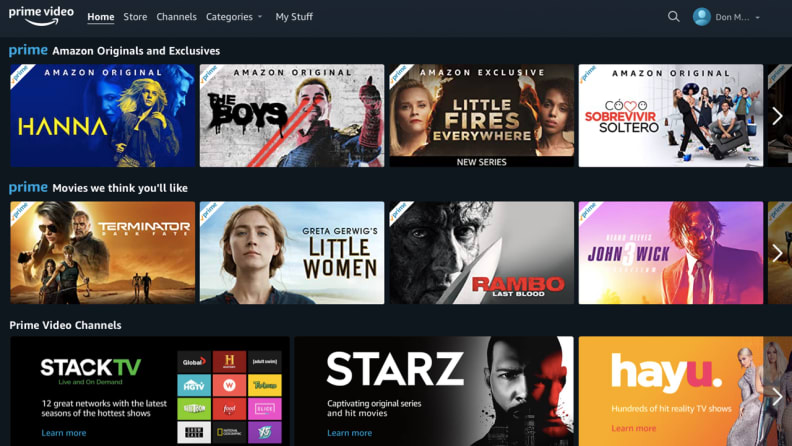 Amazon Prime Video is part of Amazon's overall Prime subscription package, which also includes Prime Music, free two-day shipping, and other benefits for $7.99/month or $79/year (half of that if you're a student). That makes it one of the better values around if you also want some of those other Prime features.
Like Netflix, Amazon offers a slew of original series and movies like The Marvelous Mrs. Maisel, Fleabag and Bosch, that are exclusive to Prime, and the rest of Prime's catalogue is extensive enough that many will be more than happy with it as their sole streaming service. You can get some live and on-demand Canadian TV channels like History and HGTV through StackTV with Prime as well, but they come at an added cost. Sign up for Amazon Prime Video
Disney+
Disney+ was fairly limited in comparison to other streaming services when it first launched, but the service has expanded considerably as of late. No longer focused solely on Disney's own library of movies and just a handful of originals like The Mandalorian, it has since seen a sizable increase in original shows (with lots to come), as well the addition of a new section called Star that includes hundreds more movies and TV shows geared towards an older audience than the usual Disney fare. The latter batch comes from Fox, Hulu, and other sources, and includes everything from The X-Files and Die Hard to recent Oscar-winners like Nomadland and The Shape of Water.
Those new additions did come with a price increase, however, pushing the service towards the higher-end of streaming options at $11.99/month. A $119.99 yearly plan will let you save a bit if you're willing to commit to a longer-term. As with all the other major streaming services, it's also widely available on various platforms including Roku, Apple TV, and Amazon Fire TV. Sign up for Disney+
Paramount+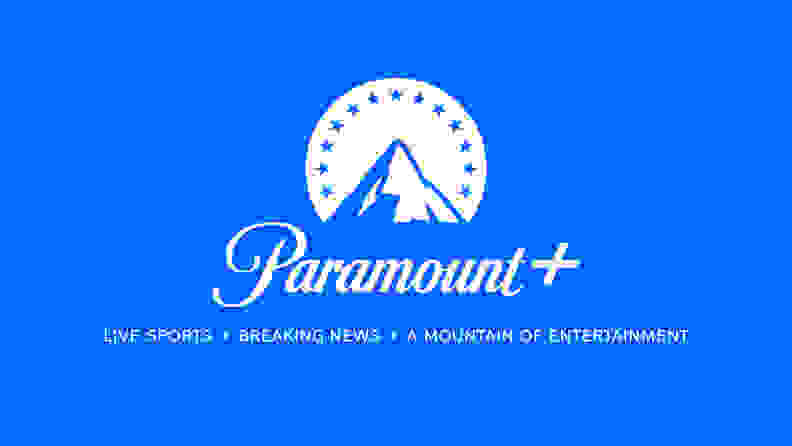 Paramount+ was previously known as CBS All Access and—in Canada at least—not much has changed with the service beyond the name. While the US version of the service has expanded to include over 1,000 Paramount movies, plus shows from Nickelodeon, Comedy Central, and other networks, there is quite a bit less on offer for Canadians. That's largely due to licensing issues that have found shows like Star Trek: Picard and The Stand miniseries end up on other streaming services in Canada, leaving the Canadian Paramount+ to focus mostly on current CBS TV shows and a few streaming originals, plus a good variety of classic TV series like I Love Lucy and The Twilight Zone.
The service is also fairly barebones in other respects, with no support for features like multiple profiles or a watchlist that are common on most other streaming platforms. It is widely available on most popular devices like Roku and Amazon Fire TV, however, and it's thankfully priced with its limitations in mind, costing just $5.99/month. That makes it a decent value if there are even a handful of shows you want to watch, and it's easy to cancel and rejoin as new shows are added. Sign up for Paramount+
AppleTV+
Priced at just $5.99/month, Apple TV+ is one of the most affordable streaming services in Canada. However, it also has the most limited selection of any of the services we looked at by a considerable margin. The service only offers Apple produced series and movies, like The Morning Show and Greyhound, which means it's unlikely to suffice as anyone's sole streaming service. However, its low price can make signing up worthwhile if there are a few things that you're interested in watching. What's more, there's no commitment— so you can cancel your subscription at any time once you've run out of things to watch.
Apple provides a full year of the service for free if you buy any iOS device, Mac or Apple TV, but the service itself is not exclusive to Apple users, with apps available for Roku, Amazon Fire TV and various smart TVs (but not Android). Sign up for AppleTV+
Shudder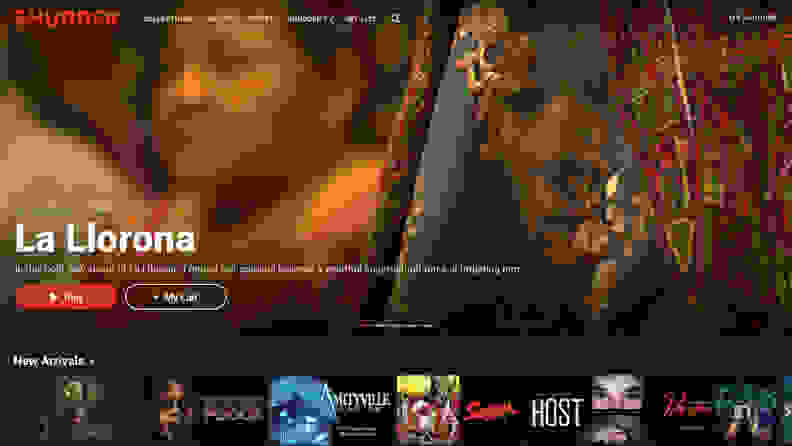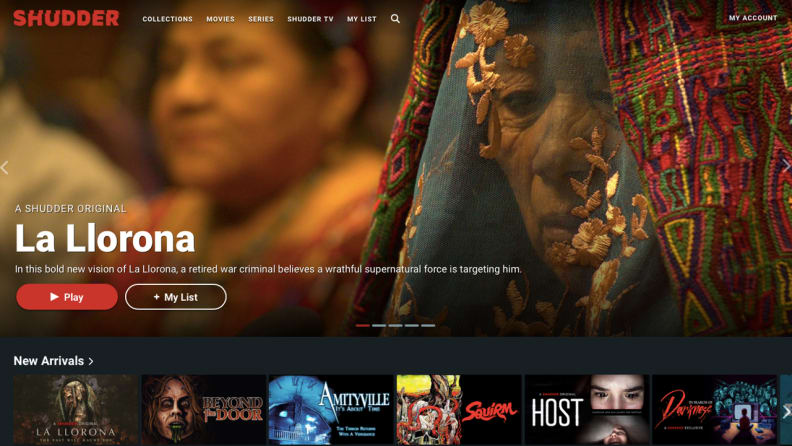 Niche streaming service Shudder is a standout for any fan of horror movies. At $5.99USD/month (or even less with a yearly plan), it's cheap enough to add as a supplement to another, more generalized streaming service, and you'll get access to an impressive catalog of new and classic horror, thriller and suspense films. Like other streaming services, Shudder also produces a number of original series and movies, including the likes of Horror Noire, Creepshow and The Last Drive-In, and it's widely available on Android and iOS devices, as well as Roku, Amazon Fire TV and Xbox One. Sign up for Shudder
Criterion Channel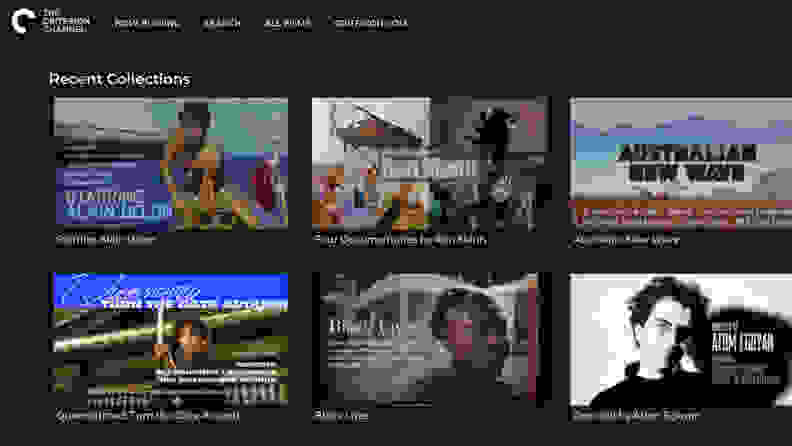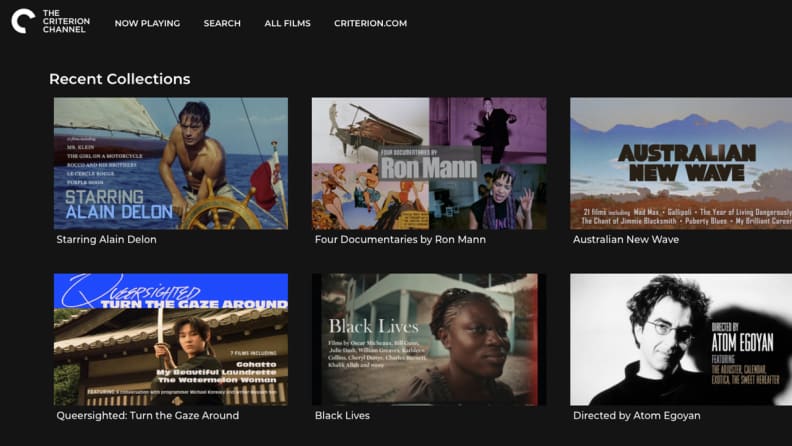 Criterion is known for its carefully curated collection of classic and arthouse films released on DVDs and Blu-rays loaded with special features, and the Criterion Channel carries on that tradition in streaming form. The service boasts an always-changing selection of movies that are complemented by commentary tracks and other special features previously released by Criterion on physical media, as well as new features produced exclusively for the Criterion Channel. At a price of $10.99USD/month, the service costs less than a single Criterion DVD, which makes it a bargain if you watch even a handful of movies each month (you can also save more with an annual subscription at $99.99USD).
Sign up for the Criterion Channel
CBC Gem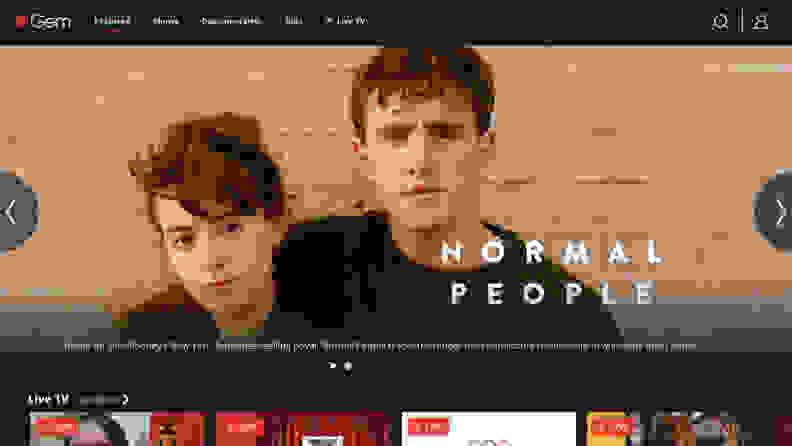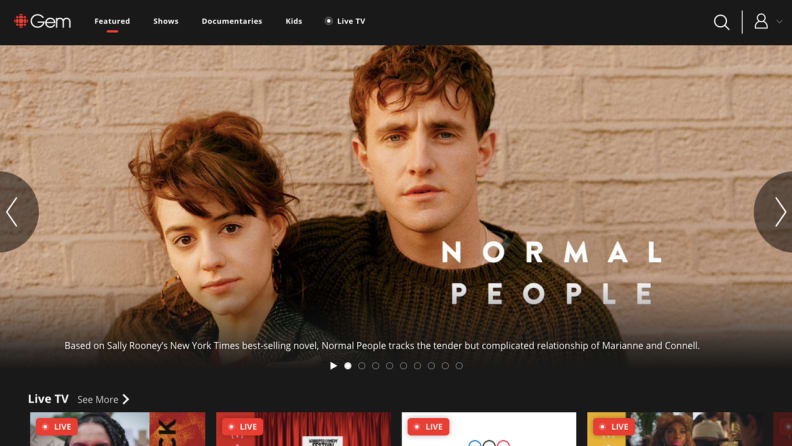 CBC's Gem streaming service is available in a free, ad-supported version, but you can also pay $4.99/month to get rid of the ads (which adds live streaming of the CBC News Network as well). Either way, the catalogue is surprisingly good, including not just shows that air on CBC like Kim's Convenience and Schitt's Creek, but a range of international series including Normal People, Luther and Wallander. There's also a decent selection of (mostly Canadian) movies, as well as a wide range of documentaries. The service is a bit less full-featured interface-wise than the likes of Netflix, but apps are available for Android and iOS, in addition to Amazon Fire TV and AppleTV. Sign up for CBC Gem
CTV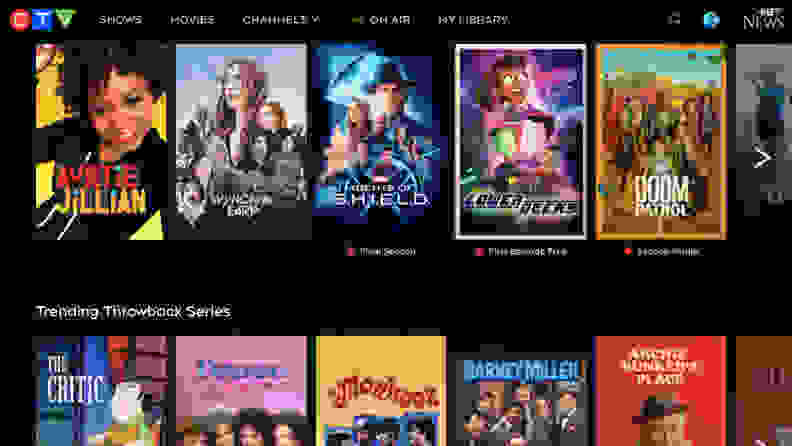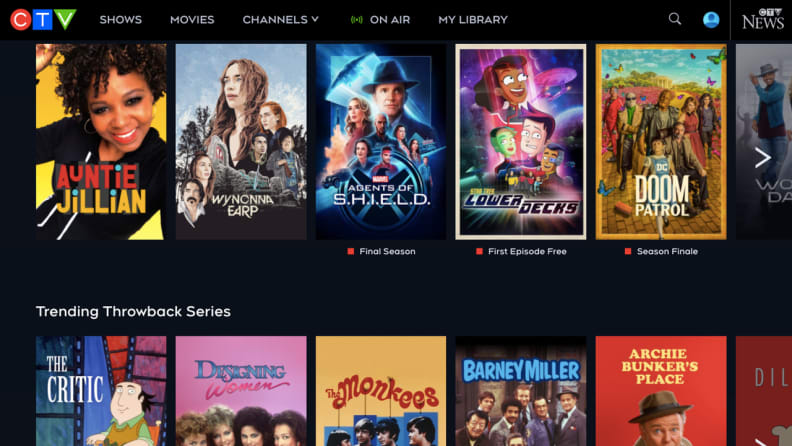 Like CBC Gem, CTV's streaming service offers a lot more than just CTV's own shows, but it is unfortunately only available in a free version with ads that interrupt your viewing. If you're willing to put up with that small annoyance, however, the service has a lot to offer. There's a solid selection of movies to choose from, including plenty of classics and some more recent titles, and there's a ton of classic TV shows in the Throwback section, in addition to current television series. The service's web interface is decidedly lacklustre, but the apps are a bit better, and available for both Android and iOS, as well as Amazon Fire TV, Apple TV, Xbox One and some Samsung smart TVs.
The product experts at Reviewed have all your shopping needs covered. Visit Reviewed Canada for all the latest reviews, recommendations, buying guides, and coverage of all the best products available in Canada.
Prices were accurate at the time this article was published but may change over time.