Cars
Self-Driving Mercedes an Executive Chauffeur at Frankfurt Auto Show
Making history, twice

Credit:
Add Mercedes-Benz to the list of manufacturers who have built self-driving cars.
Last month, the all-new S-Class Intelligent Drive concept successfully drove itself for about 60 miles on real-world roads from Mannheim to Pforzheim, Germany.
Today, it chauffeured Mercedes CEO Dieter Zetsche onto the Mercedes stage at the 2013 Frankfurt Auto Show.
The experiment comes exactly 125 years after Bertha Benz made the same journey in her husband Karl's experimental motorcar. While Karl Benz was too afraid to show off his new invention, his wife took his two children out for a long drive, fashioning parts from scratch and refueling at pharmacies. Now known as the Bertha Benz Memorial Route, it commemorates the first long-distance automobile trip.
Bertha's trip made news, and that's just what Mercedes was hoping to do in Frankfurt today, proving that a real-world use of an autonomous vehicle is possible. Unlike in Bertha's day, the S-Class had to contend with eight roundabouts, for example, navigating each of them expertly.
Mercedes has been working on autonomous driving for more than 25 years, work that's paid off in semi-autonomous features like automatic braking and dynamic cruise control. The latest S-Class Intelligent Drive has an advanced system of radars and cameras that monitor external surroundings, including automotive and pedestrian traffic. A front-mounted camera can tell when lights are red or green, and long-range radars can detect traffic at intersections. It also uses a rear-view camera to compare where the car has just been to where it is on a stored map, which Mercedes says is more accurate than GPS.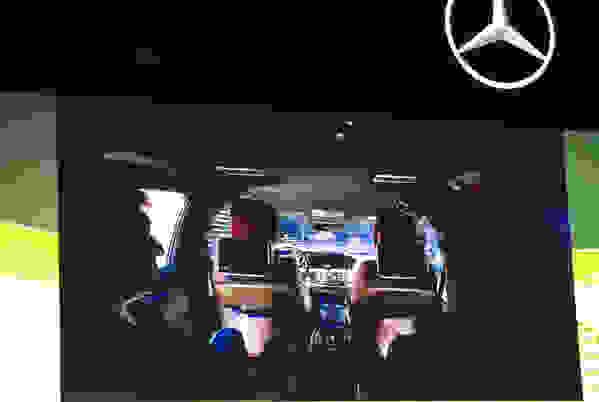 Zetsche put his faith in the S-Class that drove him on stage, and told the assembled audience that they should trust it. Unlike science fiction robots, he said, the Intelligent Drive is "peace loving, through and through." Imagine, Zetsche said through a translator, a typical night out where a car drops you off at the movies and picks you up when you're done. A car that can drive itself "doesn't mean less freedom, but more."