Cars
The Soul of Lexus is the RC F Coupe
Rear-wheel drive and V8 power, on sale this fall
Credit:
The Lexus RC F coupe is here, and it's amazing.
Packing a 5.0-liter V8 behind the brand's new trademark "spindle" grille, it puts 460 horsepower to the rear wheels through an eight-speed automatic. It's the most powerful Lexus ever, aside from the LFA super car, and comes just in time for the brand's 25th anniversary.
Lexus has positioned it as a competitor to the BMW M4 and Mercedes C63 AMG. In spirit, at least, it appears to be a worthy one: Performance stats and pricing aren't yet public, but Lexus general manager Jeff Bracken began the press conference with a tale of his first encounter with a Shelby Cobra as a young boy in Detroit, and emphasized that the passion and performance of a car like the Cobra would be apparent in the new RC F. It'll have to do for now, but we're impressed with what we do know.
The V8 is unique, in that it can run on either the Atkinson cycle for high efficiency, or the Otto cycle for high performance. Bracken said the car will always be rear-wheel drive only, and feature a torque vectoring differential that "proactively manages traction control in, through, and out of corners."
Even the grille itself is special: It's made up of small, interlocking F's.
The RC F will go on sale this fall alongside the RC350, a tamer, V6-powered car which is based on the RC concept that debuted in Tokyo last November. Bracken said Lexus expects to sell 200 RC Fs and 1200 RC350s each month.
The two cars are equally appealing, but the differences are immediately apparent. In order to fit in a V8, Lexus' designers had to put a bulge in the hood. The RC F's fenders are flared, the roof is made of carbon fiber, and a rear spoiler deploys at speeds over 50 mph.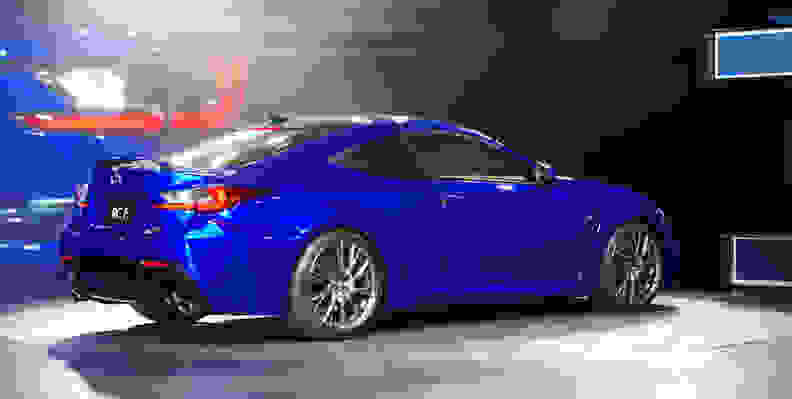 Inside, a new touchpad replaces Lexus' Remote Touch mouse for infotainment control, a change previewed on the LF-NX crossover at the Frankfurt Motor Show in September.
Otherwise, the interior is similar to the 2014 Lexus IS, which isn't surprising considering its lineage. The RC F shares many components with the IS F, the sport sedan it replaces, from an engine block to a suspension.