Kitchen & Cooking
10 recipes you can cook with beer at home
Sip a cold one and eat one too.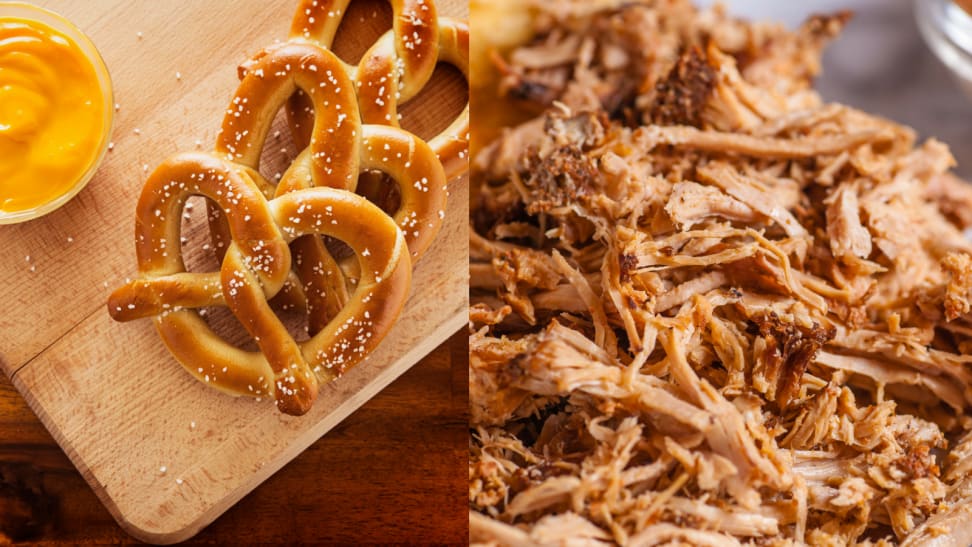 Credit: Getty Images
When it comes to cooking with alcohol, people tend to give wine all of the praise, using it in everything from pasta sauces to marinades. Beer often gets overlooked, and since it is my favorite drink among the alcoholic beverage kingdom, I use it in everything from my cup to my crock-pot meals.
I was curious about the versatility of cooking with beer, and whether or not it was just as useful as wine. I turned to Pinterest to find some inspiration.
As per usual, Pinterest delivered. Here are 10 beer recipes that will provide delicious dishes:
Author's note: Just make sure you have the right beer for the job instead of using the one in the back corner of your fridge that's been there since that party in November. (Oops.)
1 Chocolate stout brownies
Beer, batter, brownies. Enough said. All you need is a milkstout and some traditional brownie ingredients for this one to get a little extra flavor from a world-renown dessert.
2. Beer pretzels and cheese dip
Beer always seems to accompany pretzels and cheese, so why not mix it in? This recipe has beer in the pretzels and beer in the cheese so you don't go a second without shoving or chugging some beer down the hatch. All you need is a traditional lager to complete this recipe.
3. Beer braised pulled pork
Like pulled pork and Guinness? Want to combine them? This recipe produces delicious and easy pulled pork made in the oven to perfection. It's good for a number of different meals as well including sandwiches, salads and more.
4. Beer braised beef with carrots and potatoes
In a similar manor to the pork, this one is made in the oven and requires dark beer, but instead of pulled pork, it's chunks of beef with veggies. It's a perfect hearty meal for a cold night and one that brings out all of the flavors of dark beer with beef.
5. Bacon beer cheese soup
The first three words of this one is all we'd need, but throw it all into a soup and it's money. It also only takes 25 minutes and requires a Belgian-style wheat beer. Like the beef, it's perfect for a cold night and some comfort food.
6. Crock Pot BBQ beer and chicken
Finally, we pull out the Crock Pot/slow cooker for this one. It's a very simple process with just seasoning and your choice of beer. It takes eight hours in the slow cooker so you can set and forget for some tender and tasty chicken.
7. Baked craft beer fries
Beer and fries are another combination that always goes together and now they actually do go together. With an IPA, lager or pale ale, you can create tasty fries relatively easily. Soak potatoes in the beer (more hops=more taste) and then cook them in the oven for a beer day snack.
8. Pub style beer cheese dip
Cheese dip is a staple at any party, bar or even just an afternoon on the couch. So crack a beer, throw some into your next dip and then crack another beer next to it. This dip is easy to make and can use any kind of beer you want. It's perfect for chips, pretzels, veggies and anything else you can think to dip.
9. Jalopeno cheddar beer bread
Why not include a loaf of bread to go with that cheese dip, right? This bread includes pale ale along with everyones favorite: cheddar cheese and jalopeno. The best part? It takes under two hours to make and is good to slather butter on or eat with more cheese and, of course, beer.
10. Pale ale chili
Ending with with a favorite in chili seemed like the best way to go. The beer you need is in the name — pale ale. It's your normal chili ingredients with a twist and is a different take on a chili that's perfect for gameday or any day. You can also enjoy with some of the jalopeno cheddar beer bread too.