Growing up in the United States it is almost guaranteed you will experience the following childhood activities: playing at least one game of tee-ball, learning to ride a bike with a comically oversized helmet and dunking Oreo cookies into milk after school. While most of us don't go on to play major league baseball or become biking fanatics, there's one thing we can all agree on—no matter your age, treating yourself to an Oreo never gets old.
In recent years Oreo has stepped up its flavor game to the point where I can't wait to one day tell my grandchildren, "Back in my day, there used to be only one kind of Oreo and that was it.'' Since so many flavors have flooded supermarket shelves recently, our office got a bit curious to see if these new creations are actually as good as the old (and by "office" I mean it was just me whipping my coworkers into a frenzy to convince them that we had to do this very important and very scientific testing).
Although it was a tough task, we all took one for the team in the name of science to spend a week eating Oreos and pairing them against one another, bracket style. So yes, we got to live out your childhood dreams of taking a bite of every Oreo flavor on the shelf and seeing if it was worth the purchase or just a marketing gimmick.
How we tested
The 16 cookie bracket was loosely organized into flavor regions, with the "classics" in the top left of the bracket, "thins & cakes" on the bottom left, " singular flavors" taking over the top right and "mixed flavors" on the bottom right. Although we didn't have as many flavors as when we tested potato chips, we still crowned the Final Four as regional champions.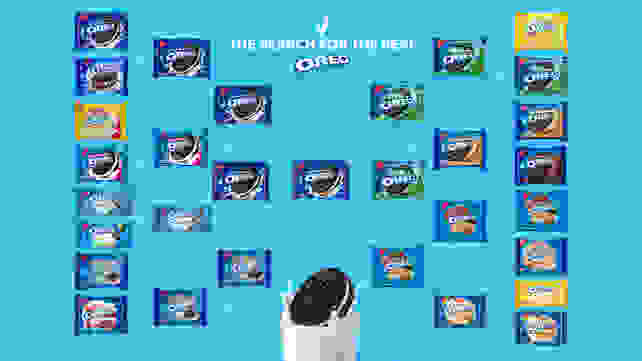 There were blowouts, a surprising upset and a few flavors that had to be decided with a last minute tie breaker; here's how the cookie crumbled.
The best Oreo flavor is: the Original Oreo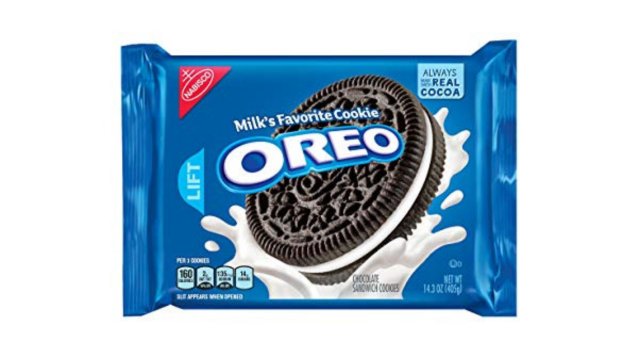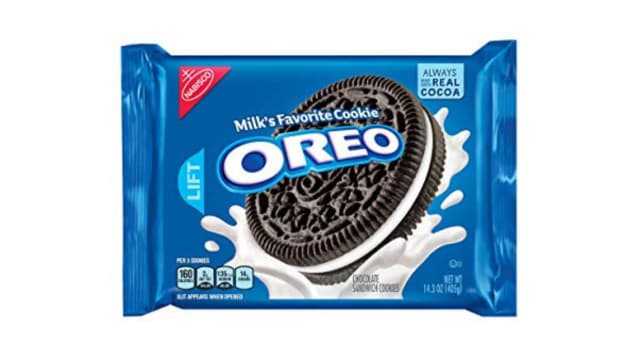 I know, you saw the headline, got excited about how some wacky flavor is secretly the best Oreo of all time and now you're realizing what we did too—you don't mess with a classic. The classic Oreo is the one we all gravitate to for a reason. The combination of chocolate cookies and sweet creme filling left our testers with feelings of nostalgia and the greatest overall satisfaction, plus definitive proof that it really is milk's favorite cookie. The creme to cookie ratio was just right, with neither being the overpowering taste and each complimenting each other well. While tasting, none of the testers came away from biting into this Oreo with disgusted looks or left an uneaten one of the table. As one tester put on their rating sheet to sum it up perfectly, "I could eat an entire sleeve of these Oreos, couldn't do that with any other flavor."
The rest of the regional winners:
The singular flavor region winner and runner-up: Mint Oreo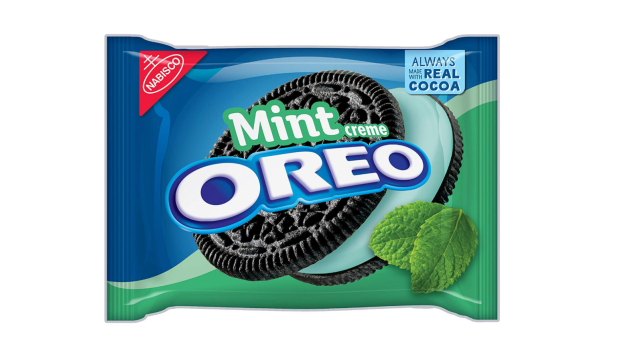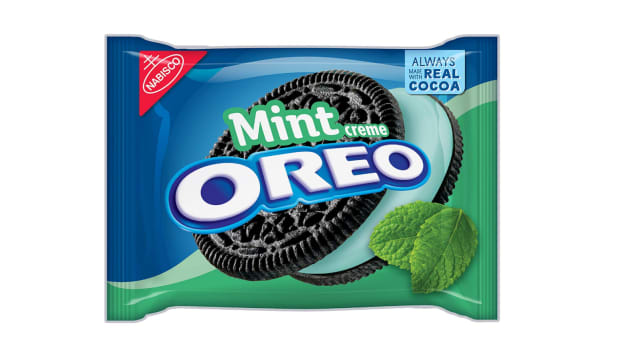 Mint was a strong contender throughout the entire testing process, with many eyes on it for being the potential champion. It easily defeated Lemon in the first round, with the mint chocolate combo reminding people of peppermint patties and Girl Scout Thin Mints. Testers loved it because the creme to cookie ratio was true to the original Oreo and there was no funky aftertaste or feelings of too much sugar. This one got a boost over Chocolate Peanut Butter Pie in round two with a heavy preference to the original chocolate cookie flavor over the golden cookie.
The mixed flavor region winner: Chocolate Peanut Butter Pie Oreo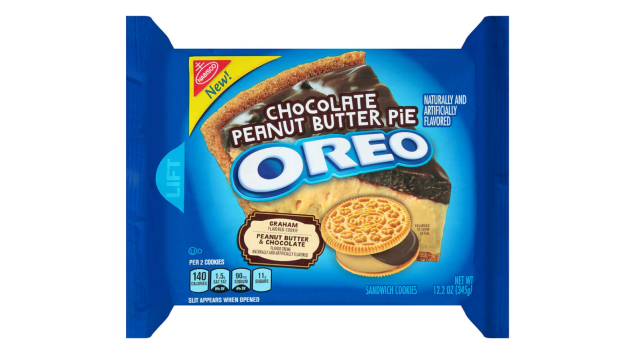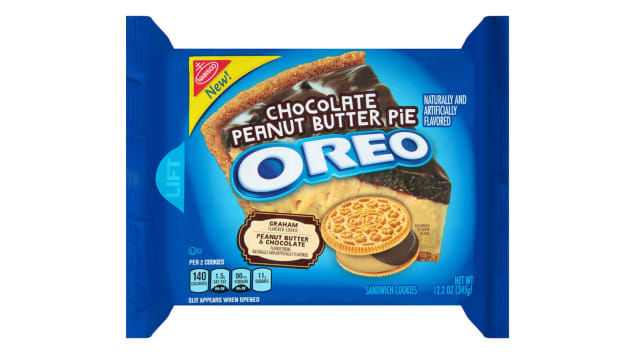 This cookie came in strong with two crowd favorite flavors going for it: chocolate and peanut butter. However, it may have made it further had it not had the golden cookie as its base. Testers loved how the cookie had two different flavored cremes on it and it easily beat out the too sweet Cinnamon Bun in round one. Round two was an absolute nail-biter against Carrot Cake, squeaking into the Final Four by just one vote. However, the balance of the two different creme flavors with a strong peanut butter presence, against a more artificially sweet Carrot Cake, eventually won out.
The Thins & Cakes region winner: Birthday Cake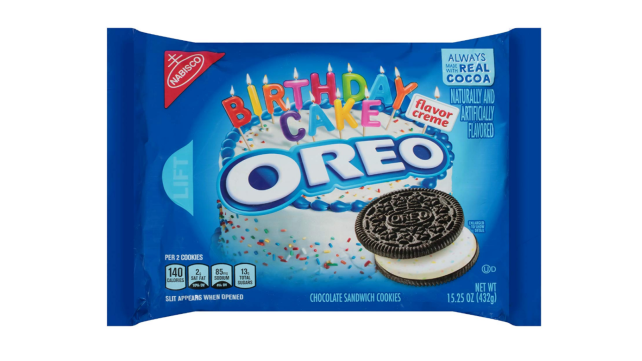 This was the only cookie where testers loved the extra sweetness. The creme reminded testers of a childhood favorite snack, Dunkaroos. When paired with the classic chocolate cookie, it made a tough combo to beat. It absolutely destroyed Red Velvet in round one, and the superior creme ratio was another easy win against Oreo Thins in round two. As one tester beautifully described it, "The inner 5 year old in me loved this cookie". Alas, the excess sugary taste finally met its match, when it fell to eventual champion Classic Oreo in the Final Four.
How the rest of the cookies crumbled:
The Classic Region: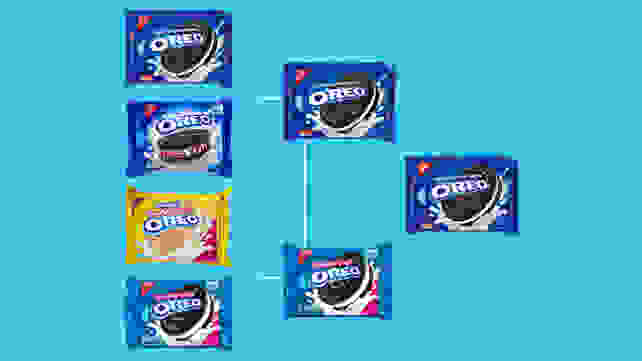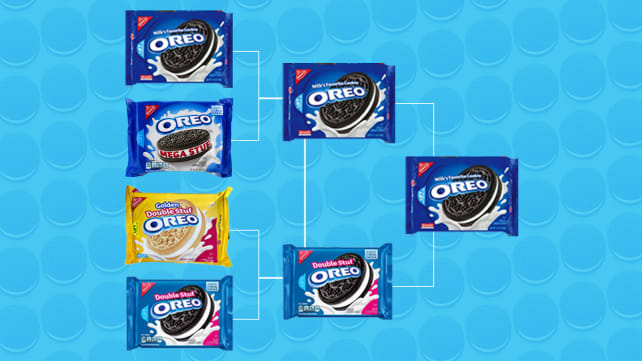 Out in the first round:
Double Stuf Golden Oreo: While our testers loved the creme ratio, the golden cookie really just didn't do it for them, with the majority strongly preferring chocolate over vanilla. The double vanilla of this cookie just didn't offer the flavor variety our testers were looking for.
Mega Stuf: In the battle of the creme ratio, this cookie fell against the classic Oreo. Some testers loved the extra creme, noting that it was their favorite part of the cookie. However, the majority found the extra "stuf" just too overpowering, taking away from the chocolate cookie flavor and throwing the entire treat out of balance.
Out in the second round:
Double Stuf: This cookie experienced the greatest upset of the bracket when it succumbed to the classic Oreo in round two. Our testers loved the added creme for an extra boost of sweetness to the chocolate cookie, easily beating the Golden Double Stuf Oreo in round one. However, you can't mess with a classic, and the excess creme proved to be too much when it came down to the Classic vs. Double Stuf showdown.
The Thins & Cakes Region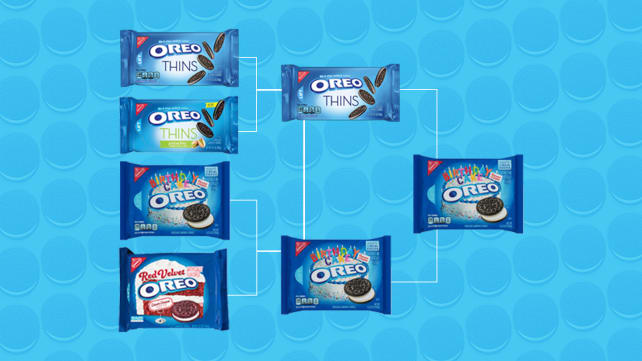 Out in the first round:
Red Velvet: The only cookie in the entire bracket that did not receive a single vote. The sweetness was both overwhelming to taste and smell, leaving us plenty of extras even when testing was done.
Pistachio Thins: This cookie never stood a chance with a poor creme ratio (although it was designed for this reason) and strong aftertaste. Testers were disappointed that this cookie truly didn't taste like pistachio, but couldn't but a finger on the odd, overly sugary flavor that it had.
Out in the second round:
Classic Oreo Thins: Like the classic Oreo, but with squished down ratios for those who are counting calories. The bold, classic flavor still lingered though, giving it a decisive victory over Pistachio Thins in round one. However, it couldn't hold up against an actual, fully stuffed Oreo come round two, falling to Birthday Cake due to lack of filling.
The Individual Flavors Region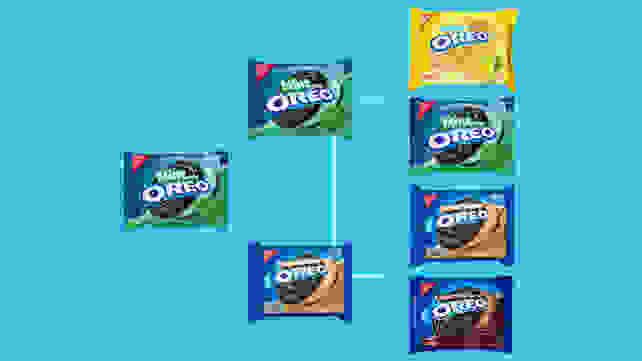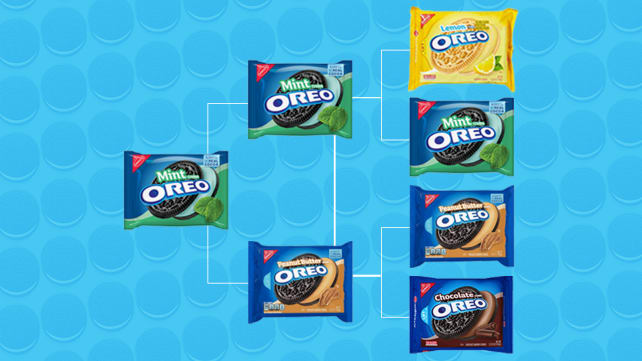 Out in the first round:
Lemon: The golden cookie and extra sweet filling was too much for testers, particularly the super sugary sweet aftertaste.The artificial taste particularly worked against this cookie since it was up against the fresh Mint Oreo in the first round.
Chocolate Oreo: The double chocolate didn't give testers what they were looking for, as the lack of flavor variety was boring for most. The mild chocolatey taste gave testers a strange aftertaste, and it fell to the wildly popular Peanut Butter in round one.
Out in the second round:
Peanut Butter: The classic peanut butter chocolate combo stayed strong in round one, but couldn't hold it's own once the play got tough. Testers also found that the creme to cookie ratio was off with this flavor, with the creme being too overpowering and giving it too much of a peanut butter taste. They beat out Chocolate Oreo in round one, but were defeated by Mint in the end.
The Mixed Flavors Region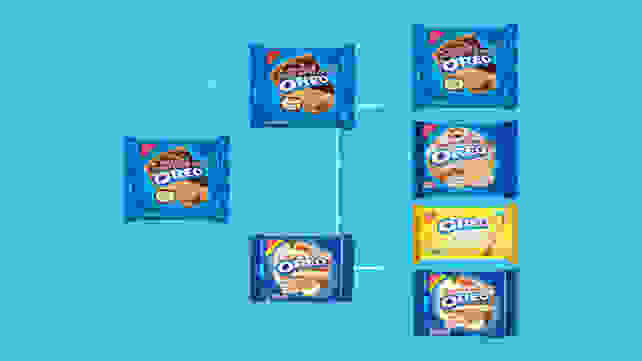 Out in the first round:
Cinnamon Bun: This cookie had a formidable opponent in Chocolate Peanut Butter Pie for round one, but the sickly sweet icing combined with a golden cookie and not enough cinnamon flavoring just couldn't hold its own.
Salted Caramel Thins: These didn't stand a chance against a fully stuffed cookie like Carrot Cake. Other than Red Velvet, these were noted as the most overly sweet cookies in the entire bracket. Paired with a golden cookie and lacking the salted taste, it was a swift exit of the tournament for Salted Caramel.
Out in the second round:
Carrot Cake: This cookie was looking like the Cinderella story of the tournament after a decisive win over Salted Caramel Thins, but lost by a hair to Chocolate Peanut Butter Pie in round 2. The subtle sweetness and perfect hint of cinnamon left our testers going back for seconds and was even a shocking favorite for those who don't normally like carrot cake.
Notes and Takeaways
Had the bracket (which was randomized to avoid biased seeding) been organized differently, we may have seen different cookies in different places. However, that's really the nature of any bracket and the cream (apparently not double stuffed though) always rises to the top.

We organized the cookies by category so each different type would get its chance to shine and to find the best of each category, which is arguably just as important as best overall. For example, if all of the Oreo Thins had been against regularly stuffed cookies, we wouldn't have seen any advance to the next rounds.

Yes, we know that there are far more than 16 flavors of Oreos available. However, we chose these ones based off of popularity and availability. None were purchased online and all of the flavors were bought at our local grocery store. So yes, you have the option to buy these exact flavors to organize a bracket with your friends and family to see if our testers really were right about flavors.

If you do decide to do this test at home, we recommend spreading it out over the course of multiple days. Oreo overload is real and we may or may not have experienced it.
Our editors review and recommend products to help you buy the stuff you need. If you make a purchase by clicking one of our links, we may earn a small share of the revenue. Our picks and opinions are independent from any business incentives.