Kitchen & Cooking
We're freaking out over these Oreo-stuffed, salty peanut butter brownies
Junk food lovers unite
Credit:
I recently brought these brownies into work and, shortly after, received a message from a taste tester: "The junk food brownie I ate contained aspects of every single pleasurable mouthfeel I have ever experienced."
Here's the thing about them: They're outrageously decadent but not too sweet, thanks to extra cocoa and vanilla in the brownie mix and a hefty pinch of salt in the peanut butter. There's crunch from the Oreos, smooth creaminess from the peanut butter, and a rich, fudgy brownie full of chewy edges from being split into two layers.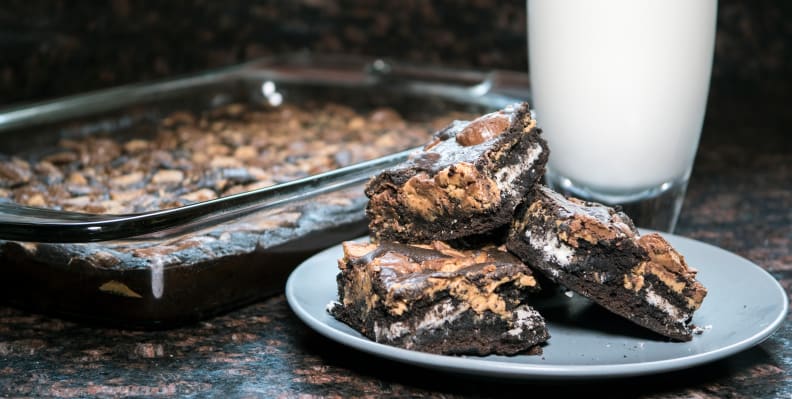 I whipped up the recipe in college and have been making them for years. They're a good girl's better-tasting answer to a terribly-named frankenbrownie. If your audience is silent for a few moments after they take a bite, you know you've done it right.
Ingredients
1 box brownie mix, prepared according to instructions
⅓ cup unsweetened cocoa powder
2 tsp vanilla
1 pack of Oreo cookies (single-stuff is best)
1 cup peanut butter
2 tbsp unsalted butter
2 tsp salt
1 bag unwrapped peanut butter cups
Directions
Prepare brownies according to instructions, and add cocoa powder and vanilla. Mix until well combined, and pour half of the mixture into a greased 13x9 pan.
Place cookies in well-spaced rows on the brownie mix—each brownie will contain a full cookie, so leave space between each one to guide your cuts.

Credit: Reviewed.com / Jackson Ruckar

In a heat-proof bowl, combine peanut butter, butter, and salt. Microwave in 30-second increments, stirring until the mixture is smooth and fully melted. Drizzle on top of the cookies.

Credit: Reviewed.com / Jackson Ruckar

Top the cookies with the remaining brownie batter. Use a rubber spatula to cover the cookies and peanut butter with brownie batter for even baking.
Roughly chop peanut butter cups and evenly sprinkle on top of the pan.

Credit: Reviewed.com / Jackson Ruckar

Bake, but take 10 minutes off the suggested cook time—the thin layers of brownie mix cook faster. Add time, if needed. Let cool before cutting.