Kitchen & Cooking
If you love brunch, you need one of these waffle makers in your kitchen
Life is better with waffles.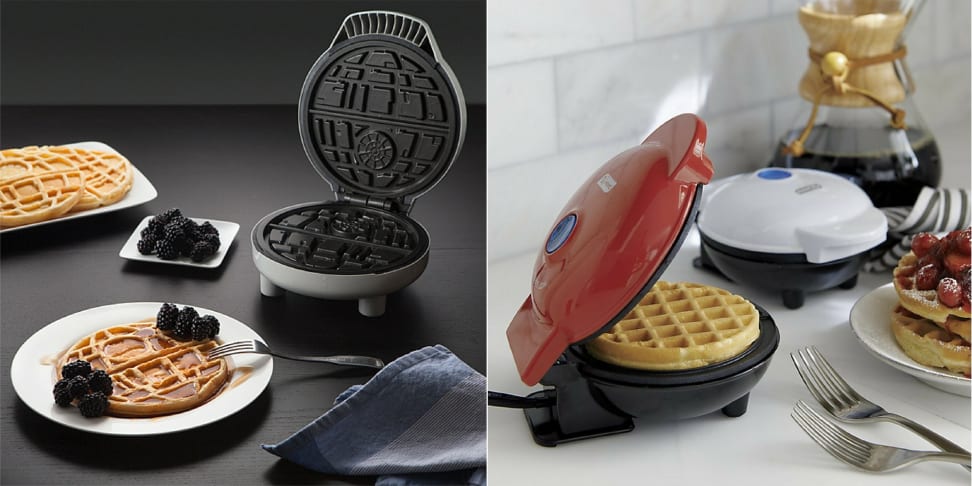 Credit: ThinkGeek / Dash
If you're anything like Parks and Recreation's Leslie Knope, you know the importance of eating a good breakfast (at any time of day).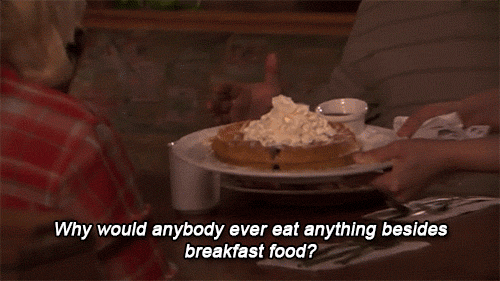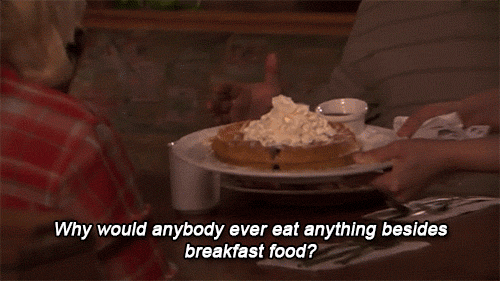 And when it comes to breakfast foods, waffles take the cake.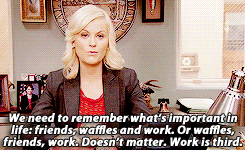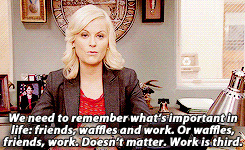 But if you're still eating those frozen little discs, it's time to upgrade your world and enjoy waffles the way they were meant to be eaten—fresh, fluffy, and straight out of a waffle maker. Honestly, if you get that Shake and Pour mix, it's just as quick of a meal as some toasted but somehow still soggy or burned to a crisp Eggos, but it's a much better way to start your day.
There are lots of different kinds of waffle makers, that range of unbelievably cheap to a bit on the pricey side, and we've rounded up the 7 most popular options no matter how you want to make your sweet breakfast treats.
1. This waffle maker is only $7!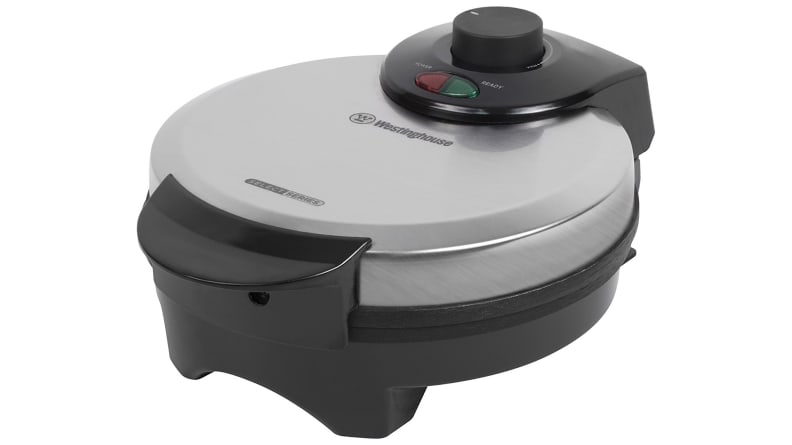 Yes, that price is right for this stainless steel waffle maker, and it got decent reviews on Amazon (3.8 out of stars and nearly 100 reliable reviews—for such a low price, that's totally acceptable). This is definitely not the best waffle maker out there, but $7 is the perfect amount to spend if you're new to making waffles at home.
It's an add-on item, so make the most of it and grab some waffle mix, syrup and tasty toppings to reach that $25 minimum. You'll have to buy that stuff anyway, so why not? Buy now: Westinghouse Stainless Steel Waffle Maker ($6.96 on Amazon)
2. This one promises a less messy experience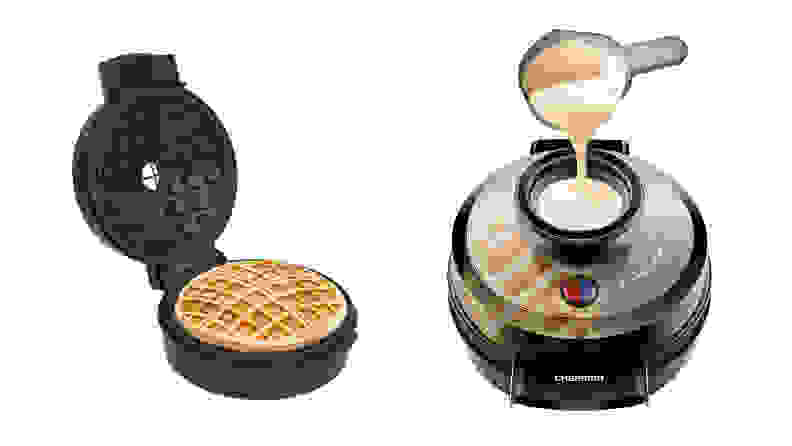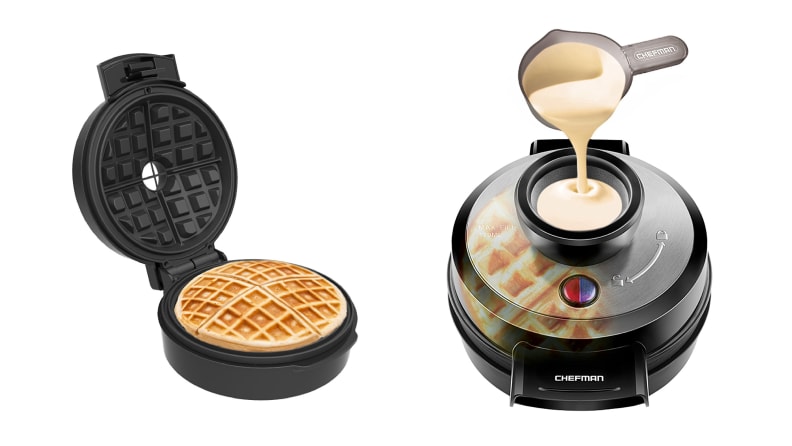 Ok, half the fun of making waffles is getting a bit messy in the kitchen. But if you prefer to keep things neat and tidy, the Chefman Perfect Pour Volcano Waffle Iron might be a good choice. It's shaped like a volcano so the batter fills the whole mold when you pour it into the funnel on top. Everything's already closed up, so no batter splatter! Buy now: Chefman Perfect Pour Volcano Waffle Iron ($35 from Amazon)
3. No electricity needed when you've got cast iron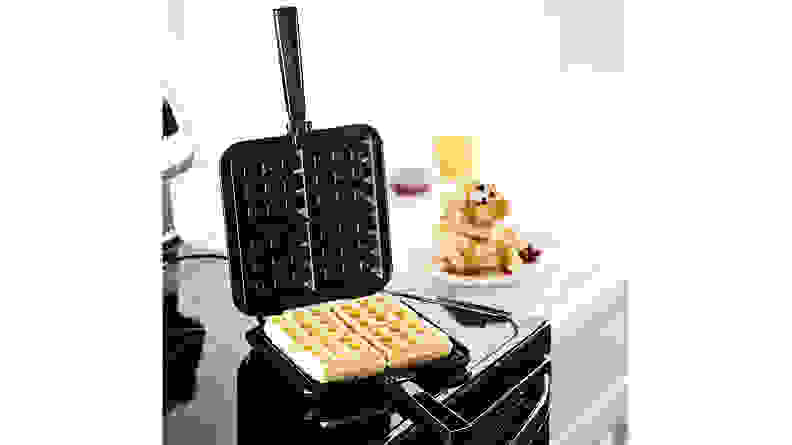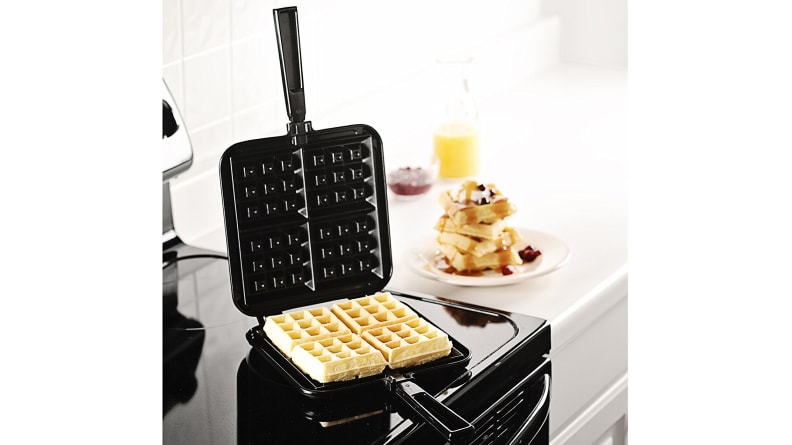 This cast iron waffle maker is a return to tradition and simplicity. No power cords makes for easier cleanup, and you can use it in your kitchen, on your grill, or over a campfire. Waffles in the wild, anyone? With 4.3 out of 5 stars and more than 600 reviews, NordicWare's waffle iron is perfect for those who prefer cast iron cooking. Buy now: NordicWare Cast Iron Waffle Iron ($33.50 on Amazon)
4. You can customize each waffle with an All-Clad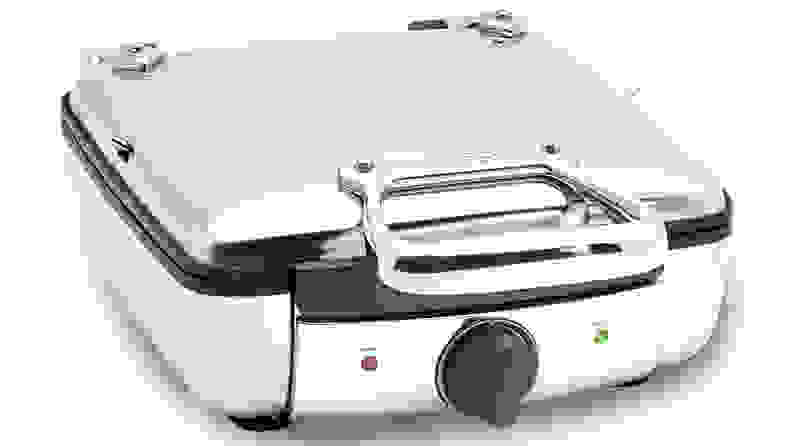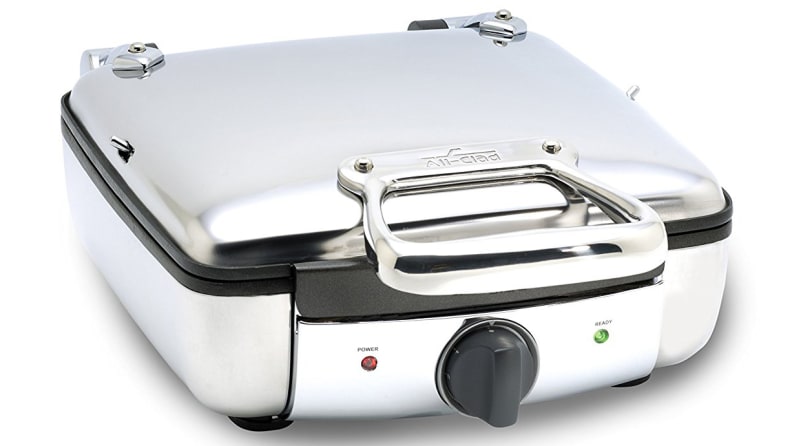 All-Clad makes some seriously fantastic cookware, and their stainless steel 2-square Belgian waffle maker is no different. The ability to choose how browned to make each waffle, along with steam vents that help achieve the perfect balance of crispy outside and soft insides, guarantees waffle nirvana. There's a 4-square version too for an extra $20, but it'll take up more space. Buy now: All-Clad Stainless Steel Waffle Maker ($180 on Amazon)
5. These waffles will tempt you to the Dark Side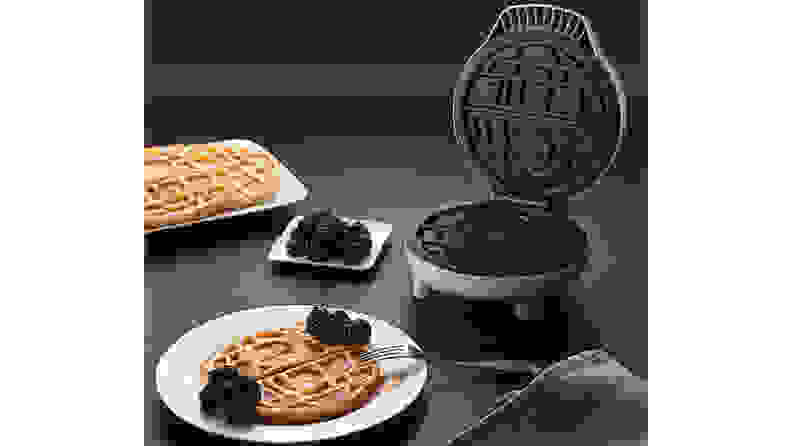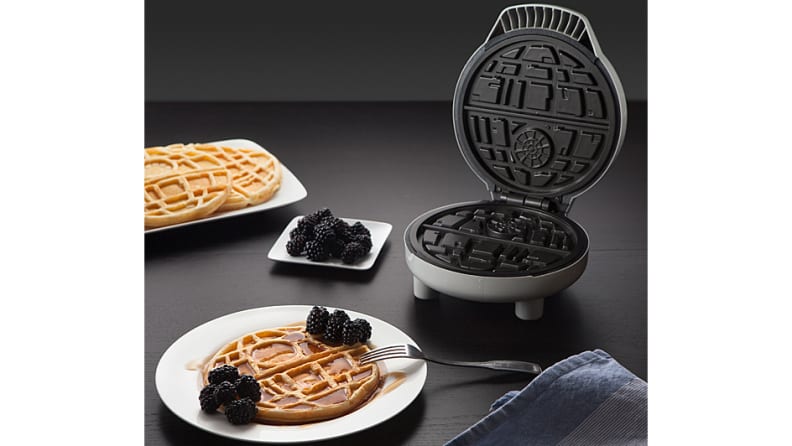 We might tell kids to not play with their food, but come on. We're grownups. We can do whatever we want. And you can defeat the Empire every morning with this novelty waffle maker that actually works really great. (Seriously, we love this one.) Buy now: Star Wars Death Star Waffle Maker ($40 from ThinkGeek)
6. You'll flip for this cooking method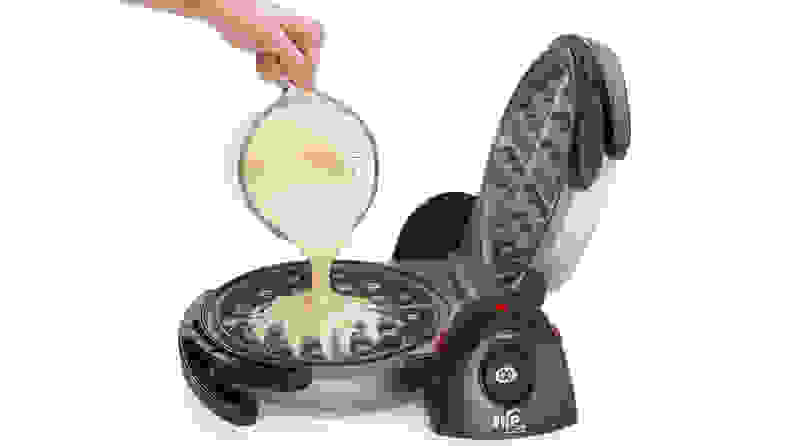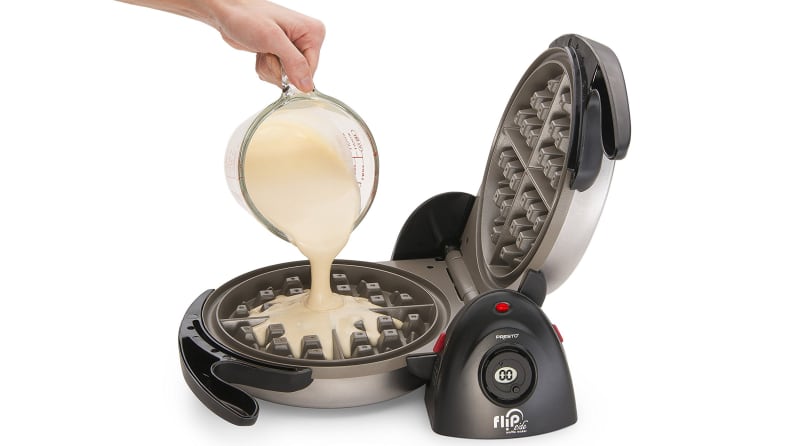 A flip waffle maker like this highly rated ceramic one from Presto is great for getting a picture-perfect waffle. The flip method allows the batter to spread more evenly. That means you use less batter and your waffle cooks more evenly. Plus, it's more fun and hands-on than the close-and-wait method of the others. Buy now: Presto FlipSide Ceramic Belgian Waffle Maker ($40 on Amazon)
7. This mini waffle iron is perfect for practicing restraint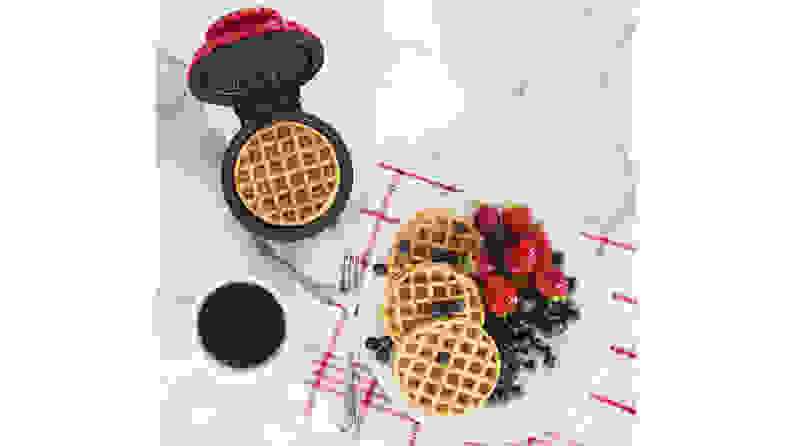 OK, we know waffles aren't exactly the healthiest food out there, but even if you prefer to eat healthy all the time, you can still indulge without going overboard thanks to this single-serve mini waffle iron. It's super affordable, highly rated, and you can choose from six fun colors. Buy now: Dash Mini Waffle Maker ($12-$20 from Amazon)
Prices are accurate at the time this article was published, but may change over time.