Kitchen & Cooking
Our favorite drip coffee maker is at a rare low price right now
It's so beautiful and brews like a beast—you'll actually look forward to waking up for work.
Credit:
A good cup of coffee can brighten any day, especially when you make it yourself. And you don't need to go all out with a French press or a pour-over maker to get the cup of joe you crave. The right drip coffee maker will brew a strong, fragrant pot of coffee with far less effort, and the best one we've ever tested (the Technivorm Moccamaster) just dropped in price.
The Moccamaster, a Norwegian machine, typically sells for $300, but Amazon just knocked $10 off the price and you can now get it for $289.01 (with free Prime shipping, too!). You might be scoffing at what looks like a modest discount for an otherwise expensive machine, but this coffee maker rarely goes on sale. And it's well worth buying even at the full price.
Brewing complexity with simplicity
OK, sure, there are coffee pots out there that cost, like, $15. But they simply will not deliver a satisfying cup of coffee the way the Moccamaster will. This machine doesn't have a fancy display screen or the option to customize the settings—because it doesn't need them. It's designed to turn out a perfect brew, with a heating element that ensures the water reaches the optimal temperature range (196-205 degrees Fahrenheit), and you can adjust the heating element to keep your pot at your ideal drinking temperature. In our taste tests, the Moccamaster's coffee blew the competition out of the water for its complex, smooth flavor.
Not only did it pass our tests with flying colors, but it's become a fan favorite around these parts. One of my fellow caffeine addicts swears by it and has been using it daily for well over a year. He exclaimed, "Every pot is perfect!" when I asked him how he felt about it. The design is also worthy of your attention. This hand-built coffee maker has a retro styling that makes it a serious head-turner you'll be proud to keep on your counter.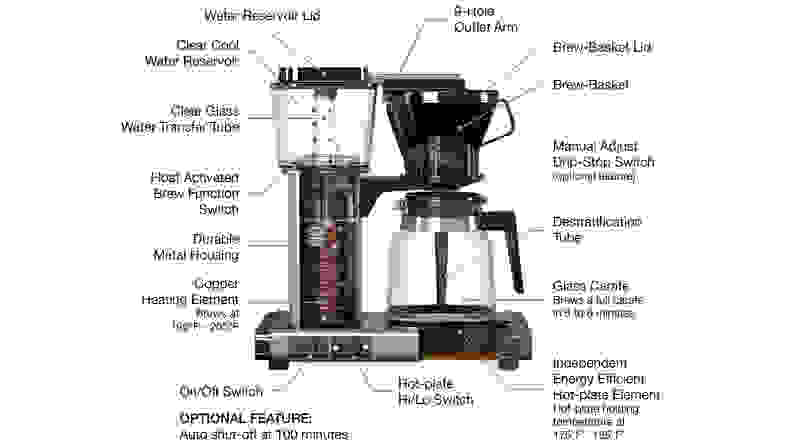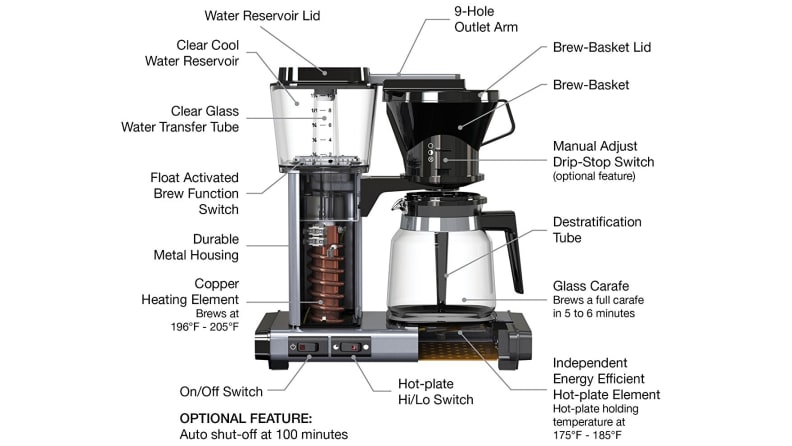 Why it's worth the investment
Sure, $289 sounds like a lot to spend on a small appliance, especially with other options being much more affordable. But this is one of those investments that will pay for itself over time. Think about it, you make coffee virtually every day. Why settle for subpar coffee when you can have a perfect cup each morning?
If you're buying your coffee every morning before work, you're probably spending about $3 per cup. That's $15 a week, or nearly $800 every year (on average). Switching to home brewed coffee with the Moccamaster will save you nearly $500 after the initial investment. But more than that, you can brew the exact coffee you like, exactly how you like it. You know it's always fresh, and you don't have to deal with lines or surly baristas or cranky customers.
The only flaw in this machine is that there's no timer to set the coffee to brew itself while you're waking up. But it makes a full pot faster than the other models we tested (a full carafe in only 5-6 minutes), so if you can get past that one hiccup, you'll still love this coffee maker.
Prices are accurate at the time this article was written, but may change over time.