Kitchen & Cooking
This best-selling Cuisinart knife block set is under $50 right now
Chop chop! Get these knives at a great price right now.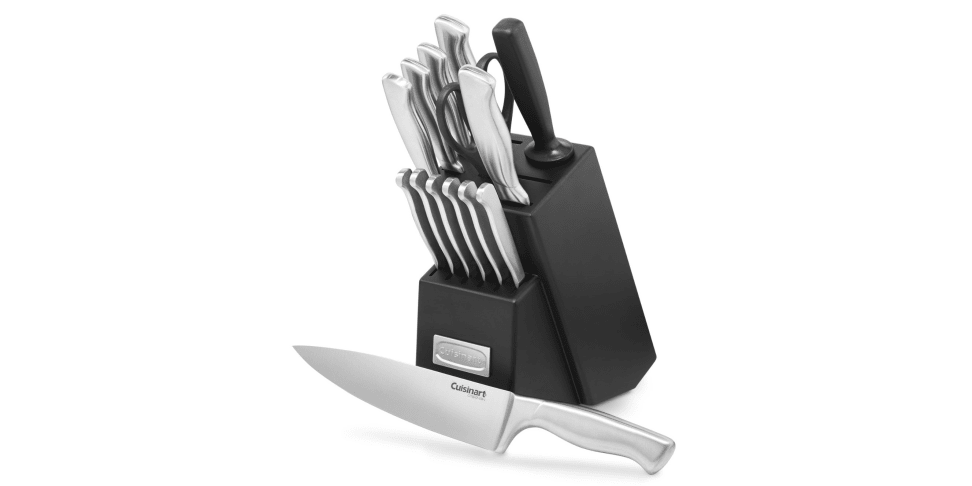 Credit: Cuisinart
High-end chef knives can sell for upwards of hundreds of dollars, but if you're not practicing to impress Gordon Ramsay or complete on Iron Chef, you don't need to take out a second mortgage to slice and dice for dinner.
This 15-piece Cuisinart stainless steel hollow-handle set is the #1 block knife set on Amazon, and right now it's only $44 from Amazon, Rakuten (formerly Buy.com), and Wal-Mart. That's about $3 per blade. Typically, this set sells for $50-$80, and sometimes even as high as $130 or more, making this a good deal we didn't want you to miss.
What comes in a set?
• 8-inch slicing knife
• 7-inch Santoku knife (for dicing and mincing)
• 5.5-inch serrated utility knife
• 3.5-inch paring knife
• 3.5-inch bird's beak paring knife
• 8-inch sharpening steel
• Six 4.5-inch steak knives
• All-purpose household shears
As the name suggests, the hollow handles make these knives a bit on the lightweight side. If you prefer heavier kitchen tools, this set might not be the best fit for you.
Bear in mind that these stainless-steel utensils should be hand-washed and dried thoroughly before being returned to the knife block. Running them through a dishwasher or putting them away wet can lead to rust and unnecessary wear that will drastically shorten their lifespan. If you care for them properly, you can really get your money's worth out of these knives.
Get the 15-piece Cuisinart Hollow Handle Stainless Steel Knife Block Set for $44 from Amazon, Rakuten, or Wal-Mart today.