Adventure Ocean has dedicated areas for pre-teens, with corresponding activies scheduled for each age group. Kids age 3-5 are Aquanauts and take part in face painting, cookie creation, and marshmallow roasts. Explorers (age 6-8) and Voyagers (age 9-11) participate in games, crafts and science experiments. Hours vary (with longer hours on sea days), but most activities were scheduled between 9 a.m. and 2 a.m.; a fee of $6 per hour applied for children 11 and under participating in late night party activities (10 p.m. to 2 a.m.).
Teens age 12-17 have their own parent-free spaces: the Living Room, a teen lounge, and Fuel, their private nightclub, both on Deck 12. Activities included meet-and-greet sessions, scavenger hunts, dance parties, sports sessions, and Scratch DJ Academy. Teens get a reduced internet rate of .30/minute at computer stations, and are allowed to come and go from activities on their own (Note: A curfew for all public areas of the ship was in effect after 1 a.m. nightly, unless involved in a scheduled activity or accompanied by an adult).
The Royal Babies and Royal Tots Nursery handles children ages 6-36 months, charging an hourly rate of $8 per child, from 9 a.m. to 4 p.m. and 6:15 p.m. to midnight daily. There is a water play area for children still in diapers, a toy lending program, and a black light puppet show called ImaginOcean. The nursery stocks basic childcare items, but parents need to bring diapers, bottles and milk, food, sippy cups and an extra set of clothes. In-cabin babysitting services are also available.
A mega-ship in every sense of the term, only three cruise liners are larger than Liberty of the Seas. Debuting in 2007, Liberty puts activities and entertainment front and center on the daily agenda with a long list of blockbuster attractions, such as a cool surf simulator, a towering climbing wall, a theatre with productions that aspire to touring-show quality, and an ice rink—there's even a cupcakery offering hands-on baking lessons!
Along with siblings Freedom of the Seas and Independence of the Seas, Royal Caribbean calls the vacation "onboard excitement on a whole new scale." We wondered if the experience was so big there was no real need for the captain to push off at all. With a 2011 renovation to flaunt, we decided to put Liberty of the Seas under the microscope.
There are five basic types of cabins on Liberty of the Seas—interior, promenade view, ocean view, balcony and suite—plus variations within each type. Almost half of the cabins have balconies, and we noted that quite a few cabins (both inside and ocean view) are a fairly snug 150 square feet. Instead, we opted for a Deluxe Ocean View with Balcony, which is about 20 percent larger and adds a 66-square-foot balcony.
The promenade view category is unique—these cabins overlook the ship's interior atrium. We had a couple concerns with these, both unanswered for now. One was the amount of noise these units experience during festivities transpiring in the mall-like atrium (almost nightly). And we weren't sure about privacy—when blackout curtains aren't drawn guests are exposed to those walking through the atrium or in cabins on the opposite side. We'll assess Royal Caribbean's promenade view cabins on a future cruise.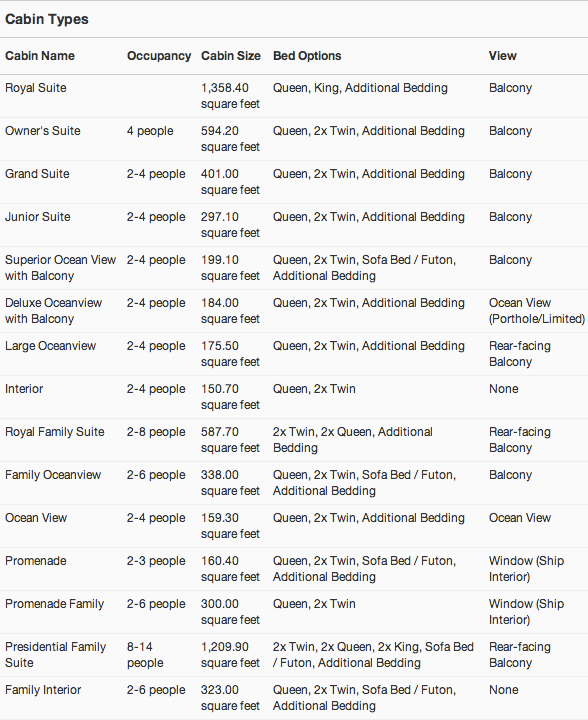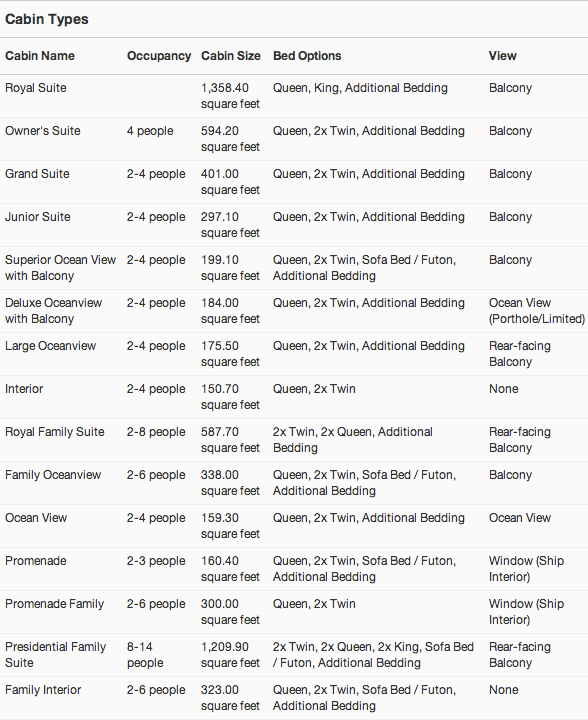 While there was an array of dining options beyond the Main Dining Room, a majority of the alternatives leaned to casual fare.
We found dining to be a mixed bag on Liberty of the Seas, with meals focused around two key venues. The three-story Main Dining Room had different names for each deck—Rembrandt, Michelangelo and Botticelli—but the menu is the same at all three. The fare here had a distinct assembly-line quality, and most of our dishes were pretty middling; we didn't care for any of the desserts we tried.
The other key restaurant is the ship's buffet, the side-by-side Windjammer Café and Jade. At its best, food here was cafeteria quality at best, though we were impressed with how easy it was to navigate the buffet lines and get a table in the sprawling seating area that wraps around the aft section of Deck 11.
Most of the dining alternatives required a surcharge. The steakhouse Chops Grille didn't wow us, but we enjoyed the Italian restaurant Portofino and would recommend it for a special night out. There is also a Johnny Rockets burger joint which has a small surcharge—it met our hankering for a cheeseburger and shake quite nicely one afternoon. The Ben & Jerry's Ice Cream outpost and the Cupcake Cupboard delivered the goods, but these had a pricetag attached, as well. The only non-surcharge alternative was Sorrento's Pizza, which pleased a certain crowd but was otherwise a pretty basic deli option.
Set seating times were 6:30 and 9 p.m. (there was also a 7 and 9:30 p.m. option for those assigned to Deck 3 dining). Royal Caribbean promotes My Time Dining—available between 5:30 and 9:30 p.m.—as an alternative to set seating times, but we were told there are only 600 seats per cruise (out of more than 3600 passengers) allotted for this option. By the time we booked our cruise (two months ahead of sailing), all spaces for My Time Dining were filled.
With over a dozen dedicated bars, plus liquor stocked at restaurants, the café and in the main theatre, there was no shortage of lubrication. Most bars were heavily themed—mojitos at Boleros, wine at Vintages, etc.—though there was plenty of crossover.
A 15 percent gratuity was also added to all drinks. The ship's usual drinking age is 21, but can be lowered to 18 for cruising in certain regions. Royal Caribbean strictly enforced policy regarding bringing wine onboard—none was allowed.
Beer & Wine
Royal Caribbean stocks a larger than average beer selection. Beer lovers, however, might want to head straight to the Hoof & Claw Pub, where an expanded beer list was available.
The standard menu had a short selection of wine by the glass or bottle. An expanded menu was on offer at Vintages Wine Bar, while bubbly was uncorked at the Champagne Bar.
Mixed Drinks
All the usual mixed drinks were available, along with a selection of cocktails from Royal Caribbean's drink list, with twists on old favorites.
Drink Packages
Wine packages were available in 5, 7, 10 and 12-bottle increments, from collections classified as Gold, Platinum and Diamond. These gave a per-bottle discount starting at about 10 percent, but unless you compare prices carefully, you might pay as much for a package as per-bottle. As such, we didn't feel wine packages were a great investment for a couple.
The soda package—offering unlimited fountain soda—was priced $6.50 per day for adults 18 and up, and $4.50 a day for kids. A bottled water package was also available.
Non-Alcoholic Options
In addition to soft drinks and Red Bull, non-alcoholic mixed drinks were available, at prices ranging $3-$4. O'Doul's beer was on offer for $4.25.
A big ship deserves a big main dining room, and for Liberty of the Seas the venue encompasses three decks surrounding a large crystal chandelier. The lowest floor—on Deck 3—is called the Rembrandt; above that, Michelangelo, and on Deck 5, the Botticelli (we wondered if the Renaissance masters would approve of this pecking order). The menu is the same on all decks.
Service was generally good, though dishes came out at varying speeds. But on the last nights of our cruise the waiters put an uncomfortable amount of emphasis on receiving favorable comment cards from us.
Dinner here was unimpressive, as the food had an assembly-line quality. Waiters always offered to replace plates we were unhappy with, (and said dishes were sometimes replaced within minutes), but this grew tiresome. Desserts were particularly unimaginative—there wasn't one of the six we tried that we wanted to finish.
We did have a very tasty lunch. But lunch isn't offered most days, so we're not sure if this was an anomaly. Breakfasts were par for the course.
On some (all?) nights one could order filet mignon "from the Chops Grille menu," with a $14.95 surcharge. We didn't try it, but this was a cheaper than the usual cover charge for the specialty venue. A "Vitality" menu highlights a starter, entrée and dessert from the regular menu for under 800 calories combined, plus vegetarian dishes nightly.
Diners are assigned a specific table and dining time for the length of the cruise. Set dining times are 6:30 and 9 p.m., though later seating was in effect for the Rembrandt level—7 and 9:30 p.m. My Time Dining tables were available, allowing one to dine any time between 5:30 and 9:30 p.m., but these slots were all taken two months before our cruise. Breakfast was available daily, and lunch was offered on sea days.
Occupying the catbird seat on Deck 14, the ship's martini bar is a great spot for taking in sunset. A live band offered light dance music starting each evening around 9:30 or 10 p.m.
Along with a special martini list, the ship's standard bar menu was available at Olive or Twist.
Liberty of the Seas offers the cruise ship experience on steroids. Plumped with activities, diversions and entertainments, the ship is not unlike a theme park in its zeal to appeal to the broadest possible spectrum. The bevy of bells and whistles range from a surf simulator and rock-climbing wall to cantilevered party-size whirlpools and a casino big enough to get lost in. Running through the center of the ship is the Royal Promenade, an atrium lined with shops, dining and drinking, much like a mall.
The captain arrives by way of a "flying bridge" that descends from the roof of the atrium, hovering like a spaceship with music blaring and the crowd cheering—the only thing missing was a laser light show.
On Liberty of the Seas, nothing comes in half-measures. Consider how the captain is introduced during the Welcome Aboard Reception: Held inside the four-story Royal Promenade, the captain arrives by way of a "flying bridge" that descends from the roof of the atrium, hovering like a spaceship with music blaring and the crowd cheering—the only thing missing was a laser light show. The overall experience is high-energy—often to a fault, as with the needlessly ear-blistering announcements from the ship's cruise director (especially at the Muster Drill, when we saw some passengers plugging their ears).
Liberty of the Seas spends winters in the Caribbean and summers in the Med—not that the destination much matters. Based on sheer size alone, there is more to experience on Liberty of the Seas than most of us can tackle in a week—who needs ports of call when you've got an onboard shopping mall? And that was a central complaint for us: Royal Caribbean made little effort to connect us with the fabulous ports the ship sails to—except for the obligatory sales pitches for shore excursions and port shopping. Instead, Liberty puts its muscle behind onboard diversions, and the offerings are varied and often impressive.
Liberty puts its muscle behind onboard diversions, and the offerings are varied and often impressive.
We found the two headliner shows in the Platinum Theatre entertaining. "Saturday Night Fever," an abridged version of the Broadway hit, is a perfect excuse for a ship-wide contagion of disco fever, while "In the Air" is a big-scale homage to Cirque du Soleil-style acrobatics, replete with zany costumes and trippy music. "Encore: An Ice Spectacular" is just that—and between shows the ice rink is open to guests for skating. The rock-climbing wall and surf simulator are other offerings that make the ship inviting to active types, and there's no add-on fee for any of these. Royal Caribbean has built tie-ins with crowd-pleasing brands like Johnny Rockets and Dreamworks (creator of the Shrek franchise) and, with a solid kids program and terrific H2O Zone, the ship is a natural for families, especially teens.
This was the ship's arcade room, which stayed busy well into the wee hours. From air hockey and foosball to the latest video games, there was something for all the pinball wizards. Using dollar bills, arcade credits are loaded onto room keys for play.
We found this cabin to be comfy and reasonably sized, though the bathroom—especially the shower stall—was snug. The balcony proved a good refuge when the weather cooperated, and there was a decent amount of storage for two. But considering the relatively young age of the ship, the décor was surprisingly conservative.
The bed (two twins joined to form a queen) was comfortable, if a bit spongy. The TV was not far from our pillow, and blackout curtains blocked out most daylight. Directional reading lights on each side of the bed were much appreciated.
The bathroom wasn't exactly generous, and the shower in particular was tight. Front to back, the shower stall was just 29 inches deep. The shower doors felt cheap and flimsy, and clattered when used. More importantly, the drain was clogged before our first shower. The stall filled with an inch of water, then overflowed into the bathroom. When we got out, the bathroom floor was swimming in a shampoo rinse. We alerted our cabin attendant, and a plumber fixed the clog an hour later.
A sign told us we could help Royal Caribbean conserve water by re-using towels. Leaving them on the rack indicated we'd use them again, and so we did—but our cabin attendant still replaced them most days.
The cabin had fairly typical features. Two chairs, a full-length mirror for dressing, a hairdryer permanently wired within a desk drawer, and 230 and 120-volt plugs. The closets had a reasonable amount of storage, and were open at the floor level (for ventilation we assume). No bathrobes were provided, but Platinum-level Crown & Anchor members can request them.
The cabin TV was equipped for game consoles, for those who bring them. One channel offered six movies, playing at set times, once or twice daily. We could also use the TV to order room service, review our account, pay gratuities and book specialty dining and shore excursions. Ship announcements were piped into the hallway outside our door, or through the in-room music system. It had volume control, but leaving it on meant ceaseless musical accompaniment; leaving it off meant missing announcements. It seemed like a thankless trade-off.
The minibar had sodas, Red Bull, sparkling and still water, and packaged snacks—all at a 15-percent gratuity. An ice bucket was available on request.
Our balcony was accessed by a sliding glass door and there were two plastic-ribbon deck chairs for enjoying the view.
Managed by Steiner Leisure, which oversees spa facilities on a majority of cruise ships today, the Liberty Day Spa on Deck 12 was blandly efficient, offering a full range of treatments. From a variety of facials and massages to body treatments, skin care, salon services and acupuncture, there was an attendant available to take care of us.
Although Steiner Leisure's pricing is fairly consistent from ship to ship, it seems fairly heady to us, compared to land-based resorts anyway. Rates ranged from a men's facial at $95 to $199 for a 75-minute bamboo massage. A massage class for couples was held one afternoon, at $60 per couple. After a day or two, specials started to blossom, with discounts on certain services and package offers.
There was also menu of services for kids, which included an ice cream manicure or pedicure ($45-$65), a mother-daughter manicure or pedicure ($90-$130) and a Teen Spa Pamper Party held every evening—$99 per teen.
A 15-percent gratuity was automatically billed for all treatments.
Center Ice
An ice rink at sea was a pretty audacious concept when Royal Caribbean debuted its first, but now they're standard-issue on all of the line's Oasis-, Freedom-, and Voyager-class ships.
The venue is dual-purpose, hosting both free skating for guests, and a terrific 45-minute revue by 10 fine skaters performing jumps, lifts and spins that kept the audience enthralled. The show plays several times each cruise. Tickets were issued first-come first-serve at a makeshift box office in the Sphinx lounge on the first day of the cruise. We'd recommend getting them.
Center Ice was open for free skating daily, but not straight through. Generally there would be 30-minute sessions over a period of several hours. Unfortunately, sessions weren't announced in the Cruise Compass newsletter—the only way to find out seemed to be going to the ice rink. Skates were loaned for free, and no prior experience was necessary.
Long pants and socks were required for skating, along with signing a liability waiver.
Fitness Center
The gym onboard Liberty of the Seas sprawled across Deck 11 forward, with a sufficient amount of Life Fitness treadmills, elliptical machines and bikes. Only on the first morning of the cruise did we see a (short) wait for equipment.
A number of classes were offered on our cruise, but most carried a surcharge. This included spinning, yoga and Pilates, "Power-Box conditioning", and "Body Sculpt Boot Camp". There's even a boxing ring—though we never saw it in use during our cruise.
A 15-percent gratuity was automatically billed for all fitness center services.
Sports Deck
One of the key attributes of Liberty of the Seas is an abundance of sports activities, and you'll find most of them here, on the aft portion of Deck 12. There's a basketball court and a nifty miniature golf course. A golf simulator was available for $25 an hour. But the two stars here are the rock climbing wall and the surf simulator.
At the rock-climbing wall, guests could scale an artificial rock wall built against one of the ship's smokestacks, guided safely by an instructor who belayed guests from below. Ascending the easiest route on the wall took us more than 200 feet above the sea, a pretty awesome perch. There were multiple routes, and some were definitely more challenging. All guests have to do is sign the liability release, wear socks, harness and helmet, clip in and aim for the bell at the top of the wall.
The FlowRider is a steady, flat current of water that flows up an incline, creating an inverted wave of sorts that allows guests to ride on a boogie board. Although it takes a little while to get the hang of it, after a few tries the balancing act starts to fall into place (it helps to attend the demo on the first afternoon of the cruise, when instructors show off their skills and provide a few tips). The FlowRider is free to all, though there is a line; on our cruise the wait was never more than about 10 or 12 minutes that we saw. Alternatively, one-on-one lessons run $75/hour; or a group can rent the facility for $350/hour.
The surf simulator operational hours were detailed in the daily Cruise Compass newsletter—usually several hours each in the morning and afternoon. Use of the FlowRider requires signing a waiver (parents sign for those under 18). There's also a minimum height requirement—52" for boogie boarding, 58" for stand-up surfing.
Embarkation and disembarkation were relatively smooth, with a minimum of lines to navigate. Though there was almost always a line at Guest Services, staff worked the line to solve smaller issues ahead of reaching the counter. One port of call was poorly handled, however: when dozens of motor coaches arrived from shore excursions during the hour before our scheduled departure, many passengers waited in line (or on buses) half an hour or more, funneled through a single access point—quite a few were irritated.
With so many activities and shows on offer, the ship's daily newsletter, Cruise Compass, had a lot of ground to cover, and it did so efficiently. Delivered to our cabin each evening, the newsletter detailed the next day's activities, shows and hours of operation. Along with info on tipping and disembarkation came a ream of marketing—spa discounts and merchandize offers. It was all a bit overwhelming (and wasteful).
Staff
Generally, the crew of 1,300 aboard Liberty of the Seas was professional and aimed to please a wide spectrum of guests. A couple interactions with bartenders and servers could have been better, but these were vastly outweighed by more favorable impressions. The entertainment staff, in particular, was both talented and dedicated. One employee, in particular, went way out of her way to assist a guest when their computer charger went missing, loaning her own for the evening.
Our cabin was well attended, and room service was efficient.
Tipping
Royal Caribbean's suggested gratuities total $11.65 per day, per passenger. The suggested allocation is $3.75 for the dining room waiter (per person, per day), $2.15 for the assistant waiter, $.75 for the headwaiter, and $5 for the cabin attendant (or $7.25 for suites). On the final day, four envelopes were left in our room for us to distribute the tips. Royal Caribbean also provides an option to put the tips on the checkout bill; pre-printed vouchers were provided for the envelopes.
An automatic 15 percent gratuity was added for spa services, and all drink purchases, including minibar items.
Dress Codes and Alcohol Policy
Royal Caribbean doesn't make a big deal out of dress codes. On casual nights, the only restriction for the main dining room was "bare feet, short pants and tank tops are not permitted." Curiously, although Liberty of the Seas had a frighteningly detailed guest conduct policy, the exact dress code for formal night (typically two during a seven-night cruise) was not outlined in any of the ship literature we received, and many cruisers just dressed casually.
Dinner at the ship's two main specialty venues was described as Smart Casual—no shorts.
Royal Caribbean's alcohol policy is that no beverages may be brought onboard the ship. Bottles brought aboard were confiscated at the security checkpoint and marked with a cabin number to be returned at the end of the cruise. Standard drinking age was 21, but in some circumstances (such as European cruises) Royal Caribbean reserved the right to lower the drinking age to 18. A lengthy description of the line's alcohol policy was found in the cabin directory.
Editor's Note: In November 2012 Royal Caribbean relaxed its policy regarding bringing wine onboard, fleet-wide. Guests are now allowed to bring two 750-ml bottles of wine per cabin during the embarkation process. A $25 corkage fee applies if these wines are opened at the ship's restaurants or bars.
Loyalty Programs
The Crown & Anchor Society is Royal Caribbean's frequent-cruiser program, with one point awarded for each day sailed (two for those booking suites). Guests become Gold (entry-level) members after attaining 3 points; benefits include an invite to the welcome-back party (on a future cruise) and quarterly savings certificates. At Platinum level (30 points) perks include priority check-in, bathrobes for use onboard and discounts on balcony cabins and suites. At Emerald level (55 points), members receive a welcome gift and beverage. Other thresholds include Diamond level (80 points), Diamond Plus (175 points) and Pinnacle Club (700 points).
Located at the aft end of the Royal Promenade, this is the spot for bubbly, though we wish it weren't located in such a high-traffic area. Still, it's good for people watching, and several quality champagnes were available by the glass.
The ship's standard bar menu was available at the Champagne Bar, but the reason to come here is for tiny bubbles. All were available by the bottle and some by the half-bottle. There was also a nice roster of champagne cocktails. The menu also covers a variety of classic cocktails, martinis and nightcaps.
Basically the same venue, with buffet lines just a few feet apart and sharing the same seating area—we'll treat them as one. The Jade section has a few Asian items, but little more than the Asian section of conventional buffets.
The overall venue sprawls, wrapping around the aft of Deck 11, and an unending parade of carts rumbling by wipes out any semblance of ambience or tranquility. Otherwise, the buffet is well laid out, with smooth traffic flow and minimal congestion. Hand sanitizer use was strongly encouraged from the first day of our cruise to the last.
Breakfast selection was fine, with the usual array of cold and hot cereal, breads and pastries, fruit, cold cuts, cheeses, and meat. The omelet station was on top of its game, turning around orders in about two minutes. More exotic breakfast fare included miso soup, congee, dal, roti, and black pudding.
The lunch and dinner options should have been more extensive, though some items rotated in and out. There was a pizza station, and a section for small pre-made sandwiches, and usually three soups on offer. An Indian section's offerings were nicely spiced, even a little daring. At the Jade counter there was sushi and various stir-fry dishes.
The salad bar was less diverse than we'd like, but we appreciated the whole fruits. A dessert bar featured a range of options, but they weren't any better than those in the main dining hall.
Complimentary coffee, tea, iced tea, and juice were on offer. Fresh-squeezed orange juice was available, and delicious, but the add-on was steep: $3.50 for a 12-ounce cup. Single-serving bottles of wine were offered for $5.50.
A character breakfast featuring stars of Dreamworks' animated films was offered twice; advance signup was required. Breakfast was generally offered daily from 7 to 11 a.m., lunch from 11:30 a.m. to 3:30 or 4 p.m., and dinner from 6 to 9 p.m.
We did not stay in the rest of these cabins, but we have summaries here provided by Royal Caribbean International. Note that any photos on this page may be provided directly by the cruise line and not our reviewer.
Interior
"This standard stateroom offers two twin beds, a private bath and all the amenities of our standard staterooms. Two twin beds (can convert into queen-size) and private bathroom. (150.7 sq. ft.)"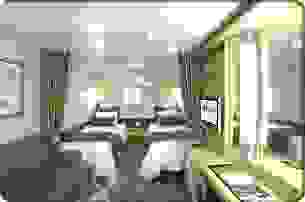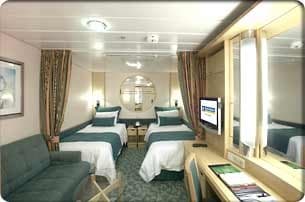 Family Interior
"These staterooms accommodate six in its twin beds, sofa or pullman beds and sitting area. Two twin beds (can convert into queen-size) and private bathroom. (323 sq. ft.). Stateroom can accommodate up to 6 guests."
Promenade
"This stateroom has all the features of a standard stateroom, plus a bowed window overlooking the Royal Promenade. Two twin beds (can convert into queen-size) and private bathroom. (160.4 sq. ft.)"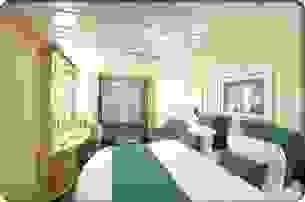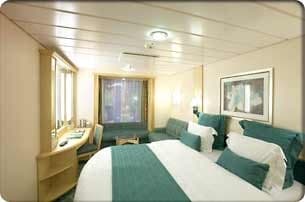 Promenade Family
"These staterooms accommodate six in its twin beds, sofa or pullman beds and sitting area and include 2 bowed windows overlooking the atrium. Two twin beds (can convert into queen-size) and private bathroom. (300 sq. ft.)"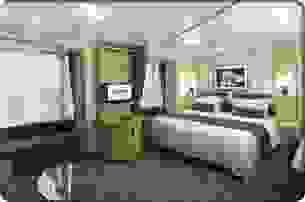 Ocean View
"These staterooms offer a gorgeous view, two twin beds and a private bathroom. Two twin beds (can convert into queen-size) and private bathroom. (159.3 sq. ft.)"
Large Ocean View
_"These larger staterooms offer a gorgeous view, two twin beds and a private bathroom. Two twin beds (can convert into queen-size) and private bathroom. (175.5 sq. ft.)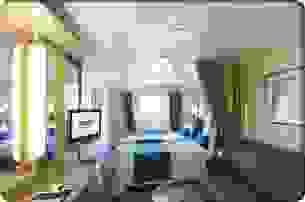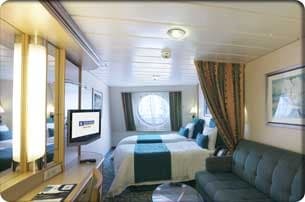 Family Ocean View
"These staterooms accommodate six in its twin beds, sofa or pullman beds and sitting area. Two twin beds (can convert into queen-size), sofa and/or Pullman beds, sitting area and private bathroom. (338 sq. ft.). Stateroom can accommodate up to 6 guests."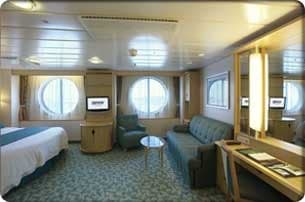 Superior Ocean View with Balcony
"These staterooms offer a sitting area, vanity area, two twin beds, private balcony and mini bar. Two twin beds (can convert into queen-size), sitting area (some with sofa bed), private balcony and private bathroom. Rates vary from deck to deck. (199.1 sq. ft., balcony 65.7 sq. ft.)"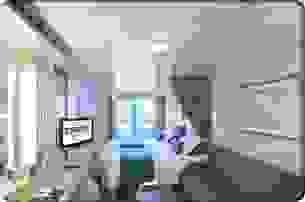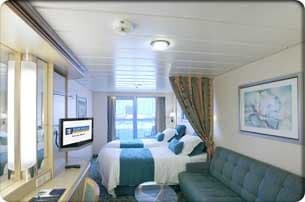 Junior Suite
"These suites offer a comfortable bedroom, small sitting area and a private balcony. Two twin beds (can convert into queen-size), private balcony, sitting area (some with sofa bed) and private bathroom. (297.1 sq. ft., balcony 94.7 sq. ft.)"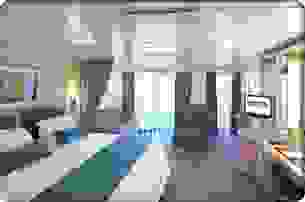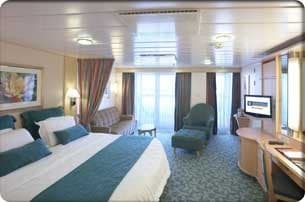 Grand Suite
"Our Grand Suites offer a comfortable bedroom, a living area and a private balcony. Two twin beds (can convert into queen-size), private balcony, sitting area (some with sofa bed) and private bathroom. (401.5 sq. ft., balcony 104.4 sq. ft.)"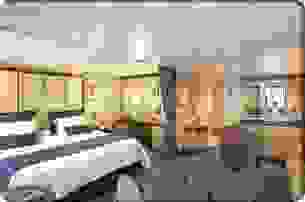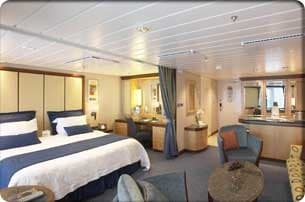 Royal Family Suite
"These large suites offer two bedrooms, two bathrooms and a living area with a sofa bed. Two bedrooms with twin beds that convert to queen-size beds (one room with third and fourth Pullman beds), a private balcony, two bathrooms and living area with double sofa bed. (587.7 sq. ft., balcony 270.5 sq. ft.). Stateroom can accommodate up to 8 guests."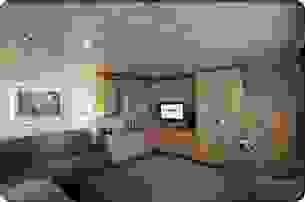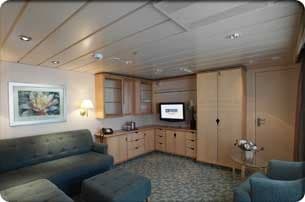 Owner's Suite
"These luxurious suites offer separate living areas, private balconies and a mini bar. Queen-size bed, private balcony, private bathroom and a separate living area with a queen-size sofa bed. (594.2 sq. ft., balcony 204.5 sq. ft.)"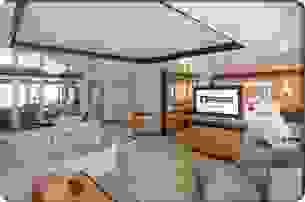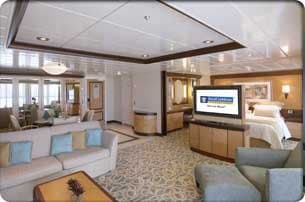 Presidential Family Suite
"The Presidential Family Suite offers four bedrooms, four bathrooms, a private balcony and a living area with a sofa bed. Two master bedrooms with baths. Two additional bedrooms, each with two Pullman beds and two twin beds that convert to a queen-size bed. Two additional bathrooms with showers and a spacious living area with a sofa bed and dining table. Private balcony with dining area and lounge chairs. (1,209.9 sq. ft., balcony 805.1 sq. ft.). Stateroom can accommodate up to 14 guests."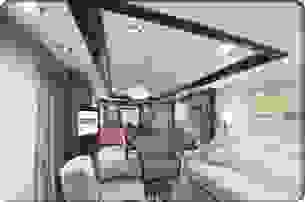 Royal Suite
"Our Royal Suites offer separate bedrooms, balconies, whirlpool bathtubs, and some even offer baby grand pianos. Separate bedroom with king-size bed, private balcony, living room with queen-size sofa bed and private bathroom. (1,358.4 sq. ft., balcony 313.2 sq. ft.)"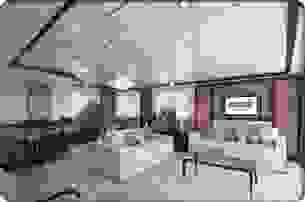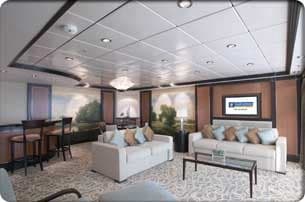 Carrying 3634 passengers at double occupancy (and usually sailing with more), we were impressed that—overall—Liberty's traffic flow was smooth and crowding was not usually a problem. Free tickets were issued for the most popular shows (the venues are not large enough to accommodate all passengers), but there were still scattered seats available at showtime for performances we attended. Still there were a lot of bodies to manage, and it didn't always run smoothly. We found a line present at the Guest Relations Desk through most of the day (thankfully, a crewmember frequently went out to "work" the line, trouble-shooting simpler issues). And at one port long lines formed in the hour prior to disembarkation, leading to frustration for many guests—shore excursions should have been better timed to minimize the logjam.
Our dining experience was—at best—average. The buffet offerings were uninteresting, and the main dining room was a hit or miss affair.
Our dining experience was—at best—average for the cruise industry. The buffet offerings were uninteresting, and the main dining room was a hit or miss affair. Of the specialty restaurants, Johnny Rockets delivered just what we expected, while the Italian Portofino was a fairly good meal, helped by attentive service; the steakhouse Chops Grille was a letdown, and not quite worth the surcharge.
There are a lot of common areas to navigate and these were mostly appealing. There was a sufficient amount of pool and deck space, much of it linked to the various activities. We liked the large interactive touch screens found at each elevator/stairwell, which provided directions to major areas of the ship, as well as "what's on now" information. We found the art in stairwells fun—contemporary photos that toy with reality and illusion—while in hallway corridors there were photos and art, with a theme for each floor. One is exotic monuments, another magicians and sorcery, and another dedicated to recent movie heroes (Jar Jar Binks, really?). On the downside, Royal Caribbean says "our ships are designated as non-smoking," but we found cigarette smoke persistent, sometimes inescapable in quite a few indoor (non-smoking) areas.
We looked forward to a good steak dinner aboard Liberty of the Seas, and Chops Grille was the place to find it. But for a $30 surcharge, we found the experience wanting. Situated next to the heavily trafficked Windjammer buffet, the venue itself is pleasant. Inside, the ambience is quieter, more reserved, with most tables sidling up to the big picture windows. There's a good amount of wait staff, but we found our server a bit overbearing with recommendations, most of which did not impress.
Entrées included filet mignon, New York strip, porterhouse, veal chop, mixed grill beef short ribs, along with pan-fried barramundi and Alaskan halibut. The filet mignon was decent, neither spectacular nor disappointing, but cooked as ordered (medium-rare) and sparked with a spoonful of chimichurri sauce. Sides were uninteresting, and not worth the calories. We chose the mud pie for dessert, and found it pretty, but crude-tasting.
The ship's standard bar menu was available at Chops Grille along with an expanded wine list.
Chops Grille was open nightly from 6 to 10 p.m.
Tucked into a stone- and wood-lined room off the Royal Promenade, we were were warmly welcomed by a knowledgeable bartender. A small but tasty selection of hors d'oeuvres were offered to those ordering wine, including luscious olives, feta and grilled veggies.
At Vintages, wine aficionados will find more than 70 wines available by the glass, in 2- or 5-ounce pours in a selection that spans a range of both old and new world wineries. While some were available starting at $7, most were priced in the $12-$20 range. Themed flights of three pre-selected 2-oz tastings were also available, at $11-$24.
A couple dozen more bottles were available from Enomatic Wine Preservation machines, dispensed directly from a sealed bottle (inert gas preservation minimizes the oxygen which would otherwise change the wine's character).
To our taste, Liberty of the Seas was neither intimate, nor subtle, and the ports were more sideshow than true destination. In trying to cater to the widest possible audience on a grand scale, the ship won't be a good match for some cruisers. But one of Liberty's strengths is that there is something for almost every age bracket at almost all hours of the day and evening, making it an especially good pick for a multi-generational family cruise. While the dining was unimpressive, bring an appetite for fun and entertainment and Liberty of the Seas could be a good fit for you.
General Health and Safety
During mandatory Muster Drill the procedures for emergency evacuation were detailed, including instructions for wearing a life vest. Passengers were specifically told to familiarize themselves with the Guest Conduct Policy, a detailed four-page document found in the cabin directory.
The speaker volume during the Muster Drill was unnecessarily loud, with many passengers covering their ears during the presentation.
Clinics
Located on Deck 1 aft, the clinic was open 9 to 11 a.m. and 5 to 7 p.m. daily.
Smoking Regulations
Royal Caribbean says their ships are designated as non-smoking, but that certain areas of Liberty of the Seas were designated for smoking. Maybe, but non-smokers should not assume they will experience a smoke-free vacation—wandering smoke and stale cigarette smell was an issue, and on occasion we saw passengers smoking in the Royal Promenade.
Dedicated smoking areas included the port side of Boleros, the Hoof and Claw Pub, the Connoisseur Club, and the forward/port side of the casino, including tables, slots and the bar. Outside, smoking was allowed on Deck 4 and the topside decks, on the port side. Smoking was also allowed on stateroom balconies, but not in the cabins themselves.
Although we didn't have a bathrobe in our cabin or a chocolate on our pillow, the reading lights were a nice plus.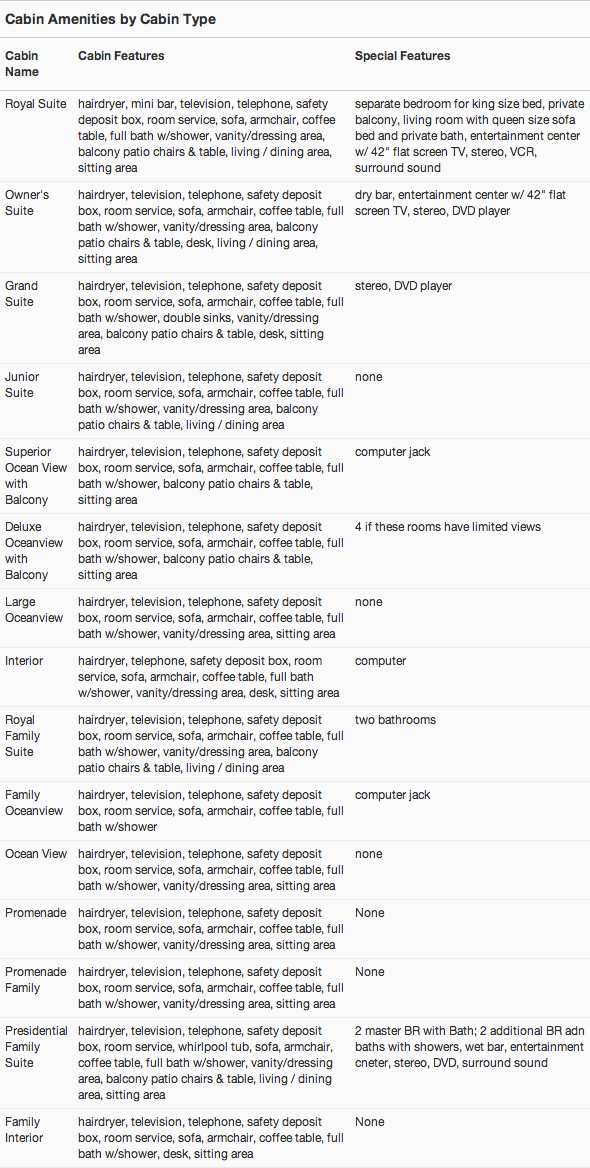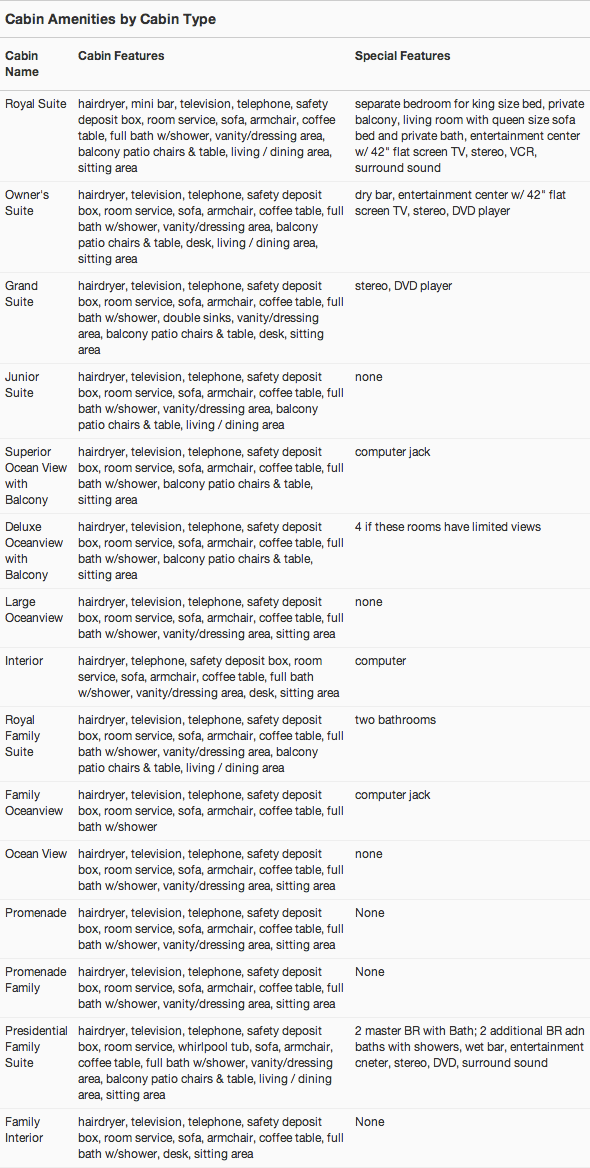 Main Pool
Sitting mid-ship on Deck 11, there were actually two side-by-side pools here, along with a pair of whirlpools, showers and an overhead video monitor which played occasional music videos and movies. There was a towel station, and we had to use our room key to obtain one; a $25 charge would be assessed for towels not returned. There was a DJ here at certain hours, mostly on sea days.
On sunny afternoons this was the busiest area of the ship, and several loungers were reserved by guests using clothing and books (despite signs warning not to). Staff didn't seem to make an effort to enforce the rules, so a number of guests went without loungers. We felt the ship, overall, had enough deck chairs and loungers for all—but not all of them were located where the party was pumping.
Solarium
A more adult oriented area, with few kids scampering about. At almost 7 feet, the pool was deeper than the others, and could be used for short laps. But the best selling point for this area was a pair of giant whirlpools on either side of the ship, cantilevered out over the ocean. They were popular, adults-only spots, often holding as many as 20 guests.
H2O Zone
This terrific water park is what quickly keyed us in that Liberty of the Seas is one of the best cruise ships available for families. We didn't find big attractions, like the slides proliferating on some ships, but the variety of pools and play areas at various depths kept kids happy for hours, with fountains, waterfalls and a small circular river to play in. Babies in diapers weren't allowed.
Deck 12
The big, broad deck had sun loungers and ashtrays. Towards the rear of the ship the deck blended into the Adventure Ocean kids areas, where there were ping pong tables, and the Johnny Rockets joint, with its outdoor seating area.
This was also the ship's jogging track, and 2½ laps around roughly equaled a mile (one lap = .43 miles to be exact). There were also fitness stations sprinkled along the course, encouraging various stretching exercises.
Deck 5 (Promenade Deck)
A really appealing, broad promenade that wrapped the entire ship. Near the ship's bow, stairs took the promenade up a level (a sign said jogging wasn't permitted). It was a great area for strolling or lounging, and we could play Kate and Leonardo by heading up to the very front of the bow. The deck was cantilevered around the Main Dining Room, which made for a nifty perch to watch the pilot boats pick up their captains. Photo ops, anyone?
There were shuffleboard courts and equipment on both sides of the ship.
Deck 13, St. Tropez
The top deck above the bridge, nicknamed St. Tropez, was a great spot for stretching out on sunny sea days.
At mid-ship was a separate, private deck for gold-level Crown & Anchor Society members. No matter how nice the weather, this deck seemed to be empty during our entire cruise.
The English pub on Liberty of the Seas has lots of ambience, but the two evenings we came in we found it filled with cigarette smoke that spilled into the Royal Promenade (apparently Royal Caribbean doesn't know that England outlawed smoking in pubs years ago). A singer-guitarist performed most evenings starting at 9 p.m.
The ship's standard bar menu was available at the Hoof & Claw Pub, but the reason to come here is for the beer list of 40 brews, about half of which aren't found at the ship's other bars. While most of the list was fairly ordinary, we found a few special treats, as well as beer cocktails like as the Michelada (Corona, Bloody Mary mix and lime).
The Italian restaurant on Liberty of the Seas rewarded with romantic but understated décor, and satisfying dishes with a Ligurian bent. Although the kitchen is open and bright, we were surprised that noise was kept to a minimum and the lighting was still subdued. The rear area is darker and more romantic, but also busier and more crowded, so we didn't mind our table in the middle of the restaurant. We found our server very polished—attentive, but not pushy. Alas, as the restaurant began to fill towards the end of our meal, service slowed to a crawl. Still, we felt the modest surcharge was well rewarded at Portofino.
Portofino was open nightly from 6 to 10 p.m.
The Royal Promenade is designed like an indoor suburban shopping mall, with shops, bars and eateries lining a four-story corridor running the length of the ship. Charming? Not really, but the area stayed busy on sea days and particularly in the evening, with stores open till 11 p.m. Fliers for merchandize and sales arrived in our cabin daily.
The jewelry store featured watches by Tonino Lamborghini, Tag Heuer, Rado, Ramond Weil, Victorinox, Bulova and Longines, plus jewelry by Korite, Le Vian, Effy, Auragento and Roberto Coin. At the Fashion Boutique we found sunglasses, amber jewelry, Swarovski crystals, Bijoux Terner accessories, Fossil-brand sunglasses, handbags and leather products, Guess-brand clothing and accessories.
The Perfume and Cosmetics store covered most of the big brands—Bvlgari, Chanel, Ralph Loren, Calvin Klein, Dolce & Gabbana, Armani, with a good array of skin care products from Lancôme, Shiseido, La Prairie, StriVectin, Dr. Brandt and Estée Lauder. At the Logo Souvenir shop, there was plenty of Royal Caribbean merchandise, as well as resort wear that didn't flaunt the RCL logo. Also here was a small selection of sundries, including sun block, tampons, pain relievers, toothpaste, etc.
The General Store carried duty-free liquor and cartons of cigarettes, both of which could be collected during final disembarkation. Also here were paperback titles, snacks and candies, and more sundries as well, and a few oddball items like a nose/ear hair trimmer, a hand-held luggage scale, luggage locks, and walkie-talkies. A shop called Get Out There had active wear watches, sunglasses, hats and flip flops, shoes and outdoor wear, sunblock and resort wear.
Photo Gallery
A staff of photographers roamed the ship at seemingly all hours of the day, snapping photos of guests as they enjoyed their holiday. Formal portraits were also available, at $23.54 for 8×10s, as well as DVDs of the overall voyage.
The Photo Gallery also has a small retail store that sells Nikon and Canon point-and-shoot style cameras and Olympus binoculars.
Art Gallery
The ship had an art gallery featuring contemporary artists. We didn't pull out our checkbook.
Schooner Bar
The ship's catchall lounge, pleasantly decorated with a nautical theme. The piano perked up most evenings after 9 p.m. By day, this venue hosted trivia contests, acupuncture seminars, Sudoku challenges, etc.
The Sphinx
Trimmed in Egyptiana, the Sphynx is a multi-purpose room sometimes used as a bar. This was where we could make show reservations on the first day of the cruise, where some Bingo sessions were held, and a party band or DJ rocked on several evenings.
The Catacombs
The two-story disco was decked out in gargoyles and medieval arches. The adults-only club generally didn't start up till 11 p.m., but the music was pretty fierce.
On Air Club
The bar at the entrance to the ice rink, generally staffed before and after ice shows, and then at various hours in the evening. A small stage hosted the main karaoke venue, but there are also private booths to show off your chops without the glare of an audience.
Named for the steamy slow-dance of Cuba, Boleros percolated with Latin energy each evening when the band Latin Magic cranked up the salsa and merengue. The dance floor was a particularly seductive lure for couples nightly. Smoking is allowed on one side of the bar, not on the other, but the smoke wandered freely.
The ship's standard bar menu was available at Boleros, along with a number of special Latin-themed cocktails, like caipirinhas and mojitos.
The Diamond Club
This is the private lounge for Diamond-level members of Royal Caribbean's frequent-cruiser program, the Crown & Anchor Society. We snuck a peak.
Skylight Chapel
On Deck 15, the highest public space on the ship, we found this sweet little chapel where weddings can be conducted by prior arrangement.
Royal Caribbean Online
This was the ship's internet station, unattended, with an ample collection of PCs for surfing the web. The basic rate was .65/minute, but packages were available that brought the per minute rate down—60 minutes for $35 (.58/minute), 100 minutes for $55 (.55/minute), etc. WiFi was available ship-wide for those who brought their own laptops.
There was a discounted rate of .30/minute for stations in the Teen Zone.
Conference Center
A conference facility was available for groups sailing on Liberty of the Seas.
Seven Hearts and Cloud Nine
This side-by-side pair of rooms next to Olive or Twist on Deck 14 serves as meeting space and was unattended during our cruise. Mostly it was used as an informal card and game room, though no special events were scheduled that we noticed.
Library
The ship's library on Deck 7 was perfunctory. We didn't find a wide selection to choose from.
We originally thought the idea of putting Johnny Rockets on a cruise ship seemed a bit uninspired. But the line waiting to get in at lunch tells a different story. If you're in the mood for a classic American burger, Johnny Rockets hits the spot. Save your nickels for the modest cover charge; the table-mounted retro jukeboxes don't work. But music is still part of the show: When "Last Dance" came in over the speakers, the mostly-Philippine servers broke out in a line dance. When the crowd thinned out a bit, they performed magic tricks for wide-eyed kids.
Although Johnny Rockets was packed the first couple days of our cruise (pagers were handed out), towards the end it was easier to get a table, especially after the main lunch seating. There are additional tables outside, when the weather cooperates (amazingly, this is the ship's only restaurant with outdoor dining). Note that, with the basketball court upstairs, this venue can get pretty noisy.
The menu more-or-less mirrors the ones back home—juicy, flavorful burgers, with several different options available. Other options included hot dogs, chicken tenders and grilled chicken breast, and various sandwiches. Beer and soda was available, plus flavored fountain sodas—all at a surcharge. But the star of the drink selection was classic shakes, malts and floats. All in all, considering the quality of other options aboard Liberty of the Seas, Johnny Rockets delivered what was almost our most satisfying meal.
The hours for Johnny Rockets varied daily, depending on port schedule, but the restaurant was generally open from somewhere between noon and 3 p.m. until midnight.
Platinum Theatre
This well-designed venue was home to the ship's biggest shows, seating over 1300 on two levels. Sightlines were excellent from most seats, with a minimum of obstructing columns to block the stage. Bar service was available at showtime.
There were two headliner shows, and both were well above-average, and quite popular, with two separate shows each. Because the large theatre doesn't have enough seats for all aboard, tickets are issued first-come first-serve in the Sphinx lounge on the first day of the cruise. We'd recommend getting the tickets, though there were a few empty seats remaining at showtime for both shows we attended.
The Platinum Theatre is also used for some of the Bingo sessions, headliner shows, game shows and movies. The 3-D presentation for one film we attended was slightly dim, but otherwise large and crisp (and much preferable to the ship's pint-sized screening room).
Screening Room
This small room was the main venue for films. It wasn't bad, but the screen was small and we found overall presentation to be much better in the Platinum Theatre, for the few films screened there. A half-dozen relatively recent films were shown in the screening room at various times throughout the cruise; most of them were also shown on TVs in staterooms (at other hours).
We love Ben & Jerry's, and wish Royal Caribbean stocked it as a regular dessert offering, rather than tacking on charges. For fellow cheapskates, note that we found a free self-service ice cream dispenser next to the pools on Deck 11. It was generally only open till 6 p.m. but, needless to say, the Ben & Jerry's treats were far better.
The hours for Ben & Jerry's varied daily, depending on port schedule, but in general the stand was open from somewhere between noon and 2 p.m. until 1 a.m.
NOTE: For true Ben & Jerry's addicts, consider booking cabin 6305. It's a promenade-view unit with a panorama obstructed by the hindquarters of two plastic heifers atop the B&J entrance. For the inconvenience, we're told guests in this cabin get coupons for free ice cream every day of the cruise.
Conveniently located between the Windjammer Café and the main pool, liquid "fitness fuel" was served here—power shakes, energy drinks and fruit smoothies. Choose your fruit (strawberry, mango, peach, etc.) and your "poison" (fat burning, muscle building, etc.) and blend. Prices ranged $4.50-$5.50.
The ship's standard bar menu was also available at Squeeze Bar.
One of the larger gambling facilities at sea, Casino Royale has more than 300 slot machines and plenty of tables offering craps, roulette, blackjack, Texas Hold'em, three card poker and Caribbean stud poker. The blackjack tournament was especially popular.
Our room key was good for a $2000 advance for the casino; a 3 percent fee is applied to cash advances.
Although a section of the casino was designated as non-smoking, we found the entire venue fairly smoky, even when it was closed. A fully stocked bar at the center of the casino kept us limber.
Overlooking the busy main pool from Deck 12, the ship's standard bar menu was available at the Sky Bar.
A deli case stocked with cupcakes proved irresistible to many cupcake lovers. There were about a dozen flavors on offer, from Oreo and red velvet, to cappuccino and apple pie cinnamon. We tried the turtle fudge cupcake, which received an injection of caramel before it was handed to us, and found it sweeter than our sweet tooth could handle.
Hands-on cupcake decorating classes were held on several days of our cruise, but the additional fee of $22 ($15 for kids) was a turnoff to us.
The hours for Cupcake Cupboard varied daily, but in general the stand was open from 4 till 11:30 p.m., opening earlier on sea days.
Located on the Sports Deck, the Wipe Out Bar had a fairly short selection of soft drinks and beer available.
With a backdrop of Italian movie posters and 8×10 glossies of Italian-American heroes—Brooklyn Dodgers, Sinatra, etc.—Sorrento's décor tweaks the clichés amusingly, but the food doesn't stray far beyond basic New York-style pizza, served by the slice. Open till well after midnight, this is the spot to satiate late-night hunger pangs.
Pizzas are primarily margherita and pepperoni, along with a daily special. If you time the line right you'll be able to get something fresh out of the oven. Paninis were also available, and the deli counter has a few salad and antipasti options. For dessert, there's cannoli and biscotti.
Happily, there are no surcharge for Sorrento's. The hours were 2 p.m. to 2 a.m. daily.
Breakfast is ordered using a door tag, to be left out before 3 a.m. with delivery times in 30-minute increments between 6:30 and 10 a.m., or by calling room service. In-room dining could also be ordered using the TV's interactive features. A late night service charge of $3.95 was assessed for orders placed between midnight and 5 a.m.
Breakfast options were limited, standard hot and cold options like eggs, bacon, cereal, yogurt, and fruit. Beyond breakfast, the standard room service menu was a little more diverse.
Meals arrived on a modest-sized tray, with plates covered by plastic lids and stacked two- and three-high. Salt and pepper packets and other condiments were on the side. No glass was brought for the bottle of beer we ordered at lunch. Juice came in a small cup covered in plastic wrap and a paper lid, but with the plastic slightly torn, some of the juice spilled.
Delivery times and estimates varied wildly. We ordered lunch one afternoon and were told to allow 40 to 45 minutes for delivery; the knock on the door came 47 minutes later. Our first breakfast was ordered by phone and we were asked to allow 45 minutes; 25 minutes later the phone rang telling us our order was on the way and 10 minutes after that the delivery arrived. But we asked for milk with our coffee and this was not on the tray; we called back down to request it and a carton of milk came just four minutes later.
We ordered a second room service breakfast by phone and were told it would be delivered within 40 minutes. In fact, the order arrived just 10 minutes later ("we lucked out," said the server). Half the food was warm, the other half cooled to room temperature.
Room service could bring coffee, tea, milk and hot chocolate, while the ship's standard drink menu was also available. The minibar had a small selection of sodas, and bottled sparkling and still water.
The ship's coffee house serves Starbucks coffee drinks for a surcharge, but the pastries and sandwiches are free—some mirrored what was on offer at the ship's buffet. The joint is fitted out with couches and cushy leather chairs, though the ambience is a little busier and less cozy than our coffee shops at home. This was the one food and drink spot on the ship that was open 24 hours.
Most of the standard Starbucks coffee drinks are on offer here. Tazo tea and chai lattes are also available, along with Frappuccino drinks. We found the quality of brewed (free) coffee both here and at the buffet very inconsistent—sometimes watery, sometimes strong; not what we would consider Starbucks quality.
Meet the tester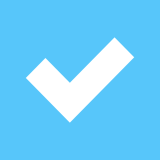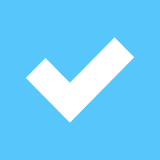 Anonymous Cruise Editor
Editor
@
Anonymous is a valued contributor to the Reviewed.com family of sites.
Checking our work.
We use standardized and scientific testing methods to scrutinize every product and provide you with objectively accurate results. If you've found different results in your own research, email us and we'll compare notes. If it looks substantial, we'll gladly re-test a product to try and reproduce these results. After all, peer reviews are a critical part of any scientific process.
Shoot us an email