Cruises
Holland America Line ms Veendam Review
Although the Veendam seemed overdue for a maintenance overhaul, we didn't encounter operational issues.
Credit:
Greenhouse Spa and Salon, Gym
The spa and salon on Veendam was managed by Steiner Leisure, a company that oversees a majority of spa facilities at sea. Located on Deck 11 forward, the Greenhouse Spa offered a variety of treatments during our cruise, at prices slightly higher than we find at most quality resorts. Treatments were discounted on port days, and other specials became available as the cruise went on, particularly for those booking multiple appointments.
The prices ranged from $129 for a 50-minute Full Body Massage to $259 for a 100-minute AromaSpa Seaweed Massage and Float. A couples or friends massage started at $269 for a 50-minute session. The 50-minute LaTherapie Hydralift Facial Facials was priced $119 with other facials somewhat higher. Manicure and pedicure services started at $45 and $65 respectively. The menu of services also included waxing, tooth whitening and acupuncture—all of which were heavily promoted with leaflets that arrived in our cabin daily.
Within the spa was the Greenhouse Retreat, a small facility within the spa that offered dry heat, steam and aromatherapy chambers, heated ceramic loungers and a body temperature mineral pool. A seven-day pass to use the Thermal Suite was $99 ($149 for couples), a fee that seemed excessive to us, but not to some who wanted this bit of semi-exclusivity to themselves.
A 15-percent gratuity was automatically added to the bill for all treatments.
Overlooking the forward panorama, Veendam's gym was accessed through the entrance to the spa. It was a well-maintained facility and much of the equipment appeared to be the latest generation of LifeFitness treadmills, bikes, etc. The gym was generally not crowded except early morning.
A solid roster of fitness classes were available, though some required an additional fee. Tai chi (twice daily), abs conditioning, pool aerobics, stretching exercises and dance classes were complimentary, most of them taught by the ship's "Lifestylist" and announced in the daily Explorer newsletter; yoga, pilates and spinning classes were $12 per session. The Body Sculpt Boot Camp was priced $120 for four 30-minute circuit-based sessions.
Drinks Overview
There were eight bars serving at various hours. The popular spot during the day was the Lido Bar, opening onto the central pool area. After dark the crowd moved between Crow's Nest, the Ocean Bar and MIX through the evening. A 15 percent service charge was added to all drink orders.
Beer & Wine
Veendam's beer list was short; aficionados were left thirsty. The usual domestics were available for $4.75, with Corona, Amstel Light, Heineken and Beck's for $5.25; Grolsch was available for $5.95. MIX had an expanded selection of beers, including Boddington's, Stella Artois, Bass Ale and Beck's on draught.
Wines by the glass started at $5 for Santa Carolina chardonnay and ranged up to $11 for Labouré roi Pouilly Fuissé on the white side. Reds ranged from Batasiolo Barbara d'Asti ($7) to Les Closiers Châteauneuf-du-Pape ($12). Champagnes included Domaine Chandon Brut ($9.50), Nicolas Feuillatte Epernay Brut ($12) and Veuve Clicquot Yellow Label Brut ($14.50).
Wines by the bottle included a good representation from the Pacific Northwest (where Holland America corporate offices are based).
Mixed Drinks
The ship's standard bar menu included mojitos, margaritas, daiquiris, etc.—all available in classic form or several fruity variations. Most other signature cocktails had their own twist, but there was a Vintage Collection page that handled the classics without embellishments. All of the above were priced $6.95.
Drinks were made with the ship's house spirits—but call spirits were available for .50 cents extra and "premium spirits" were $1 more. Solo, the call spirits were $5.75 and up.
There was a cocktail of the day, offered at most of the ship's bars. These were priced $1 less ($5.95) for the day.
Drink Packages
Wine Navigator packages offered three bottles of wine for $89-$118 (depending on selection), five bottles was $149-$199 and seven bottles was $199-$269.
Several liquor and mixer packages were available for cabin consumption only, priced $30 to $34 each. There were also beer packages: A six-pack of domestic beers was $21 and imported was $23.
Non-alcoholic Options
Mocktails were available at most of the ship's bars, priced $4.25. Soft drinks cost $1.95, while juices by the glass were complimentary at the Lido Restaurant for breakfast, including delicious freshly squeezed OJ (the rest of the day juices were priced $2.75 at the bars).
Dining Overview
From an elegant specialty restaurant to the pool grill and buffet, there was a good range of dining choices aboard Veendam.
In general, our dining experiences were above average for the mainstream cruise industry. Meals in the main dining room, the Rotterdam, were very good, with just a few items we were less impressed by. We liked that there was a full vegetarian menu available (though selections needed to be ordered ahead of time), and the selections each evening from Holland America's "Culinary Council" were mostly very satisfying. The ship's buffet, the Lido Restaurant, was not large, but we enjoyed most of what we had here.
There are two surcharge restaurants on Veendam. Pinnacle Grill was the place for a very satisfying steak lunch (at just $10), and we returned for the once-a-week dinner tributing New York's Le Cirque restaurant. At $39, this was on the pricey side and the service was unpolished, but the meal was good (normal dinners at Pinnacle Grill are priced $25). Canaletto, the Italian eatery tacked onto the Lido buffet, was formerly a no-charge dinner option but a $10 surcharge was instituted just after our cruise, reportedly with a menu upgrade.
Editor's note: In January 2014 Holland America increased surcharges for Pinnacle Grill. Dinner is now $29 and Le Cirque dinners are now $49.
Kids Programs
Club HAL, The Loft and The Oasis
Club HAL is Holland America's kids program, and a collection of dedicated venues is found on Deck 12. They were divided by age group—one for age 3-7 stocked with board games and a decorated in a spilled-paint theme; another is for tweens age 8-12 and had a Foosball table and video games. There was an unsupervised room with Xbox and Wii games available, but equipment could not be removed from the Youth Center.
There was also a teen venue called The Loft, with a DJ booth, stage and couches for hanging out. A hidden stairway lead from The Loft up to a teens-only outdoor space called The Oasis, decked out for a tropical-theme party with a splash pool and waterfall, faux palm trees and sun loungers. There were less than 10 teens on our cruise and we never saw any of them using this space (perhaps in part because the waterfall wasn't turned on). If there were a few dozen teens aboard, we could see this space perking up.
The basketball and tennis courts are located right outside Club HAL and The Loft.
Cabin Overview
There are seven main cabin types on Veendam, about 20 percent of which are inside cabins with no view; these can be as small as 141 square feet, which we would find very snug (you can read about our experience in an Interior cabin aboard Holland America's Zaandam here). We opted for a step up—an Ocean-view room—and landed an oversized unit.
A unique option on Veendam (and Holland America's Rotterdam and Maasdam) is the Lanai cabins. These have sliding glass doors that open directly onto the broad Promenade Deck, where deck chairs are assigned to your cabin. It's not a private deck (the Promenade Deck is open to all), but the accommodations offer a compromise between Ocean-view and pricier Verandah cabins. It's a fairly unusual style of cabin we look forward to trying on a future cruise, though the windows lack full opacity; at night when cabin lights are illuminated the cabin interior is somewhat visible if the blackout curtains aren't drawn. (Note that, aboard Holland America's Statendam, we stayed in a more typical Ocean-view cabin on this deck, which you can read about here).
Verandah cabins on Veendam feature floor-to-ceiling windows, while Verandah Suites are larger, with king size beds. Deluxe Verandah Suites are a generous 575 square feet (including the balcony), more than double the size of a typical cabin. Also available is the Penthouse Verandah Suite, located just behind the bridge on Deck 10.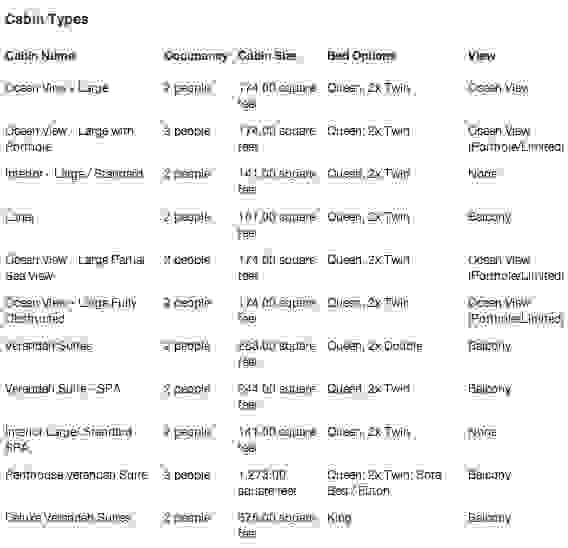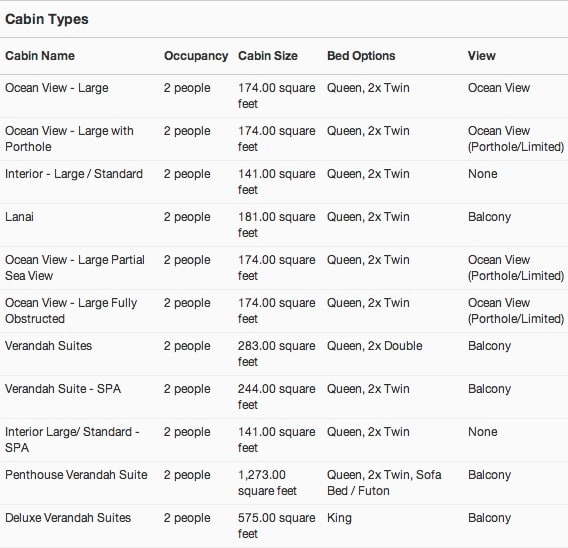 First going to sea in 1996, the ms Veendam is the youngest of Holland America's four-vessel S class of ships. But it has a few features that distinguish it from sisters Statendam, Maasdam and Ryndam. Instead of Holland America's usual Sea View Pool on the aft Lido Deck, Veendam has The Retreat, an outdoor movie screen with a pair of small wading pools (one deck up); in place of the swimming pool are 31 additional cabins. And Veendam is one of just three Holland America ships with Lanai category accommodations, cabins that open directly onto the (shared) Promenade.
Veendam has a fairly diverse sailing schedule: The ship spends most of the summer and fall in New England and Canada, with winters alternating between itineraries along Mexico's Pacific coast and to Hawaii. To hear about our experience aboard Veendam, read on.
Services, Staff & Ship Policies
The ship's daily newsletter, Explorer, appeared at our cabin each evening. The layout was conducive to planning the next day's activities based on personal interests—"food and entertaining" events were broken out individually, as were "well-being" and "technology" sessions.
The first night a card was left on our bed that said "The ship's captain and crew wish you a restful sleep tonight as we look to tomorrow's horizons." The card was also left for us on the second night, then the third, and the fourth. Wouldn't a different sentiment each night be welcome? Instead the artificial sentiment quickly became stale—and a waste of paper.
Staff
Most of Veendam's crew was Indonesian, and we enjoyed the connection to Holland's colonial history they provide. They take pride in several cultural events on the ship, such as the Indonesian tea service one afternoon. Service was always friendly, though there were some communication issues with a few staff-members.
Tipping
A gratuity of $11.50 per day, per guest was charged to our shipboard account (the gratuity is $12 per day for those staying in suites). The gratuity is shared by room stewards and waiters. Additionally, a 15-percent gratuity was automatically added to all bar charges and to wine purchases in dining rooms.
Dress Codes and Alcohol Policy
During the day, dress on Veendam was relaxed and casual. Holland America asks that shoes and a cover-up be worn over a bathing suit when passing through public areas inside the ship.
On our typical seven-night cruise there were two formal nights scheduled, with tuxedos, dark suit or jacket and tie required for men and suit, gown or cocktail dress for women. The rest of the cruise was defined as smart casual—slacks and collared shirts for men, casual dresses, slacks or informal evening wear for women. T-shirts, shorts, etc. were not allowed in public areas after dark.
The drinking age on our cruise was 21. Holland America allows guests to bring wine on board for private consumption; a corkage fee of $18 is applied to the bill for personal wine bottles opened in restaurants or bars. Hard liquor brought on board is stored and delivered to cabins the night before disembarkation.
Loyalty Programs
Guests are automatically enrolled in Mariner Society membership after their first cruise with Holland America. Each day earns Cruise Day Credits which can be accumulated; services purchased on-board—such as spa treatments, dining at specialty restaurants and taking shore excursions—also count. The credits can be used towards a gourmet dinner, massage, shore excursions, etc. on future cruses. The more cruise day credits cruisers accumulate, the higher their "star" level. After 30 cruise days one attains 2-Star Mariner status; 75 days equals 3-Star Marine.; and the highest level—Four-Star Mariner—is attained after 200 cruise days.
Other perks of the Mariner Society, depending on star level, include a 10-15 percent discount on Holland America's merchandize, a 50-percent discount on cruise fares for the third or fourth guests sharing your stateroom on certain sailings, waiver of air deviation fees; priority disembarkation, tender and check in, etc.
Laundry Facilities
There were self-service laundry facilities located on three of the five decks with cabins—decks 5, 6 and 9.
About Our Cruise
Our cruise on Holland America Line's ms Veendam was enjoyable and more-or-less went off without a hitch. This was not quite what we expected. When we boarded the ship we were aware of recurring guest complaints, specific to Veendam—particularly cabin air conditioning and plumbing problems. We did not experience either issue in our cabin. Additionally, shortly after our cruise the Center for Disease Control and Prevention (CDC) performed an inspection, as part of its Vessel Sanitation Program. In August 2012, Veendam received a 77 out of 100 (a satisfactory score is 86 or higher). Again, although our ship reviews do not cover most of the CDC turf (much of which is behind the scenes and inaccessible to the public), we did not experience any sanitation issues. (A subsequent CDC inspection in October 2012 awarded a score of 92.)
Some areas of the ship felt neglected and unloved—upkeep was not always at its prime.
This is not to say that Veendam is the belle of the ball. Some areas of the ship felt neglected and unloved—upkeep was not always at its prime. In the main dining room where we had most of our meals, a net was suspended underneath the ceiling, just below the venue's lighting fixtures, presumably because there have been issues with fixtures falling.
There were a few features on Veendam not found on most Holland America ships, including an outdoor movie screen at the Retreat, on the top aft deck. But we didn't see much showing here during our entire voyage—the screen seemed to be an afterthought. And the Retreat itself is also a bit of a misfire: During a 2009 remodel, the aft pool was removed and replaced with a couple elevated wading pools. This allowed Holland America to add 31 cabins, but despite good weather we barely saw anyone dipping their toes in the wading pools (though the adjoining hot tubs did get some traffic).
Our cabin stewards were sweetly efficient in taking care of our room.
Our cabin, an Ocean-View located far forward, was not typical—its position on the ship allowed for an elongated layout, which gave us more elbowroom (no complaints here!). Otherwise it had the standard amenities for this category, with a full bathtub in the bathroom, a feature that is not common to most cruise lines. Again, we experienced no plumbing or air conditioning issues in our cabin, and our cabin stewards were sweetly efficient in taking care of our room. We did receive a barrage of marketing materials in our cabin—specials on spa treatments, specials on photo packages, specials on merchandise. It got tiresome after a few days.
For the most part, our meals were very satisfying, with few dishes that seemed like outright clunkers. Only the Terrace Grill seemed unimpressive, but we don't usually expect much from a pool grill. Meal service was okay, but we had a few bumps in the road, mostly with timing: The waits on two evenings for a table at the main dining room were longer than they should have been, while our dinner at Pinnacle Grill seemed unnecessarily rushed (the lunch here was spot on).
Our Cabin: Ocean-view
Due to its location, far forward, ours was an atypical, elongated cabin—about 24 feet, not counting an additional 3 separating the headboard from a pair of recessed porthole windows. The total size was about 208 square feet, whereas Holland America says that Ocean-view cabins on Veendam start at 174 square feet. We appreciated the extra space, though our location near the bow was a bit noisier and rocky during rough seas, and the modest TV was distant for viewing from bed.
Our cabin featured a very comfortable mattress—two singles, with the split between mattresses apparent but not obnoxious, somewhat disguised by a pillowtop. An overhead fluorescent blub ran parallel with the window above our head, and there were also pillow-level reading lights to each side—not bright, but still useful. On either side of the bed were small nightstands with drawers, plus a phone.
The bathroom was unexceptional, save for one non-standard amenity found in most cabins on Veendam: a bathtub large enough for a proper bath. The showerhead had an adjustable spray. Wall-mounted pump dispensers provided good-quality body soap, shampoo and conditioner. There was a retractable laundry line in the shower for wet bathing suits. A bit more storage space for travel kits would have been appreciated. A 115-volt electrical outlet in the ceiling was marked for shavers.
A sign advised us to protect the environment: "Towels left on the rack will be considered clean. Towels on the floor will be washed." Our towel was replaced only when we left it on the floor once, just as we wanted.
The desk in the bedroom had an illuminated makeup mirror and hair dryer.
Located near the forward section of the bow, our cabin had two small porthole windows, each not quite a foot wide (most Ocean-view cabins on Veendam have a larger, rectangular window). The windows were recessed, so it was possible to see what was going on outside only by climbing onto the headboard. But they were sufficient for introducing natural light into the room; there was a blackout curtain to block the light, or a sheer for privacy.
Our cabin had ample closet space—four sections facing the bathroom door. The left-hand compartment had fixed shelves, a safe (too small for a laptop), and a basket to put shoes in for shining. A curtain could be pulled for privacy, separating the entry and closet area from the bedroom. There were under-dressers beneath the beds, allowing additional storage.
The cabin's TV was an older model, fixed at an angle toward both couch and bed. We liked that, when turned on, the channel that appeared was the one we left it on—no hunting through hotel interface to reach CNN. A DVD player was mounted underneath, and DVDs could be borrowed from the front desk.
Although there were cans of soda and bottles of water on the desk (for purchase), there was no fridge. An ice bucket was kept filled by our cabin steward, and bathrobes hung next to the bed.
Rotterdam Dining Room
Veendam's main dining room is a two-story affair. Breakfast and dinner were served daily, and lunch on sea days. At dinner the upper deck was reserved for the traditional dining plan, while downstairs was for open seating, which we'd selected.
Open dining was in high demand, and pagers were handed out with glasses of champagne. Once, we used this time to explore, reaching midship before the pager starting beeping and scolding us for being out of range. As we returned, the pager barked again—our table was ready. The wait time (16 minutes) seemed alright. But the next night we waited 26 minutes, which felt unreasonable.
The room offers sea views from most seats. Holland America's "culinary council" each has an appetizer and entrée featured one night of the cruise. We particularly enjoyed the International Dinner on the final night.
Holland America has a full vegetarian menu, with a catch: you must order in advance. This policy seemed to evolve—first we were told to order by lunch; then it was by noon; then we were told to order in the morning.
Breakfast offered a pleasing variety. In addition to standard fare, there were also international options. The Rotterdam was never crowded at breakfast, and the atmosphere was subdued.
On sea days, the restaurant was open for lunch, serving soups, salads, comfort food like mac and cheese and burgers, as well as other fare.
In addition to the standard bar menu an expanded wine list was available at the Rotterdam.
Seatings for dinner were at 5:15 and 8:15 p.m. nightly, with open seating between 5 and 9 p.m. Breakfast was served for 90 minutes, starting at 7:30 or 8 a.m. daily, and lunch was available on sea days from noon to 1 p.m. Afternoon tea was served on sea days at 3 p.m.
Explorations Café
We loved Veendam's multi-purpose coffee lounge, where upgraded java options were available for a fee, along with light snacks (at no charge). This was also the ship's library, which we found to be reasonably extensive in size; guests were asked not to remove reading materials from the café (the bookcases were locked at night). There was always a puzzle on a table, and the daily New York Times Digest (in print) was stocked here. The leather couches and comfy loungers were in high demand—finding an empty seat was a challenge most of the time.
The café has a small deli counter for between-meal snacks. We found cake, cookies, brownies and delicious "energy bars", and other goodies through the day.
All the standard espresso drinks were available, and quality was good. Prices ranged from $1.60 for a small Americano to $2.55 for a caramel latte; tea drinks were also available. Spiked beverages like Irish coffee were on offer, priced $6.25 to $6.50.
Internet access was available at 11 shared PCs for .75 per minute, plus a one-time $3.95 charge for account activation; this same fee structure applied to WiFi access from laptops. Various packages were available to bring the price down.
The café served from 7 a.m. to 10 p.m. daily.
Pools
Lido Pool
By day, this is the hub of the action on Veendam, the central pool area with the ship's two hot tubs at one end. Loungers flanked the pool, along with tables for dining. A retractable roof was open when the weather invited, but was closed when the air cooled.
There was a bandstand that provided a stage to a group at midday—they weren't announced in the daily ship newsletter. Although talented, we found the bass to be way over-amped, and the overall volume was loud enough to prevent any conversation from taking place around the pool.
The Lido Bar offered the ship's standard drink menu.
The Retreat
This area of the ship, Deck 11 aft, seemed ill conceived to us, starting with a trio of tacky fake palm trees for ornamentation. When Veendam was originally built there was a full-size swimming pool here. But the pool was taken out and replaced with cabins (on Deck 10) and a pair of hot tubs and pair of elongated, rectangular wading pools were added above-deck in 2009. While the wading pools might be useful on a really hot day, they don't suffice as a swimming pool, and they were little used during our cruise.
There was a good number of loungers on this deck, and we never had a problem finding an empty one; showers were available for a quick rinse. The Retreat also had an overhead video screen, but this was rarely in use during our cruise.
Health & Safety
As part of the Center for Disease Control and Prevention's Vessel Sanitation Program, cruise ships pay for and submit to regular CDC inspections aimed at preventing and controlling the introduction, transmission, and spread of gastrointestinal illnesses on cruise ships. The periodic inspections—about two a year—are generally unannounced. Ships are rated on a scale of 100 points, with a score of 85 or less considered "not acceptable."
On Aug. 19, 2012 Veendam was inspected and received a score of 77. Among the many issues cited in the report were dirty ice machines, malfunctioning refrigerators and dishwashers, brown liquid dripping on clean dishes, flies in a buffet area and more. In an article on the inspection, USA Today cruise editor Gene Sloan said "The CDC report cites dozens of violations including several that suggest a breakdown of management on the ship."
By coincidence we were aboard Veendam just prior to the CDC's inspection. Although it's possible that at least some of the issues cited in the report were present on our cruise, we did not see anything notably amiss as far as sanitation. However, much of the CDC inspection takes place in areas that are off-limits to passengers, including the galley areas of the ship, and the potable water and ventilation systems; the CDC also reviews medical logs which are, of course, off limits.
Still, the CDC report got our attention. As Sloan notes: "Only two other ships from a major line, Royal Caribbean's Monarch of the Seas and Cunard's Queen Mary 2, have failed a CDC inspection over the past three years, according to a search of CDC records. Over the same period dozens of ships have scored a perfect 100 during inspections."
In a statement, Holland America Line called the unsatisfactory score "highly unusual and an aberration." Veendam had been inspected 18 times in the previous decade, with a score of 91 or higher on each inspection. On Oct. 7, 2012 the CDC performed another inspection of Veendam, and the new report assigned a passing score of 92. Health Canada, the Canadian federal health agency, has a similar cruise ship inspection program (also using a 100-point scale); their inspection of Veendam on Sept. 28, 2012 assigned a score of 95.
There were automated hand-washing stations outside the Lido buffet. These were a welcome supplement to the usual hand sanitizers, also stationed outside the buffet (and at all other restaurants). The hand-washing stations are not a feature we've seen on many other cruise ships.
The Muster Drill was efficiently handled just before sail-away. Passengers congregated on the Lower Promenade Deck and names were called to verify all were in attendance.
Crow's Nest
This is the ship's bar with a view—a fine forward-facing panorama positioned just above the bridge. It's also the ship's disco, but the lack of enthusiasm was palpable—when the dance music started it was Michael Jackson's "Don't Stop till you Get Enough" (talk about playing it safe) and the DJ left the booth.
The ship's standard bar list was available here, while happy hour ran from 4 to 5 p.m. and again from 9 to 10 p.m. Other than these hours, Crow's Nest could feel a bit like a ghost town, no matter how lovely the sunset.
Decks & Sun Areas
Sports Deck
This deck extends the length of the ship and provides the bulk of the sports activities (other than the gym): a basketball court, tennis court and shuffleboard court. On our cruise this deck didn't see a lot of action, but it was a good place for sunning.
A couple basketball games were organized by the crew during our cruise.
Outdoor Walkaround
The promenade deck wraps Deck 6, and loungers are offered for taking in the sun and sea air. Jogging is not allowed on this deck, but walkers are common—four laps equals a mile.
This was also where the Muster Drill took place, beneath the lifeboats.
Sky Deck
Located above the Crow's Nest, this is the highest public area of the ship. Loungers are stationed here, but this area got little traffic on our cruise.
Conclusion
While most of our cruise went smoothly, there seemed to be a number of ongoing maintenance problems to address, an issue confirmed by frustrated crewmembers we spoke with (as well as passenger complaints we heard). Holland America has not announced any plans for a dock overhaul in 2013, to provide the ship the refresh it seems to need. Knowing this, if we were offered identical itineraries and pricing to choose from on other vessels we would probably opt for a Holland America ship with a more recent renovation under its belt.
Other Cabins
We did not stay in the rest of these cabins, but we have summaries here provided by Holland America Line. Note that any photos on this page may be provided directly by the cruise line and not our reviewer.
Large or Standard Interior Staterooms
"2 lower beds convertible to 1 queen-size bed, shower. Approximately 141–226 sq. ft.
Stateroom amenities include:
Luxurious beds featuring Sealy® Premium Euro-Top mattresses and finely woven cotton linens
Deluxe waffle weave and terry cloth bathrobes for use during your voyage
100% Egyptian cotton towels
Premium massage showerheads
5X magnifying make-up mirrors and salon-quality hair dryers
Fragrant soaps, lotions, shampoo and other bath amenities from Elemis Aromapure
Complimentary fresh fruit on request
Elegant ice bucket and serving tray for in-stateroom beverages
Flat-panel TV and DVD player
Ice service, shoeshine service and nightly turndown service"
Lanai Staterooms
"2 lower beds convertible to 1 queen-size bed, bathtub & shower. Sliding glass doors lead onto the walk-around Lower Promenade Deck. Approximately 181–256 sq. ft.
Stateroom amenities include:
Direct access to the Lower Promenade Deck
Luxurious beds featuring Sealy® Premium Euro-Top mattresses and finely woven cotton linens
Deluxe waffle weave and terry cloth bathrobes for use during your voyage
100% Egyptian cotton towels
Premium massage showerheads
5X magnifying make-up mirrors and salon-quality hair dryers
Fragrant soaps, lotions, shampoo and other bath amenities from Elemis Aromapure
Complimentary fresh fruit on request
Elegant ice bucket and serving tray for in-stateroom beverages
Flat-panel TV and DVD player
Ice service, shoeshine service and nightly turndown service"
Verandah Staterooms (Spa Stateroom)
"2 lower beds convertible to 1 queen-size bed, bath & shower, sitting area, private verandah, mini-bar, refrigerator, floor-to-ceiling windows. Approximately 244 sq. ft. including verandah.
Modern Spa Stateroom amenities include all Ocean-view stateroom amenities plus:
Yoga Mats
iPod® docking station
Countertop water feature
Exclusive spa treatments from the nearby Greenhouse Spa and Salon"
Verandah Suites
"2 lower beds convertible to 1 queen-size bed, whirlpool bath & shower, sitting area, private verandah, mini-bar, refrigerator, floor-to-ceiling windows. Approximately 283 sq. ft. including verandah.
Stateroom amenities include:
A variety of firm, medium and soft pillows
No-host mini-bar for easy entertaining
Personalized cruise stationery
Oversized bath towels

One-touch telephone concierge service
Fresh flowers
Complimentary DVD library"
Deluxe Verandah Suites
"2 lower beds convertible to 1 king-size bed, whirlpool bath & shower, large sitting area, dressing room, private verandah, 1 sofa bed for 2 persons, mini-bar, refrigerator, floor-to-ceiling windows. Approximately 575 sq. ft. including verandah.
Stateroom amenities include:
Use of the exclusive Neptune Lounge and personal concierge service
Complimentary laundry, pressing and dry cleaning throughout your cruise
Complimentary sparkling wine served in the Neptune Lounge upon embarkation
Complimentary bottled water provided in suite at embarkation
Gorgeous corsages and boutonnieres for the first formal night
Cold hors d'oeuvres served before dinner each evening on request
Binoculars and umbrellas for your use on the cruise
Cocktail party with ship's officers
Priority boarding for tendered ports of call
Special disembarkation service
Priority dining and seating requests
Exclusive daily breakfast service
High tea service in suite on request
Elegant wooden clothing brush, lint remover and shoehorn for keeping clothing immaculate
Fragrant bath salts and exfoliating loofah mitt for an invigorating shower experience
Neptune Lounge: A very special amenity exclusively for guests cruising in a Deluxe Verandah Suite or Penthouse Verandah Suite, the industry-leading Neptune Lounge features a private place to relax, socialize with other suite guests and enjoy the personalized service of a concierge. The fleet-wide lounges provide worktables, large screen television, library, sofas and chairs, refreshments throughout the day and wi-fi for a small charge. One-Touch 24-hour Concierge Service is available when the Neptune Lounge is closed."
Penthouse Verandah Suite
"Bedroom with 1 king-size bed, oversize whirlpool bath & shower, living room, dining room, dressing room, private verandah, pantry, 1 sofa bed for 2 persons, mini-bar, refrigerator, guest toilet, floor-to-ceiling windows. Approximately 1,273 sq. ft. including verandah.
Includes all the suite amenities."
Lido Restaurant
The Lido Restaurant is a typical Holland America buffet layout; seating along the windows, with live orchids on each table. At breakfast and lunch, the venue was fairly crowded, and finding a table took effort.
In step with Holland America's standard policy, for the first two days, crew served guests, a system designed to minimize spread of disease. In addition to hand sanitizers by the entrances, there were hand-washing stations that saw a fair bit of use—though at peaks hours, the floor beneath was wet from still-dripping hands. Still, we found these a smart addition, and uncommon on ships we've been on before.
The Lido didn't have the largest spread, but variety and quality was above average, with a good range of standards: At lunch we enjoyed the sandwich bar; the salad bar also featured prepared salads; there were two soups daily; the pasta bar featured a daily baked dish; four different pizzas were available by the slice. In addition to a carving station, a variety of entrées were available. Asian items were a regular feature.
Dinner was much less crowded, but still casual, with a broadly similar spread to lunch.
Self-service drink stations were stocked with coffee, tea, iced tea and lemonade. Other drinks could be had at the nearby Lido Bar. At breakfast a variety of juices (including fresh squeezed orange juice) were available.
The Lido Restaurant served breakfast from 7 to 10:30 a.m., with a continental selection offered 30 minutes before and after. Lunch was available from 11:30 a.m. to 2 p.m., with a deli, soup and salad bar available from 2 to 5 p.m. Dinner was offered 5:30 to 8 p.m., with a themed late night snack most nights from 11 p.m. to midnight.
Retail
Signature Shops
A series of shops ran along Deck 8 offering a fairly standard selection of merchandize.
Cruise apparel themed to our destination was available, along with Holland America logo merchandize such as T-shirts, caps, beach towels, mugs and Veendam ship models. There was jewelry, watches, fragrances, skin care products and binoculars. Sundries including candy, chips, toothpaste, deodorant, feminine napkins, disposable lighters and razors. Duty free cigarettes and liquor was also available.
Photo Gallery
A staff of photographers was on hand to capture guests on the ship. These included informal snaps in front of designated backdrops, as well as more formal portrait sessions. The shots were assembled each day and showcased here for us to buy.
Art Gallery
Veendam's gallery of art pieces for sale is located opposite the Front Office on Deck 7, with additional pieces hanging on the walls extending down the corridor past the Wajang Theater. With sales managed by Park West Gallery, there were art auctions almost daily, held in the Ocean Bar.
MIX
One of the best additions following the 2009 renovation, MIX is three bars sharing the same space—one for martinis, another for champagne, while the main bar (also serving the casino) had an expanded beer list. Between the champagne and martini bars sat the piano, played nightly.
Martinis are sold at a premium here, as premium spirits are used. They're $9.50 each, or a flight of six for $19.50. There was also the XO martini for two, using premium vodka and aged cognac, plus two ounces of caviar—for $100. The standard martini list is also available, at $6.95.
The beer list included the ship's standard complement, as well as several imports on draught ($4.75), plus several others in can or bottle (all $5.25).
Champagne cocktails were priced $6.95. The ship's standard list was supplemented with Tattinger Brut Réserve ($16, or $99 for the bottle), Bollinger Special Cuvée Brut ($14 glass, $89 bottle) and Moët & Chandon Rosé Impérial ($16 glass, $99 bottle). A few premium bottles were available including Moët & Chandon Dom Pérignon 1998 ($199) and Impérial Veuve Cliquot La Gran Dame 1998 ($362).
Canaletto
The bustling Lido Restaurant slows down quite a bit at night, so Holland America takes a corner of the dining area and converts it into an intimate Italian venue. It's a fairly distinct dining experience, with light opera music in the background. At our table we found a red rose and an electric candle, and our Indonesian waiters were surreally attired in striped gondolier shirts. Reservations were required, and most tables were booked by the midpoint of our cruise.
Our meal started with bread and bottles of olive oil and balsamic vinegar—a nice touch, but we found the vinegar syrupy sweet. An inviting plate of antipasti was brought by for us to choose from.
We were all set to try the cod puttanesca, but our waiter steered us away (which seemed strange since the fish is undoubtedly frozen). So we signed up for the chicken marsala scaloppini, which seemed like basic comfort food, the chicken served atop linguini, bathed in gravy with tiny slivers of mushrooms, and the vegetables not overcooked. For dessert we tried the mille-feuille of chocolate with walnut praline and ice cream. The dish was dainty and not overwhelming—a good choice.
The ship's usual selection of drinks and wine was available, along with limoncello liqueur for dessert.
Canaletto was open from 5:30 to 9:30 p.m. nightly, and reservations were strongly recommended.
Editor's Note: After our review was published, Holland America Line began charging $10 to dine at Canaletto. The menu was also revised, but otherwise the venue has not changed. We have a review of the new Canaletto experience aboard Holland America's Oosterdam here.
Cabin Amenities
Complimentary DVDs loaned to guests is a perk not common on most ships. The catalog of titles ranged from The African Queen and Rear Window to year-old releases—nearly 1,000 in all. Recent offbeat releases, such as Pan's Labrynth and Volver, were stocked, along with family films, documentaries and quality TV series like The Sopranos and Mad Men. The DVDs are available by calling the front desk, and treats can be delivered with the flick—popcorn (free), candies, chips and snacks ($1).
On arrival there was an empty metal bowl with a card inviting us to order fruit for the room, including apples, bananas, pears and oranges. We made our selection and the bowl was refilled as needed each day. A basket for shoe-shining service was also available.
Shows & Entertainment
The Showroom at Sea
The main showroom for Veendam on decks 7 and 8 was bathed in red and gold tones, an appealing setting for evening entertainment and other events. Best seats were those on the lower level, down front; this was also where the sound mix was least problematic. The balcony was a different matter: With low backs and configured in wavy rows, these seats were not comfortable for extended periods (though most or all shows were under an hour) and other than the front rows, most balcony seats didn't have clear sightlines to the stage. Further, the sound system—with vocals particularly over-miked—was especially poor in the balcony.
Geared to an audience in their 60s and up, we found the conservative evening entertainment on Veendam to be overdue for an overhaul. A tribute to show tunes one evening trotted out standards ranging from "If They Could See Me Now" to "Send in the Clowns," each rendered in increasingly dramatic fashion. Highlight of the uninspired Bob Mackie tribute was a review of songs from "Hair," and it was all downhill from there. Stitched together with one incredibly lame joke after another, the show was—in a word—embarrassing. We felt sorry for the several performers and musicians worth listening to; we just wished they had fresher material and staging to work with.
Wajang Theater and Culinary Arts Center
The Wajang Theater is a multi-purpose venue that is primarily used for the Culinary Arts Center, a show kitchen used for cooking demonstrations that were scheduled several times daily. On our cruise there were opportunities to learn penne a la vodka, lobster salad, smoothies, chilled raspberry soup and crème brûlée (not exactly Rachel Ray, eh?). The best event was called Cooking with the Stripes and featured the ship's captain preparing pizza at the same time as a freeform Q&A about the ship's operation. We kept our head down for this one.
The Wajang Theater is also the ship's screening room, and a different film was shown daily (once at midday and two in the evening). Unfortunately, the screen size is too small for the number of seats—especially for wide-screen presentations, which might better be called short-screen.
Deck Plan
Casino
Located on Deck 8 at mid-ship, Veendam's casino is a modest facility, but probably sufficient for a ship of this size. In addition to several dozen slot machines there were tables games, including Blackjack, Three Card Poker, Caribbean Stud Poker, Roulette and Craps. At slots, players could load cash onto the room key card.
Gaming lessons were held on the first day of the cruise, with Texas Hold'em tournaments scheduled at other points.
The casino is designated as non-smoking, but that term is in conflict with the reality—most slot machines and tables have a sign that says "smoking allowed while gambling," but cigarette smoke wanders where it will, including a few feet over to the non-smoking slots and tables. That said, overall the facility was usually not too smoky (we actually found the smell sometimes worse just beyond the casino, where stale smoke lingered in a stairwell).
The bar MIX was adjacent to the casino.
Pinnacle Grill
The Pinnacle Grill is Holland America's steakhouse, tucked to the side of Deck 8, in a refined setting with elegant plate-ware and stemware.
Our dinners here (on other ships) have generally been very good (you can read about our dinner experience on Holland America's Zaandam here). But once per cruise the Pinnacle transforms into "An Evening at Le Cirque," a tribute to the famed Le Cirque restaurant in New York. On this evening guests will find a set menu with optional wine pairings, and reservation are required; there is a $39 supplement for this meal. This is what we opted for on the Veendam.
Dinner started with an amuse bouche, a small jar of frothy, whipped foie gras underscored with a layer of rhubarb chutney. We ordered the lobster salad "le Cirque," served composée style, with grapefruit, wedges of potato and dollops of French-type dressing. The tail was small with good flavor, but the dish struck us as something we could easily compose at home. The soup—butternut squash with huckleberries—was excellent, rich and full of herbs and spices, with a spoon of cream and a raisin-y dollop.
Appetizers arrived in breathless succession, while the main course took almost 20 minutes to arrive. It was worth the wait—a quartet of lamb chops cooked as ordered, medium-rare, with a nice layer of fat and a robust sauce with a couple pools of pesto sauce.
We came back to Pinnacle Grill for lunch, though our waiter was oddly not familiar with the menu. All the ingredients were right for a starter of grilled prawns atop a bruschetta of roasted corn and balsalmic on toasted baguette. Our beef tenderloin was an excellent cut, cooked just as we ordered it, crusted with blue cheese and accompanied by a delicious potato au gratin and asparagus. For dessert we imbibed in a simple and elegant orange and lime panacotta—wonderful. Other lunch entrées included a beef salad with mango and lotus fruit, an Alaskan halibut fillet sandwich and a cheeseburger with bacon and cheddar cheese.
The wine list was almost identical to the Rotterdam, with the addition of a few very high-end recommendations. There was a "wine pairing" option to accompany the Cirque dinner, for an additional $20. But when we asked about it, the wine server told us: "It starts with Prosecco, then the chardonnay, then a red wine." So what we ordered for dinner made no difference, which didn't exactly seem like a traditional pairing. Oh, and the wine? Both were from Sicilian winery Feudi del Pisciotto. We passed. This led to a service hiccup—the server delayed taking our wine order until the amuse bouche arrived and the wine we chose to go with the lobster salad did not arrive until just as we were finishing that course.
Reservations were required at the Pinnacle Grill. Dinner was offered nightly from 5:30 to 9 or 9:30 p.m. One evening was set aside for the Cirque dinner, and Pinnacle was open on four days for lunch, from 12 to 1 p.m.
Editor's note: In January 2014 Holland America increased surcharges for Pinnacle Grill. Dinner is now $29 and Le Cirque dinners are now $49.
Ocean Bar
This pleasant outpost on Deck 8 was our pick for pre-prandial cocktails, when a jazz trio would strike up and take requests.
Other Venues
Neptune Lounge
Reserved for guests booked into Deluxe Verandah Suites, this is a private lounge tended by a concierge most hours. Nibbles are available throughout the day, along with worktables, an oversized TV, sofas, and computer stations where WiFi is offered at a reduced rate.
Digital Workshop
Classes in Microsoft programs were taught using 15 Sony laptops, each equipped with a mouse. Among the subjects on offer were Transferring Photos, Introductory Photo Editing, Windows 7, Making Movies, PC Security, and PC Buying—all geared to Microsoft products. The ship's "techspert" was available for questions at set hours daily. The room was locked when not being used for classes.
Hudson Room and Half Moon Room
Two side-by-side meeting rooms were available for groups, and they were also used for various events during our cruise. Half Moon hosted Morning Mass; the Hudson Room was used for origami demonstrations, journal crafting, and beginner and intermediate Bridge instruction as well as non-hosted Bridge sessions.
Atrium and Front Office
The ship's three-story central atrium is dominated by a glass sculpture, "Jacob's Ladder" rising from Deck 6. It's a striking feature, just one piece of Veendam's $2 million art collection that we enjoyed while onboard.
This is the central axis of the ship, through which passengers pass many times. The large open area around the base of the sculpture (Deck 6) was mostly unused space. On Deck 7 we found the side-by-side Front Office and Shore Excursions desks.
Explorer's Lounge
Located along a central traffic corridor on Deck 8, this lounge was usually empty during the day—a good place to catch up on reading when the nearby Explorations Café was busy. A few one-off events were held here, including introductory Tai Chi and Meditation sessions, along with a few seminars that ended in spa or merchandize pitches such as one on acupuncture and another dedicated to Diamonds, Watches and Exotic Gemstones.
But in the evening, the Adagio Strings—the ship's string quarter—played classical music and light standards. An attendant manned the informal bar setup that featured coffee drinks, cognac, port, cheese and crackers. It was a very comfortable place to hang out before or after dinner in the adjacent Rotterdam Dining Room.
Terrace Grill
Offering perfunctory burgers and hot dogs, this outdoor buffet counter also had a few ethnic options. Not many people were using this option on our cruise.
In addition to fairly standard burgers and hot dogs, the buffet counter had a few items each day, usually with an ethnic theme. There was a Mexican spread one day, with do-it-yourself fajita fixings—okay but nothing to get excited about. Somewhat better was the middle eastern buffet, which included couscous, feta cheese mousse with pepper, hummus, turmeric chicken stew with olives, chicken shoarma, and lamb stew with beans.
The Lido Bar on the other side of the pool had the ship's usual drink selection.
The Terrace Grill was open from 11:30 a.m. to 6 p.m. daily.
Slice and Bar at the Retreat
Veendam's dedicated pizza parlor was a pretty basic affair. Regular offerings included cheese, pepperoni and vegetarian, along with the day's special, such as Florentine.
In-Room Dining
There were three room service menus on Veendam. The 24-hour menu included basic fare like smoked salmon, mixed salad, hamburgers, omelets, and desserts; there were also a few "time-tested" seasickness remedies, including beef broth, boiled chicken breast, and green apples and crackers. An expanded menu was available from 12 noon to 10 p.m. featuring soups, salads, sandwiches, and a couple entrées (seared salmon and penne primavera).
Breakfast was ordered by choosing delivery time—in 30-minute blocks between 6 and 10 a.m.—with a door tag, hung on our cabin door by 2 a.m. the night before. We requested our breakfast order be delivered between 8:30 and 9 a.m.; the knock on the door came right at 8:30 a.m. When we ordered lunch we were not given a timeframe for delivery; our order took 44 minutes to arrive. Without prompting, the server apologized for the lengthy delivery time and said the kitchen had been very busy.
Our cabin had room for one person to eat at the desk or for two (barely) to share the coffee table. A card on the tray asked us to call to have the dishes removed when we were finished; someone showed up about 30 minutes after we called.
For breakfast, the omelet was hot and served with a fried potato cake—no surprises here. The tasty wheat toast was not quite warm, while the fruit was a cup of diced pineapple, watermelon and apple. Coffee was hot, and the pitcher held more than three cups. All in all, a decent breakfast.
We ordered the penne primavera (described as "tossed in marinara with Italian roasted vegetables") for lunch. The penne came in a light tomato sauce, the noodles not overcooked, but there were no vegetables to be found, Italian or otherwise. Fortunately the grilled chicken that topped the pasta was quite tasty.
Our cabin's minibar (no fridge) included cans of soda ($1.95 each) and 1-liter bottles of water ($2.95 each). The in-room dining menu provided other options, including beer packages ($21-$23 for six), wine packages (starting at $89-$118 for three bottles), and liquor and mixer packages (priced $30 to $34 each).