Deals
Never run out of USB ports again with this $5 Amazon lightning deal
Once you try this 4-port USB hub, you'll never know how you lived without it.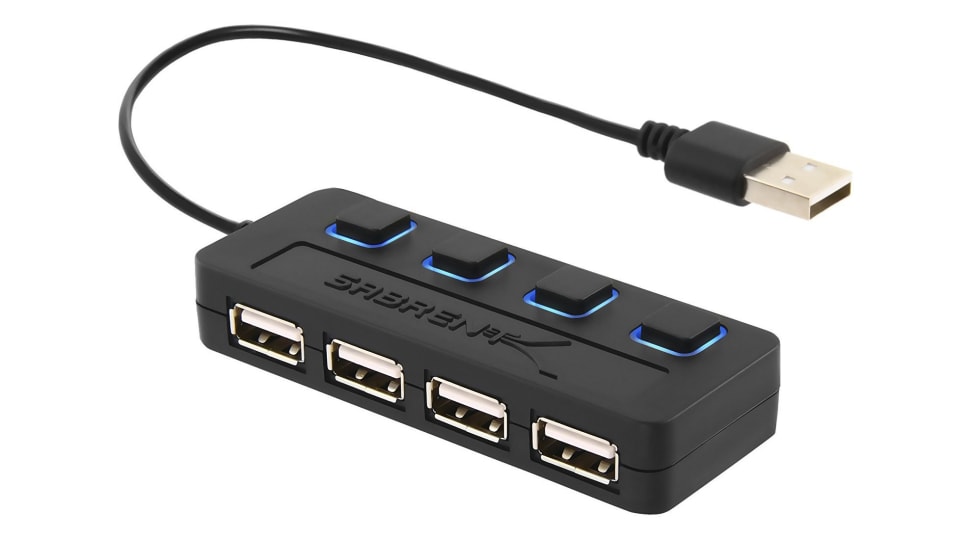 Credit: Sabrent
Most every devices charges via USB these days, but with laptops getting thinner and more minimal USBs are often in short supply. Right now, you can get 4 for the real estate of 1, and it'll only cost you $5. Amazon's lightning deal on the Sabrent 4-port USB 2.0 hub today will let you save 62% on this handy gadget (but the deal is over at 2:40 p.m., EST today).
If you're sick of swapping cables to keep your phone, your fitness tracker, your e-reader, and anything else you need charged, I highly recommend the Sabrent USB hub. I use mine at work so I can charge my phone and my Fitbit and keep my wireless mouse ready for action, and I honestly could not believe how much more streamlined it makes my day-to-day. It's way easier to unplug one cord and run to a meeting than to pull out three or four.
• On/off toggles with blue LED indicators that glow when "on"
• All ports face the same direction to keep things organized
• Supports up to 480 Mbps transfer speeds
• Reverse compatible with USB 1.1
• Can daisy-chain up to 42 of them at once if you need up to 127 USB ports
While I'm using mine for three fairly low-draw devices, I also know they can handle external drives, speakers, thumb drives, card readers, printers, Playstation controllers (so probably Xbox controllers too), and microsUSB chargers. Plus, those buttons are just really satisfying to press. Take that, fidget cubes!
Prices are accurate at the time this article was published, but may change over time.