Pros
Normal cycle could remove most stains
Control issues
Like a recent college graduate entering the work force for the first time, the GDF570SGFBB may have a fancy suit, but it's not as refined as other candidates. The black exterior is shiny, and it's also available in white (the GDF570SGFWW) and—amazingly—bisque (the GDF570SGFCC). The GDF570SSFSS is a stainless steel version of this machine that costs $100 more. But the front-facing control panel is confusing, as a single button cycles through the dishwasher's four different wash cycles. Counterintuitively, the Start button is on the left instead of the right.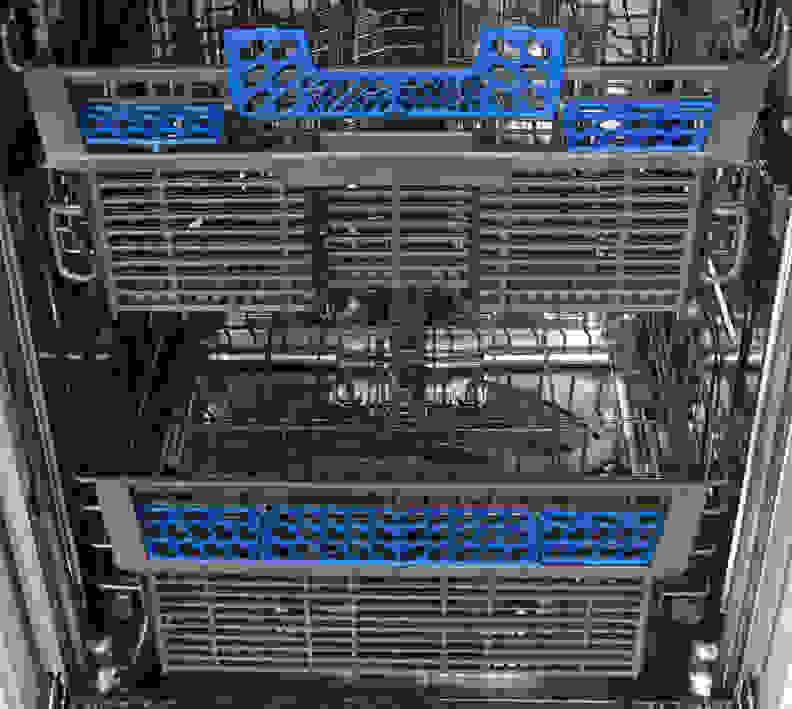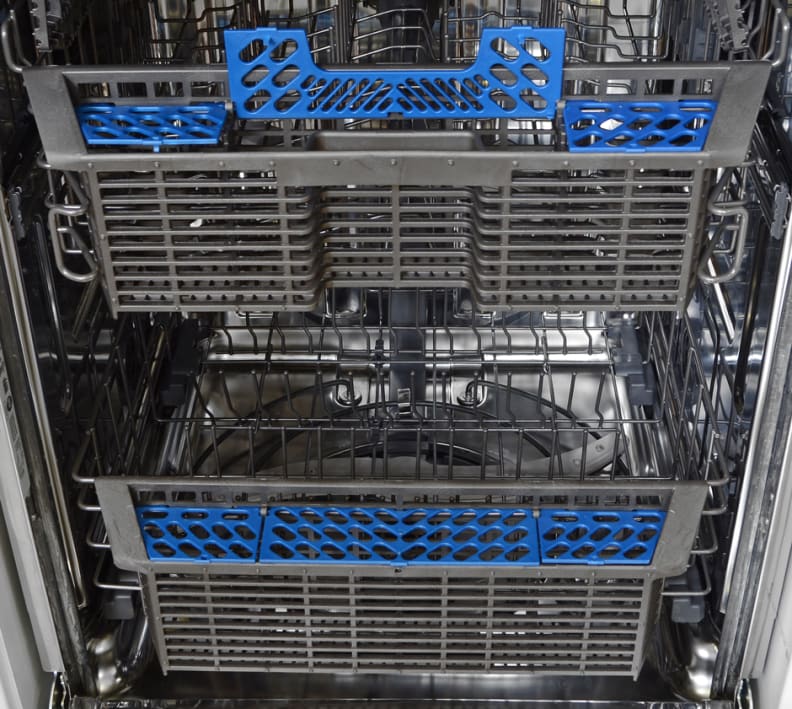 The interior of the GDF570SGFBB gives a far more positive impression. Open the door, and you'll immediately be greeted by two cutlery baskets hanging off the front of the two racks. The rest of the interior is stainless steel.
As far as adjustability, the GDF570SGFBB makes some interesting design choices. The tines on the lower racks can't be folded down, but they can be unclipped and removed entirely—neat, as long as you have somewhere to store them. The upper rack can be raised or lowered, but otherwise has no other moving parts. There are two baskets for holding silverware, each hanging off of the two racks instead of taking up space in the racks themselves. In total, we were able to fit ten place settings and a serving setting inside the GDF570SGFBB.
Far from perfect, but there is still plenty of cleaning power here.
We were impressed by the GDF570SGFBB's cycles' cleaning power and speed. The Normal cycle only took 88 minutes to remove more than 99% of just about every food stain we threw at it. The only exception was the baked-on spinach stains, which most dishwashers have trouble with, where only 75% of the stains were removed. However, specks of spinach could be found spread around to other items in the tub, which is a problem called redeposit. This was a noticeable problem with the GDF570SGFBB's Normal cycle.
The Heavy cycle handled the spinach stains much better, scoring 94.45% and with far fewer instances of redeposit. It also clocked in at 140 minutes, which is very fast for a cycle that is designed for handling pots and pans. The Heavy cycle also handled burnt cheese and lasagna well, but it only scored about 90% on the burnt sugar test. While this cycle is far from perfect, it still accomplishes a lot, and does so quickly.
Fast cycles and a low annual cost
The GDF570SGFBB's fast cycles may be why it has a low total annual utility cost. The Normal cycle used 0.53 kWh of electricity and 4.87 gallons of water, with each individual wash costing about 12 cents. The Heavy cycle used 0.95 kWh of electricity and 6.34 gallons of water, with a cost of 18 cents a wash. The total annual cost is estimated to be $28.78, which is $3 below average. This is a dishwasher that can do a lot with very little.
No Quick Cycle, but it does have Steam clean.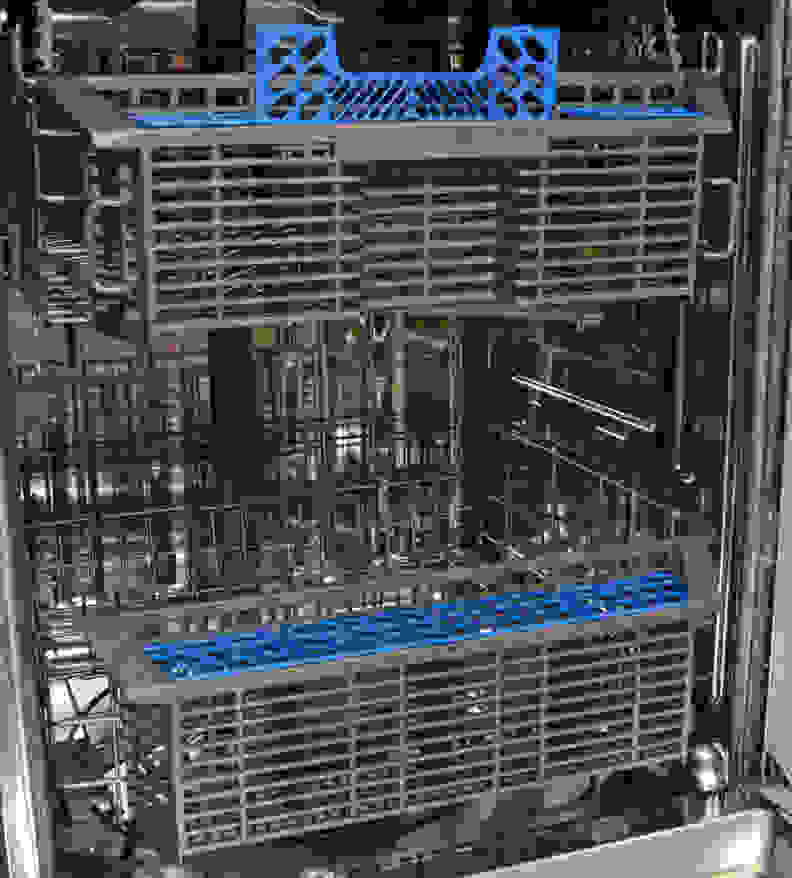 The GDF570SGFBB's list of available cycles and wash options is a bit short, but it does have Steam. This adds a steam prewash to the cycle, which is good for loosening tough, baked-on stains before it gets washed away. Other than that, the features are pretty standard: two settings for increasing the wash temperature (Boost and Sanitize), Heated Dry, a control lock, and a delay that can be set for 2, 4, or 8 hours. The available wash cycles are Heavy, Normal, Light, and AutoSense; there is a noticeable lack of a quick cycle.
Unlike other dishwashers, the Heated Dry option is not engaged by default. This leads to faster cycle times and less water and energy consumption, but hurts drying performance. Buyers who want to save money and skip the Heated Dry will want to open the door after a wash to let the dishes air dry. We found the efficiency of the GDF570SGFBB to be good, with an annual utility cost of $28.78. This is about $3 below average.
Plenty of room for silverware
We were able to fit ten place settings and a serving setting inside the GDF570SGFBB, but its adjustability is lackluster. Instead of tines that can be folded down to make room for larger items, the tines on the GDF570SGFBB's lower rack can be unclipped from the rack and removed entirely. This could be a hassle for people who don't have a place to stow the loose parts out of sight. This dishwasher also has two full-size cutlery baskets, which greatly increases the amount of silverware you can load into a wash.
Efficient and effective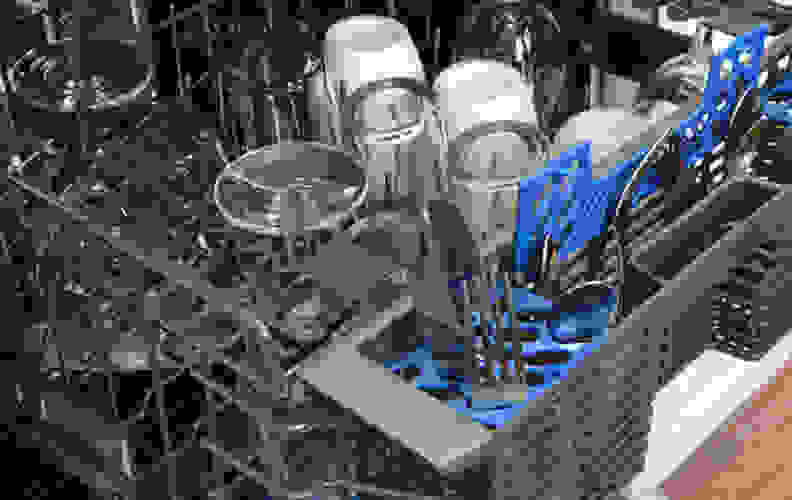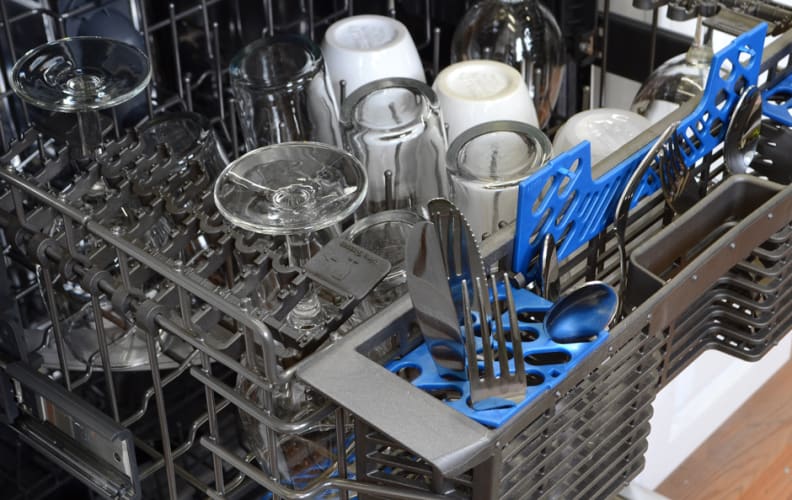 Despite first impressions, the GDF570SGFBB offered a solid cleaning performance. The Normal cycle was strong enough to remove most stains, although small amounts of the tougher, baked-on soils were left behind. There was also a noticeable problem with redeposit, which is when food particles get washed off of one dish and gets stuck to another. Overall, the Normal performed very well, and is perfectly suited for everyday loads.
The Heavy cycle is designed for the tough jobs, such as baked-on or extremely greasy stains on cookware or stuff that's just been sitting in the sink for a long time. It answered the call quite nicely, and it removed all of the stains that the Normal cycle couldn't. However, a tougher cycle means a tougher test, and that's why we introduce a handful of extra nasty, extra burnt stains. Burnt cheese and lasagna were easily dealt with, but the Heavy cycle struggled with the burnt sugar stains. Not exactly perfect, but we were still satisfied compared to competitors.
As far as efficiency goes, we found the overall annual utility cost for the GDF570SGFBB to be quite low, at $28.78. Both the Normal and Heavy cycles are also relatively fast—about an hour and a half for the former and two hours and a half for the latter. Solid cleaning power and good efficiency earns this dishwasher a positive appraisal.
For in-depth performance information, please visit the Science Page.
Worth it if you don't mind its quirks.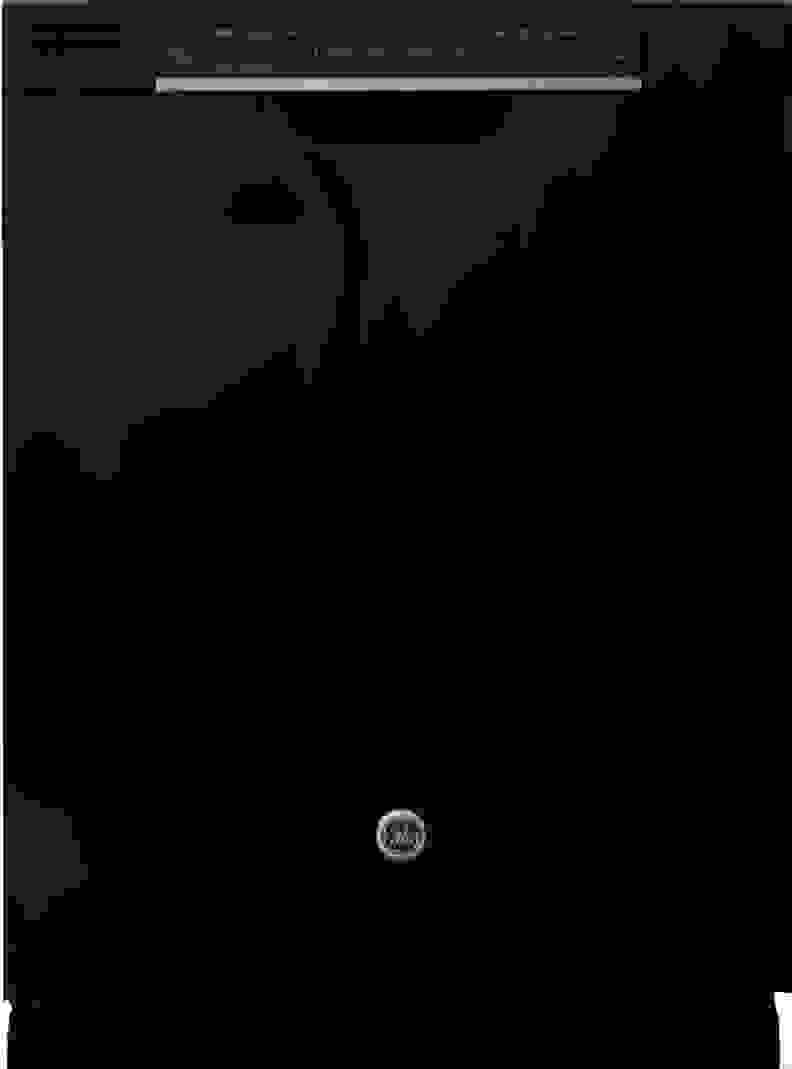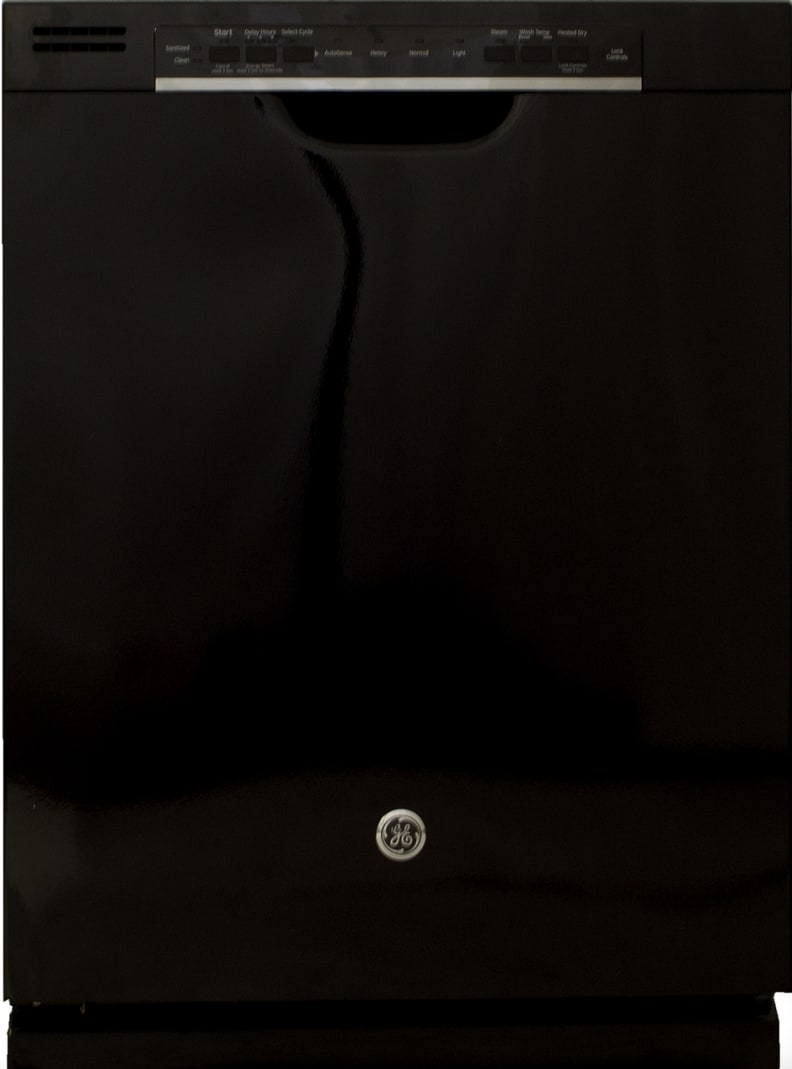 Though its front controls weren't our favorite, we found the GE GDF570SGFBB to be a good balance of features and cleaning power for its price.
If you need something for the same price but with a more professional exterior, the Frigidaire Gallery FGHD2465NF might be for you. The Frigidaire gave us a stronger cleaning performance, but it has a plastic interior, lacks the Steam prewash feature, and uses far more water than the GDF570SGFBB. The Whirlpool WDT710PAYH is also a great choice if you don't mind slow cycles that aren't that energy efficient. Any of these dishwashers would be a good choice, so it is ultimately a matter of what your specific dishwashing needs are.
Meet the tester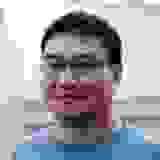 Johnny Yu
Staff Writer
@ReviewedHome
Johnny Yu writes news, features, and reviews for Reviewed.com. He graduated from U-Mass Boston with a Bachelor's in Social Psychology and spends much of his free time expanding his gaming horizons. Sometimes, he does his laundry at work.
Checking our work.
We use standardized and scientific testing methods to scrutinize every product and provide you with objectively accurate results. If you've found different results in your own research, email us and we'll compare notes. If it looks substantial, we'll gladly re-test a product to try and reproduce these results. After all, peer reviews are a critical part of any scientific process.
Shoot us an email