Design & Usability
The plastic panel cheapens the look.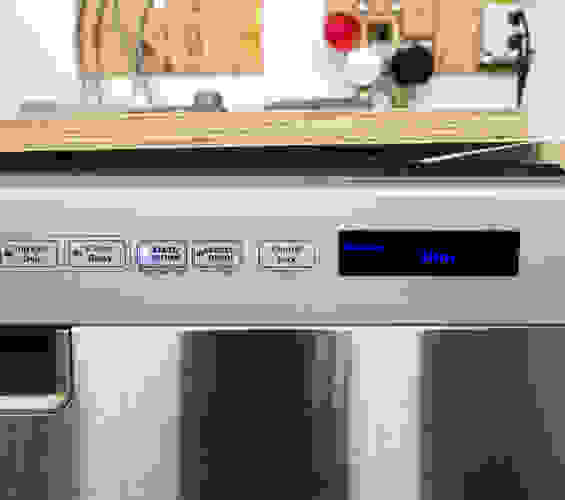 For its price tag, the front of the KDFE454CSS doesn't look as industrial or professional as you might expect. Part of that has to do with the front-facing control panel, which is gray plastic. While not the prettiest thing, this design does make it easy to show off the KDFE454CSS's myriad options. There's a button for each cycle choice and additional wash option, along with a display on the right side. The display will tell you when a cycle is washing, drying, or clean, but in lieu of a digital timer, there's a bar that slowly depletes as the cycle nears completion. It looks a lot like the signal bar on a cellphone, except you actually want it to be empty.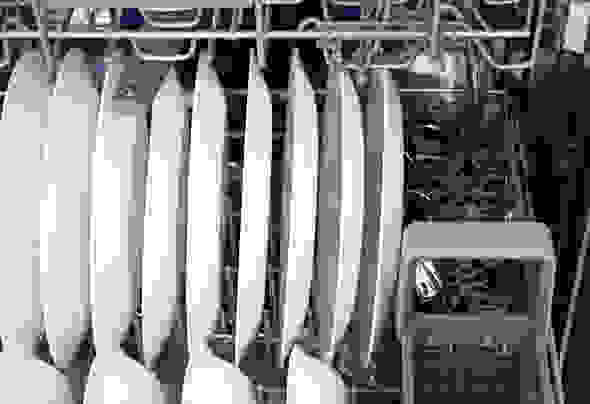 The interior is stainless steel, with enough room to fit 11 standardized place settings. The racks are sturdy and stay on their tracks. The cutlery holder has slots to keep your silverware separated, which can also be folded away if you don't need them. There is a row of collapsible tines on the bottom rack and two more on the top rack. There is also a pair of fold-down cup shelves on the top rack. While these are all neat, there's nothing groundbreaking here, and certainly nothing that you wouldn't find on a dishwasher that costs half as much.
At the end of the day, the KDFE454CSS really doesn't have any faults when it comes to design or usability. Our main gripe is that we paid more, so we expected more. We've gotten features like a third rack, chopstick holders, and even an LCD screen from other $1,500 dishwashers, so there are really no excuses here. It can't even spare the expense for a numeric timer; isn't that one of the main reasons for having a forward display?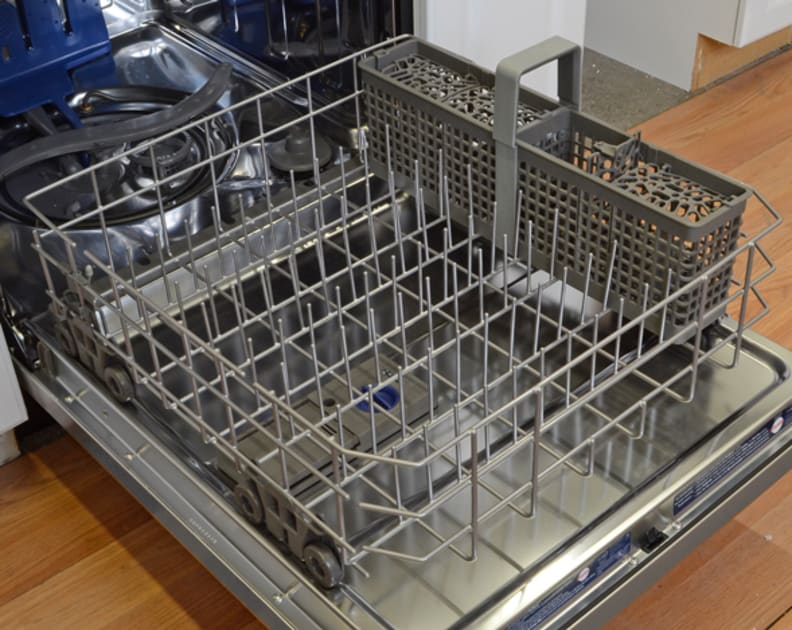 ×
Design Gallery
Features
You have control.
While there aren't that many ways to adjust the inside of the KDFE454CSS, it has plenty of options when it comes to how it washes dishes. For starters, there are six cycles to choose from: ProWash, Heavy Duty, Normal, Light/China, 1-Hour Wash, and Rinse Only. This covers practically every kind of load, and the ProWash cycle uses soil sensors to determine the right amount of washes and rinses to use in case you're feeling indecisive.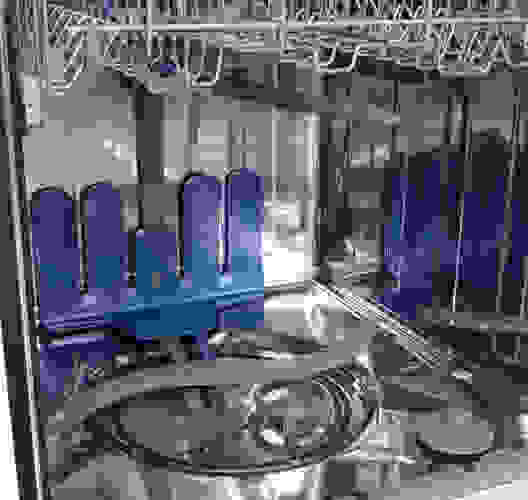 If you're not the "set it and forget it" type, the KDFE454CSS has many ways to customize your wash. The ProScrub option turns on the high-intensity spray jets located in the back of the washtub, for when you need some added power against baked-on stains. If you like turning up the heat, the Hi-Temp Scrub will raise the main wash temperature, Sani Rinse will do the same for the final rinse, and Heat Dry will dry your dishes at the end of a wash. Rounding out the list of features are a Top Rack Only option, 8-Hour Delay, and Control Lock.
Performance
Clearly outclassed by other dishwashers
The Normal cycle on the KDFE454CSS gave us high hopes. Even though it took a snooze-inducing two hours and 27 minutes, most of the test stains were removed. Unfortunately, we found that the dishwasher had a small problem with redeposit, which is when food particles from one item get stuck to another during the wash. Other than the long cycle duration, though, we were mostly happy with the Normal cycle.
The dishes actually came out worse...
Given how well the Normal cycle performed, we expected the Heavy Duty cycle to give us perfection. The cycle took three hours and 37 minutes, but the dishes actually came out worse than in the Normal. The minor redeposit issue we experienced with the Normal cycle got amplified during the Heavy Duty cycle. Most of the items on the bottom rack were nearly spotless, but the glasses and mugs we loaded up top got coated with stains from other dishes.
With such long Normal and Heavy Duty cycles, it was a relief that the 1-Hour Wash clocked in at 68 minutes. Not quite an hour, but we can be forgiving. In that short period, the KDFE454CSS did a decent job with the stains. We were pretty satisfied with how well this cycle did, and it can definitely be used to clean light soils in a pinch. The machine's overall efficiency is pretty good, too. We estimated an annual running cost of $30.71.
For in-depth performance information, please visit the Science Page.
Conclusion
Not the best high-end KitchenAid
While our overall evaluation of the KDFE454CSS is positive, it isn't exactly a glowing review. And for $1,549, we expect it to do more than just glow. With a plastic control panel, long cycle times, and an issue with redeposit, this machine really doesn't live up to its price. The ProScrub high-intensity jet sprays aren't even exclusive to this particular dishwasher. In fact, if you want a high-end dishwasher, you don't even have to look outside the KitchenAid family: the KUDE48FXSS will serve you better, and costs about $300 less.
By the Numbers
When it comes to science, we love looking at the numbers. Unfortunately, for the KDFE454CSS, those numbers do not look good. With decent stain scores in Normal and 1-Hour cycles, but poor scores in the Heavy Duty cycle, it is hard to justify a price tag of $1,549—the most important number of all.
Performance
The Heavy Duty cycle proved to be a disappointment.
We'll start with the good news. The Normal cycle was a strong performer, taking out over 99 percent of the food stains we threw in. Milk, tea, meat, egg, oatmeal—none of them were too tough for the KDFE454CSS. The only flaws we found with the Normal cycle were its long cycle duration (two hours and 27 minutes) and a little bit of spinach getting sprayed around to other dishes. Still, our overall impression was positive.
The Heavy Duty cycle did not live up to its name, and proved to be a disappointment. While it did a great job removing the same stains as the Normal cycle, the spinach spread was far worse. There was a clear difference between nearly-spotless items on the bottom rack and spinach-coated glasses and mugs on the top rack. The fact that the cycle took three hours and 37 minutes didn't help.
On a more positive note, the 1-Hour cycle actually took close to an hour (68 minutes), and did a great job removing stains. Even with baked-on stains that the cycle wasn't designed to handle, the scores were 98% or better. Redeposit was still an issue, but it wasn't as noticeable as it was in the Heavy Duty cycle.
Efficiency
Efficiency scores were a little better than average.
The KDFE454CSS did well with our efficiency tests, turning out to be a little lower than average when it comes to annual cost. The Normal cycle used a surprisingly high amount of energy (0.93 kWh), but only three gallons of hot water. The Heavy Duty cycle took only 0.61 kWh of electricity, but guzzled 8.43 gallons of water. The 1-Hour cycle used 0.41 kWh of electricity and 6.57 gallons of water, making it the cheapest cycle to run. We estimated a total annual cost of $30.71.
Capacity
Good amount of space and a fair amount of adjustability
We were able to fit 11 place settings and one serving setting inside the KDFE454CSS's roomy interior. There are only a handful of adjustable parts inside there: one row of tines on the bottom rack and two rows on the top rack. The height of the top rack can be adjusted, making room for tall items if you need it.
Meet the tester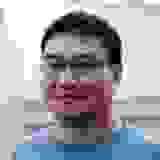 Johnny Yu
Staff Writer
@ReviewedHome
Johnny Yu writes news, features, and reviews for Reviewed.com. He graduated from U-Mass Boston with a Bachelor's in Social Psychology and spends much of his free time expanding his gaming horizons. Sometimes, he does his laundry at work.
Checking our work.
Our team is here for one purpose: to help you buy the best stuff and love what you own. Our writers, editors, and lab technicians obsess over the products we cover to make sure you're confident and satisfied. Have a different opinion about something we recommend? Email us and we'll compare notes.
Shoot us an email