"If you're not an optimist, you'd better leave architecture." With this simple aside, Daniel Libeskind summed up how he became the go-to designer for some of the 21st century's most emotionally charged buildings.
From his first commission to design Berlin's Jewish Museum to the original master plan for rebuilding One World Trade Center in New York, Liebskind's architecture has become associated with both sorrow and healing.
In October, Libeskind was the keynote speaker for the first-ever New York installment of the Dwell on Design conference. During the talk, hosted by Dwell magazine's Editor-in-Chief Amanda Dameron, he expanded on the dichotomy between tragedy and optimism:
"You can be a pessimist as a poet, a filmmaker, a writer, a musician, a composer. But to build something new you have to believe in it. Even if you build a monument to something irreversible, like the Jewish Museum, you cannot change the past, there's nothing to say about it. Can there be a future after such an event? You have to be able to say yes. You have to affirm life—that's what I believe in."
Between the Jewish Museum (completed in 1999) and One World Trade Center (2014) came the high-end Crystals retail mall on the Las Vegas Strip and a dramatic extension of the Denver Art Museum, along with other museums, office towers, and hotels around the world. Libeskind recently established a design studio in Milan to focus on objects, furniture, and industrial fixtures, working with Italian artisans.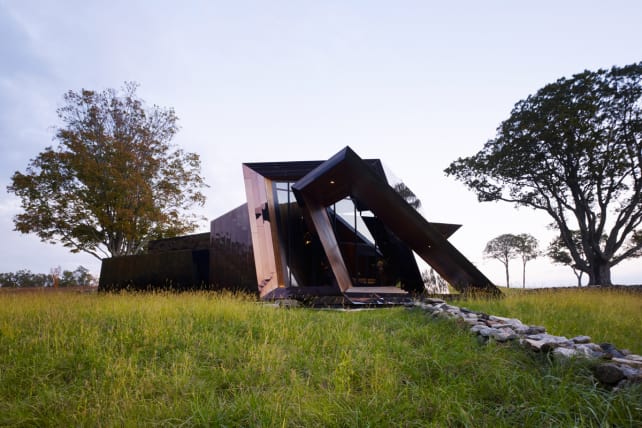 ---
A Career in Reverse
While most architects launch their careers with homes and smaller projects, Libeskind says his career has gone "in reverse." The Jewish Museum was a project that could have served as the apex of any other architect's career, but it wasn't until 2010 that Libeskind completed his first private residence. It was a 2,000-square-foot country hideaway known only as 18.36.54. (The name alludes to the home's 18 planes, 36 points, and 54 lines.)
"Designing a home was a totally new process for me," Libeskind explained. "Instead of facing a committee of hundreds, I was facing a couple at a table. They were very smart—art collectors—they didn't find me in a catalog."
Located in western Connecticut on a 54-acre lot, the startlingly designed home looks at first glance like a giant piece of origami that's mysteriously appeared in the midst of a rolling meadow. The structure is clad in dark, stainless-steel panels, and as light changes throughout the day, the exterior color shifts—from deep purple, to bronze, to a black coffee hue.
It's not the kind of design most of us would envision for our own homes (in fact, it's a weekend getaway for a New York couple), but it got me thinking about the conversation that goes on between a client and an architect, and encouraged me to ask for a follow-up interview.
The focus of our discussion was simple: What are the questions one asks an architect when hiring them to design a home? (I probably don't need to tell you that we didn't discuss more prosaic matters, like negotiating contracts and pricing.)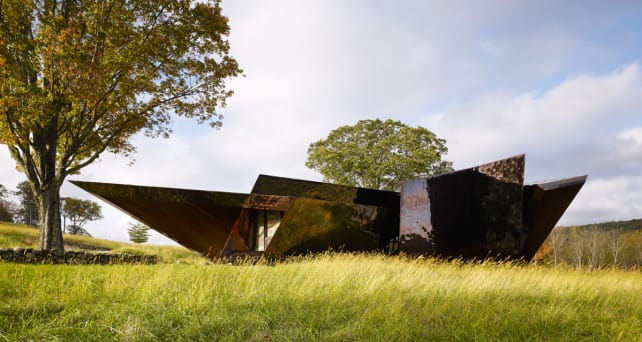 ---
A Relationship of Trust and Faith
The clients wanted to take a collaborative role in designing their retreat, but they also wanted something iconic. They compared their dream home to the Glass House, Philip Johnson's 1949 Connecticut landmark. They wanted a place to sleep, eat, and cook—and they challenged Libeskind to "make it extreme."
"It's not just a container that you put stuff into," said Libeskind. "It's not a big, gigantic house. But it's built to the requirements of the clients. You don't have to have a huge villa with 30 bedrooms to have a house that works and affirms the values of the client. They wanted a tough house on the outside, but cozy on the inside."
To my surprise, I learned that the budget was not unlimited. "Cost was always a big thing," Libeskind clarified. "You have to work within the budget and use methods that make sure you're not building a folly. But I was so lucky. I was able to build the furniture, even the faucets in the sinks. I designed everything."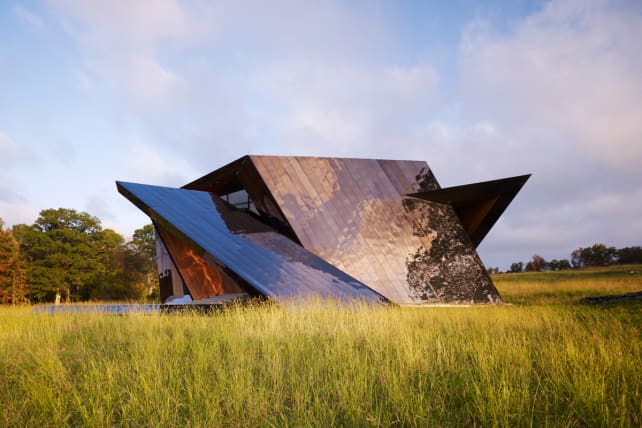 Few of us, given the opportunity to build our own home, would have the resources to hire someone of Libeskind's caliber. And yet, even a starchitect can provide some broader perspective on the collaborative process.
"Before a single question is asked, the client and architect have looked into each other's eyes," said Libeskind. "This is about something so important. A house is built once in a lifetime. It's a relationship of trust and faith. There are going to be many hurdles, financial and otherwise."
The client should become familiar with the architect's work, and ask where they draw their inspiration. Libeskind's personal inspirations are found in literature and music (he's an accomplished accordionist), and he admires the work of Frank Lloyd Wright, Alvar Aalto, Arne Jacobsen, and Mies van der Rohe—specifically for their sense of individuality.
But he says even the most iconoclastic architects must be mindful of the client's requirements. Likewise, the client should be proactive in dealing with the architect:
"The architect needs to understand the client's lifestyle, their needs, the kind of atmosphere they are looking for. The client has to be really involved. They should ask: 'How are we going to do this together?' It's like getting married, it's going to be a long-term relationship—an intimate one. It's not something shallow—we'll meet over and over again. It's not just a job and you forget about it. The client has to fall in love with the architect; otherwise it can become an adversarial or abstract relationship."
It's essential that the client and architect stay on the same page. "There has to be an empathy and shared creativity," he told me. "Without it, there is a kind of confrontation. It's an organic process, and if the client is not going to be creatively involved it's not going to work. It's not like buying a car—a house is something that grows from the foundation, it's a living entity."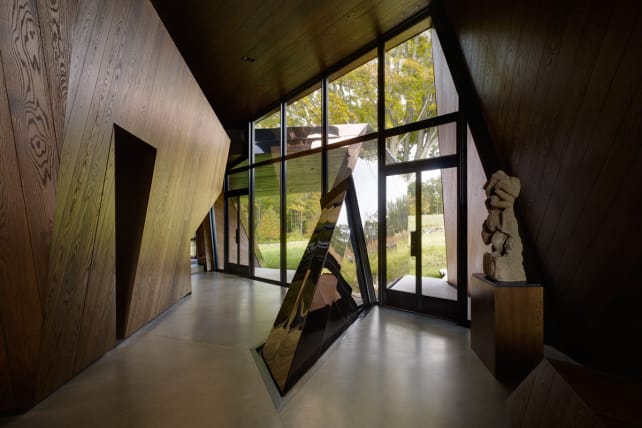 Libeskind encourages the use of scale models during the home design stage, since they provide a more dynamic perspective on what it will be like to live there. "A home is not just what it looks like in a magazine. We should know where the light is in the morning, where the light is in the winter. What does it feel like to take a bath, to entertain friends—how does the house feel at night? What are the materials?"
Above all else, he avoids a cookie-cutter approach. "There needs to be room for something unprecedented, something astonishing—so the home can be truly appreciated."
And at the same time, money inevitably enters the equation. "It never starts with money. The client says I need xyz, I have a site... and then it's a creative workshop. You build an idea for something ideal, and then you have to shape it to the realistic requirements of the budget and the technology."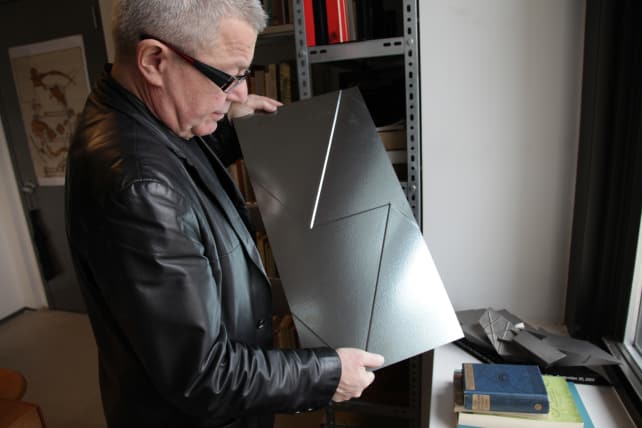 Many of Libeskind's works have been controversial, and not all are universally beloved. But perhaps the surest sign of success for an architect is a client that embraces the final product.
"It's a fantastic feeling to work with clients who love their house," added Libeskind. "They say, 'If you want to use the house for the weekend, here are the keys.'"
Our editors review and recommend products to help you buy the stuff you need. If you make a purchase by clicking one of our links, we may earn a small share of the revenue. Our picks and opinions are independent from any business incentives.