Dishwashers
Inside the Racy New Kitchen From Poggenpohl and Porsche Design
Can a kitchen look fast while standing still?
Credit:
Poggenpohl, maker of highly desirable cabinetry, had a new custom kitchen on display at KBIS 2015. Partnering with Porsche Design Studio, Poggenpohl is infusing its offerings with some cool new styling cues that are subtle enough to fly under the radar.
We got to take a look at the kitchen concept, dubbed P'7350. We've seen other Porsche Design collaborations in the form of the Blackberry P'9983, and the LaCie P'9230 desktop hard drive. If you've been a fan of Porsche Design's past efforts, then your kitchen has arrived.
The setup we saw on the KBIS show floor featured a bunch of Gaggenau appliances, including a built-in convection oven, built-in dishwasher, refrigerator, electric induction cooktop, and even a coffee maker. The sink basin is a Blanco Precision series unit, and the twin faucets we saw are from the Blanco Linus series. We loved the great, solid feel of the Dekton by Cosentino countertops.
×
cooktop and fridge
Each drawer features a uniquely constructed edge, with sides that slope in and nestle into a matching recess. The exterior of the cabinetry is covered in a stainless-look aluminum. Poggenpohl was quick to highlight the engineering challenges the design presented, particularly the complex mitering that lies at the heart of the design. Each drawer was, of course, fitted with push-to-open and soft-close sliders. The large hinged cabinet above the sink had a motorized hinge with a knock sensor for opening and a button to activate a motorized closing action.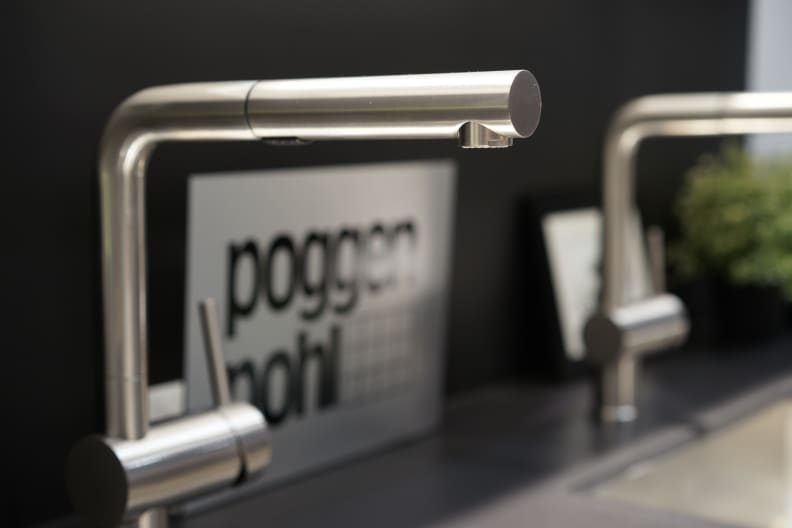 ×
sinks
Perhaps our favorite feature of the Poggenpohl kitchen was the hideaway dishwasher. This Gaggenau dishwasher matched the other cabinets perfectly, and featured a push-to-open mechanism so there's no external clues to what's inside. A close second favorite was the voluminous hidden pantry, with multiple baskets that slide open as you open the cabinet door.