Dishwashers
Finally, a Brush Attachment for Your Sink Sprayer
This $8 bristled doo-dad makes it easier to clean dirty dishes and wash vegetables.

Credit:
If your home has weak water pressure, your sink-sprayer is only really useful as a squirt gun—not at washing away stuck-on dinner debris. But help has arrived.
Jokari's Spray Scrubber attachment puts a two-pronged pinch on dirty dishes, by adding a plastic scrubber brush to the typical water-pressure attack. It's pretty effective on plates, bowls, and other cookware, though it doesn't "almost [make] up for not having a dishwasher," as Gizmodo put it. But an Amazon reviewer notes that the attachment is especially useful for scrubbing dirt off of potatoes or other root vegetables. At $8 with shipping, it might be worth a try.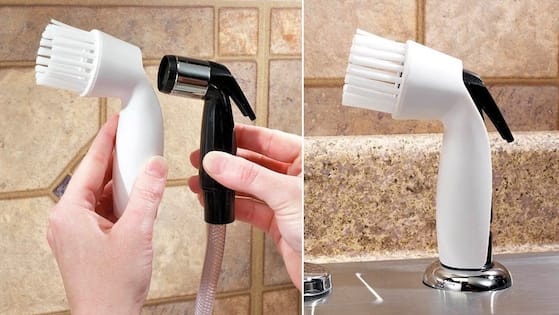 via Gizmodo