When I put out the call for ideas about neat and/or useful products that my coworkers keep on their desks, I don't really know what I was expecting. Tech recommendations? Office supplies? Hand sanitizer? The odd desk ornament?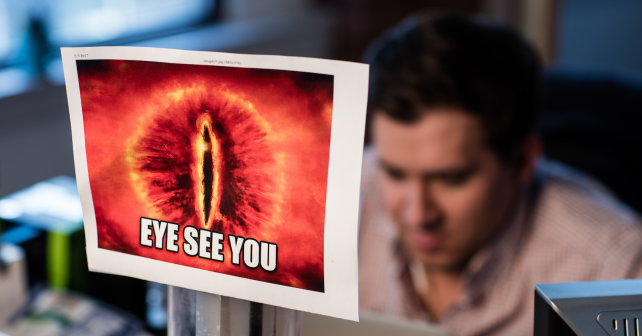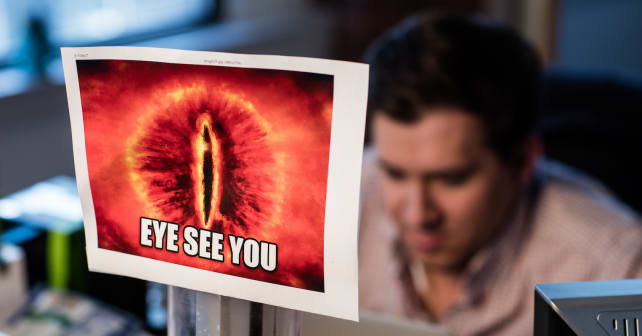 In an office where we have a ping pong table outside the conference room and a printed copy of the Eye of Sauron aimed at multiple coworkers, I shouldn't have been surprised that everyone mostly wanted to tell me about the funny and bizarre things that liven up their workspaces, rather than boring stuff like pen holders and desk organizers.
In an office where someone can keep a Koosh Ball on his or her desk without fear of the dubious eyebrow-crinkling of managers, here are 14 things that live on our desks at Reviewed.com, as explained by the staffers themselves.
---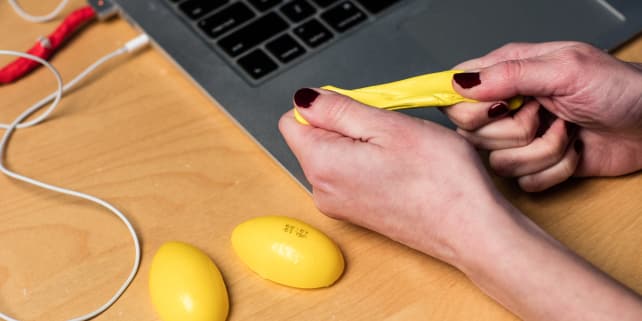 To get us started off right, Kori takes us way back on a trip through Nostalgia-town circa the late 80s/early 90s:
A little yellow egg of Silly Putty sits on my desk, ready to be cracked open whenever my fingers are feeling particularly restless. I'll knead and squeeze the smooth goo in one hand while I research an article, or occasionally take a 2-minute break to mold the stuff in some approximation of a human face (#art). It's—strangely—kind of soothing.
—Kori Perten, Staff Writer
Settle your restless fingers with Silly Putty for ~$9 at Amazon
---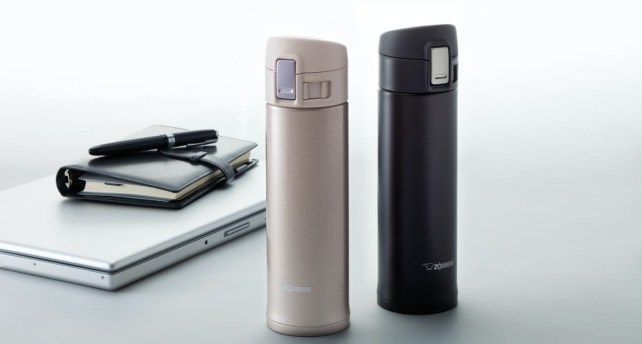 For the caffeine addicts in our office (and believe me, there are many), Mike lauds the design and heat-trapping ability of his favorite coffee mug:
I bring in coffee to work every day because it's cheaper than hitting up Starbucks every morning. The Zojirushi travel mug I use keeps the coffee almost dangerously hot until my morning commute deposits me at the office. I then get to enjoy a piping hot mug of warm coffee prepared just the way that I like it at my desk as I get ready for the day. I like it so much I got my dad one for Christmas because he's nuts about keeping his coffee as hot as possible. He loves his. It has a locking top so there's no chance of coffee spilling all over the inside of my bag on the train. (Which has totally happened.)
—Mike Roorda, Video Producer
Put an end to coffee stains in your car with the Zojirushi mug for ~$25 at Amazon
---
Jon prefers this meta desk adornment, which doesn't even attempt to obfuscate about its usefulness on a day-to-day basis:
When you switch the Useless Machine on, a little robot finger comes out and flicks the toggle back. There is a bit of assembly required, but after you're setup, the symbolism and mesmerizing mechanical action are endless.

—Jon Chan, Staff Writer
Stop being so productive with the Useless Machine for ~$41 at Amazon
---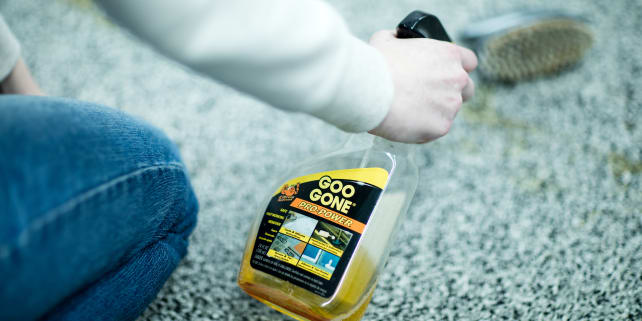 Like my coworkers, I also have weird stuff on my desk. But this article really brought home the fact that I deal with very different daily tasks from those of my coworkers:
Have you ever tried to remove old tape or glue stains, resorted to picking at it with your fingernails, and thrown your hands up in defeat? Goo Gone is your staunch ally. I spritz Goo Gone on crusty adhesive residue, leave it for a minute or so, and then scrub it away with a strong bristle brush. Goo Gone itself is strongly citrus-smelling, and somehow greasy and not greasy at the same time, but the bottle says that it can remove everything from soot and tar to tree sap and asphalt (!!!). Pro-tip: wear plastic gloves when using Goo Gone, as it is difficult to wash off of your hands.
—Julia MacDougall, Senior Scientist
Defeat old, crusty bubblegum on any surface with Goo Gone for ~$14 at Amazon
---
Lee greatly appreciates both tasty candy and tastful designs in his work space:
On my desk are two empty candy tins for pear/blackberry and mixed fruit Cavendish & Harvey drops. I keep them around because they remind me of the simple joy found in small luxuries. The golden tins—with their matte and pastel designed lids—would emit little puffs of sugar whenever opened, and contained candies so delicious I could only eat one or two of them at a time. As they say, it's the little things.
—Lee Nelkirk, Staff Writer
Artfully satisfy your sweet tooth with these candy drops for ~$25
---
Sunil, our guru on all things website- and development-related, knows a thing or two about saving your back when you have to work long hours at a computer:
Not too long ago, I began my umpteenth foray into trying to use a standing desk. This time, I bought a cheap tall table at Ikea. The table almost got my laptop to the height where it was comfortable to look at, but I needed a few more inches. I ended buying the Twelve South HiRise stand to bring my laptop to a comfortable height. It is fully adjustable, built well and just looks good.
-Sunil Doshi, Vice President of Product
Embrace ergonomics with the Twelve South HiRise Laptop Stand for ~$70 at Amazon
---
While Jess has a slightly different pink unicorn adorning her desk, you too can squee with your inner pre-teen girl over a unicorn-themed jewelry dish:
There is absolutely no functional use for the metallic pink unicorn on my desk: it's a dang candle holder made of cheap plastic, and probably made for children. But I love it. It brightens my days and is a tiny, desk-sized shrine to my lack of self awareness. Sound familiar? You can display this equally age inappropriate tricket dish on your own desk!
-Jess Teich, Staff Writer
Join Team Unabashedly Unicorn with this unicorn jewel dish for ~$7 at Sears
---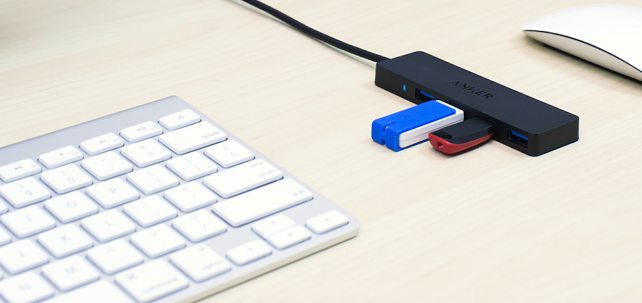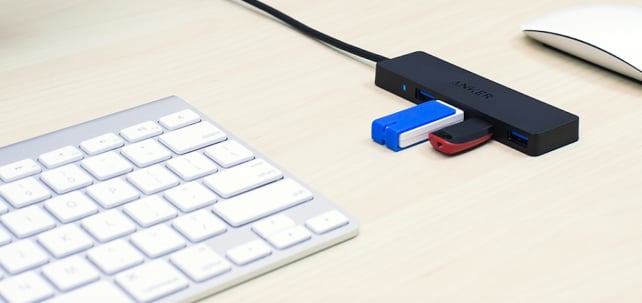 Globe-trotting Keith is always on the go getting the latest in appliance news; this USB port helps him stay organized whether he's in the office or on the road:
It may sound boring, but a simple USB hub is the most valuable thing on my desk. I travel a lot, so my main work computer is a laptop. But when I'm at my desk, I plug in an ergonomic keyboard and mouse, a charging cord for my phone, and an external hard drive. Since my MacBook Air only has two USB ports, I use a four-port hub like this one from Anker. Not only does it leave a port free on my computer for thumb drives, but it means I can leave all my USB accessories plugged in at the end of the day when I take my computer home. I even added a bit of velcro on the bottom of the hub so it stays on my desk.
-Keith Barry, Editor-In-Chief, Home & Outdoors
Become one with all of your USB devices with this USB hub for ~$10 at Amazon
---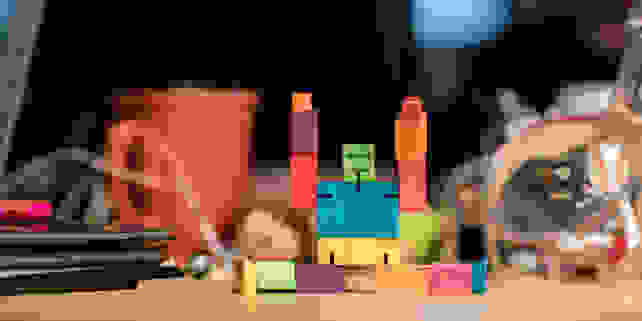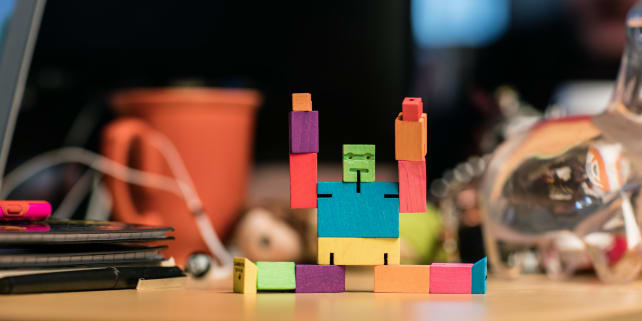 Ashley loves things that live at the intersection of "cute" and "gadget-y":
Cubebot is a wooden toy robot. I keep him on my desk because he makes me laugh and keeps me focused. He can achieve many different poses. My favorite pose? Moonwalking Cubebot is the best Cubebot.
-Ashley Barry, Staff Writer
Help Cubebot achieve the Moonwalk for ~$10 at Amazon
---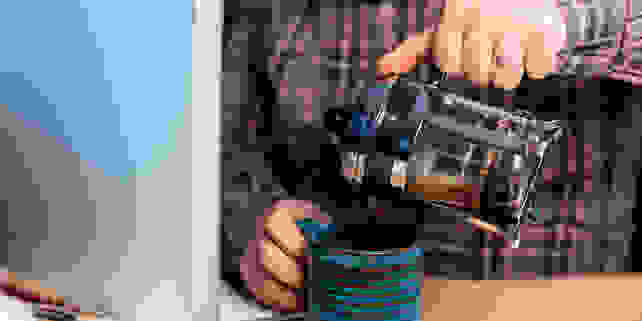 With this bite-sized french press, Jeremy saves time and money in the morning by making his own coffee:
Despite working in a city surrounded by amazing coffee shops, I never buy coffee in the morning. That's because it's so darn easy (and tasty!) to make coffee at my desk each morning. Making a perfect cup of French press coffee only takes about 7 minutes: add coarse-ground beans, pour nearly-boiling water over top, wait one minute and stir, wait another five minutes and press, pour into your favorite mug and drink! This 4-cup French press from Bodum makes the perfect amount of coffee to fulfill my caffeine needs, and its wide, fat base means it's pretty hard to knock over—even if you're really clumsy.
-Jeremy Stamas, Video Production Manager
Press the hell out of your coffee with this Bodum French Press for ~$28 at Amazon
---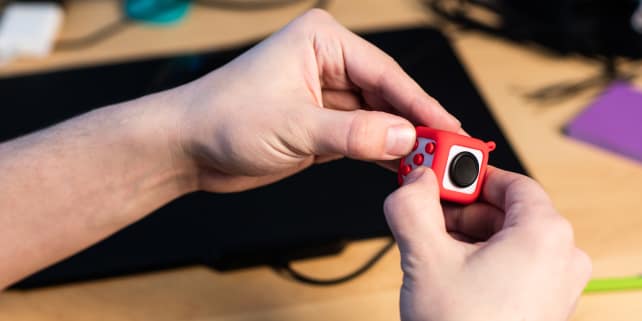 Nick found a great way to channel nervous energy into something less noticeable than leg-bouncing:
A gift from a friend, my Fidget Cube has been a wonderful addition to my desk at work. Thanks to my anxiety, I almost always need something to keep my hands busy, like a nervous tick. The Fidget Cube has enough buttons, switches, and twirly bits to cover that so I can stay focused. It hasn't drastically improved my workflow, but it has helped me keep my head on straight when my anxiety wants otherwise.
-Nick Schmiedicker, Managing Editor, News & Features
Join the legions of fidgeters with a knock off of the Fidget Cube for ~$5 at Amazon
Or get the original Kickstarter-born Fidget Cube for ~$22 at Antsy Labs
---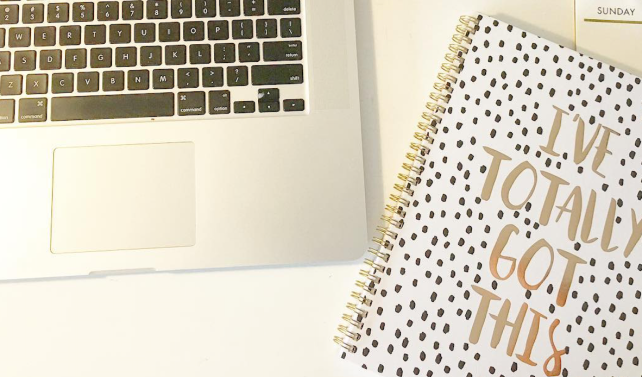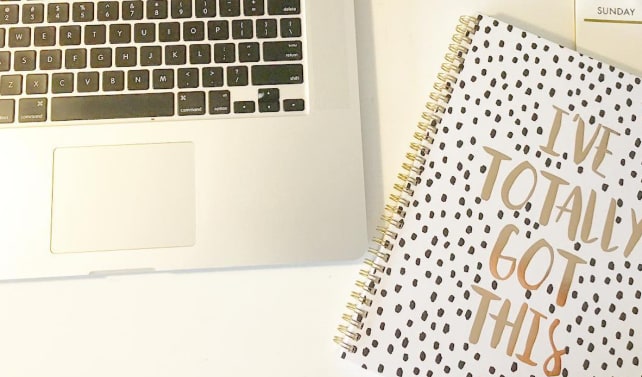 Sam uses this notebook both as a place to store creative new ideas, and a quick pick-me-up:
As a creative person, I always keep a notebook on me for when inspiration strikes. When I think of an idea for anything, whether it be work related or something I want to cook for dinner this week, I make sure to write it down so I don't forget. After all, life can get hectic. And having a notebook that reminds me I am capable of getting everything done, no matter how crazy life gets help.
-Samantha Matt, Head of Social Media
You've definitely got this for ~$13 at the Paper Source
---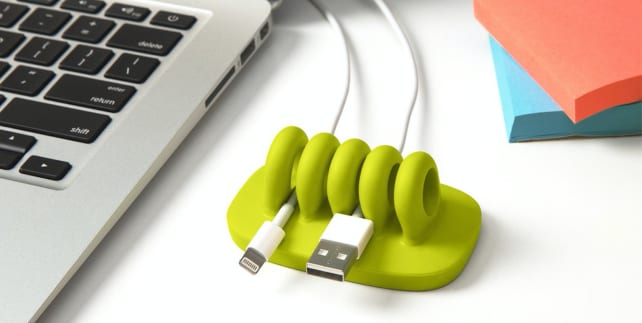 In order to avoid Indiana Jones-style recovery missions for various cables at his desk, Sunil uses this cord management system:
I like to work in different places throughout the day, meaning I'm often away from my desk. One unfortunate side effect of my nomadic working style is that, when I return to my desk, I always had to go looking for the cables that fell under my desk and reconnect them one by one. When I found this Quirky Cordies Desktop Cable Management holder, I felt kind of foolish for going through that arduous process a million times before. It keeps my cords organized and located right where I need them for when I get back to my desk.
-Sunil Doshi, Vice President of Product
Defeat cords that look like "Snakes! I hate snakes!" with this cable management device for ~$17 at Amazon
---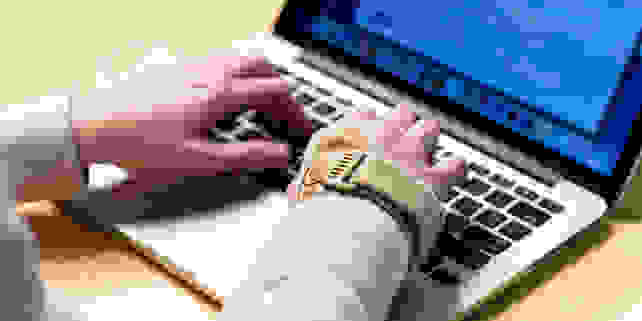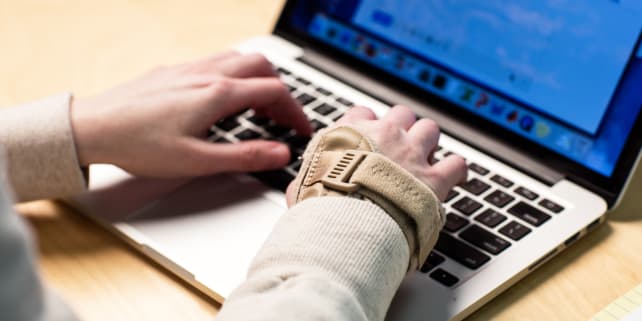 It's all fun and games until someone ends up with Carpal-Tunnel Syndrome, as I can attest:
As a member of the Mavis Beacon school of typing, I learned to type because I wanted to help cute penguins cross cold-water channels on icebergs made of words. What I failed to learn was the proper typing posture. As a result, my wrist throbs like crazy when I have to do repetitive typing tasks at work. This Futuro wrist stabilizer forces me to keep my wrist raised as I type, heading off that pain at the pass. You can even wear it overnight!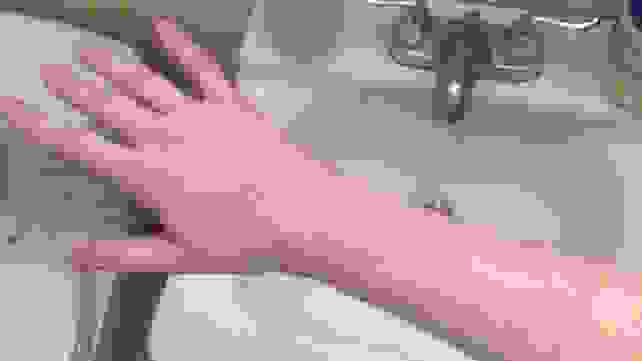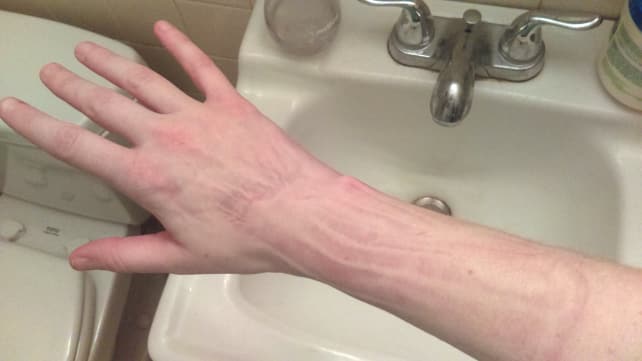 You will, admittedly, look like Skeletor when you take it off after leaving it on for so long, but at least you won't have a flare of Carpal-Tunnel induced pain!
-Julia MacDougall, Senior Scientist
Accidentally club yourself in the face a lot with this Futuro Wrist Stabilizer for ~$15 at Amazon
---
So whether you're in need of distraction or a focus object, caffeine or a fidget toy, or moral support or wrist support, we've got just the thing. Now get back to work!
Our editors review and recommend products to help you buy the stuff you need. If you make a purchase by clicking one of our links, we may earn a small share of the revenue. Our picks and opinions are independent from any business incentives.