What the heck is a MOBA? No, it isn't the colorful train system in Boston. A MOBA (multiplayer online battle arena) is a specific genre of strategic computer game that's over 15 years old—but I'm willing to bet you've never heard of it before.
The genre certainly had humble beginnings: it essentially grew out of a player-made modification of Blizzard's Warcraft III. Since then, the super-competitive MOBA scene has grown exponentially in recent years, thanks to the success of titles like DOTA 2.
If you were at PAX East this year, you may have noticed the prime real estate enjoyed by MOBA-du-jour League of Legends. Not too far away, though, people were lining up thirstily for Infinite Crisis, a new IP from Warner Bros. and developer Turbine, the team behind The Lord of the Rings Online.
Before you go dismissing the MOBA scene as some underground, basement hobby, let me shed some light upon the facts. According to Turbine's Adam Mersky, 50% of all PC gamers play at least one MOBA. These games require a massive amount of dedication and level a steep learning curve at newer players, hence the 50/50 split: You're either in, or you're out.
Playing a MOBA competitively is kind of like going for a master's in theoretical physics.
Between the often completely unfamiliar characters and the practically academic amount of study that's required to be competitive, the MOBA genre has little appeal to casual gamers, and is almost too esoteric for discussion outside of niche blogs and forums.
So, in some ways, playing a MOBA competitively is kind of like going for a master's in theoretical physics.
So why would anyone shoulder such a burden on their time and sanity? For some serious green. Just this past weekend, Turbine held an Infinite Crisis tournament for professional players. The first-place prize was $25,000, while $5,000 prizes were awarded to the winners of the "amateur" tournaments. I'd bet they didn't even break a sweat.
In truth, there's a lot of collateral in the MOBA scene. When you're competing for that amount of money, you're going to shell out for the best gaming headsets, keyboards, and computer monitors—you're basically investing in a career. Companies like Razer, Turtle Beach, and BenQ receive almost built-in consumers whenever a new MOBA is adopted en masse.
Further, to drum up hype and stay on top of the competitive scene, most of these games also stream their professional matches to viewers around the world via digital avenues like Twitch and USTREAM. For example, the stream of the Infinite Crisis PAX East invitational on Twitch.tv has had over four million viewers just this weekend.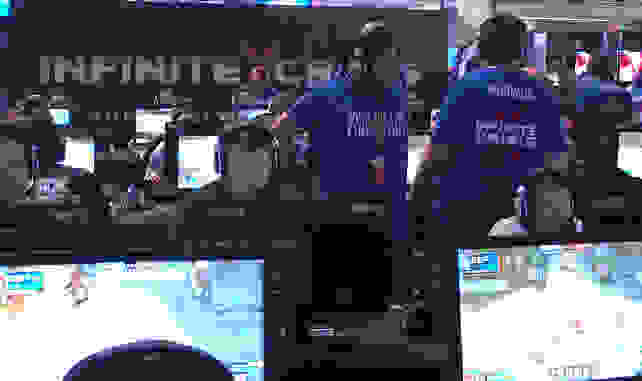 I spoke about Infinite Crisis with Turbine's Creative Director Cardell Kerr, as well as Executive Producer Jeffrey Steefel. Kerr ruminated on the genre's relatively recent shift from underground phenomenon to international pastime, elucidating an understanding that many non-players felt alienated without a familiar "in" to this highly-competitive game type.
The difference between Infinite Crisis and its competition is the use of DC heroes and villains.
A skilled MOBA player himself, Kerr expressed that he felt the "fundamental difference" between Infinite Crisis and its competition was in the use of DC's iconic heroes and villains.
Players can choose to don Batman's cape and cowl, or Wonder Woman's golden lasso—in other words, you have some idea of what to expect from the game, even if you've never played a MOBA before. Culturally visible rivalries, such as between Batman and The Joker, fill in the blanks and provide a natural lore for a game that's primarily focused on complex mechanics and strategy.
The adoption of DC's classic characters also serves as an incentive for Twitch.tv's viewers. These characters have earned widespread appeal since at least the mid-20th century, so it should come as no surprise that they'll garner a little more visibility than the average grizzled hero. Further, the heroic antics of the on-screen combat, combined with the game's destructible environments, create natural spectacle.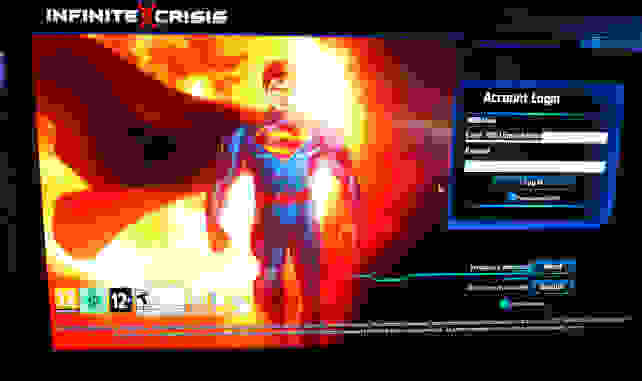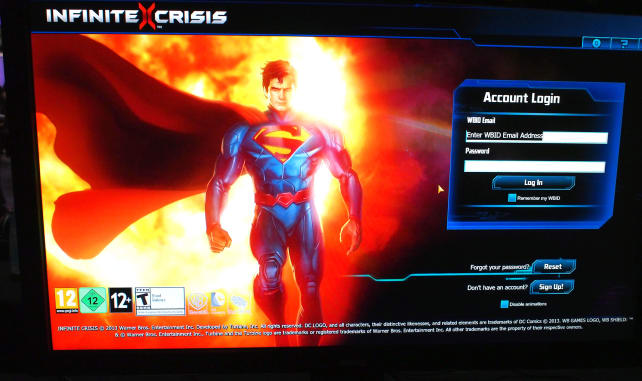 To put the words to paper, I joined a team of four other players in a full match of Infinite Crisis. I admitted to having never played a MOBA before, and was warned to expect the initial experience to sting. Naturally, I was skeptical—how hard could it be? The controls were familiar, the layout was clean and approachable, and the characters were forces of good and bad I'd grown up with.
Quickly, however, I forgot all about these familiar elements in a focused attempt to make myself useful to my team. I hurled cars, defended turrets, and was defeated more times than I care to say. The crisp, backlit keyboard and hyper-sensitive laser mouse ultimately meant I could only blame myself when the other team's Batman made short work of me, over and over.
According to Executive Producer Jeffrey Steefel, the MOBA genre is so competitive that Turbine really only gets "one shot" at a successful beta, and one shot at a successful release. The amount of strategy and information that's constantly being filtered and tweaked to keep the game relevant within the tournament scene is staggering. Infinite Crisis entered closed beta testing in May of 2013, and didn't move on to open beta until over 10 months later.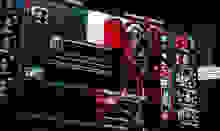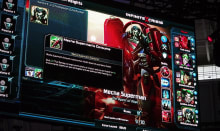 For the sake of the game—one that could potentially be worth hundreds of thousands of dollars in cash and prizes to its career players—the official release date is nowhere near being predicted. Kerr and Steefel are committed to starting slowly and crafting Infinite Crisis perfectly. Considering it could be akin to a full-time job for countless professional players, that's probably the right move.
In the mean time, DC Comics is already working on a series of action figures based upon the game's multitude of characters, and plans to release an Infinite Crisis comic book tie-in next month. Between the years of experience and work behind the game's underlying mechanics and the natural visibility of its subject matter, Infinite Crisis might just do for the MOBA genre what Christopher Nolan's Batman trilogy did for superhero movies.
Our editors review and recommend products to help you buy the stuff you need. If you make a purchase by clicking one of our links, we may earn a small share of the revenue. Our picks and opinions are independent from any business incentives.