The Roundup
For nearly 15 years, Reviewed.com has put thousands of products to the test, all to help consumers buy, use, and understand electronics and appliances. Here's what we've been up to this week.
---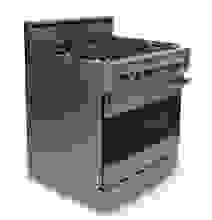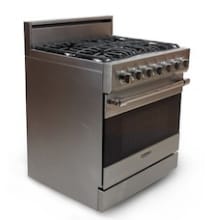 Though you won't hear it trumpeted in hip-hop lyrics or see it featured on MTV Cribs, the Viking brand has long been one of the defining marks of a luxury kitchen. The new D3 series seeks to expand the appeal of Viking ovens to a broader (but still well-off) audience. The dual-fuel (gas and electric) version costs $3,600 (at street prices), but that's half the cost of a full-size Viking Professional range that you'd find in a restaurant. And it'll still make the neighbors jealous, both of its looks and its great cooking performance.
---
The name of the Pentax K-5 II (MSRP $1,249.95 kit) says it all: It's the K-5, v2.0. The only major change? A massively improved autofocus module, and it helps the K-5 II keep up with the times. This weather-proofed DSLR is a great option for enthusiasts, though there is some seriously stiff competition at this price point.
---
Sennheiser has dipped its toes into the waters of fashionable mobilewear with the Momentum Black Edition headphones (MSRP $349.95). This is certainly a slick set, but there are some bizarre performance issues that will give audiophiles pause, while the price tag might be enough to deter anyone else.
---
New System Cameras from Sony, Nikon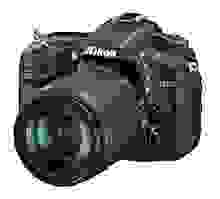 A few notable announcements came down the pipeline this week. Sony announced the Alpha NEX-3N, a slimmer, more affordable take on its entry-level system camera line. Also announced was the Alpha A58, an update to its excellent mid-range DSLR line that uses a translucent, fixed mirror for full-time autofocus and very fast burst shooting). The real doozy this week came from Nikon: The D7100 (MSRP $1,599 kit) is a semi-pro DSLR in a weatherproof body, designed for serious enthusiasts or as a backup body for professional shooters.
---
What do baseball, iced tea, and top-loading washing machines have in common? They exist in plenty of places, but thrive in the U.S. The GE GTWS8650DWS (MSRP $1,299) is built for American sensibilities, with a huge capacity of 5.0 cubic feet and the top-loading design that we seem to love. A lot of thought and effort into this machine; it isn't cheap, but the performance is solid, and the size and features make it a strong washing machine overall.
Our editors review and recommend products to help you buy the stuff you need. If you make a purchase by clicking one of our links, we may earn a small share of the revenue. Our picks and opinions are independent from any business incentives.